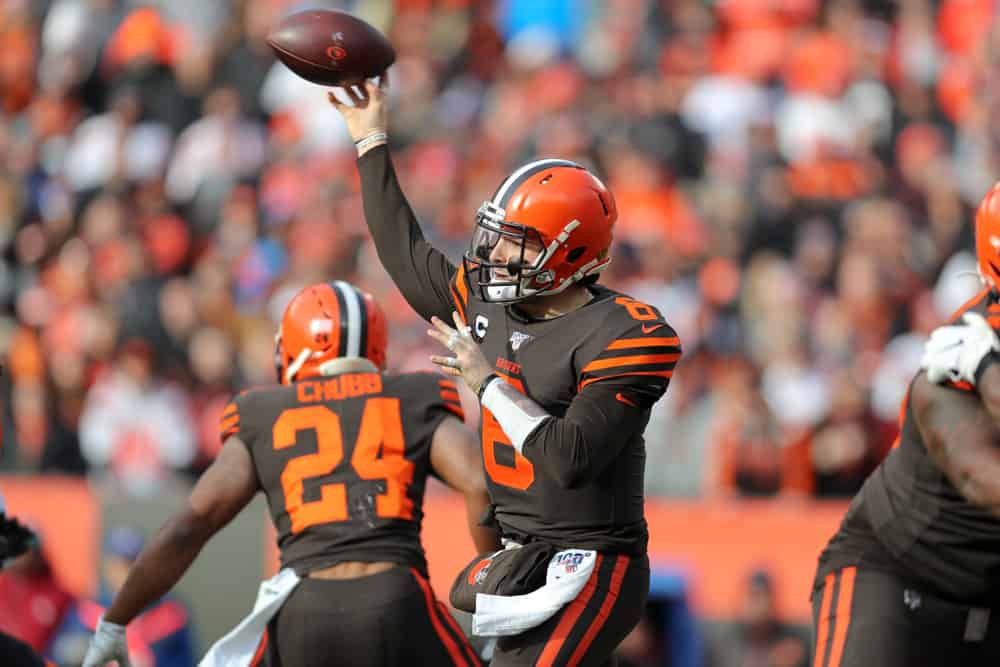 Baker Mayfield and the entire Cleveland Browns team had a rough outing in Week 8.
The wind was swirling, hail was falling, and the defense couldn't stop the Las Vegas Raiders run game.
Mayfield finished the game with only 122 passing yards and the Browns limped into the bye week.
Now they have had a full week off and time to regroup and also get healthy in preparation for a home matchup against the Houston Texans this Sunday.
All eyes will remain on Mayfield as he goes up against Deshaun Watson.
Can he finally crack the 300-yard mark this season?
Let's buy and sell such a scenario.
From @GMFB: #Browns QB Baker Mayfield goes on the COVID-19 reserve list, but he could be cleared by Wednesday… while the team is hopeful RB Nick Chubb is back and playing on Sunday. pic.twitter.com/NsY62IgICQ

— Ian Rapoport (@RapSheet) November 9, 2020
Buy
The bye week was huge for the Browns.
It allows everyone to heal up injuries and that should mean Mayfield can allow his ribs to get better.
He may not be back to normal, but a week without taking a shot to the ribs should do wonders for an injury that has no other cure than rest.
The Week 7 win over the Cincinnati Bengals was the closest the Browns signal-caller got to 300 yards.
He threw for 297 yards and five touchdowns after a horrific start to the game.
The Texans defense allows just over 257 passing yards per game and also gives up over 30 points per game.
Take away a first quarter where Mayfield looks lost and an extra week to prepare should mean good things against this below-average defense.
Austin Hooper is also returning as is Nick Chubb, which puts Kareem Hunt back into the passing game.
#Browns players who returned to practice today: RB Nick Chubb, RG Wyatt Teller, DE Myles Garrett, WR Jarvis Landry, LB Jacob Phillips and FB Andy Janovich

— Nate Ulrich (@ByNateUlrich) November 9, 2020
Wyatt Teller is also returning as the offense becomes mostly whole once again.
This should allow for Mayfield to have more time in the pocket against a defense that just gave up 25 points to the Jacksonville Jaguars and rookie Jake Luton.
Sell
Mayfield has not hit 300 yards yet this season and Chubb returning could mean the focus is all on the ground.
The Texans defense allows a league-worst 159.5 rushing yards per game and Kevin Stefanski is going to take advantage of that.
Even if Chubb is eased in, Hunt and D'Ernest Johnson should have plenty of running room now that Teller is back as well.
The Browns have put up at least 30 points in five of their eight games.
Aside from his 297 yards against the Bengals, Mayfield's next highest total is 247 yards against the Indianapolis Colts.
He only had 165 yards in the 49-38 win over the Dallas Cowboys.
Stefanski has found a formula to win without the quarterback having to carry the offense and there is no reason to expect that to change without evidence first.
#Browns Kevin Stefanski said it would be a disservice to talk playoffs yet, focus one game at a time. pic.twitter.com/0JaHfTlhj8

— Fred Greetham (@FredGreetham) November 9, 2020
There is also nothing wrong with that reality.
Having a dominant ground game opens up the play.-action game and allows Mayfield to do what he did against the Bengals.
Throwing for five touchdowns without reaching 300 yards is just fine.
The "sell" in this game seems more likely.
However, it is possible the Browns get into a shootout and Mayfield finally has the big game fans have been waiting for all season.
That would also go a long way toward positioning himself to get his fifth-year option picked up for 2022.