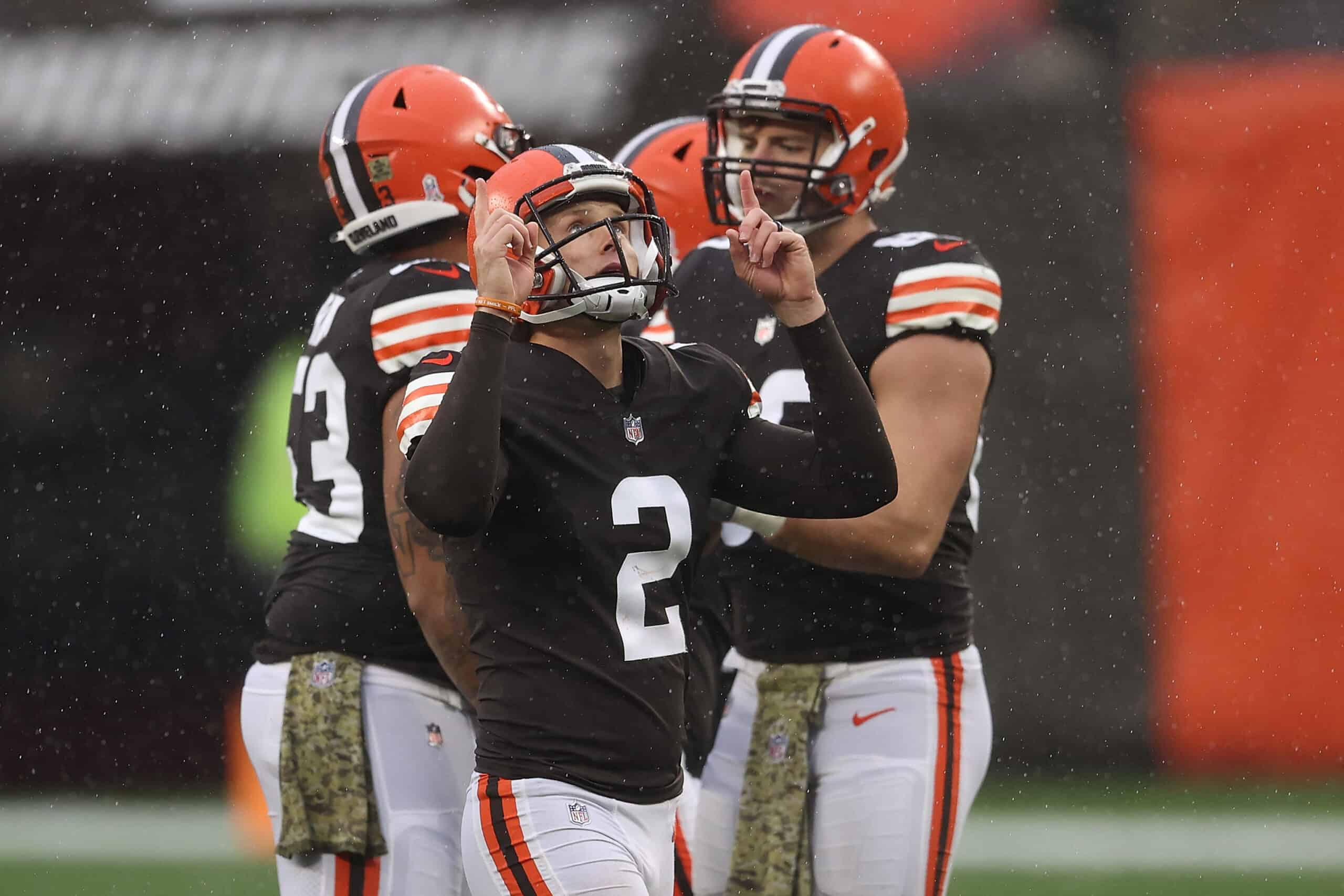 The Cleveland Browns 2021 roster is as formidable as it has been in years.
If the team plays up to potential, winning the division and making the playoffs are viable possibilities.
Also possible will be a number of Browns named to the 2022 Pro Bowl team.
Could one of those Browns players be Cody Parkey?
While anything is possible, this seems unlikely.
Here are the reasons why Parkey, 29, is an unlikely choice for the Pro Bowl.
1. He Only Made It To The Pro Bowl One Time
The one and only time Parkey made the Pro Bowl was in his rookie season of 2014 when he was with the Philadelphia Eagles.
He converted 100% of his field goals that season (10 for 10) and only missed two extra points (14 out of 16 were good).
Since then, he has not been as solid.
His career field goal conversion percentage is 84.6%, but his career extra point percentage is higher at 94.3%.
Unfortunately, his name is always associated with the infamous "double doink" so he would need a season similar to 2014 where he was practically a sure bet to make the Pro Bowl.
Cody Parkey's double doink 😳

Bears kicker misses a go-ahead FG as Philly (+240 ML) stuns Chicago on this day 2 years ago

(via @Eagles)
pic.twitter.com/zXTKtjKlvs

— br_betting (@br_betting) January 6, 2021
2. His Competition Is Justin Tucker
Justin Tucker makes field goal to win the game for the Ravens pic.twitter.com/qaS5ckk01e

— Main Team (@MainTeamSports) October 6, 2019
Parkey is in the same division and conference as one of the best kickers in the game.
He is Justin Tucker of the Baltimore Ravens, and he has been named to the Pro Bowl five out of his nine seasons.
Being compared to Tucker does not help Parkey's cause.
Tucker has a career field goal conversion percentage of 90.7%.
He has only missed four extra points in his career for a career conversion percentage of 98.9%.
3. He Will Be Competing For His Job In Training Camp
The #Browns claimed K Chase McLaughlin off of waivers, He is 22/28 on FGs in his career with a career long of 52 yards and 31/32 on XPs via Field Yates. pic.twitter.com/zKkExD6pDC

— MoreForYouCleveland (@MoreForYou_CLE) May 10, 2021
The Browns claimed Chase McLaughlin, 25, off of waivers from the New York Jets in the offseason.
This implies that there could be a kicking competition in training camp, and that is a good thing.
If any part of the Browns roster has been lacking in the past two seasons, it has been special teams.
Parkey's Contract
Let's remember that Parkey was not the starting kicker in 2020.
He came in after Austin Seibert did not do well in Week 1 against Baltimore.
The Browns signed Parkey to a one-year deal in 2020.
They again signed him to a one-year deal in 2021.
It does not appear the Browns are heavily invested in Parkey.
He has ups and downs which make him a difficult kicker to consider for a multi-year contract.
@Browns making great offseason moves. And yet Cody Parkey still has a contract. #soclose

— Dennis (@dterlaak) March 22, 2021
Conclusion
This is one of those cases where the individual honor of being named to the Pro Bowl does not dictate a team's success.
The Browns are not winning the division with Parkey's leg.
They are hopefully winning the division with strong offensive and defensive play and an occasional assist by Parkey.
Being a Pro Bowl kicker implies that you are carrying the team offensively.
That is a nice of way saying that the team cannot score a touchdown in the red zone so the kicker has to make a lot of field goals to keep his team in games.
This is precisely what Tucker does for Baltimore which is why he will most likely be the AFC selection for the 2022 Pro Bowl.