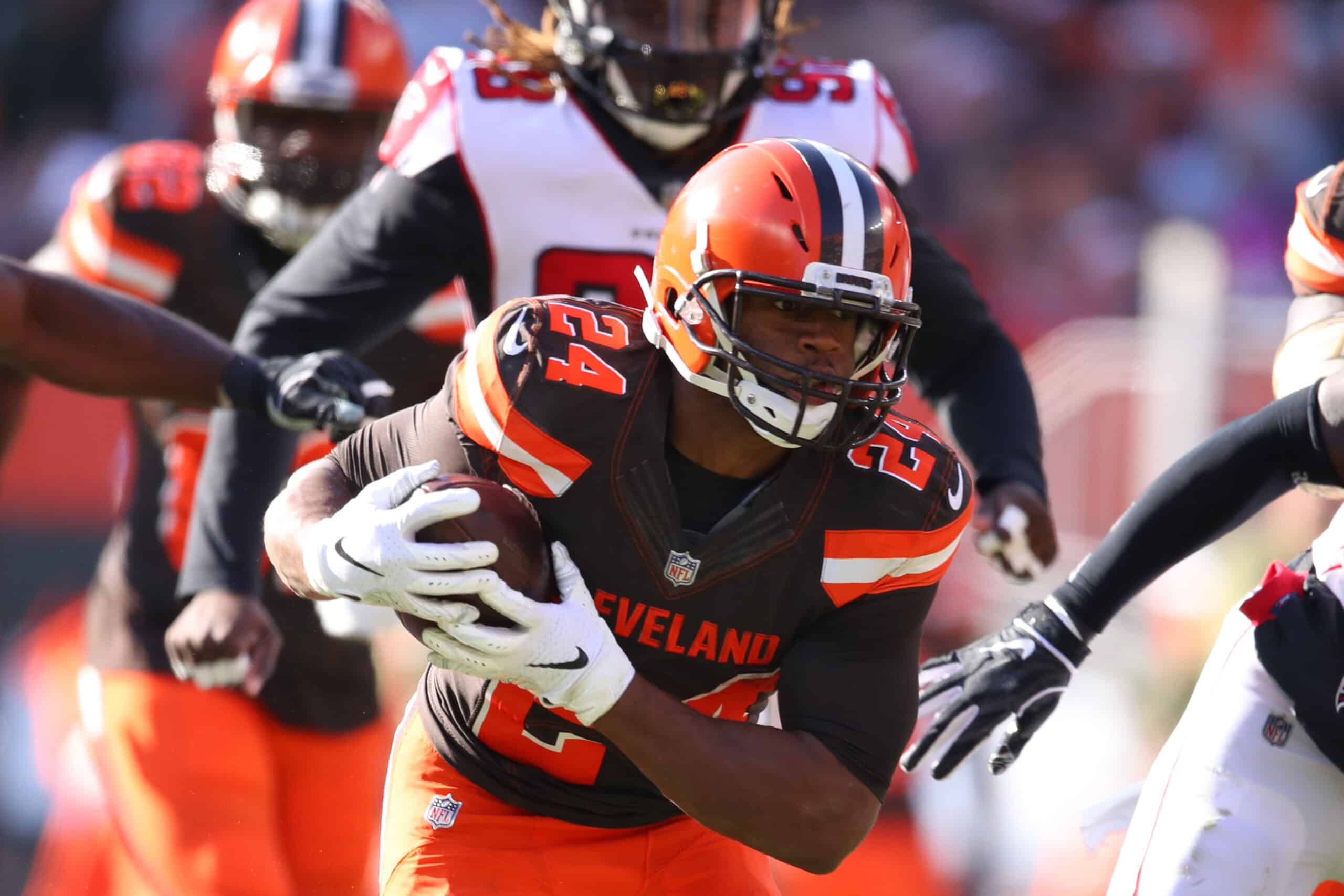 With a 17th game added to the NFL's schedule this year, players have their sights set on higher goals and records.
Several quarterbacks hope to join the elite list of 5,000-yard passers.
Can a wide receiver beat Calvin Johnson's single-season record of 1964 receiving yards?
The way Nick Chubb runs is visual poetry pic.twitter.com/89JTm7ToGc

— ThatsGoodSports (@BrandonPerna) September 4, 2021
And then there is the thought on many a Cleveland Browns fan's mind:
Can Nick Chubb rush for 2000 yards this season?
Chubb is among the best bets to cross that mark next if it is to be crossed.
To date, 8 NFL rushers hit that target, including Derrick Henry just last year.
Leaders in missed tackles forced since 2018:

🔹Derrick Henry – 178
🔹Nick Chubb – 168 pic.twitter.com/9su992uDGU

— PFF (@PFF) September 8, 2021
Henry and Chubb are often discussed in the same breath, so it makes sense to expect Chubb to threaten 2000 yards.
But there is a lot more to consider when it comes to the Browns' rushing star.
Chubb has factors working against him that the others did not.
By The Numbers: What It Would Take? 
With the additional regular-season game, a player needs to average 118 yards per game to hit 2,000.
Browns fans know that is not too high a bar for a player as good as Nick Chubb.
But will he get the chance to make a run at the 2000-yards Club?
Most rushing yards after contact per attempt in last 3 seasons

🔹 Derrick Henry – 4.1
🔹 Nick Chubb – 4.0 pic.twitter.com/aUirSRkp1d

— PFF Fantasy Football (@PFF_Fantasy) September 7, 2021
Chubb averaged a robust 5.6 yards-per-carry last season and averages 5.2 for his career.
At a 5.6 yards-per-carry pace, he will need to average 21 carries per game.
But Chubb has never averaged more than 16 carries per game with Cleveland.
Barry Sanders had the lowest carries-per-game average among the 2,000-yard rushers.
This offseason, the Next Gen Stats team has developed a new expected rushing yards model to account for quarterback runs.

All plays now considered, which rushers gained the most RYOE since 2018?

🥇 QB Lamar Jackson (+1,307)
🥈 RB Derrick Henry (+971)
🥉 RB Nick Chubb (+834) pic.twitter.com/XXVSSjxBbP

— Next Gen Stats (@NextGenStats) September 1, 2021
But he needed to average 6.1 yards-per-carry to finish with 2,049 yards.
With Kareem Hunt sharing the rushing load, it is unlikely Kevin Stefanski will increase Chubb's touches.
And there is no assurance Chubb can maintain such a high per-carry average with such an increased workload.
NFL Rule Change Might Help 
Among the NFL's rule changes for the 2021 season is a new low-block ban on the edge.
Cleveland's offensive linemen are adept at pulling in front on edge runs.
Starting this year, corners and linebackers can't take those blockers out by going low.
Plenty of great Nick Chubb runs but this one might be my favorite. pic.twitter.com/Ek8laRe4ks

— Zareh Kantzabedian (@ZKantzFF) September 9, 2021
It leaves little choice for smaller cornerbacks but to take on the blocker high or try to scoot around him.
That will play right into Chubb's cutting ability and change-of-direction speed.
And if a corner remains upright as he makes contact with him, Chubb's power should let him break away.
The same rule applies downfield, outside of a newly created "tight end box."
Best PFF rushing grade since 2019 (100+ carries)

1. Nick Chubb – 91.6
1. Derrick Henry – 91.6
3. Dalvin Cook – 90.6
4. Josh Jacobs – 89.4
5. Tony Pollard – 87.7
6. Gus Edwards – 87.4
7. Damien Harris – 86.2
8. Raheem Mostert – 86.1
9. Aaron Jones – 85.6
10. Antonio Gibson – 83.4

— Jarad Evans (@PFF_Jarad) September 1, 2021
Browns fans are used to seeing linemen way downfield on running plays.
This new rule should allow them the same advantage on the sidelines, adding more yards to the end of many runs.
Every team is expected to run outside more with the new rule, but few can take as much advantage as the Browns.
Can Nick Chubb Run For 2000 Yards This Season? 
There is little doubt that Nick Chubb as a bell-cow back could gain 2,000 yards every season.
But it does not look like he will have that chance with the Browns.
Even if Kareem Hunt is injured, D'Ernest Johnson earned the backup spot because he can handle either runner's load.
Nick Chubb and Kareem Hunt combined for 200+ rush yards in 25% of the regular season games they played last season. pic.twitter.com/B021t9fklI

— Nick Karns (@karnsies817) September 8, 2021
Kevin Stefanski also told reporters he hoped to open up the offense more in 2021.
That means the Browns could move closer to NFL norms when it comes to pass-run ratios.
Last season, the Browns were among very few teams to run almost as often as they passed.
If Chubb is to threaten 2,000 yards, he will need a few very big games.
Since being drafted in 2018, @NickChubb21 leads all NFL RBs with an average of 5.23 yards per carry.

— Dan Murphy (@DMurph_BrownsPR) September 7, 2021
Each of the 8 previous runners to cross that barrier had at least one 200-yard game.
Chubb's career-high is 176 yards (on 20 carries) and he has never gone over 150 yards more than once in a season.
So while Nick Chubb can gain 2000 yards, he will have to overcome an awful lot of obstacles first.