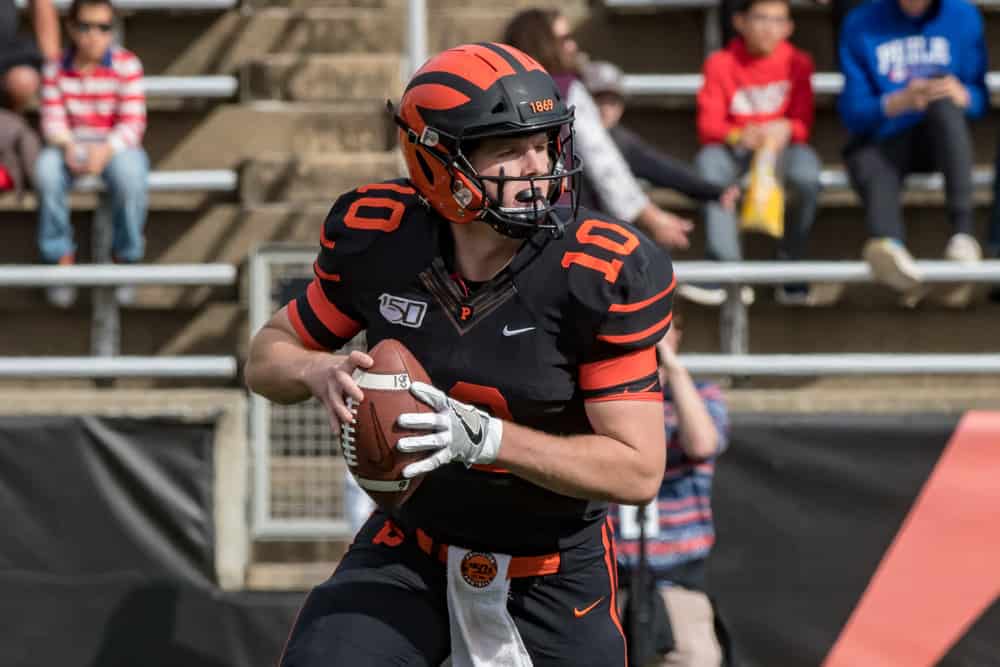 The Cleveland Browns have done a nice job adding talent throughout the offseason, but aren't quite done yet.
They didn't focus on drafting a quarterback during the NFL Draft, but are grabbing depth afterwards.
The Browns have signed undrafted Princeton quarterback Kevin Davidson.
Davidson will be the third straight quarterback from Princeton to receive an invite to camp.
Both Chad Kanoff and John Lovett have landed deals to camp each of the last two seasons.
Davidson is coming off a solid senior season and will get a chance to prove himself in the NFL.
Welcome to Cleveland, Kevin Davidson! pic.twitter.com/5cBOG3OHRF

— Cleveland Sports Fans (@CLE_SPORTS_FANS) April 26, 2020
Who is Kevin Davidson?
Davidson was an all-league selection in high school before heading to an Ivy League college.
He threw a total of 11 passing attempts through his first two seasons at Princeton.
During the 2018 season Davidson began to see more playing time.
He threw for 386 passing yards with five touchdowns and zero interceptions through nine-game (one start) with the Tigers in 2018.
Davidson earned honorable mention All-Ivy League accolades after helping lead the Tigers to an 8-2 season in 2019.
During his senior season, he threw for 2,569 yards, 20 touchdowns, and six interceptions through 10 games.
He is the only Princeton quarterback to ever have two games with at least five touchdowns passes.
Davidson also set an Ivy League record when he threw seven touchdowns versus Bucknell.
Can Davidson Make it in the NFL?
Davidson put together a solid 2019 campaign, but didn't see much playing time before that.
He is a pocket passer with good size, but has plenty of areas that are in need of improvement.
His accuracy might be his best trait, but struggles to fit balls into tight windows.
Davidson lacks mobility, which is a desired trait in the NFL these days.
He only started one season and it wasn't against professional-level competition.
Davidson has a chance of making it as a backup in the NFL, but still has a lot of developing to do before he's ready.
We've can't wait to see @kevinqb10 ➡️ @Steve_OCarlson on Sundays! #Princeton2Pro | #DawgPound pic.twitter.com/uPlo8ijoFK

— Princeton Football (@PrincetonFTBL) April 26, 2020
Why Did the Browns Add Davidson?
The Browns already have Davidson's teammate tight end Stephen Carlson on the roster.
He hauled in five receptions for 51 yards and a touchdown during his rookie season on the Browns.
Maybe the two of them could form a solid chemistry together.
However, the Browns likely just added Davidson as depth for the preseason.
He showed promising signs last season and Cleveland thinks they might have a chance to develop Davidson into an NFL quarterback.
Browns Quarterbacks for 2020
Davidson is a longshot to make the Browns roster out of camp.
They already have former No. 1 overall pick Baker Mayfield under contract.
The Browns also brought in veteran quarterback Case Keenum over the offseason.
Quarterback Garrett Gilbert is currently listed as the third-string quarterback on the depth chart.
Davidson has a tough hill to climb if he wants to make the Browns roster.
He'll likely compete for the third-string spot in camp, but it might be tough for him due to his lack of experience.
Hopefully, Davidson can play well enough to land himself a spot on the Browns in 2020.