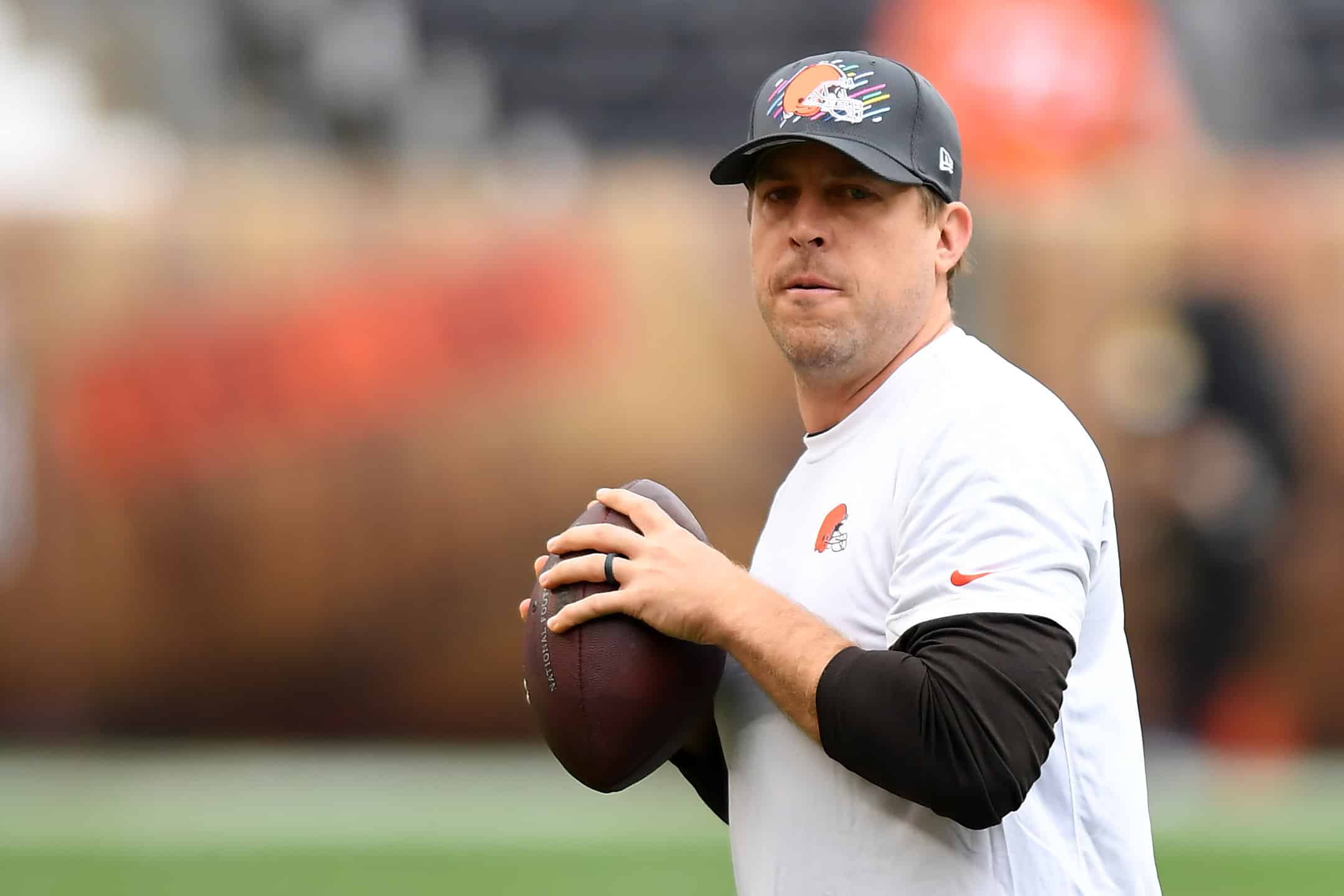 Kevin Stefanski ended one debate when he announced Baker Mayfield would miss Thursday night's game.
But he sparked another lively discussion about the Cleveland Browns' quarterback situation.
Is Case Keenum good enough to win the game? Are the Browns destined to fall below .500?
Case Keenum on filling in for Baker Mayfield on a short week: "I'm built for this."

— Tony Grossi (@TonyGrossi) October 20, 2021
One person who is confident about the answer to the most-asked question is Case Keenum himself.
"I'm built for this." is what Keenum told reporters at a quick presser Wednesday.
He went on to explain how his NFL career prepared him to take over for Mayfield in a short week.
"This is what I've done my whole career," said Keenum. "Not knowing whether I would start right up until game time. Not knowing who is out there with me. Introducing myself to guys while I'm calling the play."
Keenum is not likely to be known as "Some guy named Case" after Thursday, but we get what he means.
Case Keenum throwing at practice yesterday. #Browns pic.twitter.com/ur1UD7Hxgn

— Camryn Justice (@camijustice) October 20, 2021
His role as a mentor and sideline supporter to Baker Mayfield under Stefanski puts him in a better place than some backups.
And it is worth noting his best season ever came while working Stefanski's schemes in Minnesota.
Keenum Might Be Best Suited To Start This Week 
Kevin Stefanski did not play most of his starting offense throughout the preseason.
And in an ironic twist, most of his starting offense might not play Thursday night, either.
Case Keenum will find a bunch of familiar faces lining up around him.
D'Ernest Johnson, John Kelly, Rashard Higgins, Anthony Schwartz, and Johnny Stanton all played in August.
Case Keenum and Kevin Stefanski have had some success in the past.

How will Browns (-3) do on TNF? pic.twitter.com/MC6dfDiFZu

— PFF Bet (@PFF_Bet) October 20, 2021
And that was Case Keenum throwing passes and handing the ball off to them.
Donovan Peoples-Jones was also a favorite preseason target for Thursday's starting quarterback.
Keenum went 33 of 48 for just under 300 yards behind a revolving cast of backup offensive linemen.
Even if Cleveland starting tackles sit out, the Browns' strong middle linemen provide a better front.
But Is Case Keenum Ready To Lead? 
There is no better way to find out if a player is ready than to throw him onto the field.
But in Case Keenum's case, we can expect him to be more ready than most.
Cleveland's "new guy" makes his 61st NFL start in his 10th season as a pro.
He was brought here because he understood Stefanski's system well enough to help Mayfield.
#Browns Case Keenum on starting for the injured Baker Mayfield: "I'm built for this" pic.twitter.com/HS2LMxyclH

— Mary Kay Cabot (@MaryKayCabot) October 20, 2021
And he is unflappable under pressure, smart enough to throw a ball away when warranted, or take a hit if needed.
Keenum won't be intimidated by Von Miller's prediction of multiple sacks and fatalities on the offensive line.
His calm, veteran presence might even play better with some of the younger replacements on the field.
With nothing to prove at this point of his career, Keenum will simply run the offense and beat the Broncos.