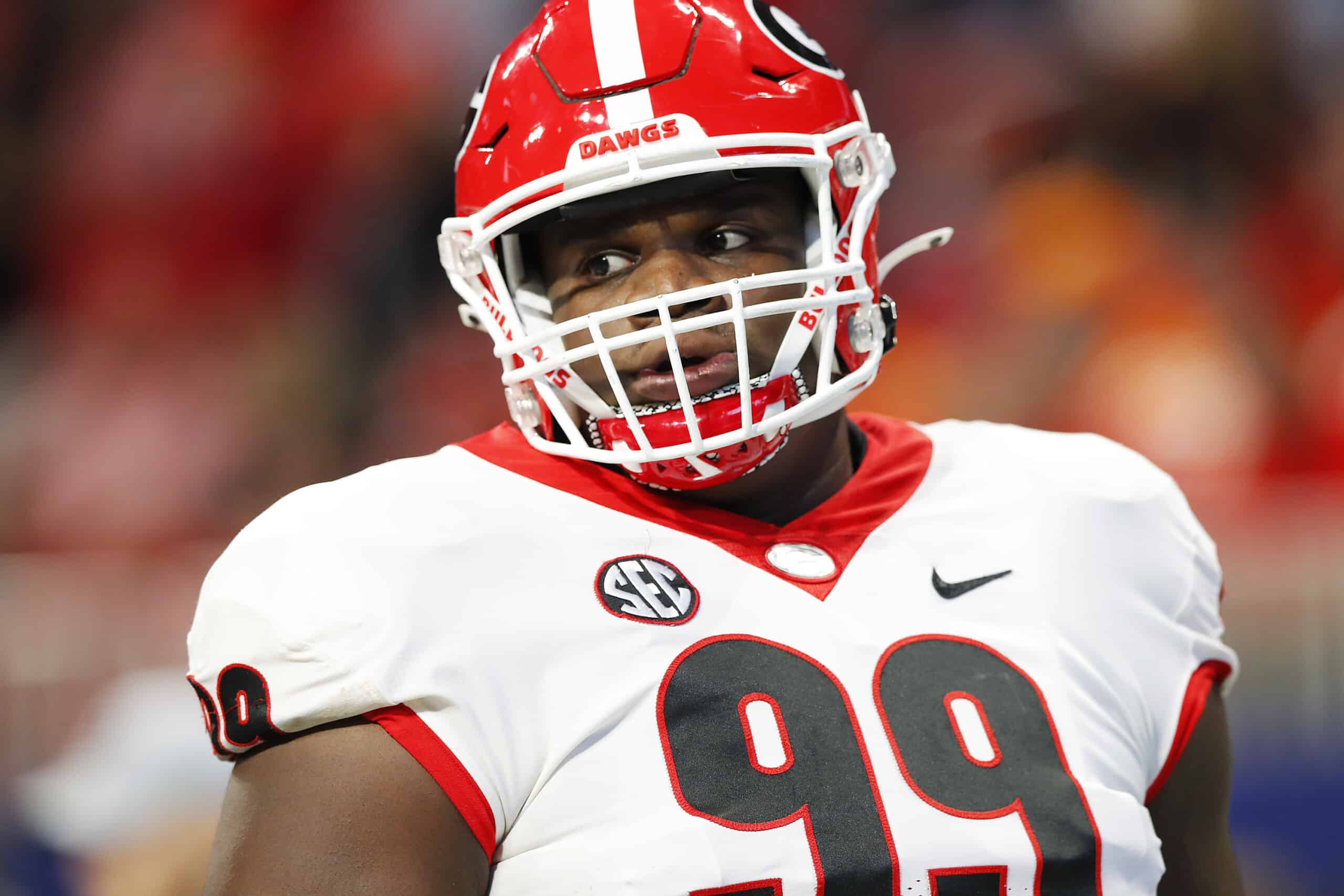 As the 2022 NFL Draft looms closer it seems like there is a new mock draft each day detailing who the Browns will pick at 13.
The start of the free agency period is over a week away.
Depending on what the Browns do during that period, most mockers are predicting a receiver for Cleveland in the first round.
However, Ryan Wilson of CBS does not agree.
In his mock released on Monday, Wilson has the Browns picking defensive line, especially in light of a particular performance in the recent NFL Combine.
Wilson Likes Georgia's Jordan Davis
University of Georgia's Jordan Davis just put a wrap on a 2021 season where he had 32 total tackles (including five for a loss), two sacks, and one pass defended.
He was a disruptive force for the Bulldogs in '21, helping the team to an elusive national championship.
Although he was already in the discussion as a potential first-round selection in April, Davis further boosted his stock at the Combine.
During the position drills involving defensive linemen, Davis ran the 40-yard dash and dropped jaws when he finished with an official 4.78.
UGA's Jordan Davis really ran a 4.82 in the 40 at the NFL combine. He weighs 341 lbs….INSANE. 🔥🔥🔥pic.twitter.com/k4zXGFNenF

— Everything Georgia (@GAFollowers) March 6, 2022
It should be noted that Davis is not tiny.
Listed at 6'6" and 340 pounds, it does not seem possible that a man his size can move that fast.
However, his time was the talk of the Combine and the performance moved his name into the top 20 prospects.
Later in the day, Davis posted a jump of 10 feet, 3 inches in the standing broad jump.
This photo of 341-pound Jordan Davis shouldn't be real 😂 pic.twitter.com/25AiG6nohb

— PFF (@PFF) March 7, 2022
Both his 40 time and broad jump are believed to be a Combine record for a player over 300 pounds.
How Would the Pick Benefit Cleveland?
As enticing as Davis is, the Browns must get a receiver (or two) that can contribute right away in '22.
This especially holds true if Jarvis Landry does not return.
However, should the Browns sign a high profile receiver in free agency, then Davis would make sense.
dude on left is 6'6" 341 lbs & ran a 4.82 40

Jordan Davis is absolute freak pic.twitter.com/TA8oiKjBHS

— Warren Sharp (@SharpFootball) March 5, 2022
In 2021, the middle of the Cleveland defense boasted, at various times, Malik McDowell and Malik Jackson.
Both did fairly well and held their own despite being new to the Browns.
However, McDowell made news in January when he appeared naked outside of a Florida preschool.
He then attacked police officers who attempted to restrain him.
The incident is only part of McDowell's troubling past and puts a solid question mark on his return.
Regardless of McDowell's future, Cleveland would do well to upgrade their defensive line.
As CBS' Wilson notes, Davis is a potential three-down lineman who should be a terror for opposing offenses.
If Cleveland lands a free agent wideout, then Davis would be a logical choice at 13.
After all, with a deep receiver class this year, the Browns could still find an offensive playmaker in the second round.