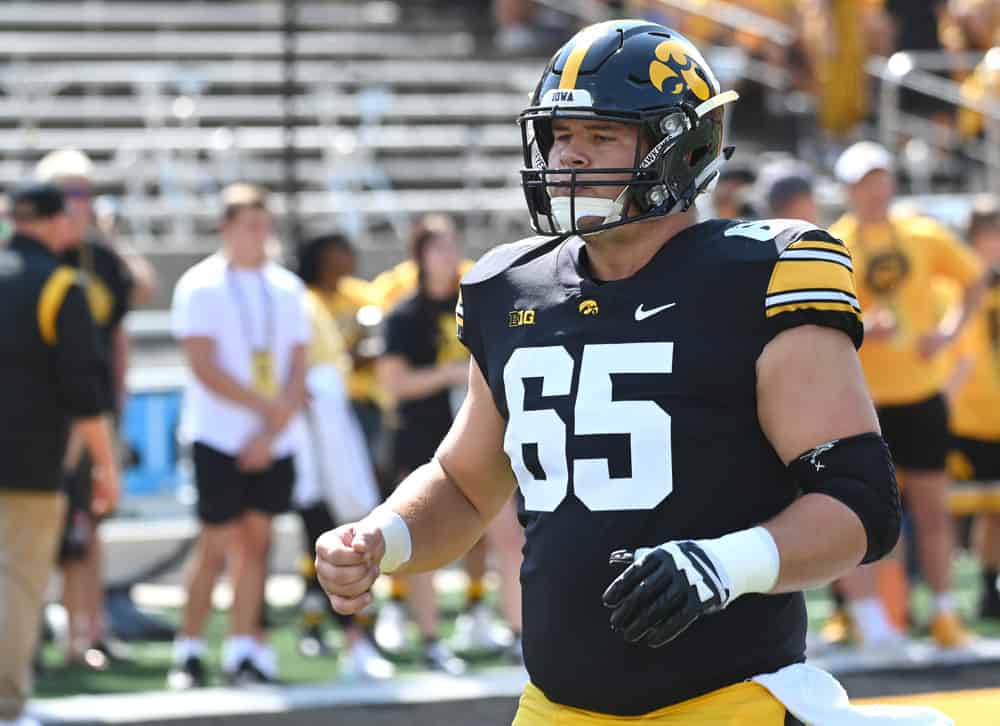 It is officially mock draft season!
Just kidding, but that may be more of a reality than a joke in the coming weeks.
Cleveland's postseason push needs to start immediately after the bye week. Even then it could be too late.
However, for those interested in the early mock drafts, we have you covered!
CBS Sports recently released a mock draft for 2022 that has the Browns taking an offensive lineman in the first round.
The pick, according to CBS Sports, would be Tyler Linderbaum out of Iowa.
For a team that has invested into its current offensive line, going there with their first pick would be an interesting move.
Let's dive into what CBS Sports had to say.
Looking at Linderbaum
The Big Ten Offensive Lineman of the Year killed it during his time with the Hawkeyes.
He played center for Iowa and has a case at being the top center available in this year's draft.
He's 6'3, 290-pounds which allows him to do more than just hold his own against top-tier interior defensive linemen.
His run-blocking ability is what makes Linderbaum stand out.
Tyler Linderbaum: 96.3 run blocking grade this season

Highest grade by a Center since 2014💪 pic.twitter.com/3K3zp70Bed

— PFF College Football (@PFF_College) December 1, 2021
He can win that initial surge at the line of scrimmage and control the defender downfield.
His pass protection skills should not be forgotten either.
He has incredible intelligence and quickness that allows him to make the block and give his quarterback time to throw.
There's no question that Linderbaum can be a promising young center wherever he ends up. The question is, does Cleveland need Linderbaum?
J.C. Tretter
The answer to that depends on current center J.C. Tretter.
His contract keeps him here through next season where he will then become an unrestricted free agent.
He hasn't been cheap, and he'll be on the wrong side of 30 after the 2022 season.
If Andrew Berry wanted to go in a younger, less expensive direction, drafting Linderbaum is one way to do it.
Tyler has a nice, polished game that should translate to the professional level.
Stealing from the Steelers
Pittsburgh's rookie center Kendrick Green has struggled this season and has been a part of some poor offensive line play from the Steelers.
Looks like the snap is early and Kendrick Green promptly gets walked into Ben Roethlisberger's lap. Not a strength issue (Green is a strong guy). Technique/hand use problem. Expected highs and lows from this season. Certainly getting them. #Steelers pic.twitter.com/Ie6fEzgEzo

— Alex Kozora (@Alex_Kozora) November 23, 2021
A prospect like Linderbaum could be enticing enough for the Steelers to make a move away from Green or make him change positions.
They need help across that entire offensive front. If the season ended today, Pittsburgh would be drafting just one spot back of Cleveland.
Keeping Linderbaum out of Pittsburgh could be a seductive option for the Browns front office.
Not to say they should draft someone in the first round solely to keep him away from a divisional rival.
However, it would be a nice little bonus moving forward in the AFC North.