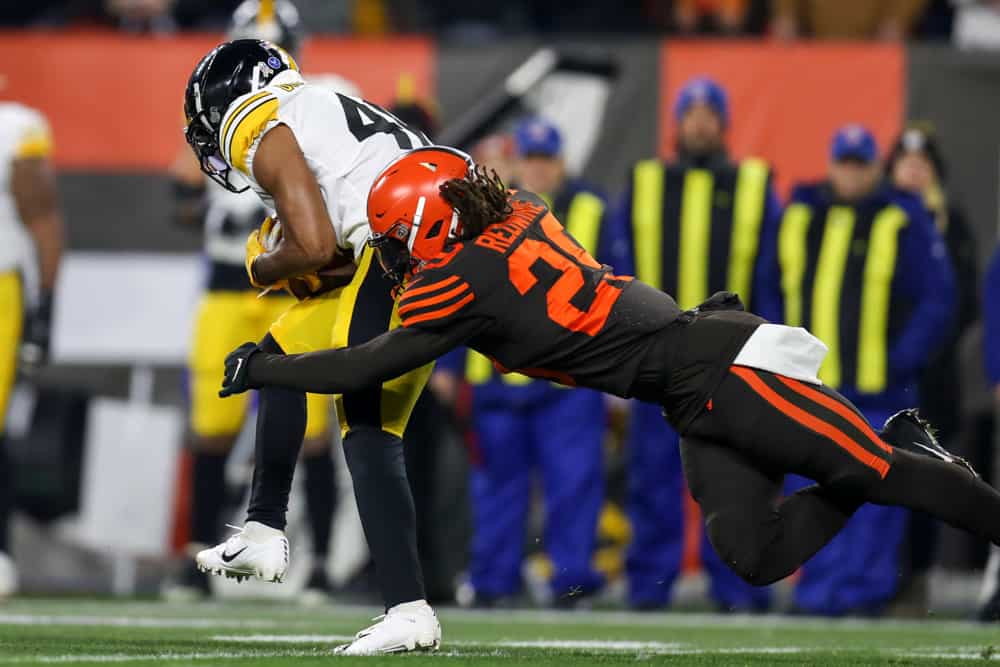 So far in our 2020 Training Camp DB Preview, we went through some of the guys at the top of the depth chart at the cornerback and safety positions.
In our positional preview finale for defensive backs, we look at those who will have a smaller role for the Browns this season.
That is, if they have one at all after camp.
Sheldrick Redwine
Redwine has been an interesting prospect since being taken by the Browns in the 4th round of the 2019 NFL Draft.
The former Miami Hurricane saw a huge increase in playing time last season throughout the second half of the year.
Part of that was due to the messy Damarious Randall situation, but Redwine did well to take advantage of his opportunity. 
#Browns Sheldrick Redwine has seen more snaps in the last two weeks than he has in any previous weeks (55 in WK13, 63 in WK14) and his defensive grades show he has earned them.

Redwine's 84.2 grade ranks 5th among 63 qualifying safeties over that span pic.twitter.com/N2rqMR9R9o

— PFF CLE Browns (@PFF_Browns) December 11, 2019
As it stands, he sits behind Grant Delpit and Andrew Sendejo at the free safety position on the depth chart.
He won't be challenging anyone for that starting spot, but he could make a case to become second-string if he performs well in camp.
He has real NFL game experience, and in that experience, Redwine looked like he knew what he was doing and not like a lost puppy.
That should hold some weight when competition battles start to heat up. 
Elijah Benton
Benton was an absolute stud at Liberty, so much so that Cleveland picked him up as an undrafted free agent back in April.
🔴 DB Spotlight 🔴

Elijah Benton – Liberty

– Benton had a big season in 2018 with 76 Tackles, 2 Pass Breakups and 1 INT. He's the second leading returning tackler for the Flames in 2019. pic.twitter.com/yMmfGMv336

— NCAAF Nation (@NCAAFNation247) August 20, 2019
He's behind the eight-ball though, no question about it.
The safety position in Berea isn't overflowing with talent, but let's be honest, an undrafted guy out of Liberty has a slim chance of even making the roster.
Ourlads.com has him listed as the last free safety on the depth chart, and there's no way he challenges any of the three guys ahead of him (Delpit, Sendejo, and Redwine) for a roster spot. If not cut, expect Benton to be on the practice squad.
Montrel Meander
The next "who the heck is that?" goes to Meander.
The once Texas Longhorn, dismissed from the program for criminal activity, finished his collegiate career at Grambling before joining the Browns practice squad in 2018.
He's a distant third strong safety behind Karl Joseph and J.T. Hassell, so don't expect a role outside of practice squad member for Meander this season.
Donnie Lewis Jr. 
Lewis returns to camp after appearing on the Browns practice squad in 2019.
The former Tulane standout sits in a very top-heavy cornerback group for the Browns.
Throughout camp, he'll compete with the likes of Robert Jackson, Tavierre Thomas, A.J. Green, Donovan Olumba, and Jameson Houston for depth chart positioning.
A regular season roster spot is certainly attainable for Donnie depending on how many cornerbacks the Browns decided to keep on the roster. 
Robert Jackson
Jackson actually appeared in three games for Cleveland last season and managed to record two tackles in those contests.
For someone who very well may be a career practice squad guy, any kind of contribution on Sunday's is welcomed.
Let's assume Cleveland enters the season with five cornerbacks.
Assuming Ward, Williams, Mitchell, and Johnson get those first four spots, Jackson and Lewis Jr. will likely compete for fifth on the depth chart. 
Tavierre Thomas
Thomas played his collegiate ball at Ferris State before the Cardinals signed him as an undrafted free agent in 2018.
After being waived by Arizona and picked up by the Browns, Thomas has appeared on Sunday's a few times, mostly on special teams.
He has 17 total tackles in his two seasons in Cleveland.
That experience may help him earn a spot on the final roster as he competes with the other corners, especially Jackson and Lewis Jr., at the bottom of the depth chart. 
A.J. Green
Punch in "A.J. Green Browns" on the Twitter search bar and you'll be scrolling for a while until you find something not related to the Bengals receiver.
That's how it goes for the former Oklahoma State Cowboy however as he continues to try and break into the league.
The Browns acquired him as an undrafted free agent this past May.
Green finished as a semi-finalist for the Jim Thorpe award in his final collegiate season.
As far as camp goes, he'll be competing for a practice squad spot alongside the other guys named on this page. 
Donovan Olumba
Olumba actually played some Division II ball in college before transferring to Portland State.
Undrafted, the Cowboys picked up Olumba in 2018 where he dressed just once in the 2019 finale against Washington.
He signed with the Browns back in March, and you can pencil him in now for a practice squad member at best. 
Jameson Houston
Rounding things out is the former Baylor Bear Jameson Houston. He has a similar frame to Green, he's just not as talented.
Houston wasn't a slouch at Baylor though, displaying some high-end defensive ability in coverage. 
Continuing the theme of defense in this game, how about this rep by Baylor CB Jameson Houston? Lock down coverage throughout and a nice hands play at the end to knock the ball away. Big play for the Senior CB on third down as he builds on an already strong Senior year.#WNSFilm pic.twitter.com/hWiRWntjbX

— Mark (@HeaneyNFLDraft) November 5, 2019
Still, he gets lost in the mix among undrafted guys at the bottom of the depth chart.
Special teams is really the only chance someone like Houston has of getting on the roster.
If not, the practice squad awaits.