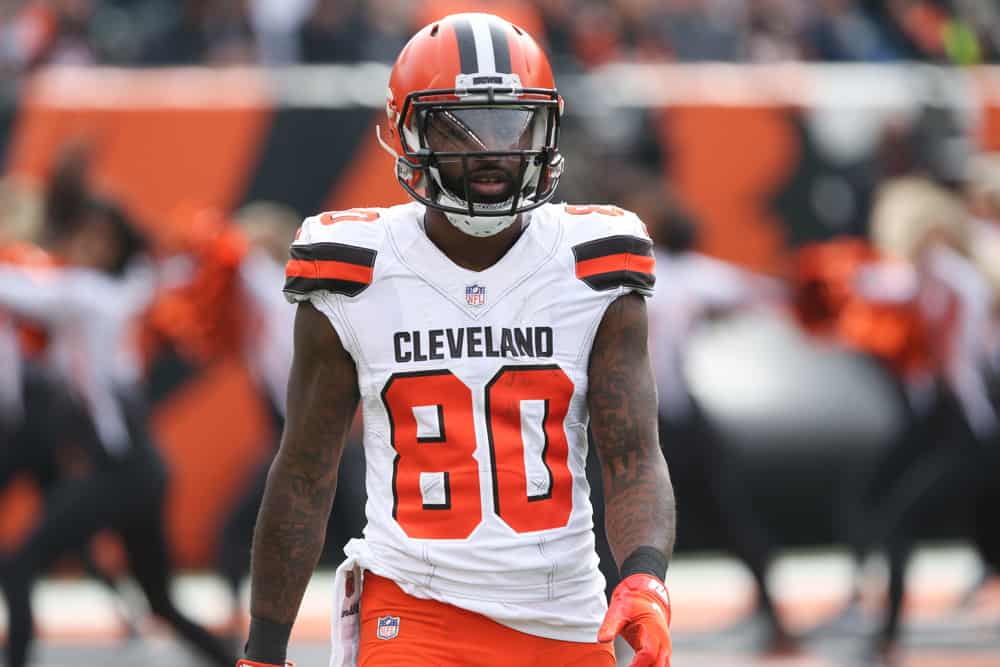 NFL players voted for Cleveland Browns wide receiver Jarvis Landry as the 61st-best player in the league ahead of the upcoming season.
The players vote each year on the NFL Network's "Top 100" list.
While assembling this year's list, NFL Films collected 970 ballots and interviewed 132 players.
It marks the fifth consecutive appearance for Landry as he heads into his seventh NFL season.
Landry's NFL Network "Top 100" ranking year by year:
2019: 84th
2018: 52nd
2017: 42nd
2016: 98th
The votes are in …@God_Son80 comes in at No. 6️⃣1️⃣ on the #NFLTop100! pic.twitter.com/IR4F1MwQPE

— Cleveland Browns (@Browns) July 28, 2020
Teammates Odell Beckham Jr. (59) and Myles Garrett (80) join Landry on this year's list.
Running back Nick Chubb could also join the three once the NFL Network's countdown of its top 40 players continues at 8 p.m. ET Tuesday.
The NFL Network is set to unveil its top 10 players at 8 p.m. ET Wednesday.
Landry, 27, played in all 16 games last season, catching 83 passes on 138 targets for 1,174 yards and six touchdowns.
In 2019, Landry posted career bests in receiving yards and yards per catch (14.1).
Pittsburgh Steelers cornerback Mike Hilton and Cincinnati Bengals defensive end Carlos Dunlap were complimentary of Landry.
"[He's ]a strong-handed guy [and] a tough gritty guy," Hilton said. "[He] goes across the middle [and] does all the dirty work…a type of guy you want on the team."

"There's no denying when the ball [is] in his area or when he's targeted whether or not he's going to catch it," Dunlap said.
Many of Hilton and Dunlap's sentiments about Landry were echoed by Buffalo Bills Pro Bowl cornerback Tre'Davious White.
"Anything that touches his hand is going to pretty much be his," White said. "A lot of people don't know man, he wears like a size 3X [or] 4X gloves, so he shakes your hand [and] it's way up here, so that's definitely a 'cheat code' that he has when the ball is in the air because he's not going to drop anything."
Browns guard Joel Bitonio recalled a play Landry had during the Browns' 20-13 loss to the Pittsburgh Steelers on Dec. 1, 2019, in Week 13.
"He was running towards the sideline. Baker [Mayfield] was kind of scrambling out to the right, and Baker kind just of threw it up. I kind of just thought he was throwing the ball away. Jarvis was covered pretty well, but somehow he kept both feet in and grabbed the ball on the sideline and made a great catch," Bitonio said. "He's done some big things for us this year. Big plays. We're talking…against Miami he had a huge game."
During a 41-24 win over the Dolphins on Nov. 24 in Week 12 of the 2019 season, Landry had 10 receptions on 13 targets for 148 yards and two touchdowns.
Landry played for the Dolphins from 2014-2017.
In February, Landry had hip surgery and is rehabbing to be ready for the 2020 regular season.
In Landry's career, he has 564 catches for 6,188 yards and 32 touchdowns.
Landry's 564 receptions are the most-ever by a wide receiver in his first six seasons.
Despite being ranked lower than Beckham, Landry had better statistics last season.
Beckham played through a core muscle injury in 2019, appearing in all 16 games, catching 74 passes on 133 targets for 1,035 yards and four touchdowns.