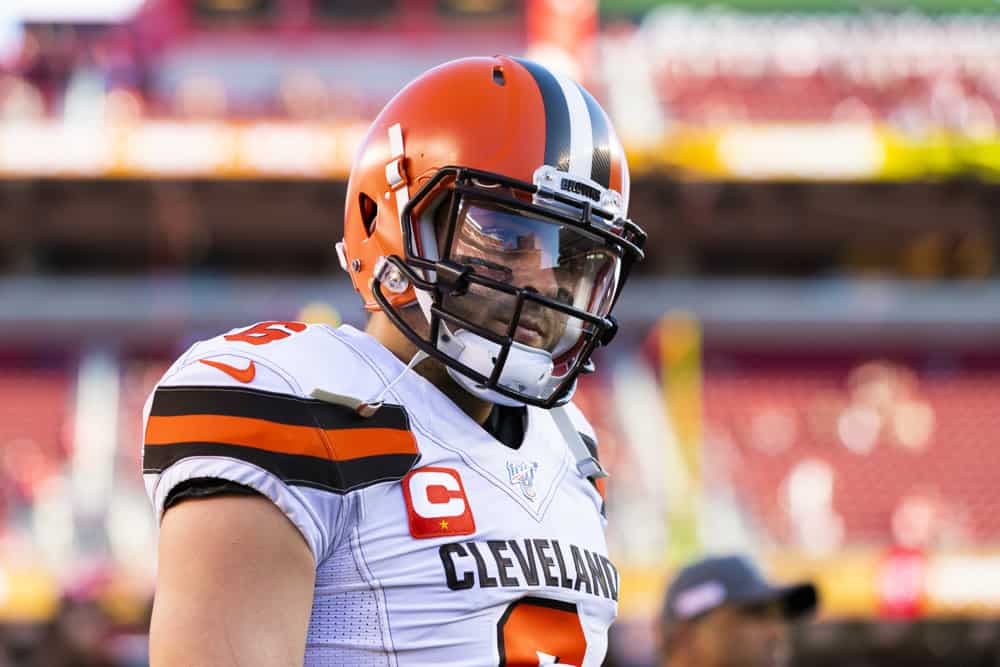 The Cleveland Browns having a stable quarterback situation is something fans have not had much experience with since 1999.
Baker Mayfield enters the 2020 season as the starter, with Case Keenum behind him on the depth chart as the backup.
Bringing Keenum into the mix gives Mayfield legitimate competition in 2020.
That is important and there is a scenario in which the third-year player gets yanked from action in favor of the veteran backup, who does have postseason experience.
Training camp is set to begin and while there is stability, this remains a make-or-break year for Mayfield.
#Browns HC Kevin Stefanski got elite play out of Cousins when outside the pocket in 2019. How will Baker do this year? https://t.co/7QkcfCru2q

— PFF CLE Browns (@PFF_Browns) July 19, 2020
Baker Mayfield The Starter
Mayfield looked like the second coming of Bernie Kosar in 2018.
Then came 2019 when he showed some serious regression under head coach Freddie Kitchens.
He now faces a crucial season as a great year may mean a big extension is coming.
A bad year could mean the Browns look to draft yet another quarterback in 2021.
Mayfield's touchdown total decreased while his interception total went up in year two.
There was evidence of bad technique and his struggles were not helped by an underprepared Kitchens.
The hope now is that Kevin Stefanski can get Mayfield back on track.
Kevin Stefanski will have "detailed plan" to help Baker Mayfield make a jump in Year 3 » https://t.co/24tzBgIj9c pic.twitter.com/zYXaa6WRkm

— Cleveland Browns (@Browns) January 19, 2020
Throwing 21 interceptions compared to 22 touchdowns was inexcusable with the likes of Jarvis Landry and Odell Beckham Jr. lined up at receiver.
This came in a total of 16 games, while the quarterback threw for 27 touchdowns as a rookie in just 14 games.
The Browns will have to make a decision on a fifth-year option for the former No. 1 overall pick next year.
We saw Myles Garrett get his own monster extension and Mayfield is in a position to receive a similar deal.
The Browns have stocked up money for this exact scenario and now he just needs to prove he deserves the money.
Browns fans have seen two different versions of Mayfield so there is no way of knowing which one we will get in 2020.
What fans do know is that failure will land him on the sidelines fast.
Case Keenum The Veteran Backup
Case Keenum is a well-traveled veteran and the Browns will be his fifth team in five years.
His best work came during the 2017 season when he went 11-3 as a starter with Stefanski's Minnesota Vikings and took part in the "Minneapolis Miracle."
Enter Kirk Cousins and Keenum signed with the Denver Broncos, where he went 6-10 in a full season as the starter.
Then came a stint last year in Washington where Keenum went 1-7 before being benched in favor of Dwayne Haskins.
The familiarity with Stefanski is the key here.
Browns fans should also be excited that there is a legitimate threat at backup.
Drew Stanton and Garrett Gilbert were not exactly intriguing options in 2019.
Keenum fills Stanton's role while also still being capable of playing at a high level.
He threw 22 touchdowns with only seven interceptions during that 2017 season with the Vikings and has 62 career starts.
The team signed him to a three-year, $18 million deal where Keenum is heavily protected from being cut until the third year.
Breaking: The Browns reached an agreement with former Redskins QB Case Keenum on a three-year, $18 million deal that includes $10 million guaranteed, a source tells @AdamSchefter. pic.twitter.com/gfrC3TyqB4

— SportsCenter (@SportsCenter) March 16, 2020
The best-case scenario in 2020 is Keenum never seeing the field.
That means Mayfield is doing his job and there is no talk of any quarterback controversy.
Browns fans are hoping things go as planned for once in what will be a unique 2020 season.
Up next is Part 2 of our quarterback preview where we look at the depth at the position.