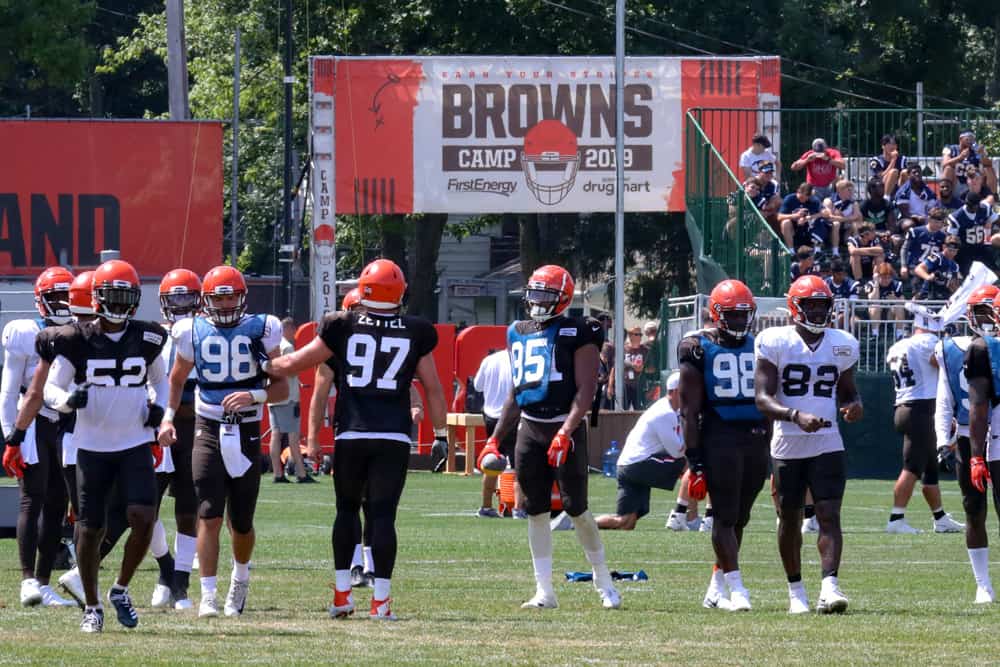 Full squad training camp is scheduled to begin on July 28.
On the heels of that, let's take a look at how the Cleveland Browns stack up at the tight end position.
Off-season activity has created positive changes (and controversy).
This position is particularly intriguing because Coach Stefanski has a reputation of lining up multiple TE schemes.
In fact, he used multiple TEs in 57% of the plays last season as the Vikings offensive coordinator.
With that being said, the depth chart currently has 6 TEs in the mix.
In Part 1 of the TE Preview, we will focus on the perceived top 3 TEs, and Part 2 will focus on the remaining 3 on the bubble.
Who's Gone From the 2019 TE Roster
Demetrius Harris who played in 15 games, caught 15 passes for 149 yards, and scored 3 TDs in 2019 is gone.
He was released by the Browns on February 17 and immediately signed by the Bears to a 1 year deal.
Welcome to Cleveland, Austin Hooper!
The Browns snagged the top free agent TE on the market during the off season.
Though Hooper mentioned he would like to remain an Atlanta Falcon in January, the Browns signed him in March to a 4 year deal worth $44 million making him the highest-paid TE in the NFL.
Hooper was sought after but chose the Browns because he liked the system, the leadership of the GM and coaching staff, and of course, the contract.
Austin Hooper brings reliability in the middle and could become Baker Mayfield's favorite target in a star-studded offense.
At a minimum, he will be Baker's 2nd or 3rd read.
He is coming off his career-best 2019 season with 787 yards receiving with 75 receptions (6 TDs).
Disgruntled David Njoku is #2.
In a shocking move earlier this month, David Njoku, via his mouthpiece/new agent Drew Rosenhaus requested a trade before training camp.
Njoku was sidelined for much of 2019 with a broken wrist.
His 2018 season was respectable with 639 yards on 56 catches (4 TDs).
He certainly is in the top tier of Browns TEs and should get a lot of playing time under Stefanski.
That makes his decision more surprising.
It must have something to do with the guy in front of him (Hooper) and the new guy behind him (Harrison Bryant).
Did a little digging this morning and the David Njoku trade request makes sense for one reason: His guaranteed fifth-year option is tied to playing time and production, per the new CBA. He's not likely to hit certain benchmarks even in Kevin Stefanski's TE-friendly scheme.

— Brent Sobleski (@brentsobleski) July 7, 2020
Rookie Harrison Bryant could be #3.
With the 115th pick (4th round) in the 2020 NFL Draft, the Browns selected Harrison Bryant.
NFL Analyst Lance Zierlein has compared him to George Kittle.
That's high praise for the 4th rounder from Florida Atlantic University.
Highest-graded NFL rookie TEs

1. Adam Trautman, Dayton – 94.2
2. Harrison Bryant. FAU – 92.5
3. Devin Asiasi, UCLA – 79.0
4. Hunter Bryant, Washington – 74.8 pic.twitter.com/e5eACJRRR0

— PFF College (@PFF_College) June 16, 2020
Bryant has solid hands; he catches the ball and holds onto it in contact situations.
At 6'5″ and 243 pounds, he has the height but could add weight to improve his blocking skills.
FAU used his versatility to line him up as a receiver and blocker everywhere, and he succeeded.
Interestingly enough, Bryant was an offensive tackle until his senior year of high school when he switched to the tight end position.
There are so many upsides with him in Stefanski's system that his growth and maturity is going to be fun to watch.