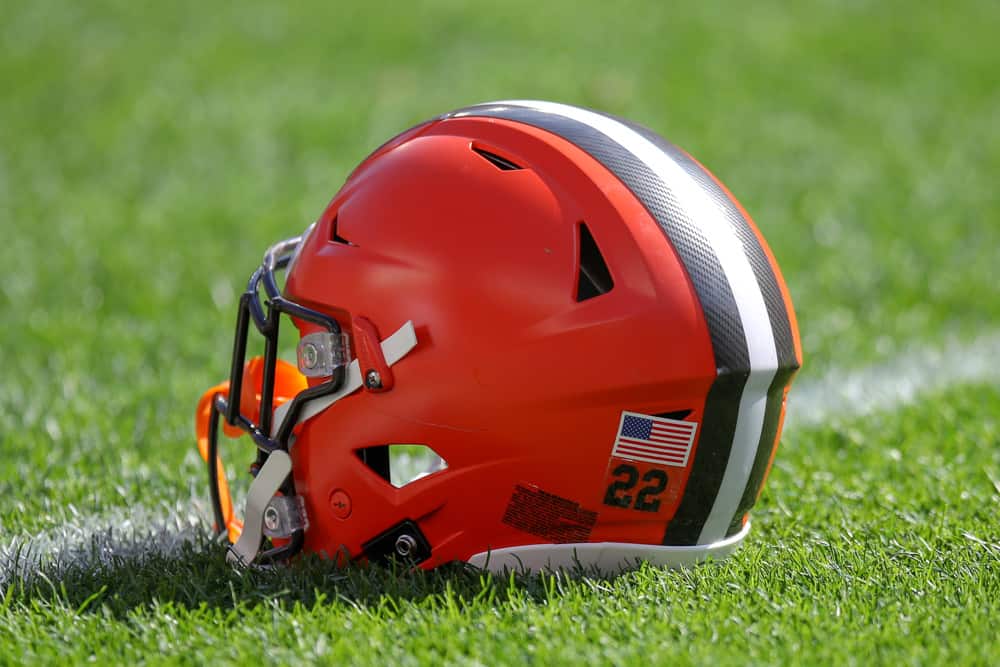 While football fans eagerly await the NFL Draft, there was some draft-related news on Friday.
New Era, the official headwear partner of the NFL, revealed this year's "draft hats".
These are the hats that we see each draft selection dawn as their first official piece of gear from their new team.
Of course, this includes hats for the Cleveland Browns!
It seems the caps this year will be made available in both flat and curved bills.
As a fan of both types in different circumstances, I am a fan.
The #Browns 2021 NFL Draft hat is here. pic.twitter.com/nYE42b2ySC

— Camryn Justice (@camijustice) April 9, 2021
The Browns' 2021 NFL Draft hat pic.twitter.com/zBD7Xk876R

— Ben Axelrod (@BenAxelrod) April 9, 2021
Good-Looking or Ugly?
Draft hats do not seem to draw too heavy of a reaction one way or the other on social media.
Most of them seem to leave fans with a "meh" feeling, no more or no less.
After all, it's just a hat everyone forgets about a week later.
This year's design for the Browns is fairly basic.
The team name and logo are both included inside of a modified polygon of sorts.
The team colors are all nicely included as well.
What stood out on this one is the mesh/trucker material used for the backside of the hat.
If nothing else, draft selections will have a cool head when they get drafted.
Previous Editions
Again, these hats just sort of come and go.
Rarely do I see someone walking around the streets of northeast Ohio with a Browns draft hat on.
2020
Last year's draft hat was a more unique design.
The old-school elf logo was used, which many fans tend to have a split opinion on.
If you fall on the pro-elf side of the fence, last year's hat was right up your alley.
According to @NewEraCap this is the official #Browns 2020 NFL Draft Hat, and it is for sale on their website.https://t.co/9zz2mH0osv pic.twitter.com/jJNfF2rqoD

— Daryl Ruiter (@RuiterWrongFAN) March 31, 2020
2019
The hat from 2019 didn't exactly excel in the creativity department.
The helmet logo is prominently featured on the front, with a triangular star pattern in the background.
It's not ugly, but not exactly unique or charismatic either.
Cleveland Browns New Era Youth 2019 NFL Draft On-Stage 9FIFTY Adjustable Hat – Brown, $22.49 with code: 25OFFNFL – You Save: $7.50 https://t.co/HCBTgUeRh0 pic.twitter.com/cos4ITt2a3

— Major League Hats – Football (@FootballCapHats) June 2, 2019
2018
If anyone remembers the 2018 hats, the NFL and New Era went with team nicknames, mottos, or other fandom phrases on the front of the hats.
The end results weren't terrible, but all the hats did kind of blend together when looked at next to one another.
2018 Browns draft day hat, thoughts??? pic.twitter.com/PUKq0QuMWf

— george b #D4L (@gbdawg55) April 10, 2018
We get a first look at the 2018 NFL Draft hats for The Bears, Cowboys, Browns, and Titans! pic.twitter.com/baGHCK9nGE

— Renaissauced (@renaissauced) April 26, 2018
2017
The 2017 hats featured a little more creativity.
Team logos were placed on the front with alternate logos placed on both the side and top of the bill of the hat.
Not every team turned out great, but the Browns hats didn't look too shabby.
New Era hats for 2017 NFL Draft will go on sale 4/17. Similar theme for all 32 teams, but #Browns fans don't seem to fond of their look. pic.twitter.com/Iq61w1EbuY

— Dawgs By Nature (@DawgsByNature) April 10, 2017
2016
There's not much to say about the 2016 hats.
Very simple and very basic.
You can see why the NFL was perhaps motivated to produce something more creative the following year.
2016 #Browns #NewEra draft day hat pic.twitter.com/6E0zNHkxh0

— TripleThreatCLE.com Podcast (@TripleThreatCLE) April 28, 2016
2015
The 2015 collection was another simple design.
The primary logo was on the front while the city skyline and name were displayed underneath the bill.
The skyline design looks really good, so it's a shame it ends up hidden when actually worn.
RT and must be following to win a 2015 Browns Draft Hat! Will announce at 100 RT pic.twitter.com/Uig8Yur6PM

— Diehard DawgPound (@Diehard_Dawgs) April 23, 2015
How Do You Feel?
How do you feel about this year's Browns draft hat?
Is it one that you'll be looking to purchase or pass on this year?
Let us know down below in the comments!