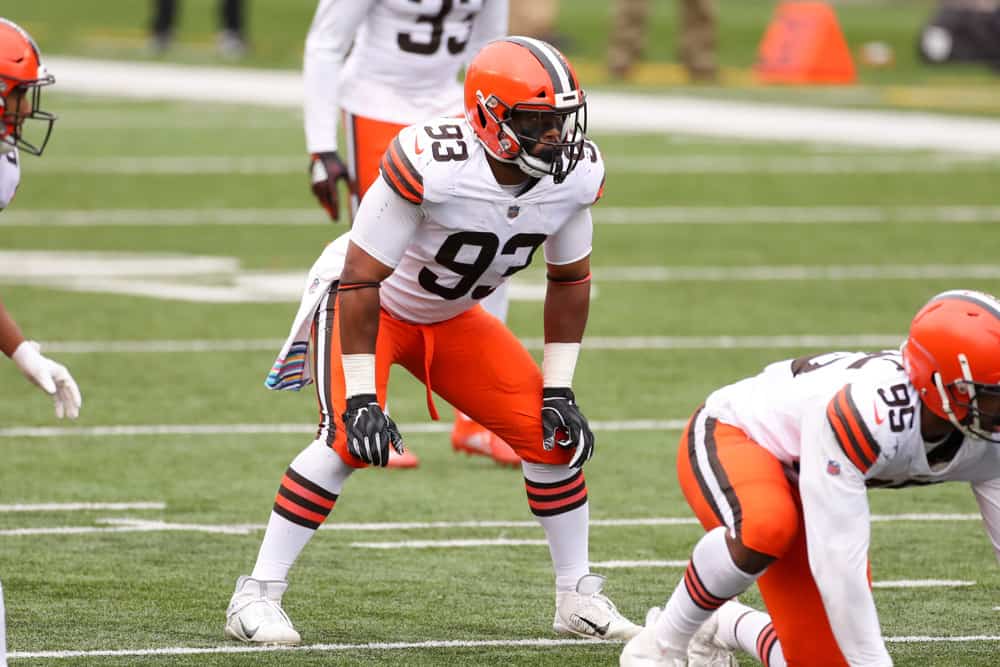 Former Cleveland Browns linebacker and current free agent B.J. Goodson visited the Tennessee Titans on Thursday.
This marks the first team visit for Goodson who was a member of the Browns defense in 2020.
Free agent visits today:

Titans hosted Browns LB B.J. Goodson

Texans hosted Broncos DE DeMarcus Walker

Jaguars hosted DT Daniel Ross, who they claimed off of waivers late last season

— Field Yates (@FieldYates) April 8, 2021
Goodson signed a one-year $2.4 million deal with the Browns in 2020.
B.J. Goodson
Goodson will turn 28 next month.
He is seeking his fourth team entering his sixth season in the NFL.
The 6'1″ 241 pound Goodson played college football at Clemson.
He was drafted in the fourth round (109th overall) by the New York Giants in the 2016 NFL Draft.
Goodson was the 15th linebacker drafted in 2016.
He spent three seasons with the Giants before joining the Green Bay Packers in 2019 and the Browns in 2020.
2020 Stats
With the Browns, Goodson was the starter in 14 games.
He had 59 solo tackles, two interceptions, and one fumble recovery.
Goodson also had 12 solo tackles in the Browns' two playoff games.
He played in a career-high 79% of the defensive snaps in 2020.
Though Goodson is a reliable tackler, he was not as effective (or utilized as much) against the run game in Joe Woods' defense.
He turned out to be a solid free agent signing in 2020 leading to speculation that he would be re-signed by the Browns for 2021 and beyond.
Of course, Goodson was involved in the play that ultimately ended the Browns' season as he was the cover man for Kansas City's Tyreek Hill on the infamous fourth down Chad Henne pass play.
HENNETHING IS POSSIBLE pic.twitter.com/HjATlHrOO0

— Barstool Sports (@barstoolsports) January 17, 2021
Cleveland Browns 2021 Defense
During the offseason, improving the Browns defense has been a priority.
The free-agent signings to date reflect this.
Three headliners added to the Browns defense are safety John Johnson III from the Los Angeles Rams, cornerback Troy Hill also from the Rams, and defensive end Takk McKinley from the Las Vegas Raiders.
In the linebacker capacity, the Browns re-signed Elijah Lee and Malcolm Smith.
The Browns also added former Indianapolis Colt inside linebacker Anthony Walker.
To date, the Browns front office has gotten kudos for their smart free-agent signings.
With the NFL Draft coming up at the end of the month, the Browns are expected to continue adding young defensive weapons for 2021.