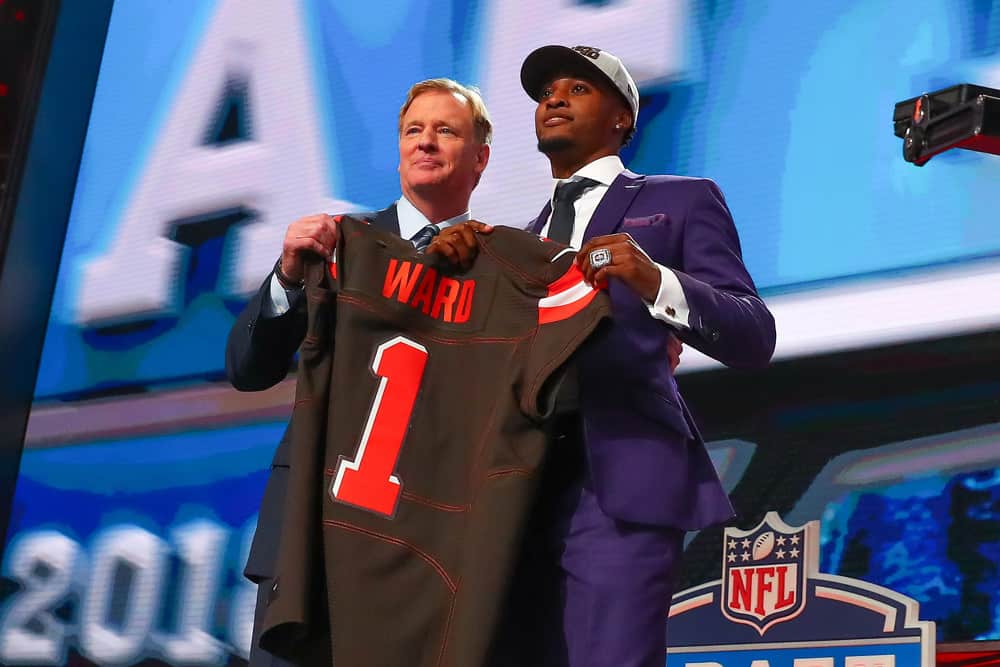 After former owner Art Modell relocated the Browns (re-named the Ravens) to Baltimore in 1996, the team was re-born three years later.
In 1999 the new Cleveland Browns took the field again, chasing a championship that had eluded the team for decades.
Over 20 years later and the Browns are still chasing that dream.
Along the way, they have drafted an assortment of gems and duds to try and get them over the hump.
The following is a comprehensive list, and full profiles, of the first-round picks since 1999.
1999, Tim Couch, Quarterback, University of Kentucky  
And with the first overall pick in the NFL draft, the Cleveland Browns select Tim Couch! pic.twitter.com/TbDMlhhBzJ

— 216 Sports History (@History_Cle) April 27, 2017

Tim Couch became the first pick of the expansion Browns after a standout career at Kentucky.
As a junior in 1998, Couch set an SEC record with 4,275 yards passing that wasn't broken until LSU's Joe Burrow did it in 2019.
Couch also set NCAA records for most completions in a season (400), most completions in a two-year period (793), career completion percentage (67.1%), and most completions per game in a two-year period (34.7).
He was a Heisman finalist in 1998 along with First-team All-SEC, First-team All American, and SEC Player of the Year.
Tim Couch ( @timcouchtv ) with the game-winning TD to Craig Yeast ( @CraigYeast ) as Kentucky beats Alabama for only the 2nd time in school history. (1997) pic.twitter.com/I3TWnw1uZq

— KY Clips (@KY_Clips) June 14, 2018

After leading the Wildcats to a 7-5 record in '98, Couch declared for the NFL Draft.
Since the Browns were an expansion team in '99 they owned the first pick of the draft that year.
With the first pick, the team selected Couch to lead the team into the future.
It didn't take long for Couch to become the starter.
In the second game of the '99 season, he was thrust into the starter's role in place of veteran Ty Detmer.
Couch lasted five years in Cleveland and his tenure was peppered with a mix of highs and numerous lows.
He showed promise in his rookie year, throwing for over 2,400 yards and 15 touchdowns.
Unfortunately, his sophomore year was derailed with a broken thumb that kept him out of the last nine games of the season.
In 2001, he started all 16 games of the regular season, a feat that was not matched until Baker Mayfield in 2019.
Couch also had his only 3,000 yard passing season in 2001.
On the flip-side, that season also marked the second of a two-year run where he had more interceptions than touchdown passes.
The highlight of his NFL career came in the 2002 season.
That year, Couch led the team to a surprising 9-7 record.
Couch to Northcutt #Browns
pic.twitter.com/Oc7DDVcI2R

— CleWest (@erjmanlasvegas) March 25, 2020

He also showed flashes of brilliance when he led the team to five victories in the final two minutes.
In the final game of the season, Couch broke his leg.
He was forced to watch from the sidelines as his backup, Kelly Holcomb, lost in the wildcard round to Pittsburgh.
Holcomb ended up being named the starter for the 2003 season.
Couch did get eight starts that season as part of an ongoing quarterback controversy.
Before the 2004 season began, Couch was released by the Browns.
He was signed by Green Bay, but a rotator cuff injury caused him to miss the season and was cut by the Packers.
Between 2005-2007, Couch tried to latch on with several teams but nothing panned out.
Since his official retirement, he has worked as a television analyst with several Fox Sports affiliates.
His time with the Browns has been largely panned and he wears a label as one of the worst draft busts in NFL history.
However, Couch does hold a rather notable NFL record.
He is the only quarterback in NFL history to throw two game-winning passes of 50 yards or more with no time remaining on the clock.

2000, Courtney Brown, Defensive End, Penn State
Apr 15, 2000: The @Browns drafted Penn State's Courtney Brown #1 overall. His career was hampered by injuries and he, like many others, didn't fix the Browns. pic.twitter.com/xCtWdJKhlF

— Sad CLE Sports (@SadCleveland) April 15, 2018
Courtney Brown made a name for himself as a standout defensive end for the Nittany Lions from 1996-2000.
In the January 1999 Outback Bowl against future teammate Tim Couch, Brown was an absolute terror.
Along with teammate LaVar Arrington, Brown made numerous big plays including back-to-back sacks to end a Wildcat scoring threat.
At the conclusion of the game, Brown was named Most Valuable Player.
His senior year in 1999 was an especially significant coming-out party for Brown and NFL scouts took notice.
Brown was named First-team All Big-Ten and All-American.
He was also the Big Ten Defensive Player and Defensive Lineman of the year.
The accolades continued to pour in as he was a finalist for the Nagurski, Bednarik, and Lombardi Awards.
Brown finished his Penn State career with 33 quarterback sacks (an NCAA record) and 70 tackles for a loss.
For the second year in a row, Cleveland had the first pick in the draft.
The team finished the '99 season with a woeful 29th ranking in points against.
Therefore, Brown was practically a no-brainer for the team and they grabbed him to shore up their defensive line.
At that point in NFL Draft history, Brown's selection marked only the 11th time that a defensive lineman was taken first overall.
Brown's rookie campaign justified Cleveland's decision.
He concluded the season with 69 total tackles, 4.5 sacks, and a fumble recovery.
The 2001 season was a harbinger of things to come for Brown.
Limited to only five games due to an injury, he still matched his previous year's sack total with 4.5. 2002 and 2003 saw Brown regain some of the momentum of his rookie year.
Over the course of both seasons, he had 78 combined tackles, eight sacks, four forced fumbles, three fumble recoveries and four passes defended.
Just as things were looking up for Brown, his world came crashing down in 2004.
After sustaining a torn ligament in his left foot, Brown missed the rest of the season after two games.
He was then released by the team in March of 2005.
Not long after his release, Brown was signed by Denver amongst a flurry of moves to get the Broncos to the Super Bowl.
In '05, he played in 14 games and was able to muster 24 tackles and two sacks.
Brown's injury woes caught up to him again in 2006.
During training camp that year, he sustained an injury that required surgery and his season was over before it even began.
With only 19 career sacks and 155 total tackles, Brown retired from the game, never having lived up to the potential of his first-round selection.

2001, Gerard Warren, Defensive Tackle, University of Florida
352 Family, Big Shout Out to "Big Money" Gerard Warren for being named a 352 Legend. #Legendville #352Legend @25DFraz @TonyJonesg8r pic.twitter.com/ajRPA6LyS6

— Legendville (@Legendville1) September 7, 2017
Gerard Warren was a stalwart defensive tackle for "head ball coach" Steve Spurrier in the late 1990s'.
Over the course of three seasons, Warren started 22 games for the Gators.
Warren was a team captain during his junior season of 2000.
That season saw the Gators finish 10-3, win the SEC championship, and lose in the 2001 Sugar Bowl to the Miami Hurricanes.
For his part, Warren made 76 tackles, 4.5 sacks and collected Second-team All-SEC and Second-team All-American honors in 2000.
Warren completed his career at Florida with 159 tackles, 9.5 sacks, and 30 tackles for a loss.
The Browns, by virtue of their 3-13 record in 2000, (and finishing '00 ranked 27th in the league in points against) took Warren with the third pick of the 2001 draft.
Warren had a solid rookie season while starting 15 games, completing the year with 61 total tackles and five sacks.
In the 2002 and 2003 seasons, Warren started all 16 games.
The '02 campaign was the beginning of a decline in numbers for Warren's career with the Browns.
He had 39 total tackles, two sacks, and two forced fumbles in '02.
In 2003, he had 32 tackles with 5.5 sacks and two fumble recoveries. 2004 was the worst season for Warren in Cleveland.
After missing three games due to injury, he made only 18 total tackles, four sacks, and two forced fumbles.
In March of 2005, Warren was traded to Denver.
That trade was unique because Denver not only traded for Warren, but also fellow Browns defensive linemen Michael Myers, Ebenezer Ekuban, and former first pick Courtney Brown.
After the deal was finalized, the media dubbed the re-formed Broncos defensive line the "Browncos."
The Browns admittedly parted ways with Warren primarily due to his comments and behavior off the field.
During his time with Cleveland, Warren was nicknamed "Big Money."
In two seasons with the Broncos, Warren made a combined total of 49 tackles, 5.5 sacks, and one forced fumble.
He was then traded in 2007 to the Oakland Raiders where he spent three seasons.
Warren only missed four games with the Raiders and finished with 96 combined tackles, 10 sacks, and two forced fumbles.
He was then traded a third time in 2010 to the Patriots. In New England, Warren had 28 starts, 40 total tackles, 4.5 sacks, and one fumble recovery.
In his final season of 2011, the Patriots lost Super Bowl 46 to the Giants.
Upon being released by the Patriots in August 2012, Warren officially retired from the game.

2002, William Green, Running Back, Boston College
@RandomNFLPeeps William Green Browns' Draft:
2002 / Round: 1 / Pick: 16 pic.twitter.com/DE2zeGa1W7

— McNaficent (@McNaficent) July 9, 2018
In 2000 and 2001, the Browns drafted defense with their first pick of the draft.
They needed serious help on that side of the ball and 2001 saw modest gains.
The defense finished in the top 15 in the league in points against.
However, the offense stumbled to a 25th overall ranking that year.
The leading rusher for the Browns in '01 was rookie James Jackson.
Jackson had difficulty finding traction and finished the season with 554 yards rushing and two touchdowns.
Enter William Green.
Over the course of four years, Green put Boston College on the map.
During the 2000 and 2001 seasons alone, Green rushed for 2,700 yards and 32 touchdowns.
He also added 338 yards receiving with three touchdowns.
Green made First-team All-Big East in 2000 and 2001.
In 2001, he was bestowed with the Big East Offensive Player of the Year award as well as being recognized as consensus First-team All-American.
Green was expected to be picked in the top ten on draft day in 2002.
However, he was suspended twice in college for testing positive for marijuana use.
Cleveland did not let the suspensions deter them and selected Green with the 16th pick of the draft.
During his rookie year of 2002, Green started in 10 of 16 games.
He played well, gaining 887 yards and adding six touchdowns.
In a game against Atlanta that season, Green gained notoriety with a huge 64-yard touchdown run that put the Browns in the lead.
The play became memorable when play-by-play man Jim Donovan yelled "Run, William, run!" during the play.
'Run, William, Run!' https://t.co/qKccmACFWD

— PGH Browns Backers (@PGHBB) March 25, 2020
When the 2002 season concluded, it looked like Green would take the league by storm in 2003.
Unfortunately, 2002 proved to be the best season of his career.
Green began the 2003 season with promise.
After seven games, he had rushed for 559 yards, well on his way to a 1,000-yard season.
Then, his troubled past caught up with him and wiped out a career that could have been special.
The issues began when Green was pulled over for drunk driving and marijuana possession.
During the arrest, Green was oddly wearing only one shoe and one sock.
The NFL acted swiftly and doled out a four-game suspension to Green for violating its substance abuse policy.
While on suspension, Green became embroiled in a domestic dispute with his then-fiance who then stabbed him in the back.
The league took action again and suspended him for the remainder of the 2003 season.
In 2004, Green played in 15 games and rushed for 585 yards and two touchdowns.
However, during the season he was ejected before a game against Pittsburgh for fighting with the Steelers Joey Porter.
Shortly after the incident, he also disclosed to the world that he was having a child out of wedlock.
2005 was the low point for Green's football career.
After playing in eight games and gaining only 78 yards on the ground, the writing was on the wall.
The Browns placed Green on injured reserve during training camp in 2006 and then reached an injury settlement with him.
He was then released by the team.
Green finished his once-promising career with 2,109 total yards and nine touchdowns.
In 2008, he attempted a comeback and worked out for teams during Boston College's pro day that spring.
Although he appeared to be in great shape, he did not sign a contract.
Since then Green has become an ordained minister and motivational speaker.
Tired of social distancing and bad news? Tune in on 4/7 @ 6 pm for some good news & motivation from former NFL player, William Green!
Please retweet to spread the word! pic.twitter.com/PKaeLXdzm2

— ana calvillo 🤍 (@anaacalvillo) April 4, 2020
2003, Jeff Faine, Center, Notre Dame
2003 21st overall
C Jeff Faine
Norte Dame pic.twitter.com/PwkjkwxO6W

— Namaste 6' Away (@CoryFromPreble) March 23, 2017
Despite the fact that Cleveland made the playoffs in 2002, the Browns still finished the season ranked 19th overall in offensive production.
Hoping to add a little more punch to their run game and shore up their pass protection, the team drafted Jeff Faine with the 21st overall pick in the 2003 draft.
Faine made a name for himself in South Bend.
He was a stalwart lineman for the Irish, starting all 35 games he played in during his college career.
After his senior season of 2002, Faine was awarded First-team All-America honors from numerous media outlets.
He was also honored by his teammates while at Notre Dame with the Nick Pietrosante Award, given to the Irish player who exemplifies courage, loyalty, teamwork, dedication, and pride.
Faine had a fairly productive pro career. His time with the Browns was marked by frustration and underachievement as a team.
During the three year period (2003-2005) that he was a member of the Browns, the team never won more than six games.
In the spring of 2006, he was traded to the New Orleans Saints in exchange for a second-round pick in the 2006 draft.
Faine spent two seasons with the Saints and was named a Pro Bowl alternate in 2007.
That honor wasn't enough to keep him in the Big Easy though.
Before the 2008 season, he was signed by the Tampa Bay Bucs.
Faine spent four seasons in his home state of Florida.
After the 2011 season, he was released by Tampa Bay.
A few months later, he joined his fourth professional team.
The Cincinnati Bengals brought him on board to help their beleaguered offensive line.
Unfortunately, he was released by the Bengals before the '12 season concluded and he retired shortly thereafter.
His time in the NFL was marked with consistency and dependability.
Faine played in 125 games during his 10-year career and started all but one of those games.
While playing with the Bucs, Faine founded The Faine House, which is a transition home for kids who have aged out of the foster care system.
He is currently CEO of Iron Lion Insurance, which is a retail insurance agency.

2004, Kellen Winslow II, Tight End, University of Miami 
The Cleveland #Browns #9 best 1st round pick since 1999 is TE Kellen Winslow II. The 6th pick in the 2004 NFL Draft out of Miami.#CLEPickHistory pic.twitter.com/F4eWy5RBXh

— Everything Cleveland (@EverythingCLE_) April 25, 2019
In 2003, the Cleveland Browns offense was nothing short of atrocious.
Scoring only 254 total points during the entire season, the team finished ranked 29th in the NFL in offense.
This deficiency was plainly evident in their 5-11 overall record that year.
Looking to add a few more points in the 2004 season, the Browns focused on offense with their 6th pick in the 1st round.
The most appealing player coming out of the college ranks was Kellen Winslow II.
Football fans recognized the name instantly as it was (and still is, to some degree) a name of NFL royalty.
Winslow's father, Kellen Winslow I, played in the NFL for the San Diego Chargers from 1979-1987.
Winslow I was a five-time Pro Bowler and two-time NFL receptions leader.
He was also named to the NFL's 75th and 100th-anniversary All-Time teams.
In short, NFL fans, and Browns fans in general, expected big things when the team selected Winslow II with their pick.
Before arriving in the pros, Winslow II played for a very good Hurricanes team in college.
During his freshman season in 2001, the team won the BCS National Championship.
Winslow II grabbed headlines throughout his tenure with Miami.
In 2003, he was named a unanimous All-American selection, First-team All-Big East, and the John Mackey Award for the nation's best tight end.
It was also during this season that Winslow II first stirred up a little controversy.
After a game against the Tennessee Volunteers, Winslow II made a huge block that took out two Volunteers players.
When asked about the play after the game, Winslow II responded that he was, "a soldier."

This comment raised a lot of eyebrows as he had never served in the military.
After receiving serious blowback from fans and media, he later apologized for the remark.
Hoping to put his gaffe behind him, Winslow II declared for the draft after 2003, foregoing his senior year.
After selecting him with the 6th pick (which was the highest a tight end had been drafted in the previous 30 years) Winslow II was reunited with Browns head coach Butch Davis.
Davis had formerly been the head coach at the University of Miami and had recruited Winslow II to play for him there.
Winslow II was ready to take the NFL by storm during his rookie 2004 season.
Unfortunately, that did not happen.
Only two games into the '04 season, he sustained a serious leg injury and was done for the year, completing his first Browns season with five catches and 50 yards receiving.
2005 fared no better when Winslow II suffered another leg injury in May of that year during a motorcycle accident.
Following the accident, he was placed on the Physically Unable to Perform list for the entire season.
Despite playing in only two career games, Winslow II made a bold proclamation before the start of the 2006 season.
During training camp, he told the media that, "I think my 90 percent (healthy) is still better than every tight end out there."
Fortunately, he backed up the big talk that year, finishing with an NFL best (for a tight end) 89 catches and three scores.
Winslow II continued to showcase his skills in 2007 with 82 receptions, over 1,000 yards receiving and five touchdowns.
He was also named a first alternate for the Pro Bowl that season.
The team as a whole benefitted from a better offensive output.
Cleveland completed 2007 with a 10-6 record, yet failed to make the playoffs.
In 2008, Winslow II returned to earth with a modest 43 catches and three touchdowns.
He did lose significant time due to a staph infection.
During his convalescence, Winslow II criticized then GM Phil Savage for not correcting the infection problem that had occurred with seven players during the past few years at the time.
After the 2008 season, Winslow II was traded to Tampa Bay.
He spent three years with the Bucs before being traded to Seattle.
His time with the Seahawks was extremely short, as the team released him before Week 1 when he wouldn't reduce his salary.
Not long after, the Patriots brought him in, and then promptly showed him the door after he asked for and received his request to be released.
The one game he played for the Pats constituted his only action for the '12 season.
Before 2013, the Jets signed him to a one-year deal.
During the season, Winslow II was suspended by the NFL for violating their policy on using performance-enhancing substances.
Upon completion of 2013, Winslow never played in the league again.
Since his retirement, Winslow II has continued to make news for all the wrong reasons.
From 2014-2019 he was charged for: drug possession, felony first-degree burglary, kidnapping and raping two women, jailed for lewd conduct, cruelty and battery on an elder, rape of an unconscious teen, sexual battery on a hitchhiker, and other assorted rape and lewdness charges.
A clinical psychologist has recently offered that Winslow II's behavior is consistent with symptoms of brain trauma and CTE (a serious side effect of concussions).
He is scheduled to be sentenced for his most recent crimes sometime this spring.

2005, Braylon Edwards, Wide Receiver, University of Michigan
The Cleveland #Browns #10 best 1st round pick since 1999 is WR Braylon Edwards. The 3rd pick in the 2005 NFL Draft out of Michigan.#CLEPickHistory pic.twitter.com/TKZbZFSQmv

— Everything Cleveland (@EverythingCLE_) April 25, 2019
The Browns offensive fortunes did not change much during the 2004 season.
Kellen Winslow II had been drafted the previous year but he was injured the second game of the season and did not play the rest of the year.
The team faltered again due to a lack of play-makers and Cleveland limped to a 4-12 finish.
Even worse, head coach Butch Davis resigned in November of the season and was replaced by offensive coordinator Terry Robiskie.
Following the season, the Browns looked to, again, add some offensive firepower to their 27th ranked offense.
The team set its sights on Michigan receiver Braylon Edwards.
Edwards was a star with the Wolverines.
During his four year career, he caught 252 passes for over 3,500 yards and 39 touchdowns.
In his senior season of 2004, Edwards was named Big Ten MVP, Big Ten Offensive Player of the Year, unanimous All-American, First-team All Big Ten, and won the Biletnikoff Award for the best receiver in college.
These awards were not handed out by accident.
Edwards had 97 receptions and 15 touchdown grabs in 2004.
His '04 numbers and consistency at Michigan put him in the crosshairs of every NFL GM heading into the '05 draft.
The Browns were sitting at the Number 3 pick and Edwards fell into their laps.
After holding out the first few weeks of training camp, Edwards started off 2005 well.
Through 10 games, and playing the third receiver position, he had 512 receiving yards and three touchdowns.
Happy 37th birthday, Braylon Edwards!

▫️3rd overall pick in '05 #NFLDraft
▫️1x Pro Bowler ('07) w/ CLE
▫️40 career TDs
▫️5,522 career rec. yards

His first ever TD in the NFL. ⬇️🔥@OfficialBraylon @Browns #BraylonEdwards #Browns #NFL #NFLTwitter #FantasyFootball #NFLCombine pic.twitter.com/kd1si5tQBZ

— The Hard Earned Yard (@HardEarnedYard) February 21, 2020

Then, a season-ending knee injury sidelined him for the remainder of the year.
Edwards bounced back in 2006 and was the leading receiver for the team, finishing with 61 catches and six touchdowns.
During that season, he had his share of cringe-worthy moments.
First, he argued with then quarterback Charlie Frye during one game.
Then, he called out several members of the Carolina Panthers defensive backs in the media.
Also, after being advised by several Browns veterans not to go, Edwards attended the Michigan-Ohio State game that year and was late to a team meeting upon returning.
Edwards and the Browns patched things up and he came into his own in 2007.
All he did that year was break franchise records in receiving yards (1,289) and touchdowns (16) to go along with 80 catches.
Edwards was rewarded for his big year by being voted to his first Pro Bowl.
Cleveland finished that season just missing the playoffs with a 10-6 record.
It looked like the team was on the verge of breaking their playoff drought in 2008.
Then the roof fell in.
Instead, the team limped to a 4-12 record in '08 and Edwards had an uncharacteristic year, leading the NFL with 23 dropped passes.
His production dipped considerably from 2007 and he ended the year with 55 receptions and three touchdowns.
After Week 4 of the 2009 season, the Browns decided to trade Edwards to the Jets in return for draft picks and players.
Edwards didn't put up much of a fuss concerning the trade stating that he needed a "fresh start." It was that season that Edwards was able to experience the postseason for the first time as the Jets made it to the AFC Championship game before losing to the Indianapolis Colts.
After playing the following season with the Jets, he was not re-signed and the San Francisco 49ers signed him to a one-year deal.
Edwards' year with the 49ers marked the beginning of the end.
He snagged only 15 passes for the team and was released before the end of the season.
Seattle tried his services next in 2012 and Edwards regressed even more with eight catches.
The Seahawks also released him before the '12 season wrapped up.
The Jets brought him back into the fold shortly after Seattle released him and he had 10 receptions in three games to end the season.
Edwards signed a contract with New York for the 2013 season, but was ultimately released before that year began.
Edwards then retired from football. Much like his former teammate Winslow II, Edwards had his fair share of trouble with the law.
From 2002-2010, he was pulled over numerous times for speeding.
Then, between 2009-2013, Edwards was cited for a DUI and fined and cited for assault in two separate cases.
Edwards did show a caring side during his time in the league.
In 2007, he pledged $10,000 each in college scholarships to 101 Cleveland-area 8th graders providing they met certain academic and community service requirements.
Since retiring from the league, Edwards has worked as a television analyst with the Big 10 Television Network.

2006, Kamerion Wimbley, Linebacker, Florida State University  
With pick 13 in the 2006 NFL Draft, the #Browns selected Kamerion Wimbley, DE, Florida State.

He posted an elite #RAS with poor size, elite speed, elite explosiveness, good agility at the DE position.

He had a single double digit sack season in his career. pic.twitter.com/nHOTAmYtbk

— Kent Lee Platte (@MathBomb) June 27, 2019
The Browns wrapped up the 2005 season ranked 11th overall in defense.
Their rank wasn't too bad, but then head coach Romeo Crennel wanted to dramatically improve on their 6-10 record in 2006.
To that end, the team focused on adding a playmaker on defense in the '06 draft.
With the 13th pick in the first round, Cleveland selected FSU linebacker Kamerion Wimbley.
Wimbley started off his time with the Seminoles by playing in all 14 games as a freshman.
The team played in the Sugar Bowl against Georgia that season, losing to the Bulldogs 26-13.
Wimbley continued to play primarily through rotational play with other Seminole defensive linemen for the next two years.
In his senior year of 2005, Wimbley finally cracked the starting lineup.
During the '05 season, he had no less than three, multiple sack games.
He also had career highs in sacks and tackles for loss.
The 'Noles ended the season with a matchup against Penn State in the Orange Bowl.
Once again, FSU was upended in a major bowl game, losing to the Nittany Lions 26-23.
Although Wimbley has been injured for part of the 2005 season, he was honored with Second-team All-ACC honors for the year by Pro Football Weekly.
Throughout his time in Tallahassee, Wimbley played mainly as a defensive end in a 4-3 defensive scheme.
A number of NFL personnel felt he was "not big enough to play there on a consistent basis in the NFL."
Therefore, he was considered a linebacker for teams that used a 3-4 defensive alignment.
It just so happened that the Browns were looking for such a player to plug into their base 3-4.
In Wimbley's 2006 rookie season, he was paired with fellow outside 'backer Willie McGinest.
Wimbley justified his $23.7 million deal that season by racking up 62 tackles and 11 sacks.
In 2007, despite a winning record of 10-6, the Browns defense failed to gel completely.
Wimbley's numbers dropped as well in '07 with 51 tackles and five sacks.
His five sacks led the team that season.
As the Browns continued to underperform in 2008 and 2009, Wimbley maintained his consistent play.
Wimbley had 66 tackles and four sacks in 2008 and also registered his first career interception.
His final season as a Brown was 2009, when he had 69 tackles and 6.5 sacks.
During his four year career in Cleveland, Wimbley played in every game but one.
In March of 2010, he was traded to the Raiders in exchange for a 3rd round pick in the '10 draft.
Wimbley had a solid two-year run in Oakland with 121 tackles and 16 sacks combined.
Despite his consistency on the field, Oakland released him after the 2011 season.
The Tennessee Titans snatched him up only days later and signed him to a five-year deal.
Wimbley was switched to defensive end in Tennessee and he ended 2012 with 30 tackles and six sacks.
As a Titan in 2013 and 2014, he made 43 combined tackles and five total sacks.
With two years remaining on his deal, Wimbley stepped away from the game in May of 2015.
He finished his NFL career with 442 tackles, 53.5 sacks, and two picks.
Since his retirement, Wimbley has kept busy with various business opportunities.
He owns a number of businesses in his home town of Wichita, Kansas as well as a dog registry in Florida that specializes in training and raising rescued  American Bulldogs.

2007, Joe Thomas, Offensive Tackle, University of Wisconsin and Brady Quinn, Quarterback, Notre Dame  
For the third year in a row, the Browns offense finished in the bottom half of the league.
In 2006, only two NFL teams were worse than Cleveland and the team decided to shore up that side of the ball in the 2007 draft.
Because they had a 4-12 record in 2006, the Browns held the third pick in the draft.
The team needed offensive line help, but they also needed a significant upgrade at quarterback.
Cleveland, therefore, added to their first-round selections by trading with the Cowboys to get their 22nd pick.

Joe Thomas 
"With the 3rd pick in the 2007 NFL Draft, the Cleveland Browns select …. Joe Thomas, LT, Wisconsin."#TBT pic.twitter.com/FwwLi1otHX

— Cleveland Browns (@Browns) April 27, 2017
Joe Thomas came to the Browns at number three after leaving Wisconsin where he had a standout college career.
As a freshman in Madison, Thomas had been used primarily as a tight end.
He then moved to the tackle position for his sophomore year.
As a junior in 2004, Thomas started every game and was named a first-team All-American.
This recognition was enough to cause Thomas to contemplate turning pro a year early.
Ultimately, he decided to return for his senior year when he tore an ACL in the 2006 Capital One Bowl.
Thomas once again had a strong season for the Badgers.
He was named a First-team All-American for a second time and collected the Outland Trophy as the nation's top lineman.
After being drafted by Cleveland, it did not take long for Thomas to become the team's starting left tackle.
He finished his rookie season starting all 16 games, earning All-Rookie honors and being voted to his first Pro Bowl.
In 2008, Thomas again started all 16 games of the season.
The Browns offensive line was formidable that year, only giving up 19 sacks for the year.
Thomas was voted to his third straight Pro Bowl in 2009 and was named as a First-team All-Pro.
By now, Thomas' dependability was commonplace and he was again named to the Pro Bowl and received First-team All-pro honors in 2010.
Cleveland gave him a huge $84 contract extension before the 2011 season.
That same year, Thomas joined former running back Jim Brown as the only Browns players to be named to the Pro Bowl after the first five years of their career.
Two years later, Thomas and Brown were recognized again as being the only two Browns to be named to the Pro Bowl in their first seven seasons.
In 2014, Thomas became the only offensive lineman in NFL history to receive Pro Bowl honors eight consecutive times to begin a career.
The Browns were dismal in 2015 with a 3-13 record.
However, Thomas was given the Bruce Matthews Award for the best offensive lineman in the league.
Thomas continued to be one of the few bright spots on Cleveland's roster as the calendar turned to 2017.
In September of that season, he played his 10,000 consecutive snap without missing a play.
That mark had never been achieved by anyone in league history.
Perhaps owing to his ironman streak, Thomas had revealed that year that he was beginning to experience memory loss.
However, he vowed that he wouldn't let this set-back affect his career.
In October of '17, he was injured during a game against Tennessee.
His consecutive games streak ended when he found out the injury was a torn triceps muscle.
Thomas was then placed on injured reserve, ending his 17th season.
Before 2018, the Browns gave Thomas a pay raise.
However, he decided that it was time to hang up his cleats and he retired from the game.
For his pro career, Thomas played 10,363 consecutive snaps, was voted to 10 Pro Bowls, and was named All-Pro seven times.
Joe Thomas' uniform is on display at the @ProFootballHOF from his 162nd consecutive start on Sept. 17, 2017. @joethomas73 would reach 10K consecutive snaps on the game's fourth play. His streak would end at 10,363 in Week 7. pic.twitter.com/Eqe9KGFhC3

— Joe Noga (@JoeNogaCLE) March 14, 2018

NFL.com voted him the 7th greatest tackle of all time as well as the third greatest Browns player of all time.
Thomas will most likely be a first-ballot Hall of Famer when he becomes eligible in 2023.
Brady Quinn 
Brady Quinn says he still wonders what would have happened if the #Browns didn't trade up to draft him.https://t.co/jO9ivDf2iJ pic.twitter.com/HQbXB5nKuB

— Sportsnet (@Sportsnet) November 1, 2017
With the newly acquired 22nd pick from Dallas in the '07 draft, Cleveland took Notre Dame's Brady Quinn. 
Quinn arrived with a staggering number of accolades after his time with the Fighting Irish.
The hype surrounding Quinn really began in earnest during his 2005, Junior year at South Bend.
Under former Patriots offensive coordinator and new Irish head coach Charlie Weis, Quinn's game excelled.
In '05, Quinn nearly cracked the 4,000-yard plateau for passing yards.
He also threw 32 touchdowns and seven picks for a 158.40 QB rating.
Quinn received the Sammy Baugh Award as the nation's top passer for 2005.
During his senior year in 2006, Quinn passed for over 3,400 yards and matched his previous year's totals with 32 touchdowns and seven INTs.
His 146.65 QB rating was ranked 18th overall in the country.
The awards kept coming after the season concluded.
Quinn received the Johnny Unitas Golden Arm Award for best QB in the nation, the Maxwell Award for the best college football player, the Cingular All-America Player of the Year, AP All-American Second Team, and was a finalist for the Heisman Trophy.
The shine on Quinn coming out of college was enough that he was considered a top ten pick in the draft.
Cleveland rated him highly, but not high enough to grab with their third pick.
When the team saw he was still on the board later in the first round, they made the trade with Dallas to select him at 22.
Quinn was considered the Browns franchise quarterback of the future.
As a rookie, he was originally third on the depth chart behind Derek Anderson and Charlie Frye.
Frye was soon traded to the Seahawks and Quinn moved up to second on the depth chart.
In late December of 2007, Anderson was hurt during the final season game against San Francisco.
Quinn came in in relief and went 3-8 passing and led the team to a field goal.
Because of Anderson's success the previous year, Quinn was on the sideline in 2008 holding a clipboard.
After a slow start to the season, however, Quinn came in to jump-start the team.
He was injured during a game against the Bills and was finished for the year.
To put it mildly, his third season, 2009, was a mess.
New head coach Eric Mangini replaced Romeo Crennel before the season and a quarterback battle played out during the entire season.
Quinn did have his best game yet as a pro in Week 11 against the Lions.
Facing a weak Detroit team, Quinn passed for 304 yards and four touchdowns.
His three touchdowns in one quarter set a franchise mark as the only quarterback in Browns history to throw that many TDs in one quarter.
Just as his play became consistent, Quinn sustained a foot injury against the Chiefs and was placed on injured reserve to end the season.
Cleveland's vision of Quinn being the future of the team never materialized.
In the spring of 2010, the Browns traded him to the Broncos for running back Peyton Hillis.
Unfortunately for Quinn, his time in Denver was uneventful.
Trapped behind Kyle Orton in '10 and then behind flash-in-the-pan Tim Tebow in 2011, Quinn did not play in any games with the team.
Signing with Kansas City for 2012, Quinn played well in a game against Carolina that season, going 19-23 for 201 yards and two touchdowns.
For his performance against the Panthers, Quinn was named AFC Player of the Week.
The '12 season would end up being his last as a starter or even an occasional player.
He was released by the Chiefs after the season and signed with Seattle.
After spending only a few months with the Seahawks, he was released and quickly signed by the Jets.
The Jets kept him for about six weeks before releasing him.
Quinn then signed with the Rams, hurt his back in the weight room, and was placed on IR for the remainder of the season.
After a very brief appearance on the roster of the Miami Dolphins, the team released him as well.
For his NFL career, Quinn posted a total of 3,043 yards passing, 12 TDs and seven picks.
Since his retirement from the game, Quinn has been a television analyst for Fox and CBS as well as a radio commentator for Sirius XM.

2008, Due to Cleveland's trade for Quinn in 2007, there was no first round pick in '08
2009, Alex Mack, Center, University of California, Berkeley 
The Cleveland #Browns #5 best 1st round pick since 1999 is C Alex Mack. The 21st pick in the 2009 NFL Draft out of California.#CLEPickHistory pic.twitter.com/HretJZbT9S

— Everything Cleveland (@EverythingCLE_) April 25, 2019
After a near playoff birth in 2007, Cleveland came crashing back to Earth in 2008 with a 4-12 record.
Once again in re-tool mode, the team looked to add offensive firepower and rebound from a 30th offensive ranking in 2008.
Alex Mack had nothing short of an illustrious career at Cal. During his time at Berkeley, Mack started 39 consecutive games.
He was credited for making 256 key blocks including 32 blocks that directly led to touchdowns.
Not only was he talented on the field, Mack was also a gifted student.
In 2008, he won the Draddy Trophy, often regarded as the Academic Heisman.
In both 2007 and 2008, he was awarded the Morris Trophy for the best offensive lineman in the PAC-12 Conference.
Mack also received First-team All-PAC 12 from 2006-2008.
Due to his high intelligence and gritty, smart play on the field, Mack was easily considered a first-day draft pick for 2009.
Not wasting any time, the Browns grabbed him with their 21st pick of the first round.
Mack immediately made an impact on the Browns, starting every game as a rookie.
Paired with 2007 pick Joe Thomas, Cleveland now had one of the best offensive lines in the league.
At the end of the 2009 season, Mack was named to the All-Rookie team.
In a glimpse of what was to come, Mack only committed one penalty and gave up one sack during the season.
For the next four years (2010-2013) he started every game.
After the 2011 season, Mack was named as a Pro Bowl second alternate.
Displaying a ruggedness that became a hallmark, Mack had an appendectomy during the Browns bye week in '11 and came back to play the following week.
At the end of the 2013 season, he was officially voted to his first Pro Bowl.
In the spring of 2014, the Jacksonville Jaguars made an offer to acquire Mack.
The Browns quickly countered to keep him with the team.
During a Week 6 game that same year against Pittsburgh, Mack broke his leg, ending his season.
Before the injury, he had played every snap and every game of his pro career.
After a return to form during the 2016 season, Mack's days as a Brown ended.
On March 9, 2016, he was signed by the Atlanta Falcons as a free agent.
The Falcons went to the Super Bowl that year, losing to New England 34-28 in overtime.
From 2017-2019, Mack started every game for Atlanta. He is currently slated to begin his 12th NFL season in 2020.

2010, Joe Haden, Cornerback, University of Florida
The Cleveland #Browns #6 best 1st round pick since 1999 is CB Joe Haden. The 7th pick in the 2010 NFL Draft out of Florida.#CLEPickHistory pic.twitter.com/ePd4Z9ecC0

— Everything Cleveland (@EverythingCLE_) April 25, 2019
Hoping to shore up a 21st ranked defense in 2009, the Browns elected to focus on top-flight defenders with their 2010 first-round pick.
Joe Haden began his time with the Gators by starting as a true freshman in 2007.
This was the first time in program history a true freshman started in that position on their opening day.
Not only did Haden start every game that year, but he was also named an All-American by numerous media outlets as well as an All-SEC selection.
Haden's skills were on full display in 2008 when he again started all games and recorded 87 tackles and three picks.
2008 Florida: Joe Haden and Janoris Jenkins celebrate an interception. pic.twitter.com/BQkSkAmBPE

— Remeber When (@CollegeToNFL) October 1, 2018

One of his INTs that year was an 88-yard return for a touchdown that was the fourth-longest return in program history.
As a junior in 2009, Haden racked up 68 tackles, four picks, and added three sacks.
His stellar season led to an All-SEC First Team and a unanimous All-American First Team selections.
He was also named co-MVP of the Gators along with quarterback Tim Tebow in '09.
Last, but not least, Haden received the National Defensive Player of the Year Award by The Sporting News.
He then decided to enter the 2010 NFL Draft instead of staying for his senior year.
With the seventh pick of the '10 draft, Cleveland selected Haden.
After beginning his Browns career as a spot player, Haden finally started his first game in Week 12 against Carolina.
With an INT the following week against Miami, Haden became the first Browns player since 1968 to have an interception in four consecutive games.
He completed his rookie season with 65 total tackles, 19 pass break-ups, and a sack.
Haden remained consistent as a starter for Cleveland through the 2011 season and into the 2012 year.
After a Week 1 game in 2012 against Philadelphia, the NFL suspended Haden four games when he tested positive for the drug Adderall.
Upon returning to the team following his suspension, Haden apologized to his coaches, teammates, and fans.
His agent, Drew Rosenhaus, had worked with Haden to appeal the NFL's ruling but was not successful.
Haden's absence during the four games hurt the team significantly. When he returned, Cleveland was 0-5 and in the midst of yet another down year.
Haden was a major contributor for Cleveland in 2013 and 2014 and was named to his first and second Pro Bowls, respectively, after both seasons.
In 2015, Haden missed significant time due to injuries including a groin injury and a concussion that ended his season in December.
He returned to play in 13 games for the 2016 season.
Before 2017 began, however, the Browns released Haden after frequent botched trade attempts and the team trying to restructure his salary.
It wasn't long before he was picked up by division rival Pittsburgh.
That season Haden played in his first career playoff game in a loss to the Jaguars.
For the past two seasons (2018 and 2019) Haden has continued to play at a high level for the Steelers.
He has also tormented his former team, including picking off quarterback Baker Mayfield to seal a win in Week 13 last year.
Haden begins his 11th NFL season in 2020.

2011, Phil Taylor, Defensive Tackle, Baylor  
Cleveland finished the 2010 season with a 5-10 record.
Although their defense ranked 13th overall in '10, the team decided to address that side of the ball for the second straight year.
Phil Taylor began his collegiate career playing for Joe Paterno at Penn State.
He made an impact even though he was not a starter for the Nittany Lions.
However, during the 2007 season, Taylor and a number of Penn State players were involved in a campus brawl at a fraternity house.
He pled guilty to disorderly conduct and was placed on probation by Coach Paterno.
Unfortunately, Taylor didn't seem to learn his lesson and was kicked off the team following another incident at a pool party in the summer of 2008.
He then transferred to Baylor after leaving PSU. Taylor got his college career back on track in 2009 and started nine out of 12 games.
Despite battling an injury that season, Taylor was still disruptive, frequently harassing the opposing team's quarterback and even registering two blocked kicks and an interception.
Before the 2010 season, Taylor and a number of his Baylor teammates went on a mission trip to Africa.
When he returned, he played like a new man, shedding close to 30 pounds and moving to the nose tackle position.
Playing like a man possessed, Taylor made 62 tackles in '10, the most at Baylor from his position since 2002.
He also had two sacks, two pass break-ups, and a forced fumble.
In his last game as a collegian, Taylor made 10 tackles in the Texas Bowl against Illinois.
Based on his position and production in college, Taylor was a near-lock to be a first-round pick in the 2011 draft.
Sure enough, Cleveland took him with the 21st pick.
Taylor started his pro career with a bang, starting all 16 games and making 59 tackles, four sacks, and a forced fumble.
The 2012 season wasn't so kind to Taylor. He missed most of the season after tearing a pectoral muscle during offseason workouts.
Playing in only eight games, he made 14 tackles, one sack, and recovered a fumble.
Taylor got back on track in 2013, playing in 15 games and making 26 tackles and two sacks.
In 2014, Taylor suffered through knee injuries that limited him to five games and 10 tackles.
He was set to return in 2015 when Cleveland released him just before the season began.
Taylor was signed by Denver six months later for the 2016 season but was placed on injured reserve for the season after another knee injury in training camp.
He was released by Denver during the preseason.
The Redskins were the next team to take a flyer on Taylor.
After signing in January of 2017, he ruptured a quad muscle that kept him out the entire season.
Taylor continued to rehab from his injuries for the next year.
However, he never did get back on the field and officially retired from the game in March of 2019.
Taylor ended his short career with only 44 games played, 109 total tackles, seven sacks, one forced fumble, one fumble recovery, and three passes defended.

2012, Trent Richardson, Running Back, Alabama and Brandon Weeden, Quarterback, Oklahoma State
In 2011, the Browns ineptitude continued as the team finished 4-12 and ranked 30th in offense.
In an attempt to revive the franchise in 2012, the Browns went all-in on the first round of the '12 draft.
The team did some wheelin' and dealin' and traded their 4th pick for Minnesota's 3rd pick.
With that pick, they selected Alabama running back Trent Richardson.
The team then went back to the well and acquired Atlanta's first-round pick at 22.
With that pick, they grabbed Oklahoma State quarterback Brandon Weeden.
Unfortunately, both players would go on to uneventful pro careers.

Trent Richardson 
Trent Richardson was drafted 3rd pick of the first round by the Cleveland Browns in the NFL Draft. -HE pic.twitter.com/UPipvkyZhW

— Bama Football Hist (@chs_bamahistory) January 27, 2016
Richardson got off to a great start as a college freshman in 2009.
Playing part-time, he finished the season with 784 rushing yards and eight touchdowns.
He also added 16 catches for 126 yards.
Richardson was a key contributor to 'Bama's 2010 BCS National Championship game against Texas with 109 yards and two touchdowns.
In his sophomore season, he started three of 10 games and ended the year with 719 yards and six touchdowns.
Richardson also had four more touchdowns that season as a receiver.
2011 was Richardson's coming out year for the Crimson Tide.
Playing in 13 games, yet starting only one, he gashed opponents for 1,740 yards and 21 touchdowns to go along with 338 yards receiving and three touchdowns.
His rushing touchdowns set an SEC record and his rushing yards broke Mark Ingram's program record.
8 years ago, Trent Richardson created one of the greatest CFB highlights @BarstoolAlabamapic.twitter.com/SDQoHd8Sq3

— Unnecessary Roughness (@UnnecRoughness) October 15, 2019

For the season, Richardson was a unanimous All-American, Heisman Trophy finalist, Doak Walker Award winner (for the best college football running back), and SEC Offensive Player of the Year.
Based on his 2011 stats, Richardson was regarded as the best running back in the draft.
The Browns thought so too and selected him with their third pick.
Richardson started in 15 games his rookie year, rushing for 950 yards and 11 TDs.
He also tacked on 51 catches and another touchdown.
In Week 2 against the Bengals, he had a rushing touchdown along with 109 rushing yards and his receiving touchdown.
This was the first time in team history that a rookie had over 100 yards rushing, a receiving touchdown, and a rushing score.
Richardson also broke Jim Brown's rookie touchdown record for Cleveland.
Although he had a fairly productive year, Richardson's 3.6 yards per carry was the lowest per carry stat for rookie running backs in the 2012 season.
After two games and 105 rushing yards in 2013, Richardson was shockingly traded to the Colts before Week 3.
He started eight games for Indy that season and had 458 yards rushing, three rushing touchdowns and one receiving TD.
In his first ever playoff game against Kansas City, he fumbled during his first carry.
Richardson started 12 games for the Colts in 2014 and rushed for 519 yards with three touchdowns.
In the '14 postseason, he was kept off Indy's roster for their final two playoff games.
This included being suspended for the AFC Championship game against New England for missing a team walk-through for a family emergency that he failed to tell the team about.
In March of 2015, the Colts waived Richardson.
He then spent a very brief amount of time on the rosters of the Raiders in 2015 and the Ravens in 2016 but never saw the field.
In 2017, Richardson briefly played for the Saskatchewan Roughriders of the Canadian Football League.
After being out of football in 2018, he returned in 2019 to suit up for the Birmingham Iron of the new Alliance of American Football League.
Although he led the league with the most rushes per game as well as 12 total touchdowns, the league folded in April 2019. Richardson is currently listed as a free agent.

Brandon Weeden  
Heading into the draft, Brandon Weeden was an interesting prospect for NFL teams and fans as he wasn't your usual athlete out of college.
When he was in high school, Weeden played both football and baseball and was selected All-State (Oklahoma) for both sports.
As a pitcher, he was drafted in the 2nd round of the Major League Baseball draft in 2002 by the Yankees.
Former Oklahoma State Quarterback Brandon Weeden played for the Browns was also drafted by the Yankees. pic.twitter.com/VGU2qrZJl5

— eddiemo (@eddiemo34) November 27, 2019
The following year he was traded to the Dodgers where he bounced around their minor league system for three years.
In 2006, he was selected in the Rule 5 draft by the Kansas City Royals.
He spent his final year in professional baseball that season with the High Desert Mavericks of the California League.
Weeden decided to quit baseball following the season due to injuries and deficient performance.
Since he was a recognized football player in high school, Weeden enrolled at Oklahoma State and joined their football team.
After redshirting in 2007, Weeden had very limited playing time in 2008-2009.
He began to make a name for himself as a starter for the Cowboys in 2010 when he played through a serious thumb injury.
In a victory over Tulsa that season, Weeden threw six touchdowns. His senior season of 2011 was a coming-out party.
The Cowboys finished the season with a number three overall ranking after posting an 11-1 record.
Weeden broke several school records including attempts, completions, yardage, and touchdowns.
It just so happens, the previous records were held by Cowboys head coach Mike Gundy.
In the 2012 Fiesta Bowl, Weeden threw for 399 yards and four touchdowns, including one rushing, en route to a 41-38 win over Stanford.
When the draft rolled around, many draft insiders and NFL personnel were skeptical of Weeden, primarily because, at 28 years old, he was set to be the oldest player ever taken in the first round.
Cleveland dismissed the naysayers, however, and traded up to grab him with the 22nd pick.
Weeden's first game as a Brown in 2012 began with a thud.
Throwing four picks in a Week 1 game against the Eagles and finishing the day with a woeful 5.1 passer rating.
Assuming Dwayne Haskins starts Week 1 for the Redskins, the last time the Eagles faced a rookie QB in their season opener was 2012 against Browns starter Brandon Weeden.

The Eagles snagged 4 INTs and held him to a 5.1 passer rating in an overly stressful victory. pic.twitter.com/okahoXnC97

— Matthew Lucci (@LucciSportsGuy) July 19, 2019

This was the lowest rating by a quarterback in a season opener since 1970.
In Week 6 of that season, Weeden celebrated his 29th birthday with a win (the team's first) over the Bengals.
He finished the season with fair numbers for a rookie, throwing for 3,385 yards, 14 touchdowns, and 17 INTs.
Weeden entered the 2013 season as the Browns presumptive starter.
Unfortunately, injuries and a subsequent fight for playing time with 3rd string quarterback Brian Hoyer limited his season.
Weeden wrapped up 2013 starting five games, throwing for 1,731 yards, nine touchdowns and nine picks.
The Browns were so underwhelmed by Weeden's two-year performance that the team released him in March of 2014.
The Dallas Cowboys signed him only days later to a two-year contract.
In two seasons as a primary backup to Tony Romo, Weeden started only four combined games.
He was released by Dallas late in the '15 season and signed by the Houston Texans shortly after.
In parts of two seasons with Houston, Weeden rarely saw the field, completing 61.9 percent of his passes and throwing three touchdowns.
For the 2017 and 2018 seasons, Weeden was briefly a member of the Tennessee Titans and Houston (again) respectively.
Technically, Weeden is listed as a free agent.

2013, Barkevious Mingo, Outside Linebacker, Louisiana State University 
Best name from the 2013 NFL draft: Barkevious Mingo pic.twitter.com/9DkRNkKDzv

— Daniel Harris (@DanielHarris) May 30, 2013
Having focused heavily on offense in the previous year's first round, the Browns went with defense in 2013.
Hoping to improve their 19th ranked defense in 2012, the team selected LSU defensive end Barkevious Mingo.
.
Mingo received limited playing time with the Tigers until the 2011 season.
That year, he was named as a Second-team All-SEC after posting 47 tackles and eight sacks and contributing to LSU's SEC championship season.
Mingo had 10 starts as a junior in 2012 and made 38 tackles, 8.5 tackles for a loss, and 4.5 sacks.
He was again named Second-team All-SEC after the season.
Instead of returning for his senior season, Mingo declared for the 2013 draft.
He was one of 10 LSU underclassmen to declare for the draft that year.
With their sixth pick of the draft, the Browns selected Mingo.
Of note, Mingo was the third defensive end selected in the first six picks of the draft.
The Browns then moved Mingo to the outside linebacker position.
During the preseason of 2013, Mingo suffered a bruised lung.
Upon recuperating from his injury, he made an impact on the field with 42 tackles, five sacks, and four pass deflections for the season.
Playing through a shoulder injury in 2014, Mingo matched his 2013 tackle total with 42 and collected three pass deflections and two sacks.
In 2015, Mingo only started two games while seeing playing time in all 16 games.
In a Week 6 game versus the Broncos, Mingo intercepted a pass from Peyton Manning and returned it seven yards for a game-winning touchdown.
The interception was the first of his career. He also had four pass deflections and 24 combined tackles for the year.
As it turns out, that was it for Mingo's career as a Brown.
Before the 2016 season began, the team traded him to the Patriots in exchange for a fifth-round pick in 2017.
Mingo's role with the Pats was limited in '16 as the team was loaded on defense.
In fact, he appeared in all 16 games, but only made a total of 11 combined tackles.
Fortunately, New England went to the Super Bowl that year and Mingo made two tackles in the 34-28 victory over Atlanta.
In March of 2017, Mingo signed a contract with the Colts.
He received more playing time in '17 with six starts and seeing the field in all 16 games.
In his only season as a Colt, Mingo had 47 combined tackles, two pass deflections, and two sacks.
He next took the field as a member of the Seattle Seahawks in 2018.
Starting in one of the outside linebacker spots, Mingo had a productive season with 48 combined tackles, two forced fumbles, a pass deflection and a sack in 14 starts.
Despite having signed a two-year contract with Seattle before the '18 season, Mingo was part of the Houston trade to bring Jadeveon Clowney to the 'Hawks.
After spending last season with the Texans, Mingo was signed in March by the Bears.
He is under contract to play his eighth NFL season in Chicago for 2020.

2014, Justin Gilbert, Cornerback, Oklahoma State and Johnny Manziel, Quarterback, Texas A&M
The Browns closed out the 2013 season with yet another 4-12 season.
In '13, both sides of the ball struggled to gain traction.
Defensively, the team was 23rd in the NFL and offensively they were ranked 27th.
Hoping once again to have a winning record and playoff appearance, the team focused on both sides of the ball for the first round.
Cleveland was busy during the draft, making multiple deals to move back in the first round.
Their original pick at number four was traded and then traded again and the team got Gilbert with the 8th pick.
Then, the team horse traded with two different teams to get the 22nd pick that they used for Manziel.
Neither player would stay with the Browns past 2015.

Justin Gilbert
Justin Gilbert of Oklahoma State poses with NFL Commissioner Roger Goodell (Photo by Elsa/Getty Images) #Browns pic.twitter.com/y80zbDouz0

— Daryl Ruiter (@RuiterWrongFAN) May 9, 2014

On the strength of a freshman season in 2010 where he returned two kickoffs for touchdowns, Justin Gilbert was named a freshman All-American by Rivals.com.
His game only got better as a sophomore when he had 48 tackles, five picks, and two more kick return touchdowns.
Gilbert was an MVP in the 2012 Fiesta Bowl and received a Second-team All Big-12 honor after the season.
After making 53 tackles and taking yet another kickoff return to the house, Gilbert nearly turned pro, but ultimately decided against it.
For the season, he was named Second-team All-Big 12 as a returner.
In his 2013 senior season, Gilbert became a household name when he returned no less than six kick returns for scores.
He was a finalist for the Jim Thorpe Award for the best defensive back in college and he was awarded the College Football Performance Award as the nation's top defensive back.
His bona fides in college vaulted him into consideration as one of the top corners in the '14 draft.
Cleveland selected him with their newly acquired 8th pick.
Unfortunately, Gilbert's success did not transfer over into his pro career.
In his rookie 2014 season, he played in 14 games but only started two.
He ended the season with 29 total tackles and one interception that he returned for a touchdown. In 2015, he made only one start and appeared in nine games.
His limited action produced only 10 total tackles and one pass defense for the season.
And, just like that, Gilbert's career as a Brown was over.
He was traded by Cleveland to the Steelers just before 2016 got underway.
His playing time decreased even more with Pittsburgh.
In the '16 season, he did not start any games and only got on the field for 12 games.
Gilbert was able to make his first playoff debut that year, returning three kicks for 43 yards total against Kansas City and New England.
In February of 2017, Pittsburgh released Gilbert. On June 20, 2017, he was suspended one year by NFL commissioner Roger Goodell for violating the league's substance-abuse policy.
Gilbert is currently out of football.               

Johnny Manziel
#TBT #Browns draft party when they drafted Johnny Manziel (2014) pic.twitter.com/nSg4R15x4T

— Freezing Cold Takes (@OldTakesExposed) December 7, 2017
The excitement over Johnny Manziel was palpable before the 2014 draft.  "Johnny Football" (as he was known) was a megastar with the Aggies during his college career.
After redshirting in 2011, Manziel started making noise in 2012.
In two games against Arkansas and Louisiana Tech,  Manziel had over 500 yards of total offense in both games.
In the game against Arkansas, his 557 yards broke Archie Manning's previous conference record of 540.
This was the first time in SEC history that one player had over 500 yards of total offense in one season.
Later on that season, Manziel put himself on the map after posting three passing and two rushing touchdowns in a cakewalk against Auburn.
That performance officially put him on the Heisman Trophy watch list.
As if on cue, Manziel solidified his legend when A&M took on number one Alabama in Tuscaloosa near the end of the season.
(2012) Five years ago today, Johnny Manziel became the first freshman to ever win the Heisman Trophy. Throwback to his impressive touchdown during a win over 1 seeded Alabama. pic.twitter.com/2TB3v6l15w

— Timeless Sports (@timelesssports_) December 11, 2017

After the smoke cleared, Manziel had accounted for 345 yards and led the Aggies to a stunning 29-24 victory.
The Heisman was unofficially Maniel's after a game against Missouri to end the year.
After leaving the game briefly in the first quarter to tend to a knee injury, he returned a short time later.
Wearing a knee brace that made him look mortal, Manziel became immortal after putting 439 yards of total offense on the Tigers including three passing and two rushing touchdowns.
During the game against Missouri, Manziel broke the SEC record for offensive production in a season with 4,600 yards.
He also became the first freshman to pass for 3,000 yards and rush for 1,000 yards in a season.
When the season concluded, he was recognized as the SEC Freshman of the Year and College Football Performance National Freshman of the Year.
As if that wasn't enough, Manziel received the Davey O'Brien Award for the best college football quarterback of the year and won the Heisman to cap things off.
He was the first freshman ever to receive both the Heisman and O'Brien Awards in the same year.
In January of 2013, reports came to light that Manziel may have signed autographs for money, an NCAA violation.
Texas A&M was able to negotiate a half-game suspension on Manziel's behalf due to the incident.
With that ugliness behind him, Manziel had another strong season as a sophomore.
His stellar play continued and he ended the season with 4,114 passing yards, 37 touchdowns, and 13 INTs.
He also finished with 759 rushing yards and nine touchdowns.
This time, despite throwing for 464 yards and five touchdowns, number one (again) Alabama defeated A&M. Manziel was a First-team All-SEC recipient and finished fifth in Heisman voting.
Shortly after the 2013 season concluded, Manziel declared for the NFL draft, forgoing his junior and senior seasons.
Even more surprising, he was drafted in the 28th round of the MLB draft by the San Diego Padres despite not having played the sport since his junior year of high school.
As the NFL draft unfolded on Day 1, Manziel was passed over by numerous teams to begin the draft.
His Johnny Football antics in college grated on some NFL personnel and a few teams refused to draft him because of his behavior.
Frustrated, he texted then Browns quarterbacks coach Dowell Loggains that he wanted to "wreck the league" in Cleveland.
Loggains showed the text to then-head coach Mike Pettine who was so impressed he traded up to get Manziel.
Johnny Manziel flashed the money sign after being drafted by the Browns: http://t.co/UBnOdSRmFJ "That's just me." pic.twitter.com/oWhgTC0Vyd

— USA TODAY Sports (@usatodaysports) May 9, 2014
He immediately got himself on the hot seat in Cleveland when he flipped off the crowd at Washington during a preseason game.
Manziel's college fanfare did not follow him during his rookie NFL season.
He only saw action in five games that year, starting only two.
His overall stat line after the '14 season was 175 passing yards, two picks, 29 rushing yards, and a rushing TD.
Suddenly, the air went out of the Manziel hype machine.
Numerous Browns questioned his work ethic including one anonymous player who said Manziel's first season was a "100% joke."
In 2015, Manziel tried to get his pro career on track.
Battling for playing time with Josh McCown, Manziel had a great game against Pittsburgh in Week 10.
He passed for 372 yards and one touchdown. The only problem was, the Browns lost the game 30-9.
His performance against the Steelers led to him being named the starter for the remainder of the season.
However, he was booted to third-string when the organization found out he had been at a party in Texas over the team's bye week.
He got back on the field against San Francisco later in the season and played a solid game, finishing with 270 passing yards and one touchdown in a 24-10 victory.
Missing the last game of the season with a concussion, rumors that he had been partying in Las Vegas began to surface.
He should have been in Cleveland with the team and missed a check-in the morning of the team's last 2015 game.
In the off-season, more bad news came to light that Manziel had been investigated for a domestic violence incident with an ex-girlfriend.
Cleveland had enough and Manziel's time in Cleveland ended on March 11, 2016.
It was more than two years until Manziel would find himself on the field again. T
his time, he made an appearance as a member of the Montreal Alouettes in the Canadian Football League.
In the team's first game of the season, Manziel started and threw four interceptions before halftime.
Montreal lost the game 50-11.
Manziel slowly acclimated to the nuances of the CFL and his game steadily improved throughout the season.
His first full year as a CFL starter ended with 1,290 yards passing, five touchdowns, and seven picks.
He rushed for 215 yards, but zero touchdowns that season.
After a disagreement with the CFL in the offseason, Manziel once again found himself out of football.
He made a brief appearance for the Memphis Express of the Alliance of American Football in 2019, playing in parts of two games.
The league folded in April of 2019.
Since then, Manziel's name has frequently popped up either for potential playing opportunities in the newly resurrected XFL or for various transgressions.
Tampa Bay Vipers head coach Marc Trestman speaking earlier on the rumors of Johnny Manziel playing in the XFL… pic.twitter.com/4XXfkvu3ie

— XFL Viper Stan (@XFL_Stan) February 22, 2020
He is considered one of the biggest busts in NFL draft history.

2015, Danny Shelton, Defensive Tackle, Washington and Cameron Erving, Center, Florida State 
Cleveland had a 7-9 record in 2014, which was an actual improvement over previous years.
The team once again double-dipped for the second year in a row and picked athletes for both sides of the ball in the first round of 2015.
The team selected Shelton with their 12th pick and made a trade with Buffalo to get another first-round selection.
With their newly acquired 19th spot, the Browns snagged Irving.

Danny Shelton 
Danny Shelton was drafted 12th overall by the @Browns. Then he surprised the @nflcommish: http://t.co/NF6NqbVQMn pic.twitter.com/wIcBN3QHYO

— ESPN (@espn) May 1, 2015
After receiving limited playing time as a Huskies freshman, Danny Shelton started every game for the next three years.
He had a combined 2.5 sacks in his sophomore and junior seasons combined.
As a senior in 2014, Shelton had a college career-high nine sacks including four in one game versus Eastern Washington.
Not only was he a terror on the field, but he was talented in the classroom as well.
In three straight years, 2012-2014, he was honored as a First-team Academic All-PAC-12 as well as First-team Academic All-American in 2014.
Danny Shelton… @PolynesianFBHOF College Football Player of the Year Watch List… http://t.co/M2Rl1d4G4l pic.twitter.com/nv0TVLI9le

— Polynesian Football (@PolynesianFBHOF) August 28, 2014

Shelton's dominance from his position increased his profile and Cleveland selected him with the 12th overall pick in the draft.
As a new member of the Browns, Shelton picked the number '55' as his playing number to honor his late brother.
Four years before his NFL career began, his brother Skeevie was shot and killed while trying to break up a fight near their family home.
Shelton witnessed the incident and it haunted him for years, affecting him emotionally as he tried to build his football name.
He eventually overcame the tragedy through the help of his family, wife, and dogs.
During his time in Cleveland, Shelton was consistent, starting 44 out of 48 total games.
His rookie year of 2015 saw him make 36 total tackles and four tackles for a loss.
In 2016, he increased his total tackles to 59 and added 1.5 sacks. 2017 was his final year as a Brown and he was steady with 33 total tackles and five tackles for a loss.
In March of 2018, Cleveland traded Shelton to New England in exchange for some draft picks.
As with a few other former Browns on this list, Shelton got his first taste of the playoffs after he left the team.
As a member of the Patriots, he contributed to the team's Super Bowl 53 victory over the LA Rams.
In 2019, his second season as a Patriot, Shelton had 61 total tackles and three sacks.
Most recently, he signed a free-agent contract with Detroit for two years and $8 million.
He is expected to significantly contribute for the Lions in 2020.  

Cameron Erving
Cameron Erving drafted by Cleveland Browns in first round http://t.co/kraDFbAWMU pic.twitter.com/wCTmeE1sn8

— PB Post Sports (@pbpsports) May 1, 2015
Cameron Erving began his collegiate career on the defensive side of the ball as a Seminole.
In 2010 and 2011, he was a defensive end who had 21 total tackles and one sack.
He was moved to offensive tackle as a sophomore in 2012 and proceeded to start 14 games on the left side of the line.
Erving was named a First-team All-Atlantic Coast Conference as a junior in 2013 along with First-team All-American by the AP.
In 2014, he was moved to center after an injury to the Seminoles usual starter.
Erving was fortunate to play for a strong FSU team in 2014.
That year, the team played in and won the BCS National Championship game against Auburn.
Erving was again named First-team All-ACC for 2014. His ability to play multiple offensive line positions upped his draft value in 2015.
The Browns used their second pick of the first round on Erving and he played in all 16 games, starting four.
In 2016, Cleveland traded former first-round pick Alex Mack to the Falcons.
To compensate for his loss, the team moved Erving to the center position vacated by Mack.
That season was his last as a Brown as he was traded to Kansas City just before the 2017 season began.
Erving started 17 games combined during the 2017 and 2018 seasons as a guard for KC.
Just as Danny Shelton reached a Super Bowl after leaving Cleveland, Erving did the same as a member of the Chiefs.
The team played in Super Bowl 54 against San Francisco and defeated the 49ers.
The win meant that Erving had the unique good fortune of being both a college national champion as well as a Super Bowl champion.
Despite starting eight games in 2019, the Chiefs declined to bring Erving back in 2020.
He is currently a free agent.             
2016, Corey Coleman, Wide Receiver, Baylor
Q&A with Corey Coleman on being drafted by Cleveland Browns … – WKYC-TV https://t.co/evf4or6anv #DawgPound pic.twitter.com/TdE3jxnmlc

— Clevland Browns News (@NFL_BrownsNews) November 15, 2016
The 2015 Cleveland Browns were the very definition of underachievement.
The team completed the season with a 3-13 record and were ranked near the bottom of the league in both offense and defense.
Hoping to improve their 30th ranked offense, the Browns focused on that side of the ball for the upcoming '16 draft.
Corey Coleman's college career got off to a good start.
In 2013, his red-shirt freshman year, he started 10 of 13 games for the Bears.
Each year in Waco, Coleman's stats got better and better.
In '13, he had 35 catches for 527 yards and two scores.
In his sophomore year, he caught 12 passes in one game on his way to 64 total receptions, 1,119 yards, and 11 TDs.
During Baylor's second game of the 2015 season, Coleman caught four touchdowns, setting a program record.
That year, he finished with 74 catches, 1,363 yards, and 20 touchdowns.
Those numbers led to a consensus All-American nod and the Biletnikoff Award for the nation's best receiver.
Coleman underwent sports hernia surgery after the '15 season and then declared for the draft, forgoing his senior year.
The Browns drafted what looked like a solid pick with their 15th pick in the first round.
He began his Browns career by snagging seven catches, 173 yards, and two touchdowns combined in his first two games.
After breaking his hand in practice before Week 3, he was out for four games.
Coleman ended up starting 10 games his rookie year and hauled in 33 total passes for 413 yards and three scores.
In 2017, Coleman broke the same hand again during a Week 2 game against Baltimore.
The injury caused him to miss a few months and the team placed him on injured reserve.
After coming off IR in mid-November, Coleman wrapped up his second pro season starting eight games and bringing in 23 receptions, 305 yards, and two TDs.
In the lead up to the 2018 season, the Browns were the featured team on the popular HBO program Hard Knocks.
During the filming of the show, Coleman was overly vocal about not getting any practice time with the first team.
He demanded a trade and the team granted his wish.
Having been a Brown for only two seasons, Coleman was traded to the Buffalo Bills.
Buffalo did not keep him long and released him less than a month after trading for him.
The Patriots picked him up and released him as well only a few weeks later.
In October of 2018, Coleman was signed by the Giants to their practice squad and made the active roster a few days later.
Coleman's numbers for 2018 were one start, five catches, and 71 receiving yards.
On the first day of Giants training camp in 2019, Coleman tore his ACL and was out for the season.
He recently re-signed with the Giants for the 2020 season.
Coleman was the fourth Browns first-round pick (out of the last five) that lasted only two seasons with the team.
2017, Myles Garrett, Defensive End, Texas A&M, Jabrill Peppers, Safety, Michigan, and David Njoku, Tight End, University of Miami
The Browns needed some serious help entering the 2017 draft.
They had a dismal 2016 season that produced a 1-15 record and included an offense ranked 31st and defense ranked 30th overall.
Making moves once again, the team ended up with no less than three first-round picks in 2017.
With their pick at number one, they selected Garrett.
Then, the team traded with Houston and basically swapped first-round spots.
Cleveland received Houston's 25th pick and the Texans got Cleveland's 12th pick.
With that pick, the Browns grabbed Peppers.
Later in the first round, Green Bay sent the Browns their 29th pick in exchange for their 2nd and 4th round picks.
With the 29th selection, the team picked Njoku to round out their first day of the draft.

Myles Garrett
With the 1st pick in the 2017 NFL Draft, the Cleveland Browns select Myles Garrett. pic.twitter.com/ydVVlgAGC6

— ESPN (@espn) April 28, 2017
It seems like Myles Garrett has been in the public spotlight for years.
Before entering his freshman season at A&M, he was the number two high school prospect in the nation.
In only his first six games as an Aggie, he broke the team's freshman sack record with 5.5.
After his first nine games, he broke the SEC freshman sack record of eight.
Garrett ended the season with 11 total sacks.
Needless to say, the accolades came quickly and he was named a Freshman All-American and Freshman All-SEC for 2014.
His sophomore season was even better as he racked up 11.5 sacks, one interception, and five forced fumbles.
He received First-team All-American and First-team All-SEC honors and was given the Bill Willis Award for the nation's top defensive lineman.
In 2016, Garrett suffered from injuries that limited his overall playing time.
He still ended the year with 8.5 sacks, 15 tackles for loss, and two forced fumbles.
He was again recognized as a First-team All-American and All-SEC.
Shortly after the 2016 season, Garrett decided to give up his senior year and declared for the draft.
270 lb. Myles Garrett at the 2014 NFL Combine: 41″ vertical😳pic.twitter.com/zH9boTsXCV

— PFF Draft (@PFF_College) February 22, 2020

The Browns took him with the first overall pick.
Garrett was hampered by injuries again during his rookie NFL season.
After missing the first four games due to a high ankle sprain, Garrett had two sacks in his first game as a pro.
After three games he had four sacks and then suffered another injury, this time sustaining a concussion.
Garrett ended his first year with 31 combined tackles and seven sacks.
He rebounded well in 2017.
Finally staying healthy, Garrett started all 16 games of the season.
He also wreaked havoc that year, sacking Ben Roethlisberger, Sam Darnold, and Jameis Winston twice each.
Garrett improved enough that he was named to his first Pro Bowl after getting 44 total tackles and 13.5 sacks.
What promised to be an even better 2019 turned into a nightmare for Garrett. In Week 2, he received two roughing the passer penalties against the Jets.
A few weeks later, he was fined $52,639 for three penalties including two more roughing the passer penalties.
On November 14, Garrett made national news during a game against Pittsburgh.
With only a few seconds left in the game, Garrett had an altercation with Steelers quarterback Mason Rudolph.
During the melee, he ripped off Rudolph's helmet and hit him in the head with it.
Another angle of the Browns Steelers fight. Myles Garrett connects FLUSH on Mason Rudolph pic.twitter.com/pOUfV8NuWI

— Pub Sports Radio (@PubSportsRadio) November 15, 2019
The backlash after the incident was substantial. NFL Commissioner Roger Goodell suspended Garrett for the remainder of 2019 and fined him $45,623.
That ended his season after 10 games, 29 combined tackles, and 10 sacks.
Garrett was reinstated by the NFL on February 12 of 2020.
Garrett returned to the Browns ready to atone for his behavior during the Steelers game in 2019.
In 2020, he contributed greatly to the team by starting 14 games and showing the world he is one of the best DEs in the game.
Last season saw Garrett collect 48 combined tackles (a career high), 12 sacks, two passes defended, four forced fumbles, and two fumble recoveries.
His play led to Garrett being named to the 2020 NFL All-Pro team.

Jabrill Peppers
With the 25th pick in the 2017 NFL Draft, the Cleveland Browns select Jabrill Peppers. pic.twitter.com/0eWqzObIlW

— NFL on ESPN (@ESPNNFL) April 28, 2017
After appearing in only three games in 2014, Jabrill Peppers' college career took off in 2015 under new Michigan head coach Jim Harbaugh.
He played in all 12 games and collected 45 tackles including 5.5 for a loss and 10 passes defended.
Peppers was also used as a punt and kick returner.
For his efforts, Peppers received Second-team All-American and Big Ten Freshman of the Year honors.
In 2016, Peppers' talent was undeniable, ending the season with 12 games played, 72 total tackles including 13 for loss, one pick, one forced fumble and a punt return for a score.
Once the season concluded, the avalanche of awards came like a steady stream.
Peppers was selected as Big Ten Linebacker of the Year, Unanimous All-American, Big Ten Defensive Player of the Year, and First-team All-Big Ten.
He also received the Lott Award for the nation's most impactful player that included recognition for his character.
In addition to the Lott Award, Peppers' also received the Rodgers-Dwight Return Specialist of the Year award.
Given his play in college, it was all but assured that Peppers would be a first-round NFL pick after declaring early for the draft in January of 2017.
Sure enough, Cleveland nabbed him with their second pick of the first round, 25th overall.
Once he arrived in Cleveland, the team moved him from linebacker to safety.
Fighting through injuries, Peppers had a solid rookie year despite Cleveland finishing 0-16.
Playing in 13 games, he had 57 combined tackles, three passes defended, and one pick.
In 2018, Peppers played in all 16 games and had 79 total tackles, one sack, five passes defended and one INT.
In a game against the Broncos that season he had six tackles, his one interception, and a sack to end a Bronco drive.
Once again, the Browns trend of two-years-and-gone continued when the team traded Peppers to the Giants in exchange for Odell Beckham Jr. and Olivier Vernon.
Peppers was the fifth first-round pick by the Browns since 2014 to last only two years with the club.
After a great start to the 2019 year including a pick-six against Washington, Peppers season ended with an injury.
He wrapped up the year with 76 combined tackles, five passes defended, and one pick for a touchdown.
Peppers most likely will return to the Giants as a starter for 2020.

David Njoku
"With the 29th pick in the 2017 NFL Draft, the Cleveland Browns select … David Njoku, TE, Miami."

Watch #NFLDraft on @nflnetwork pic.twitter.com/2Vjxx1nMyx

— Cleveland Browns (@Browns) April 28, 2017
David Njoku redshirted his first year at Miami, finally getting onto the field in 2015.
He played in all 13 games of Miami's season in '15 and picked up 21 receptions, 362 yards, and one score.
In 2016, Njoku played in 12 games and grabbed 43 catches for 698 yards and eight touchdowns.
He then stunned the team when he decided to give up two more years of eligibility and declare for the 2017 draft.
Cleveland saw potential and took a flyer on him with their third pick of the first round, number 29 overall.
His pro career began slowly, starting only five games in '17 and finishing with 32 catches, 386 receiving yards, and four TDs.
In 2018, Njoku increased his starts to 14 as well as his receptions (56) and yards (639).
He matched his 2017 and touchdown total with four. 2019 promised to be a breakout year for Njoku.
Unfortunately, during a Week 2 game against the Jets, he suffered a concussion and a broken wrist on the same play.
He was immediately placed on injured reserve after the game.
Two months later, Njoku healed to the point where the team re-activated him.
He saw only limited game time for the remainder of the season.
Njoku's truncated third season ended with appearances in only four games and five catches for 41 yards and a TD.
Despite repeated speculation about whether he would be a Brown after 2019, Njoku remained with the team in 2020. 
Hampered by injuries, Njoku was limited to only five starts last year. 
His time on the field amounted to 19 catches, 213 yards, and two scores. 
Once again, trade rumors concerning Njoku have swirled throughout the offseason.  
2018, Baker Mayfield, Quarterback, University of Oklahoma and Denzel Ward, Cornerback, Ohio State
The 2017 season was even worse than 2016 for the Browns.
Despite the help, Cleveland brought in through the '17 draft, the team reached new lows by finishing with an 0-16 record in '17.
Cleveland also had an offense that ranked last in the NFL and a defense that was 31st.
Because of their poor record, the Browns had the first pick of the draft for the second year in a row.
With the first overall pick, they selected the controversial Mayfield from Oklahoma.
The team had the 4th pick overall as well after the trades with Houston during the first day of the 2017 draft.
With that pick, the team addressed the defensive side of the ball by selecting local product Ward from Ohio State.

Baker Mayfield 
With the first pick in the 2018 NFL Draft, the Cleveland Browns select Baker Mayfield, QB, Oklahoma pic.twitter.com/2gNsc0UnKD

— Cleveland Browns (@Browns) April 27, 2018
The much-maligned quarterback began his college career at Texas Tech in 2013.
Baker Mayfield was named the Red Raiders starting quarterback as a true freshman, the first time in the program's history that had happened.
After putting together a season where he was named Big-12 Conference Freshman Player of the Year, Mayfield surprisingly left Tech after supposed communication issues with then-head coach Kliff Kingsbury.
The next time he saw the field was in 2015 after transferring to Oklahoma. Picking up on the momentum he had at Texas Tech, Mayfield had a good first season in Norman.
He finished 2015 with 3,700 passing yards, 36 touchdowns, and seven picks.
Mayfield played so well that season that he ended up finishing fourth in the Heisman Trophy race.
In 2016, Mayfield's steady play continued and he racked up 3,965 yards, 40 TDs, and eight picks.
The Sooners played Auburn that year in the Sugar Bowl and defeated the Tigers 35-19, led by Mayfield and his 296 passing yards and two scores.
That performance earned him the MVP of the game.
Mayfield finished third in the Heisman voting for '16.
2017 was, remarkably, even better than 2016 for Mayfield. He finished the year with 4,627 yards passing, 43 touchdowns, and six INTs.
He did cause controversy after a game against Ohio State during the season.
After defeating OSU, Mayfield placed an Oklahoma flag right in the middle of the Buckeyes field, causing an uproar.
Baker Mayfield plants the OU flag in the Ohio State logo at midfield pic.twitter.com/Ovas203PqP

— Bryan Fischer (@BryanDFischer) September 10, 2017

For his part, Mayfield later apologized for his actions.
The Sooners went to the College Football Playoff after the 2017 season and lost to Georgia in a thrilling 54-48 Rose Bowl.
Although the Sooners did not claim the National Championship, Mayfield himself did well in the awards department.
In addition to finally winning the Heisman, he also received: the Maxwell Award for the best college football player in the country, the Walter Camp Award for the collegiate American football player of the year, the Davey O'Brien Award for the best of all collegiate quarterbacks, Associated Press Player of the Year, and First-team All-American among many other accolades.
Once again, the Browns had the first pick of the draft and used it to select Mayfield.
After beginning the year backing up Tyrod Taylor, Mayfield saw his first NFL action in Week 3 when Taylor was injured.
Baker Mayfield's best plays from his unforgettable debut game vs the Jets.

— Everything Cleveland (@EverythingCLE_) April 9, 2020

Playing the rest of the season as a starter, Mayfield performed well for a rookie.
He was considered an Offensive Rookie of the Year after completing 63.8 percent of his passes for 3,725 yards, 27 touchdowns, and 14 picks.
The Giants Saquon Barkley ended up winning the Offensive ROY award after the season.
Going into 2019, the Browns were looking for a new head coach.
Mayfield pushed heavily for offensive coordinator Freddie Kitchens to get the job.
Eventually, Kitchens was hired for the position and the team looked poised for a playoff run in 2019.
However, '19 was another rough year for Cleveland.
Stars Odell Beckham Jr., running back Nick Chubb, and Jarvis Landry did well, but the team as a whole struggled.
Mayfield was sacked 40 times by a largely porous line and, needless to say, he had the dreaded sophomore slump.
With the team finishing a disappointing 6-10, Mayfield ended 2019 with 3,827 yards and 22 TDs but also had 21 INTs.
Cleveland fired Kitchens and hired former Vikings offensive coordinator Kevin Stefanski.
The team brought in numerous free agents to help with both sides of the ball.
After a rough 2019 campaign that saw him endure 40 sacks, Mayfield bounced back nicely in 2020.
With new head coach Kevin Stefanski helping Baker overcome some deficiencies, Mayfield led Cleveland like a seasoned vet.
Last season, Mayfield passed for 3,563 yards, 26 touchdowns, eight interceptions (a career low), 165 rushing yards, and one rushing touchdown.
In the postseason, he threw for 467 total yards, four touchdowns, and one pick in two games.
The Browns picked up Mayfield's fifth year option in April.

Denzel Ward
Day 3 of me tweeting @denzelward for a follow back pic.twitter.com/o3rf5M2aA7

— Denzel Ward Stan (@DenzelSZN) April 5, 2020
Denzel Ward came to Cleveland after playing three years in Columbus, Ohio for OSU.
He received some playing time in his freshman and sophomore years and finally got the starter's nod in 2017.
That season, he made 37 total tackles, 15 passes defended, and two interceptions.
He was named a Consensus All-American and First-team All-Big Ten for 2017.
The Buckeyes were scheduled to play in the Cotton Bowl after the '17 season, but Ward chose not to participate and focus on the draft.
Even with only one season as a college starter, Ward was considered the top corner prospect in the 2018 draft.
The Browns surprised many when they took him with their 4th pick.
Ward started 13 games in his rookie 2018 season, finishing with 53 combined tackles, 11 passes defended, three INTs, one forced fumble, and two fumble recoveries.
He played so well in '18 that he was named to the Pro Bowl and the NFL All-Rookie Team.
In 2019, Ward was solid again despite fighting injuries, starting 12 games and making 44 combined tackles, 11 passes defended, and two picks including one returned for a touchdown.
Most recently, Ward pledged to help 21 service workers and small business owners with expenses to help them through the coronavirus pandemic.
In 2020, Ward continued to show why he is one of the best corners in the game.
During the year, he had 45 combined tackles, 18 passes defended, two interceptions, and one forced fumble.
Ward missed two weeks near the end of the season after being placed on the Covid reserve list.
In April, Cleveland picked up Ward's fifth year option.
2019, No pick.  The Browns traded their first and third-round picks in 2019, along with safety Jabrill Peppers, to the Giants for wide receiver Odell Beckham Jr. 
2020, Jedrick Wills, Offensive Tackle, University of Alabama.
Welcome to Cleveland, Jedrick Wills Jr.!

📰: https://t.co/X4Nll3DMee#BrownsDraft pic.twitter.com/agucLqT4To

— Cleveland Browns (@Browns) April 24, 2020
After quarterback Baker Mayfield was sacked 40 times in 2019, the Browns had a serious issue to address in 2020.
In short, they needed help to protect Mayfield.  They signed former Tenessee Titan Jack Conklin in the off-season to play right tackle.
Then, with the 10th pick of the '20 draft, Cleveland snagged Wills.
The 6'4", 312 pound Wills most likely will man the left tackle spot, although he was a right tackle with the Tide.
Wills came to Alabama after a stellar high school career that ended with him being a top 50 recruit in 2017.
During his freshman year for the Tide, Wills received some playing time as a backup and even started one game versus Ole Miss.
As a sophomore, he competed for playing time with veteran Matt Womack.
Womack went down with an injury during fall practice that year.
In stepped Wills and he never looked back.
After starting 15 games in 2018, Wills stayed cemented to his spot in 2019.
He started every game in '19 as well and received Second-team Associated Press All-American as well as First-team All-SEC.
In 2020, Wills started 15 games for the Browns.
His first start came in Week 1 against the Ravens.
Wills sustained a shin injury during the game and missed some playing time.
In Week 10, he was named the Pepsi NFL Rookie of the Week after helping Cleveland backs rush for 231 yards and a score against the Texans.
It was the first time since 2013 that an offensive lineman won the award.
A day before Christmas, Wills was placed on the Covid reserve list, but was reactivated two days later.
2021, Greg Newsome II, Cornerback, Northwestern University
The Browns had a very good year in 2020.
The team finally returned to the postseason after nearly two decades when they ended the season with an 11-5 record.
Those 11 wins were the most Cleveland has collected since 1994.
Once the defending champion Chiefs bounced the Browns from the playoffs, it was clear the organization needed to focus on defense for the 2021 draft.
Cleveland's front office added a number of players in free agency including former first overall pick of the 2014 draft Jadeveon Clowney.
Even with Clowney on board, many pundits believed that the team would add another edge rusher with the 26th pick.
There was also strong consideration toward the interior defensive line or linebacker.
Instead, the Browns added Newsome to a cornerback unit that was ranked 26th in the NFL by Pro Football Focus during the 2020 season.
Newsome is expected to learn from Denzel Ward, who was one of Cleveland's two first round picks in 2018.
Former LA Ram, Troy Hill, was signed during free agency and will compete for playing time with Newsome and Greedy Williams.
Welcome to Cleveland, Greg Newsome II❗️#BrownsDraft | #NFLDraft pic.twitter.com/wlCHYvTypK

— Cleveland Browns (@Browns) April 30, 2021
Newsome is the son of former NFL player Craig Newsome who played five years in the league and won a Super Bowl with the Packers.
Newsome attended IMG Academy in Florida for his senior year and attracted the interest of a number of Power 5 schools.
Eventually, he chose Northwestern and never looked back.
In 2018, Newsome had 23 total tackles and four passes broken up.
2019 saw Newsome collect 36 total tackles, a fumble recovery, and 11 passes broken up.
Due to the pandemic, Northwestern's schedule in 2020 was reduced to eight games.
Newsome made the best of the truncated season by making 12 total tackles, nine passes broken up, and one pick.
His stats last season were enough to get Newsome a First-team All-Big Ten nod and an All-American designation.
Browns CB Greg Newsome II allowed a 0.0 passer rating on 3rd/4th down last season.

Only CB in the Draft class to do so. pic.twitter.com/HrFlbxdD9g

— PFF Draft (@PFF_College) April 30, 2021