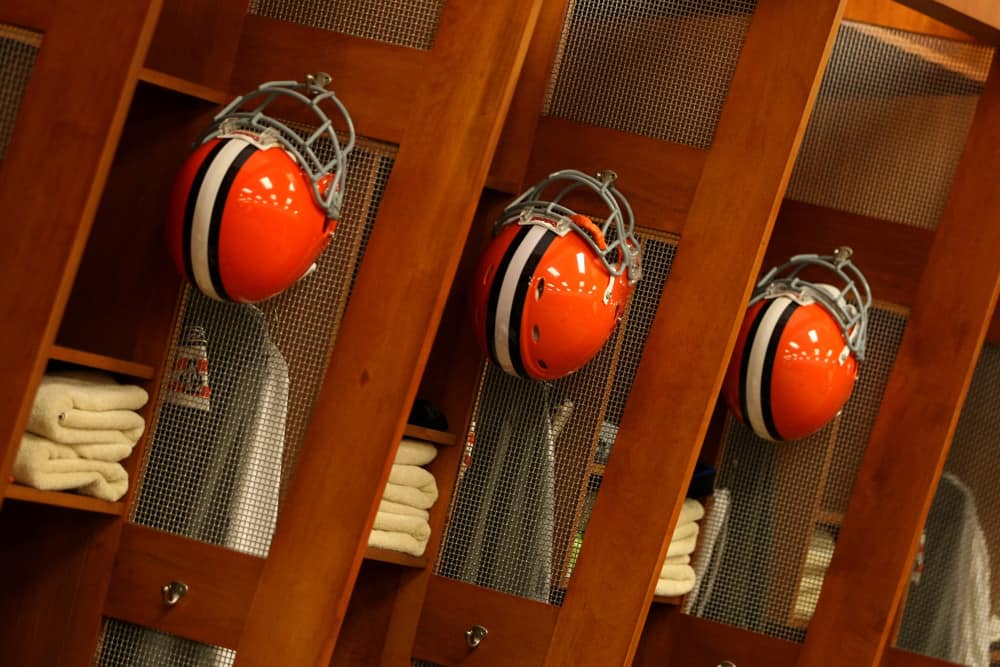 First of all, let me congratulate the Cleveland Browns on a great season as well as Coach Stefanski for winning the NFL Coach of the Year award!
For a team that didn't have much to celebrate in the last decade, this season was one for the books.
An 11-5 record, playoff berth for the first time in almost 20 years, and a playoff victory for the first time since 1994.
So, the question now becomes, can they do it again next year?
As it is with sports at all levels, when one season ends the coaching staff has about a day to reflect on the season just completed.
Then, it's on to preparation for the next season.
The Browns are no doubt already prepping for the 2021 NFL Draft.
They are also pondering how to handle their current crop of free agents.
The organization has a large number of such players and it will be incumbent on them to figure out which ones to keep and which to discard.
Without further ado, let's take a look at the Browns free agent picture.

Cleveland Browns Free Agent List 2021 (With Predictions)
There were a number of players who contributed to the Browns surge in wins this year.
How many of these players remain will be key to the team's restocking efforts for the draft.
Olivier Vernon, defensive end:
Vernon had a pretty productive year in 2020.
He had 36 combined tackles (up from 26 last year), 12 tackles for loss (four in 2019), and nine sacks (3.5 in 2019).
Vernon provided his fair share of memorable moments this season, including a four tackle, three sack, one safety, and one pass defended game against Philly in Week 11.
However, his season ended when he tore his achilles' in the Browns season finale against Pittsburgh.
Keep in mind that this comes on the heels (pun intended) of a 2019 season that also saw him injured (he played in 10 games).
Then, there is the fact that Vernon is 30 and will turn 31 during the 2021 season.  31 for mere mortals is young.
However, for professional defensive ends, he is beginning to gray.
Do the Browns take a chance on keeping him and hoping he stays healthy?
Given his age and injury history, I think Cleveland lets him walk.
Olivier Vernon's tenure as a Brown is likely over after this year, thank you OV 🤎 🧡 pic.twitter.com/sxF9vKPdbK

— Tommy 👾 (@BakersDawgs) January 4, 2021
B.J. Goodson, linebacker: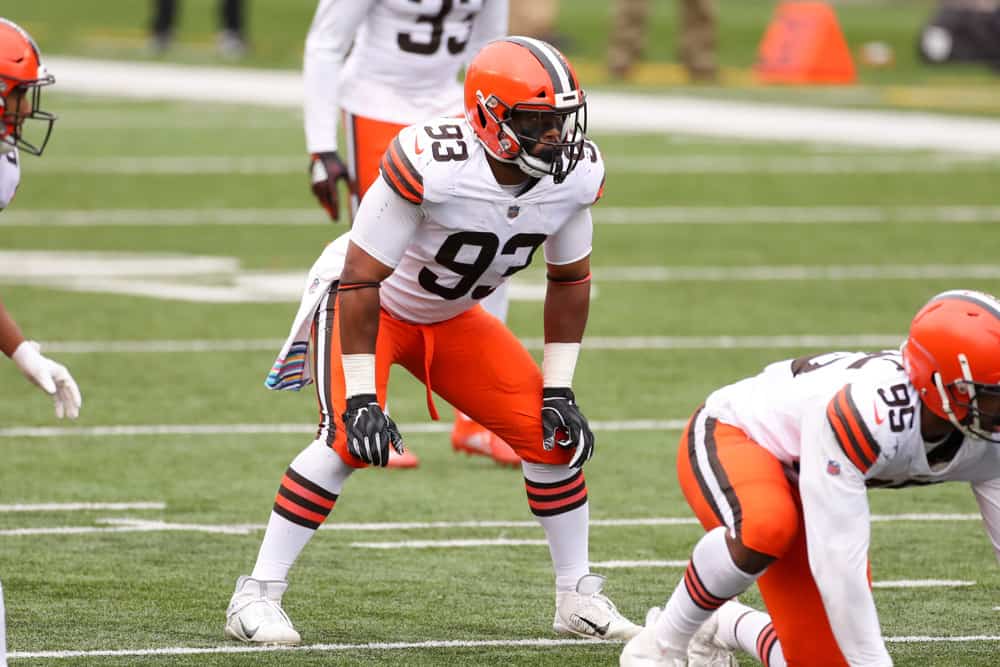 Coming over from the Packers to help fill a spot the Browns desperately needed, Goodson had a great season.
He racked up 91 combined tackles, two tackles for loss, a half sack, and two picks.
He was more than just a stop-gap.
Goodson was arguably the team's best linebacker in 2020.
Goodson proved his worth and will only be 28 when 2021 begins.
However, the question remains as to whether he should be paid starter's money.
Goodson is perfect for what the Browns needed him to be this year.
I just don't believe Cleveland will spend a lot of dough to keep him.
I think he stays as long as he is willing to accept a small pay bump.
#Browns MJ Stewart and BJ Goodson led the defense with 10 total tackles each vs PIT. #WeWantMore pic.twitter.com/pYx0CraNXw

— Browns Dispatch (@brownsdispatch) January 11, 2021
Larry Ogunjobi, defensive tackle: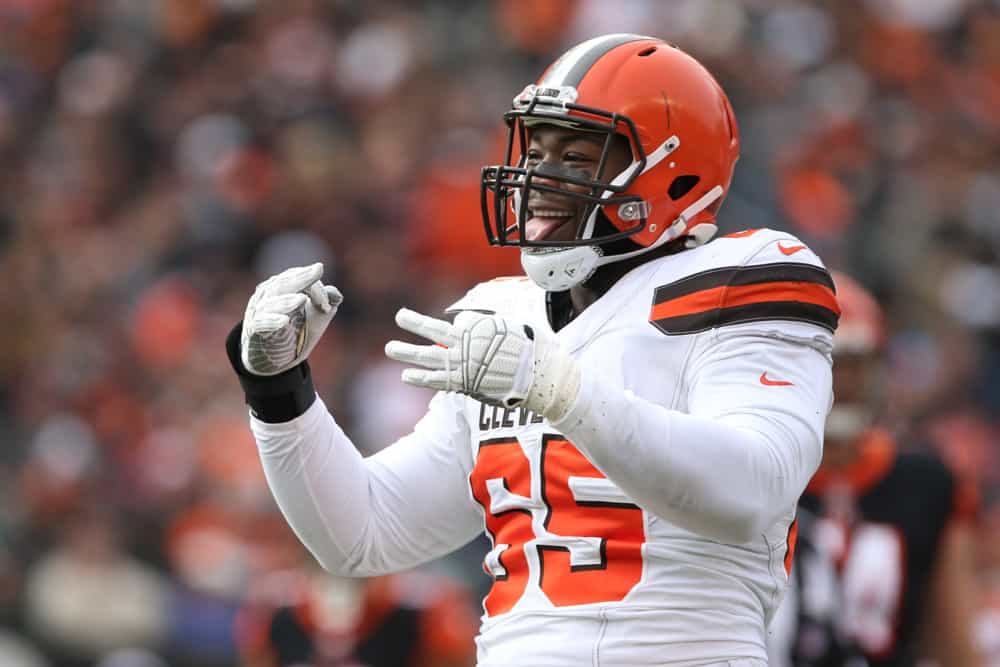 Ogunjobi has been a member of the Browns since 2017.
In 2020, he had 46 combined tackles, five tackles for loss, 2.5 sacks, one forced fumble and seven quarterback hits.
Those stats aren't too bad, but they do represent a falling off of sorts for Ogunjobi.
For starters, he had over 50 combined tackles each of the past two seasons.
That might be nit picky, except that he also had double the tackles for loss, sacks, and QB hits in 2018 and 2019 compared to what he had in 2020.
Even more troubling, he appeared in the same amount of games (15) as he did in 2019 (he played in 16 in 2018).
Maybe this reduction in performance was due to a different defensive scheme in 2020.
Or, perhaps he was used differently than in years past.
More to the point, could this possibly mean that Ogunjobi is on the decline after only four years?
I doubt it, but I believe it's just enough of a reason for Cleveland not to keep him.
Don't forget that another signee from last offseason, Andrew Billings, should be returning after opting out this year due to Covid concerns.
#BrownsZone: Larry Ogunjobi's expected departure in free agency a painful sign of progress https://t.co/63wzKZTCIh @ScottPetrak analysis pic.twitter.com/c6gsIZNOfi

— The Gazette (@MedinaGazette) January 26, 2021
Rashard Higgins, receiver: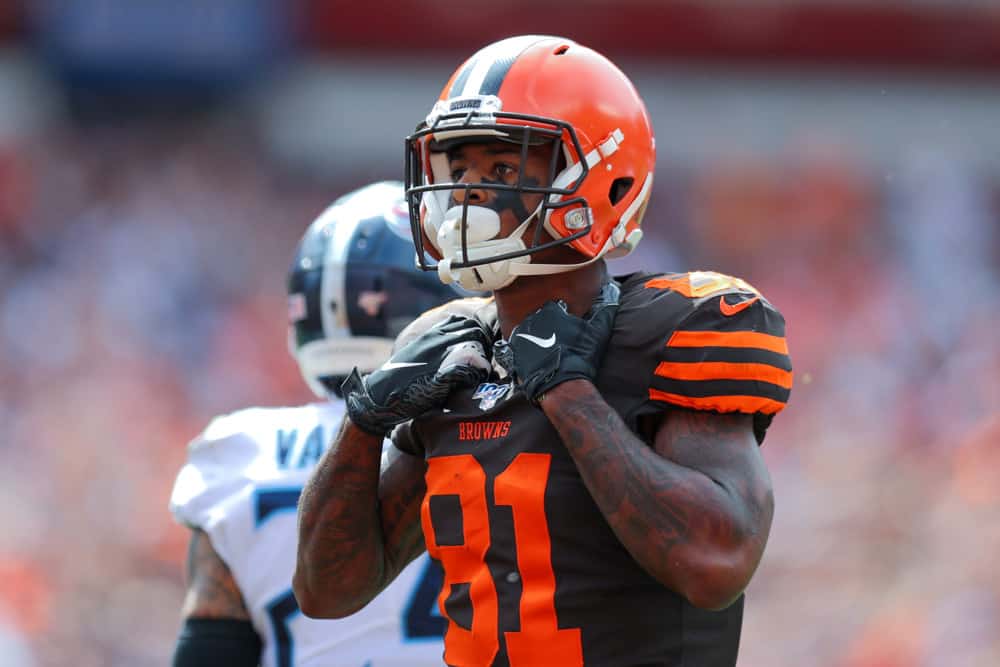 Higgins is a bit of an enigma.
After being drafted by Cleveland in 2016, he rarely saw the field before this season.
This year, he started six games while appearing in 13.
Higgins also grabbed 37 passes for 599 yards, four touchdowns, and a career high 16.2 yards per reception.
However, he did have a career high three fumbles.
In the 2020 postseason, Higgins had a combined seven receptions, 116 yards, and an unfortunate fumble at the goal line as he was about to score against Kansas City.
As it stands now, both Jarvis Landry and Odell Beckham Jr. are returning in 2021.
Both make about $15 million a year.
Higgins proved to be a fairly reliable option when OBJ went down with an injury this year.
Baker Mayfield looks like he trusts Higgins in big moments.
I wouldn't be surprised if Cleveland keeps him, but not with a huge pay increase.
#Browns avg. yards per route run among 112 WRs with qualifying snaps in 2020:

Jarvis Landry – 2.11 (17th)
Rashard Higgins – 2.04 (23rd) pic.twitter.com/8Hz36otgRy

— PFF CLE Browns (@PFF_Browns) January 20, 2021
Terrance Mitchell, cornerback: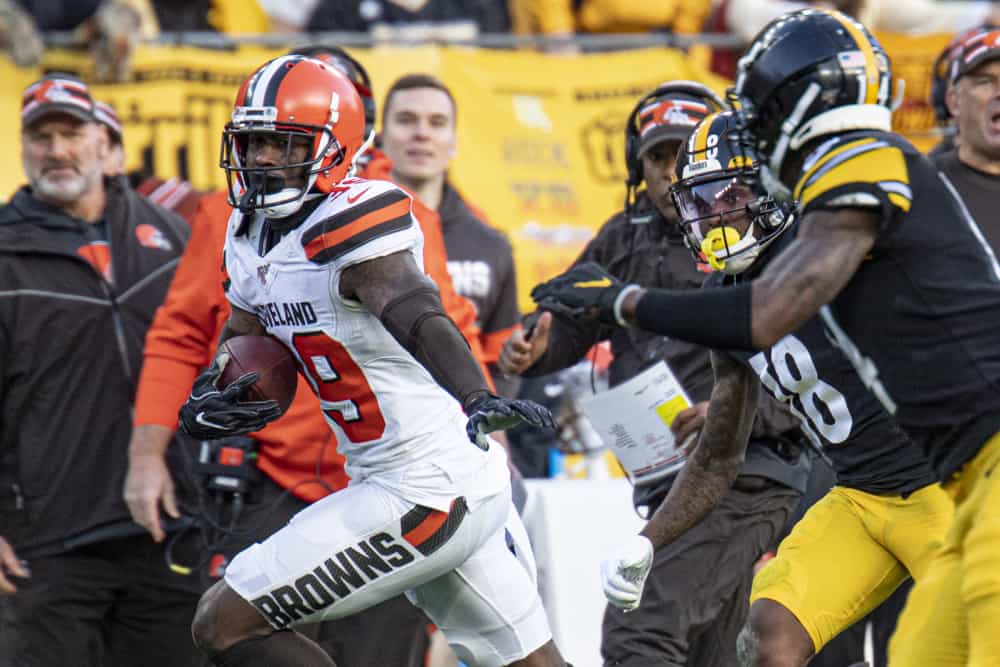 Mitchell had to step up this year after Greedy Williams went down with an injury.
The results were solid.  He started every game this season, including the postseason.
Mitchell had 65 combined tackles, two tackles for loss, and 13 passes defended.
He also had a 66.7% overall grade according to Pro Football Focus.
Mitchell will be 29 in 2021 which is getting long-in-the-tooth for a corner.
Fellow corner Denzel Ward will be playing in the last year of his current contract in 2021.
It is very likely the Browns will sign Ward long term after the new season.
In fact, the team may sign him before '21.
That means Mitchell would have to accept less pay to stay.
Will he do so while also realizing he may see the field less next year?
I don't see it happening and I think the Browns will cut bait.
Our 🏈!

Terrance Mitchell forces it out and Jermaine Whitehead jumps on it 💪 pic.twitter.com/fRmem6xHKS

— Cleveland Browns (@Browns) August 9, 2019
How about the "One Year Wonders?"
There are a few Browns who played 2020 under one year deals.
These players will be scrutinized heavily to decide whether to bring back into the fold or not.
Kevin Johnson, cornerback:
After hopping around the league the past couple seasons (Buffalo in 2019, Houston in '18) Johnson seemed to fit into the Browns scheme this year.
He played in 13 games, starting six in '20.  Johnson had 35 total tackles, three quarterback hits, a half sack, three passes defended, a fumble recovery, and a forced fumble.
From his nickel position, Johnson proved reliable for the Browns this season.
Like Mitchell, Johnson turns 29 before the 2021 season.
However, he wouldn't be called on to play heavy minutes as Mitchell would.
I could see Johnson re-upping with Cleveland for another year or two, especially since I don't see the Browns re-signing the next person on the list…
Andrew Sendejo, defensive back/safety:
When GM Andrew Berry signed Sendejo away from Minnesota before the season, it looked like a good move.
Sendejo had contributed well with the Vikings for over eight seasons and his veteran presence would be a boon for Cleveland.
Well, since hindsight is 20/20, that wasn't the case.
This year, Sendejo played in 14 games, had 67 combined tackles, two passes defended, and one forced fumble.
He also seemed to be asleep on some plays and lost on others.
In short, it looked like his skills had largely vanished and his age (33) had caught up with him.
Since Sendejo was mainly seen as a liability for the Browns, I don't see him returning in 2021.
It also wouldn't surprise me to see him out of football next year.
#Browns Safety, Andrew Sendejo, has been a liability this year.

Andrew is the only player in the #NFL to allow a perfect Passer Rating in the 1st 5 games.

He has allowed 3 TDs (2nd) and a Completion Rate of 80% (14th).

His Overall Grade of 44.6 per @PFF ranks 75th/83 Safeties. pic.twitter.com/aqKKNjc7qJ

— The Hottest Take Sports Podcast (@Hottest_TakePod) October 13, 2020
Karl Joseph, safety:
Signed to be a contributor where he could, Joseph was thrust into the starter's role when 2020 draft pick Grant Delpit went down with a season ending injury during training camp last year.
In Delpit's stead, Joseph showed up.
He started eight games and made appearances in 14.
Joseph made 67 combined tackles, two tackles for loss, one pick, four passes defended, and corralled two fumbles.
Based on his 2020 performance, it should be clear that Joseph would return for 2021.
However, it looks more like Cleveland is banking on Ronnie Harrison Jr. as their future Strong Safety.
Joseph has a few good years left to play.
It's doubtful that he would accept less money to return as a backup when he could start elsewhere.
In short, I don't see him returning to Cleveland in 2021.
#Browns S Karl Joseph had 10 total tackles, 1 tackle for loss, and 2 passes defended against the Giants. pic.twitter.com/CVLYm8Hf7o

— Browns Dispatch (@brownsdispatch) December 21, 2020
JoJo Natson, returner:
Natson was signed away from the Rams last summer to help stabilize the Browns return game.
He did so for three games then was sidelined for the rest of the season when he sustained a torn ACL.
In his three appearances, Natson had three punt returns for 25 yards, an 8.3 yards per return average, and a kickoff return for 31 yards.
Given the short term deal he signed, re-signing Natson wouldn't cost the team much.
However, Cleveland recently re-signed Ryan Switzer.
Switzer has been a dependable returner in the past for the Steelers and Cowboys.
He was signed to the Browns practice roster in October but didn't see action as he dealt with a foot injury.
With Switzer's impending arrival, I think Natson gets the axe.

Four to keep an Eye on
These next four players came to the rescue this year and/or have just enough talent to keep the interest alive for Browns management.
Porter Gustin, linebacker:   
Gustin has been a member of the Browns since 2019.
In his first season, he saw action in six games and accumulated 13 total tackles along with a sack.
This season, Gustin appeared in 14 games and started three.
He racked up 30 total tackles, two tackles for loss, and two quarterback hits.
These totals include an impressive eight total tackle performance versus the Raiders in Week 8.
Of course, these stats won't overwhelm anyone.
However, Gustin, an early rights free agent (which means the Browns can offer him any number of qualifying offers if he is sought by another team), showed enough promise when he did see action that some members of Browns management see him becoming a regular member of the defensive line rotation next year.
Translation, he stays.
Ravens fumble and Porter Gustin jumps on it! 💪#BALvsCLE pic.twitter.com/qN1g2Vbv4J

— Cleveland Browns (@Browns) December 22, 2019
KhaDarel Hodge, receiver:
Since coming over from the Rams before last season, Hodge has steadily improved.
In 2019, he played in 16 games, started one and had four receptions for 76 yards.
This year, he saw action in nine games (due to injuries) but had 11 grabs for 180 yards.
Hodge seemed to have a connection with Mayfield and this alone should see him return in 2021.
Hodge can also serve as a quick fill-in as he knows the system should OBJ or Jarvis Landry come down with the injury bug again next year.
He is also a restricted rights free agent which means the Browns can tender Hodge an offer and match any contract he receives from another team.
Khadarel Hodge channelling his inner OBJ today#Browns #DawgCheck #DawgsGottaEat #GoBrowns pic.twitter.com/v9C5di8wSC

— Doron Kutash (@__The_Source__) November 22, 2020
Stephen Carlson, tight end:
The Browns were loaded with tight ends this season.
Not only did they add Austin Hooper in free agency last summer, but they also drafted Harrison Bryant in the 2020 Draft.
Add these two with David Njoku, and that equals less playing time for Carlson.
In 2019, Carlson (early rights free agent) had five receptions for 51 yards and a touchdown.
He appeared in all 16 games and managed one catch for 11 yards.
Again, the tight end room was crowded this year.
If Njoku does not return to Cleveland, Carlson could be a low cost replacement that knows Stefanski's playbook.
If Njoku stays, Carlson is most likely gone.
Michael Dunn, tackle:
Cleveland's line was much better in 2020.
The protection improvements made by the team ensured that Mayfield didn't look at the sky as often as he did in 2019.
Dunn's significant action this season came at just the right time.
Before the Browns Wild Card playoff game at Pittsburgh, starter Joel Bitonio was placed on the Covid list.
In stepped Dunn and he played well until a calf injury drove him from the game.
As an early rights free agent, Dunn should be re-signed to provide depth along the offensive line.
Heaven forbid another round of Covid-related absences next year, or a serious injury plague, hits the unit again in 2021.
Dunn provides a needed insurance policy for such unforeseen circumstances.
#Browns Michael Dunn, Kendall Lamm, and Blake Hance combined for 68 pass-blocking snaps against the league's top pass-rush.

They allowed a combined two pressures and zero sacks. pic.twitter.com/m44EMyaL8a

— PFF CLE Browns (@PFF_Browns) January 11, 2021
The Best of the Rest
There are at least another 15 or so free agents the Browns will look at keeping.
Most of these players saw little to no action during 2020.
However, a couple names are intriguing enough to openly ponder their future in Cleveland.
Cody Parkey, kicker:
God bless him, but Parkey made most Browns fans cringe this year.
It seemed like every time he came in to kick, the faithful covered their eyes.
When Austin Seibert was cut loose after Week 1, Cleveland signed Parkey to hold down the fort.
To be fair, he did make 19 of his 22 field goal attempts this year, good for 86.4%.
Parkey made 10 of 11 between 40 and 49 yards out.
However, from 30-39 yards away, he was 4 of 6.
Parkey's extra point percentage was 91.5% on 43 of 47 attempts.
He could very well return, but it also wouldn't be surprising to see the Browns bring in some competition.
In the long run, I don't think Parkey returns.
Shoutout to #Browns K Cody Parkey tonight. After a few shaky weeks, he came out and was PERFECT tonight. pic.twitter.com/bJ3MC5cyA8

— Browns Dispatch (@brownsdispatch) January 11, 2021
Malcolm Smith, linebacker:
When starter Mack Wilson went down with an injury in August, Smith was a late signing to fill Wilson's vacancy.
It looked like a good decision as Smith was once a venerable member of the Seattle Seahawks.
He was also the MVP of Super Bowl XLVIII.
In 2020, Smith started 4 games and appeared in 15.
He collected 72 total tackles, three tackles for loss, one sack and one pick.
Not bad for someone who was added at the last minute.
As well as he did, I just don't see Smith returning next year.
Before arriving in Cleveland, he had bounced from San Francisco, Jacksonville, and Dallas between 2018 and 2019.
Assuming that Sione Takitaki, Wilson, and Goodson return, I think Smith will be employed elsewhere in 2021.
Plus, I firmly believe this position will be addressed in the draft this year.
That makes Smith expendable.
Malcolm Smith is a mood rn #Browns pic.twitter.com/CtyPFOTvet

— Abe Froman (@Abraham__Froman) September 27, 2020