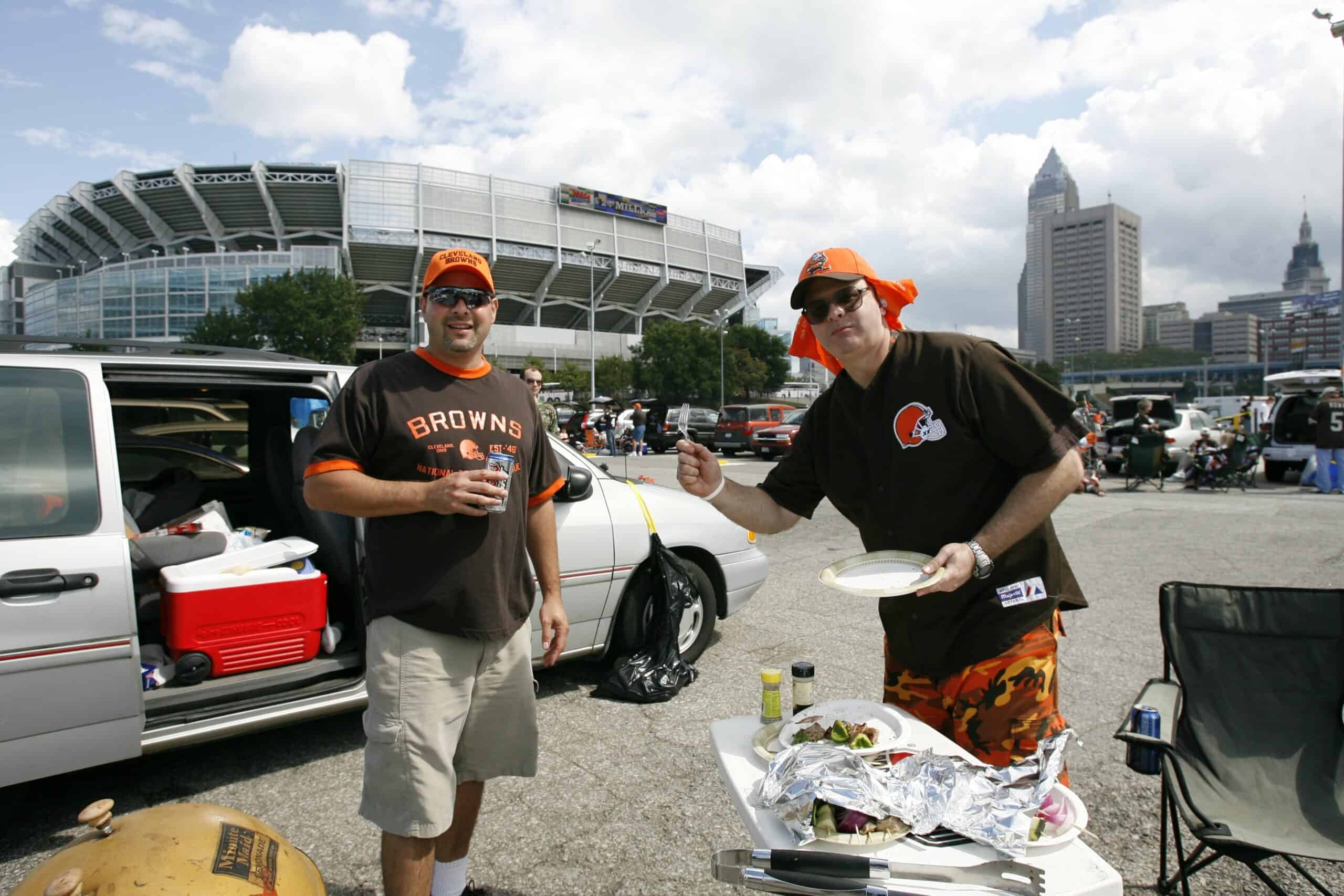 This is a no-brainer for anyone who has been to a Browns home game in the past 20 years.
The Cleveland Browns have been determined to have the top tailgating fanbase.
If you are wondering, there is some element of statistical analysis involved in this declaration.
It evaluates the quantity of geotagged tweets, and the sample size evaluated was 200,000.
Other teams in the running are the Buffalo Bills, Philadelphia Eagles, New York Jets, and Pittsburgh Steelers.
Based on geotagged tweets (200,000 examined) the #Browns are top tailgating fan base . Bills, Eagles, Jets and Steelers come next. All hail the Muni Lot pic.twitter.com/VkOd0CZfII

— .@JohnTelich8 (@JohnTelich8) October 1, 2021
Recent Home Games Prove This To Be True
Fans were welcomed back after over 18 months away for the Browns home opener against the Houston Texans on September 19.
Tailgating preparations were in full force Saturday night as about 70 cars lined up.
Those fans spent the night in their cars just to get a spot in the Muni Lot on game day.
That is dedication.
WOW! Browns fans are lined up in DROVES to enter the Muni Lot tomorrow morning at 7 a.m. At least 70 vehicles with fans sleeping in them overnight. #Browns pic.twitter.com/03ILFMEqQq

— clevelanddotcom (@clevelanddotcom) September 19, 2021
Unfortunately, there is not yet a measure of originality because Cleveland fans would likely win that award also.
This vehicle is incredible.
Browns Fans might be the only Fans who have a Tailgate Party for the Tailgate Party.

The Browns fans are the best fans that I have ever seen.#Browns #NFL #Cleveland pic.twitter.com/LAdruIHu0Y

— Nacho Donut (@NachoDonut) September 19, 2021
Upcoming Home Games
The Browns are out of town for the next two games.
This weekend, they are in Minnesota, and next weekend they travel to the West Coast to play the Los Angeles Chargers.
That time will certainly be used wisely by fans to cheer the Browns on from a distance and plan for the next home stretch of games.
It is an intriguing three home game stand starting on October 17 with Arizona, a short turnaround for Thursday Night Football with Denver on October 21, and a 10 game layoff before a Halloween home game against the Steelers.
I fully expect Browns fans to up their game to an even higher level for Halloween tailgating against Pittsburgh.
Pictures and video footage will be plentiful, and it will be extremely entertaining.
In the meantime, for the lucky Browns fans making the trek to Minnesota for Sunday's Week 4 game, yell extra loud in the dome since you are representing all of us watching from home.