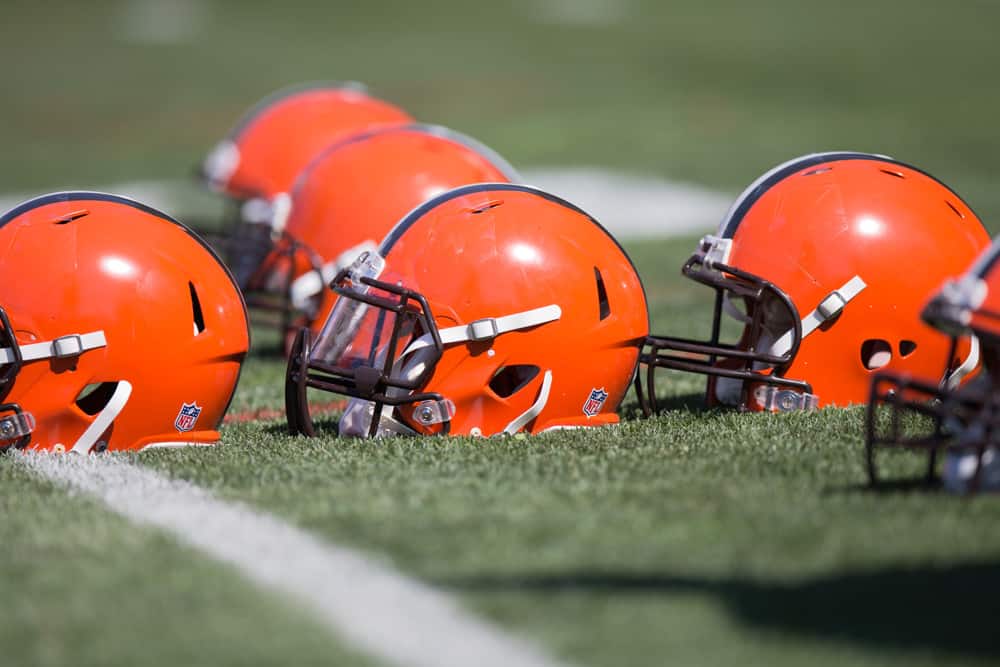 June is here, and so is Cleveland Browns football!
Well, sort of.
While the start of the regular season is still a few months away, OTA's are underway for the summer.
#Browns holding OTA practice today at team headquarters. Tomorrow's session will be first OTA this offseason open to media.

— Nate Ulrich (@ByNateUlrich) June 1, 2021
These practices have been the center of some unnecessary drama in recent years.
Although these workouts are listed as "voluntary", players have typically been expected to be present at them, barring contract disputes or something of that nature.
That mindset changed a bit last year with COVID-19 in the background and activities getting delayed or outright cancelled.
This summer will likely produce more controversies between players, teams, and their fans.
Who's Going for the Browns?
Since the first day of media availability is not until Wednesday, we'll have to wait one more day to truly know who is attending OTA's for Cleveland.
So far one star, defensive end Myles Garrett, was noted to be in attendance on Tuesday.
#Browns will allow media at OTA workout tomorrow. Not sure which veterans have reported at this point. Myles Garrett said he was coming.

— Tom Withers (@twithersAP) June 1, 2021
That just seems to fit the mold for Garrett who has been a workhorse since day one in northeast Ohio.
Baker Mayfield was rumored to be absent from Tuesday's practice, but nothing is official on that front.
#Browns QB Baker Mayfield was not in attendance today at OTA's, per source.

— Brad Stainbrook (@BrownsByBrad) June 1, 2021
For younger guys trying to make an impact in the league, showing up to OTA's is typically in their best interest.
It's not the end all be all of a career, but attending "voluntary" events is never going to look bad.
The main question is whether the stars of the team will show up or not.
Odell Beckham Jr. has garnered much of that conversation since joining the Browns.
In the summer of 2019, OBJ ditched OTA's after the first day, something former coach Freddie Kitchens publicly took exception to.
1/2) Freddie Kitchens on Odell Beckham Jr. leaving after one Browns OTA practice. "Listen, I've never disputed the fact that it's not important for him to be here. But it's also important for him to be mentally ready to be here …

— Tony Grossi (@TonyGrossi) May 15, 2019
With last summer tossed in the trash league-wide, speculation over attendance will have to be answered as this week goes on.
Does it Matter?
Opinions on how much OTA's matter will almost always differentiate depending on who you talk to.
Despite the outburst from Kitchens in 2019, the majority of coaches don't seem to weigh in too heavily on the matter.
Perhaps privately there is a passion for these sessions, but most coaches fail to make that publicly known.
The reasoning for players not falling in love with OTA's has been made clear.
Most players keep themselves in tremendous shape while away from the team and enjoy the extra time with their friends and family.
Would the extra reps and time with teammates be beneficial?
Perhaps, but the trending negative mindset toward OTA's may render that a moot point.
The Packers, for example, have been missing the bulk of their offensive stars so far.
Considering the offseason drama they have endured, that may be for the best.
Aaron Rodgers wasn't the only Packer missing at Organized Team Activities today; so were Green Bay's top five WRs: Davante Adams, Marquez Valdes-Scantling, Allen Lazard, Devin Funchess and Equanimeous St. Brown. So Jordan Love had to work with a makeshift WR crew.

— Adam Schefter (@AdamSchefter) May 25, 2021
As is tradition, the overreaction toward OTA's will come from some sect of social media.
It goes both ways, too, as stars shouldn't be showered with praise over others for showing up to these practices.
It doesn't seem likely that Myles Garrett would be parading around Baker Mayfield over being at OTA's.
When the ball is kicked on opening weekend, debates over who was showing up in early June become irrelevant.