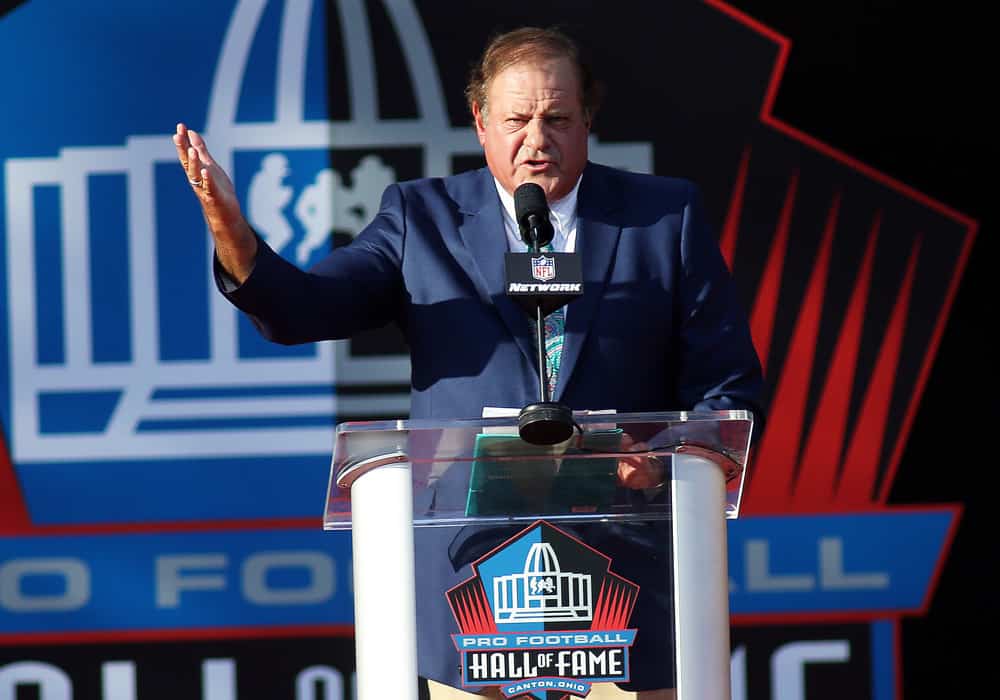 How many Cleveland Browns are in the Hall of Fame?
Though the Browns may have struggled to succeed since their return in 1999, they were once the most dominant team in football.
As a result, they have many Hall of Fame players who innovated the game and changed the way that it is played forever.
So many made it to the Hall that we can only highlight a handful here.
Jim Brown
The most apparent Hall of Famer from the Browns was always going to be Jim Brown.
Brown broke an incredible amount of records during his career, and though a new generation of players has since surpassed them, his early excellence cannot be understated.
In a league and an era where running was the name of the game, nobody did it better than Jim Brown.
Brown was acclaimed not only for his strength and speed – which helped him break past the best run-based defenses in the league – but his intelligence in the game.
Brown had an innate ability to read defenses and adjust, as needed, to ensure extra yardage.
This skill was evident as early as his high school career, where he averaged nearly 15 years per carry.
The most staggering thing about Brown is to ponder what his career could have been.
In just nine years, he had 12,312 rushing yards – still good for number 11 on the all-time list – and 15,459 combined yards.
However, his early retirement at 30 during the peak of his ability robbed the Browns and football of a potential further decade of excellence that could have seen his stats double.
Paul Brown
In many ways, Paul Brown is more than just the first – and best – coach of the Browns, but one of the most crucial football coaches of all time.
Upon the Browns' emergence in 1946, Paul Brown not only helped the team become the most dominant squad for nearly 20 years but also innovated coaching concepts still utilized today.
For example, Brown tested the intelligence of his players – a first at the time – to see how well they could adapt to his plays and various situations on the field.
He also used film clips and statistical studies of his opponents to understand better how they played and how to beat them.
Beyond these changes, Brown also created many unique pass plays and was one of the first coaches to understand how vital passing was to the game.
His 167-53-8 record is one of the best in football history, as he led the team to three championships in its first six years of existence.
Len Ford
Defensive linemen rarely get credit for their excellence in the general public, but Len Ford was different.
When drafted by the Browns in 1949, he was placed on a defensive squad that allowed the fewest points of any team during 1951-1957.
And a big part of that success was due to Ford.
Ford was so great as blasting past offensive linemen and sacking the quarterback that Cleveland changed their defense to focus on getting him closer to the line.
As a result, they created the first 4-3 defense, which remains a popular formation to this day.
Ford was also critical for two Cleveland championship wins.
In the 1950 title game, Len consistently put pressure on the Rams quarterback and made vital tackles to earn a 30-28 win.
And in 1954, he intercepted two passes and helped the Browns destroy the Detroit Lions 56-10.
Otto Graham
No list of Cleveland Brown greats would be complete without their first quarterback.
Otto Graham was scouted early by Paul Brown as the perfect QB for his team.
Brown had noticed Graham as early as his days in Ohio State when Graham competed well against the Buckeyes.
Graham was interesting as a player because he was initially a basketball star scouted while playing intramural football as a freshman.
While with the Browns, Graham mastered the T formation critical to Brown's coaching method.
Though this formation focused on running, Graham was a skilled hustler himself and proved an excellent passer as well.
Otto helped the Browns win four straight AAFCC titles as a QB.
Just as impressively, he earned a 52-4-3 record throughout his time with the Browns, among the finest of all time.
A considerable part of this success focused on Graham's ability to pass when needed to create an unpredictable offensive style that made the Browns so dominant.
Other Hall of Fame Players
Other Cleveland players who made it to the Hall of Fame include: