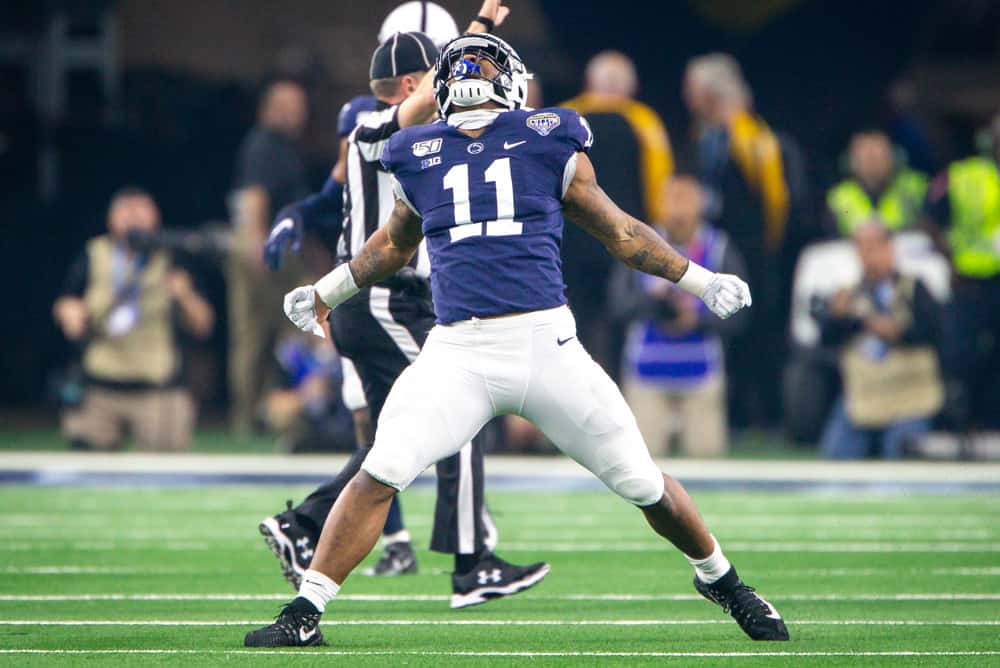 The 2021 NFL Draft is just around the corner, which always gets football fans excited.
Before free agency, we created a mock draft trying to pinpoint how the Cleveland Browns would operate during the upcoming draft.
This time around there is a much more clear picture of the Browns' needs going into draft day.
The front office went defense-heavy during free agency, but expect that trend to continue during the draft.
It's always a fun time creating mock drafts and getting to make the moves for your favorite team.
We'll see if there's any similarities from our first mock draft and the improved 2.0 version.
First Round, No. 17: Penn State LB Micah Parsons
A dream come true for the Browns being able to land a talent like linebacker Micah Parsons.
It did come at a hefty price, but the Browns had the draft capital in order to get this deal done.
The Browns sent the No. 26 pick, No. 59, No. 110, and linebacker Mack Wilson to the Las Vegas Raiders in exchange for this pick.
Certainly, quite a lot to give up to only move up a handful of spots in the draft.
However, Parsons is arguably the best linebacker in this draft class.
The Browns are an impact player or two away from being legitimate Super Bowl contenders.
While the Raiders can use these extra picks to speed up their rebuild process under Jon Gruden.
On paper, this seems like a win-win situation for both teams.
If this is indeed it for Micah Parsons, he certainly didn't leave anything on the field in his two years. Here was his final strip sack to help seal the deal in the Cotton Bowl win. pic.twitter.com/4gW8iSBAPE

— Justin Morganstein (@JmoTweets_) August 5, 2020
Parsons decided to opt-out of his final season at Penn State, but that shouldn't hurt his draft stock.
In 2019, he recorded 109 tackles, 14 tackles for loss, and five sacks in 13 games.
He is projected to be a dynamic player at the next level.
His versatility makes him a legitimate Pro Bowl threat in the right defensive scheme.
An elite pass rusher with an incredible level of pure instinct and arguably the best tackler in the draft.
The Browns should be able to plug him into a starting spot from Day 1 in Cleveland.
Parsons is a player that has all the skills to be a superstar linebacker at the professional level.
Third Round, No. 89: Washington DE Joe Tryon
Cleveland was forced to wait until the third round for another selection due to their trade with Las Vegas.
However, it didn't end up costing them as they land Washington edge rusher Joe Tryon.
A player that surprisingly fell to the Browns during the middle of the third round.
The Browns signed Takk McKinley to replace Olivier Vernon this offseason.
Although, it might not take Tryon too long before he jumps McKinley on the depth chart.
The more I've watched UW Edge, Joe Tryon the more I love his game.

He rushes with a plan! His ability to set up OTs is impressive.

His first step upfield sells the speed rush, his violent hands & motor is the key ingredient to work inside.

— Damian Parson 🏈 (@DP_NFL) March 5, 2021
In 2020, Tryon decided to go the same route as Parsons and sit out the season.
In this case, it did hurt his draft stock because he was projected to go No. 66, but the Browns aren't complaining.
He was a full-time starter during his sophomore campaign at Washington.
In 13 games, Tryon recorded 41 tackles, 12.5 tackles for loss, and eight sacks.
Tryon is an explosive pass rusher with has quick hands and moves well off the edge.
There really isn't anything about his game to dislike besides the fact he might be a little too small to play defensive end right away at the professional level.
Although, Tryon should be fine with some coaching and adding muscle over time.
This is certainly a win for Cleveland since they desperately needed another edge rusher.
Tryon will help take the pressure off Myles Garrett and Parsons won't be forced to be used as a pass rusher as often.
That will give him a chance to drop back in coverage and help while Garrett and Tryon chase down the quarterback.
Third Round, No. 91: Stanford CB Paulson Adebo
Possibly, Cleveland reached here, but it could end up paying off.
Much like the other two players already selected by Cleveland, Paulson Adebo decided to opt-out of his senior season at Stanford.
He might not be quite NFL-ready, but the Browns don't need him to play a significant role right away.
Although, the Browns couldn't afford to wait any longer before adding another defensive back.
Adebo has all the pieces to become a useful option at the next level.
Huge play by #11 Paulson Adebo to break up a perfectly thrown ball by Herbert in overtime. pic.twitter.com/xiOBYmywsx

— Fed Scivittaro (@MeshPointScout) September 23, 2018
He uses his size to his advantage, effectively times his pass defenses, and possesses a closing burst.
Adebo led the country with 24 pass breakups during his freshmen year at Stanford.
The biggest negative to his game is that he sometimes gets beat on the deep ball.
In 2018, he recorded 64 tackles, five tackles for loss, and four interceptions in 13 games.
However, Adebo has somewhat gone downhill since the beginning of the 2019 campaign.
There is plenty of potential, but there will likely be a learning curve at the next level.
The Browns have Denzel Ward, Greedy Williams, and Troy Hill as their primary defensive backs heading into the 2021 season.
That means, Adebo shouldn't be forced into a big role and will have time to develop his game.
This move is more about Adebo's upside rather than what he can do for the team right now.
Fourth Round, No. 123: North Carolina LB Chazz Surratt
The Browns had to make a trade in order to secure Chazz Surratt, but it might end up being worth it.
Cleveland sent the No. 132 pick and a fifth-round pick in 2022 to the Philadelphia Eagles in exchange for the young linebacker.
He was an underrated player at North Carolina and was surprisingly still available this late in the draft.
Surratt was projected to go around No. 100, but somehow fell almost 25 spots.
The Browns might've been able to wait it out, but didn't overpay to move up a few positions.
He actually started his college career as a quarterback, but has quickly transformed into an NFL caliber linebacker.
Chazz Surratt's goal line interception clinches #UNC's 20-17 win over Duke. pic.twitter.com/rm1VX0XUvn

— Ross Martin (@RossMartin_IC) October 26, 2019
Surratt is an underrated linebacker who is instinctive, quick to read and diagnose, and remains disciplined with assignments.
He has excellent range, patience and fills the gaps correctly in run defense.
It's honestly quite surprising that Surratt isn't getting more attention, but maybe it's because he only spent two years at linebacker.
In two seasons, Surratt recorded 207 tackles, 22. 5 tackles for loss, and 12.5 sacks at North Carolina.
He put together solid numbers during his two seasons, but isn't quite on the same tier as Parsons and the other first round linebackers.
There is plenty of developmental potential here, especially with a veteran linebacker alongside him to help teach and guide him.
That is why adding linebacker Anthony Walker was such an enormous addition this offseason.
Amazing player man, he does everything the right way! It sucks that he's leaving but Cleveland is gaining a Dawg! He's a great leader and he's going to lead your defense to be great! I will truly miss him! I give him a lot of credit for my success! I wouldn't be me without him!

— Darius Leonard (@dsleon45) March 19, 2021
The Browns don't need Surratt to be an impact starter right away.
Although, surrounding him with players like Anthony Walker and Malcolm Smith should help improve his game.
He can take over Mack Wilson's role as a rotational player, while he learns how to play at the professional level.
Fifth Round, No. 169: North Carolina WR Dazz Newsome
The first offensive player of the draft for Cleveland comes in the fifth round.
To be fair, this offense does not exactly need full-time impact starters on the offensive side of the ball.
Although, the Browns do need depth, which is why taking wide receiver Dazz Newsome is a smart decision.
He's a reliable pass-catcher with excellent hand/eye coordination and a strong ability to get yards after the catch.
Dazz Newsome is FAST #ULvsUNC pic.twitter.com/n6e9sxVxnb

— Jonathan Valencia (@JonValenciaDTSN) September 9, 2017
Newsome is a sure-handed wideout who does all the little things well.
In 2019, he recorded 72 receptions, 1,018 receiving yards, and 10 touchdowns in 12 games.
He followed that up with a somewhat less impressive senior year in 2020.
Newsome finished with 54 receptions, 684 yards, and six touchdowns in 12 games last season.
He is an average sized wide receiver with limited speed and could struggle at the next level.
Although, he is worth taking a risk on during the late-rounds in the draft.
A player that will likely be a fourth or fifth option on an NFL roster, but still finds a way to contribute.
Newsome is someone that brings depth at wide receiver and another possible option on special teams.
Sixth Round, No. 211: Middle Tennessee OG Robert Jones
This is the part of the draft where you basically take a chance on a raw prospect.
That is exactly what the Browns did here with offensive guard Robert Jones.
He spent time at tackle while playing at Middle Tennessee, but is projected to be a guard at the professional level.
Jones has plenty of power, functional athleticism, and a reliable option in run-blocking.
It's a low-cost investment that might end up paying off for Cleveland.
Impressive rep here by Middle Tennessee's Robert Jones on Penn St.'s Shaka Toney. Jones earned Honorable Mention All-American Conference USA this year. pic.twitter.com/TAPIEbKMCE

— Bears Barroom | Barroom Network (@BearsBarroom) January 27, 2021
The Browns don't exactly need any more starters on their offensive line.
However, it's never a bad idea to add depth to your roster whenever it's available.
His versatility as a tackle and guard should be beneficial at the next level.
Jones has the size and skillset to become a possible starter at some point during his professional career.
He should certainly be considered a developmental type of player right now, but worth the risk in the late rounds.
At worst, Jones can develop his game on the practice squad, assuming he doesn't make the active roster.
Seventh Round, No. 257: Louisville WR Dez Fitzpatrick
This is a low cost-high upside type of selection by the Browns.
There likely aren't going to be incredibly talented players available in the seventh round.
However, Louisville wide receiver Dez Fitzpatrick has enough upside worth taking a flier on.
He has been a fairly productive player throughout his college career.
Dez Fitzpatrick's first collegiate career touchdown catch. pic.twitter.com/C2NwERcTlS

— John Vogel (@johndavogel) October 9, 2019
Fitzpatrick has nice length, tracks the ball well, and has excellent hand/eye coordination.
The downside is that he lacks burst and is below average when it comes to route running.
There is upside in his game, but Fitzpatrick needs to be in the right system.
He scored nine touchdowns during his freshmen year, but never could produce the same scoring numbers after that.
In 2020, Fitzpatrick finished with 43 receptions, 833 yards, and three touchdowns in 11 games.
He is the type of player that is quality depth at the back-end of your wide receiver group.
There is a chance that he becomes a fourth or fifth option at the professional level.
Although, he is not ready for a significant workload on an NFL roster.
At the end of the day, Fitzpatrick is a low risk selection in the seventh round and a nice way to finish off the 2021 draft.