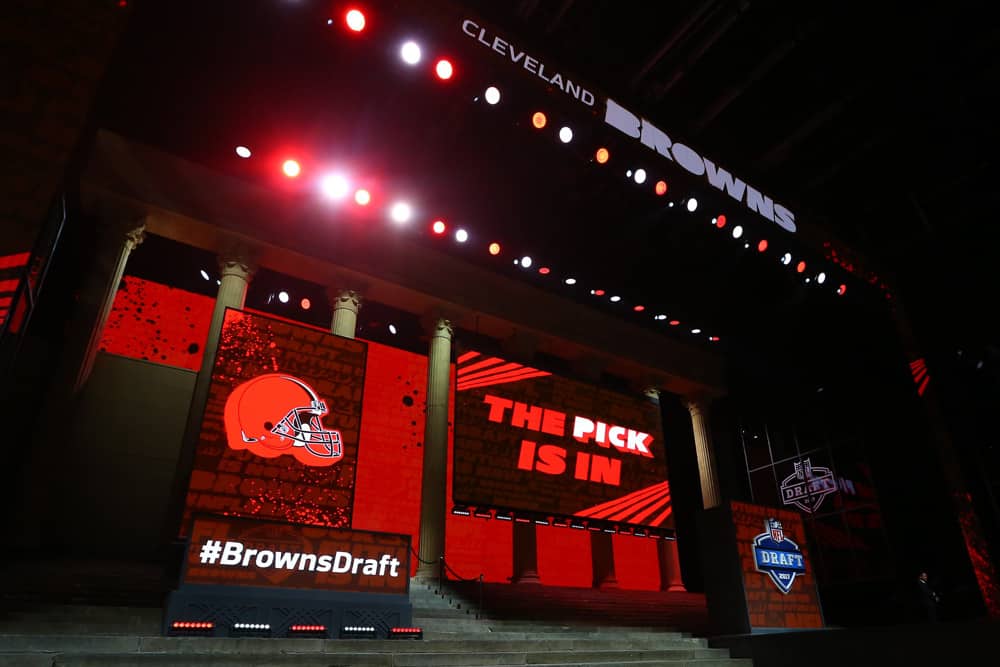 The 2021 NFL Draft is fast approaching.
As we get closer to this de facto 'second Christmas,' it can be fun and entertaining to guess who our favorite team will select during the draft.
Looking at their 2020 stats, the Browns performed fairly well on offense (14th in the NFL) and not as well on defense (21st in the NFL).
On the surface, it looks like Cleveland is well stocked on offense.
In addition to quarterback Baker Mayfield, the offense also sports receivers Jarvis Landry, Odell Beckham Jr., running backs Nick Chubb and Kareem Hunt, tight ends David Njoku (for now), Harrison Bryant, and Austin Hooper.
Don't forget the line: Jack Conklin, Joel Bitonio, J.C. Tretter, and friends were ranked number one overall by Pro Football Focus for both run and pass blocking.
On defense, the team has defensive end Myles Garrett, defensive back Denzel Ward (when healthy), and safety Ronnie Harrison (again, when healthy).
There were pieces and parts that contributed to the defense this year, but by the end of the season, it was clear which side of the ball needed the most help in the offseason.
Garrett's partner, Olivier Vernon, most likely won't return next year.
That leaves a lack of push up the middle and speed at one of the end spots.
Linebacker also needs a jolt, someone who can cover tight ends and even the occasional slot receiver while also delivering big hits in the run game.
Finally, the corners need more depth and big plays.
Pro Football Focus ranked the unit 26th overall for 2020.
Regardless of injuries and Covid absences, this unit largely underwhelmed in '20.
With this in mind, I conducted a mock draft and picked mostly defense.
My feeling is the Browns will do the same in the actual draft.
Without further ado, here are my mock selections and the reasons why I chose each player.
Cleveland Browns Mock Draft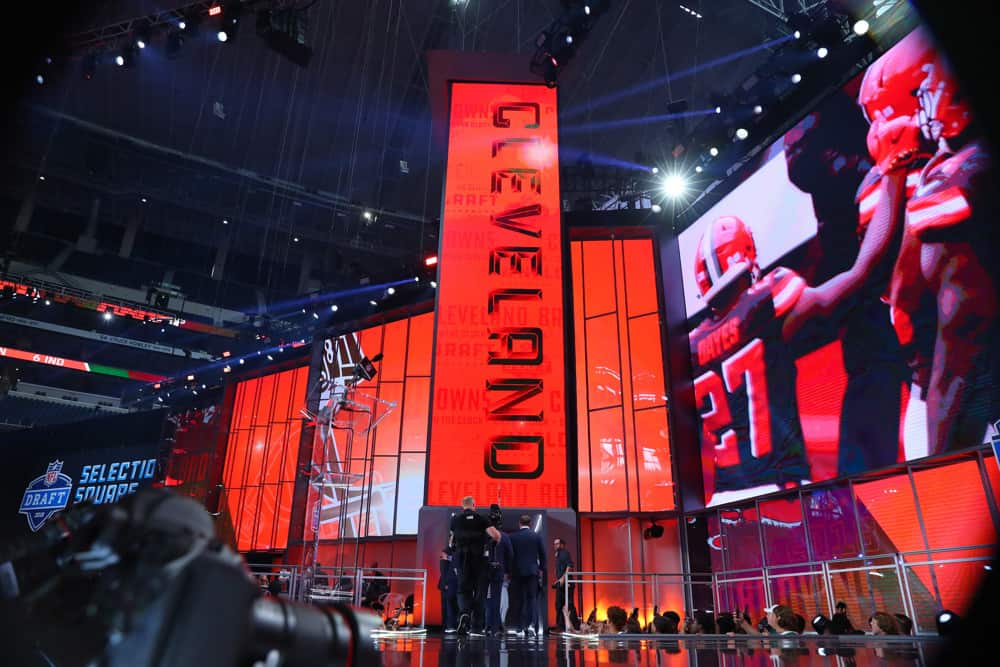 1st Round, pick 26, Nick Bolton, linebacker, Missouri
I really wanted to draft an EDGE player here.
However, I saw that both Bolton and Tulsa linebacker Zaven Collins are available.
I like them both, but I chose Bolton based on his intangibles.
The Browns need a linebacker who can make an impact in both the run and passing games.
Bolton can do both.
He has a smaller build (6'0", 232 pounds) that may scare some teams away.
However, we're talking about a guy who made plays in the SEC.
Bolton scared the heck out of opposing receivers who came near him in zone coverage.
He has the speed to hang with tight ends and slot receivers and can disrupt their ability to catch the ball cleanly.
Bolton also racked up an impressive number of tackles and tackles for losses during his time in Columbia.
As a sophomore in 2019, Bolton collected no less than 100 total tackles, one sack, eight passes defended, and two picks, one of which he returned for a touchdown.
In 2020, he had 95 total tackles, two sacks, forced a fumble, and had five passes defended.
Bolton was named First Team All-Conference after the season.
He also led the conference in tackles.
Most run stops among SEC defenders💪
1. Nick Bolton, Missouri – 26
2. Grant Morgan, Arkansas – 25
2. Zakoby McClain, Auburn – 25 pic.twitter.com/EfpkQBwDG5

— PFF Draft (@PFF_College) December 3, 2020
Pro scouts note that Bolton will need to improve in some areas of his game.
Specifically, he needs to address his processing time when making decisions in space.
Bolton must work to tighten his angles when covering the pass and ensure he is not blitzing before recognizing a pass in his area.
Despite the negatives, there are a number of scouts who believe that Bolton is the best (if not one of the best) linebackers in the 2021 class.
2nd Round, pick 58, Jay Tufele, interior defensive lineman, USC
There were a few other players available that I liked and I still wanted to address the EDGE position.
It was hard to pass up Tufele.
There are a large number of draft experts that rank him in the top five of IDL prospects in the '21 draft.
The Browns need a strong push 'up the gut' each play and Tufele can provide that.
Tufele has a great build for the position at 6'3", 315 pounds.
Even with his size, he is quick and agile and can overpower his foes.
There are copious amounts of game tape that show him tied up in double teams in an attempt to slow him down.
Even in those instances, Tufele can still find the ball.
He has a good first step at the snap that befuddles slower opponents.
Tufele has two years of experience with the Trojans.
He kicked things off in 2018 when he collected 23 total tackles and three sacks.
In 2019, Tufele increased his totals to 42 total tackles and 4.5 sacks.
He also defended one pass that year.
2020 should have been an even bigger year for Tufele, but he opted out of the season due to Covid concerns.
USC DT Jay Tufele shows off power/lower body strength often – but it's the balance too

Would love a bit more hip snap in his game but he shows up w/ brute strength, heavy hands & balance – lethal combo for DT!

Preseason 2nd Team All-American from @philsteele042 #2021NFLDraft pic.twitter.com/7LKN6BgCI3

— Ben Fennell (@BenFennell_NFL) July 25, 2020
Some NFL scouts appear to have dinged him for his opt out, wondering if he still has the tools needed after a year away from the game.
They also note he needs to improve his identification of opposing blocking schemes.
Tufele can lose track of the ball on occasions when he is tied up with aggressive blockers.
He also plays too tall which will affect his pad level and allow opponents to maneuver him.
However, Tufele is coachable and should be able to iron out the kinks after a few months in a pro system.
His presence will help the Browns shore up their interior defense.
3rd Round, pick 89, Jordan Smith, EDGE, UAB
I finally grabbed an EDGE rusher with this pick.
I recently wrote an article about the top EDGE players the Browns should consider drafting.
Smith was my "darkhorse" candidate and for good reason.
Smith was originally committed to South Carolina as a three star recruit in high school.
When the coaching staff who recruited Smith were fired, he de-committed and chose to play for the Florida Gators.
However, he and some of his teammates were arrested for a check fraud scheme before he played a down in Gainesville.
Smith left the program soon after.
After a year playing at Butler Community College in Kansas, Smith made his way to UAB.
He quickly made his mark in Birmingham.
Smith's size and speed startled many an opponent.
At 6'7", 255 pounds, he has the ability to rush the passer, bury ball carriers for a loss, and drop into coverage.
In his first season as a Blazer (2019), Smith tallied 52 total tackles, 10 sacks, four forced fumbles, and one pass defended.
This past season, Smith had 42 total tackles, 4.5 sacks, one pick, and one pass defended.
Smith's size allows him to swim over the top of opponents and even dip his body enough to motor around the edge toward the quarterback.
He has the ability to diagnose a play fairly well and can make up for mistakes on the fly.
His length, motor, and athleticism will affect opponents even if he is not directly involved in a play.
Jordan Smith – UAB – EDGE

Been absolutely fantastic in practice so far. Power in the hands, explosive, agility, and all the tools to be a DUDE in the NFL

Working vs Alex Leatherwood here pic.twitter.com/cs8xxZUGSy

— Matt Lane (@ChiefinCarolina) January 26, 2021
There are some things Smith will need to correct at the next level.
He has to work on his counter moves when facing opposing linemen.
Smith also needs to have a better pass rush plan and work on his processing speed as a play unfolds.
That being said, scouts love the idea of working with Smith.
His intangibles are worth taking a chance on.
In a year or two, Smith could be one of the best in the game.
3rd Round, pick 91, Keith Taylor Jr., corner, Washington
With PFF's ranking of the Browns defensive back unit rolling around in my head, I decide to take a chance on Taylor.
He brings four years of collegiate experience with him into the draft and it is hard to ignore his talent.
Taylor is 6'3", 195 pounds.  I like his size as it makes it more difficult for taller receivers to outpoint him on throws.
He can cover space quickly and stay with most receivers.
Taylor has the experience to stay disciplined and diagnose what is happening in front of him.
He has a good base and low center of gravity.
After seeing limited playing time in 2017 and 2018 (23 total tackles, four passes defended), Taylor had a breakout 2019.
That season he collected 59 total tackles and five passes defended.
In 2020, the Huskies played only four games due to the Covid delay.
In those four games, Taylor had nine total tackles and one pass defended.
A closer look at these stats shows a glaring absence: interceptions.
It's true, Taylor has zero picks in four years.
However, that doesn't mean he doesn't make an impact.
His presence on the field makes opposing quarterbacks think twice before throwing his way.
For example, in the 2019 Las Vegas Bowl against Boise State, Taylor had two crucial plays where he batted the ball away, killing Broncos scoring drives.
The 2019 Broncos were ranked 22nd in the nation.
Not exactly an easy opponent.
2021 Senior Bowl: "I don't know that I remember a better game from a corner in an all-star game." — @MoveTheSticks on Washington CB Keith Taylor Jr.https://t.co/3Kbspeb8to pic.twitter.com/6NZrPrcVz2

— Around The NFL (@AroundTheNFL) January 31, 2021
Of course, Taylor will have to work on his game in the NFL.
Scouts note that his hips are merely adequate.
He will have to learn to rotate and adjust quickly on the fly.
They also note that, if he doesn't disrupt jam or alter a speed receiver at the line, he can get beat deep.
These are things that can be corrected.
If anything, Taylor can serve as an apprentice his first year or two while seeing spot time in certain packages.
4th Round, pick 110, Janarius Robinson, EDGE, Florida State
What!?
Another EDGE player!?
I know, but the Browns seriously have to build this part of their defense.
Not having a voracious D-line exposes the deficiencies of other defensive positions (such as linebackers).
If anything, Robinson can add more depth to the position and push Smith for playing time.
Watching film of Robinson, there is a lot to like.
First, he is big at 6'5", 260 pounds.
His size can seriously affect a play and make opponents think twice before sending a play in his direction.
Robinson has four years of playing experience in Tallahassee.
After seeing a handful of snaps in 2017, Robinson had 27 total tackles, one sack, and one pass defended in 2018.
In 2019, he had 48 total tackles, three sacks, two forced fumbles, two fumble recoveries, and one pass defended.
This past season, Robinson collected 26 total tackles, three sacks, and one pass defended.
Scouts note that Robinson and his mates could have had a bigger name if the Seminole coaching staff had developed their players better and put their players in a better position to showcase their strengths.
There is some validity to this claim.
This once proud program has had only one winning season in the past four years, 2017.
Back to back plays in the two minute team period #FloridaState EDGE Janarius Robinson collapses the pocket, either altering or forcing Mond to make a quick throw, converting speed to power and using his length.

A big game Saturday will only continue his buzz. pic.twitter.com/ttoYwvOXBB

— Devin Jackson (@RealD_Jackson) January 29, 2021
As such, Robinson doesn't have the shine on him that he could have had if FSU was still a top college program.
Watching his game film, Robinson is exciting to watch.
He is powerful and does very well defending the run.
Against the pass, Robinson is great at getting to the quarterback.
He has plus length that affects the throwing window of opposing QBs.
Robinson is flexible for his size and has good hip movement.
In the NFL, he will have to work on his pass rush moves and counter moves.
Scouts also say that Robinson will need to work on his pass rush plan or risk being eaten up by better quality opponents.
However, those same scouts believe that he will actually be a better pro than he was a college player.
That's enticing to think about.
4th Round, pick 130, Trey Hill, interior offensive line, Georgia
As I mentioned at the beginning, the Browns offensive line is arguably the best in the NFL.
However, it doesn't hurt to have more depth.
Hill is available at a great spot in the draft where he won't cost Cleveland a lot of money, but they get value in return.
Hill is huge, checking in at 6'4", 330 pounds.
However, he moves fast, has agility, and he will simply overpower lesser players.
Hill has experience as a center and guard which would be perfect for the Browns as far as depth.
He was a four star recruit out of high school and saw playing time immediately.
Hill started four games at guard in 2018, then moved to center in 2019.
He played well in 2020 before having to miss the final three games of the season after undergoing surgery on both knees.
According to team officials, the surgeries were not considered serious.
Watching film of Hill, there is a lot to like.
It is obvious after a few minutes that Hill is solid at his position.
He plays hard and will drive until the whistle.
Hill has great hands and uses them to get his opponent out of their game.
From the center position, Hill can pull and kick out blocker coming around from the end.
If he gets under his opponent's pads, they are done.
#UGA OL Trey Hill to enter 2021 NFL Draft https://t.co/VChgvS1r7s pic.twitter.com/7AnYBuF7Gs

— Dawgs247 (@Dawgs247) January 5, 2021
Hill does have the quickness to get to the second level, but his feet don't always stay with him and quicker linebackers and defensive backs will maneuver around him.
Scouts also note that Hill needs to tighten up his leverage against opponents in the run game.
He also needs to stay with his blocks consistently in pass protection.
In short, these same scouts have also said that there are not a lot of holes in Hill's game.
Even with his knee surgeries, this pick is "safe" and won't hurt the Browns in the long run.
Assuming Hill pans out (which is a safe bet) this selection may also be a steal.
5th Round, pick 168, Trill Williams, corner, Syracuse
Back to defense with this pick.
Even if the Browns get secondary help through free agency, this pick gives the team depth at the position along with a special teams body.
Williams was a star at Syracuse.
He brings three years of playing experience with 'Cuse and he will undoubtedly bring his 'A' game to the pros.
Williams is 6'1," 198 pound but plays much bigger.
In 2018, he made 31 total tackles and two picks.
2019 saw him net 38 total tackles, three forced fumbles, one interception, and two passes defended.
This past season, Williams collected 24 total tackles, one pick that was returned 90 yards for a touchdown, and four passes defended.
Scouts are excited about Williams' speed, which has been clocked at 4.4 in the 40 yard dash.
They also like his big play background and length.
Williams has no problem lighting up taller and quicker receivers.
Even better, he has no fear of stepping up and challenging opponents' run game.
Trill Williams has so much potential. 6'2" and has been timed in the mid 4.3s. Bruce Feldman had him 16th on his freak list, as he also has a 40 inch vert and benched 17 times. Can play every single position in the secondary. He needs more attention. #NFLDraft #DraftTwitter pic.twitter.com/PQpnJ0Z4md

— Jack Borowsky (@Jack_Borowsky) January 8, 2021
Another plus for the Browns, Williams can play corner, nickel, or safety.
His versatility will be a huge selling point for any team that drafts him.
Scouts note that Williams will have to work on his man coverage in the pros.
His footwork has to get better covering in man against NFL receivers.
6th Round, pick 206, Grant Stuard, linebacker, University of Houston
The lack of a consistent pass rush by the Browns exposed a glaring need for an upgrade in their linebacker position.
Before 2020 began, Cleveland's linebacker core did not get a lot of love.
After the season, that lack of love was justified.
As a whole, Mack Wilson, B.J. Goodson, and Sione Takitaki are serviceable but not quite the unit the Browns need to contend.
In short, the team needs to seriously address this position in free agency and the draft.
I kicked things off by taking Missouri's Bolton in the first round.
Stuard will give Cleveland a project and possible future starter.
He is a fun player to watch (look for the hair) and one that the Browns faithful should get to know.
Frankly, I'm surprised he lasted this long into the draft.
Stuard has four years of experience at Houston.
After making two tackles in 2017, Stuard increased his totals to 30 tackles in his 2018 sophomore year.
In 2019, he crushed opponents to the tune of 97 total tackles, one sack, and four passes defended.
2020 saw him rack up 61 total tackles, one sack, and one fumble recovery.
His play in 2019 and 2020 led to him becoming a two-time All-AAC selection for the Cougars.
In total, Stuard had 191 tackles, 19.5 tackles for loss, and two sacks in four years.
He was Houston's leading tackler in '19 and '20.
Off the field, he has frequently found ways to help the Houston community.
Stuard has organized food drives in the Houston area as well as a school supply drive in his native Conroe, Texas.
On tape, it is obvious Stuard has talent.
He is fearless and aggressive, always looking for the football.
Stuard diagnoses the run very well and thrives in the spaces around the line of scrimmage.
I love that he always goes full speed.
Stuard is 5'11" and 230 pounds, which scouts say hinders him due to a lack of length.
While he is a wild man in pursuit of the ball, Stuard is limited in his range.
He does not project to be a coverage linebacker in the pros.
He is seen as more of a special teams demon who can help fill a specific role in a team's defense.
With the right coaching and experience, Stuard could be a fan favorite in Cleveland.
7th Round, pick 250, J.D. Spielman, receiver, TCU
Last, but not least, I chose a receiver for the Browns last pick of the draft.
Yes, Cleveland has OBJ and Jarvis Landry and maybe they hold onto Rashard Higgins and KhaDarel Hodge.
However, they can always use more depth at the position.
Spielman gives the Browns a low-cost option who can contribute greatly on special teams.
Spielman has four years of playing experience (three as a Nebraska Cornhusker and 2020 in Fort Worth).
He played immediately as a freshman in 2017, hauling in 55 catches for 830 yards and two scores.
In 2018, Spielman increased his reception total to 66 along with 818 yards and eight touchdowns.
In his junior season, Spielman had a decrease in catches with 49, but increased his yardage output to 898 and had his best yards per catch average with 18.3.
He also added five touchdowns that year.
This past season, Spielman sustained a shoulder injury and missed a majority of the season.
That limited him to five catches for 56 yards.
Senior season aside, Spielman is worth a look in the pros.
He is very fast and elusive.
There are not a lot of people who have success with him one-on-one.
Scouts have called him "slippery" in man-to-man.
Spielman's quickness allows him to change directions well on the fly.
He is diminutive at 5'9" and 180 pounds.
However, his low center of gravity shows in his ability to shake corners and safeties.
Spielman was used mainly as a slot receiver in college, but he can get after the ball.
He is not just elusive, but his speed makes him a threat for the long ball.
Video shows him making plenty of big plays when the Huskers needed him.
Spielman was also used on special teams with Nebraska and TCU.
He had three touchdown returns on kicks during his career (two on punt returns and one kick return).
WATCH: 2021 NFL draft prospect JD Spielman (@jdspielman10) hit a max speed of 20.1 MPH on this 99-yard TD. Expect more explosive plays like this from Spielman this year at TCU #myRAnaxspeed | #GoFrogs pic.twitter.com/FwAj4tme8Z

— Recruiting Analytics (@RAanalytics) September 6, 2020
The negatives for Spielman are his size, injury history, and lack of length.
Scouts do not see him playing on the boundaries as a receiver.
He will most likely be a slot receiver who can provide excitement on special teams as a return man.
Spielman also struggles to block.
His pro coach will have to show him the finer points of that technique, specifically in how to use his size to his advantage.
Spielman is a project who can provide depth and a change-of pace- when needed.