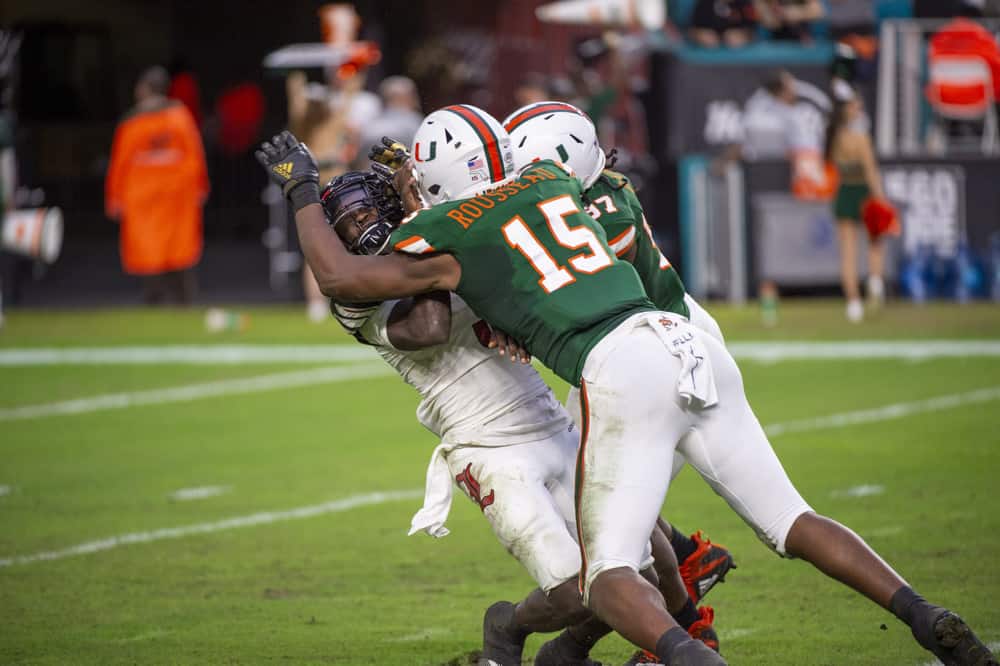 The Cleveland Browns finished the 2020 season with an 11-5 record, a playoff appearance, and a playoff victory.
1994 was the last time all three of those things happened in the same year.
Despite the jubilation, there were causes for concern this year.
Specifically, the Browns defense looked fantastic in some games and dismal in others.
To be fair, there were injuries, opt-outs due to Covid, as well as absences due to Covid protocols.
However, the defensive side of the ball must be improved by Cleveland in 2021 or the team will not progress.
As a unit, the Browns were ranked 21st in the NFL in points against.
Opponents scored 419 total points compared to the Browns offense scoring 408 total points.
The defensive line in particular was a problem.
Aside from defensive end Myles Garrett, the rest of the crew was largely missing.
According to Pro Football Focus, the Browns defensive line ranked 11th in the league in pass rush.
Garrett had 12 sacks, 18 quarterback hits, 59 total quarterback pressures, and a 90.0 pass-rush grade from PFF.
Olivier Vernon had nine sacks from his end position to go along with 16 total quarterback hits, and a 71.6 pass-rush grade from PFF.
The remaining defensive line players for the Browns did not crack the top 40 pass-rushing grade.
Defensive tackle Sheldon Richardson accumulated 4.5 sacks, Larry Ogunjobi had 2.5, Adrian Clayborn (mainly a reserve) had 3.5, and…that's it.
Any other sack or partial sack stat belongs to either a Cleveland linebacker or defensive back.
In other words, the pass rush (with the exception of Garrett) simply wasn't there in 2020.
In order to return to the playoffs and make a significant push in the postseason in 2021, the Browns need to get to opposing quarterbacks more often.
An effective pass rush will disrupt the timing of a quarterback and cause offensive coordinators to change their game plans.
As it stands now, the word on the street is that Vernon will not be back next year.
That leaves a hole on one side of the line.
Since Cleveland will need to focus on this specific aspect of their team in the draft, let's start by examining the top five defensive ends (plus a dark horse bonus) the team should consider drafting.
Please note that this list is not meant as a ranking system, just a list of players to consider.
1. Gregory Rousseau, rising sophomore, University of Miami
Rousseau is regarded as one of the best defensive end/EDGE rushers entering the draft.
He is unique because he did not play in 2020 after opting out due to Covid.
So, naturally, there is some hesitation that he won't be up to his full potential in his first year as a pro.
However, after watching highlights of Rousseau, and reading numerous scouting reports, I don't think most pro teams have the same hesitation.
In 2019, Rousseau was responsible for 19.5 tackles for loss and 15.5 sacks.
The word that comes to mind watching his '19 highlights is 'versatile.'
At various points in each game, Rousseau lined up over the center, in a three-technique (edge of the guard), and D-end.
There were a few occasions where he was responsible for covering slot receivers as an outside linebacker.
What is amazing to watch about Rousseau, no matter where he lines up, he can make a play.
Player Spotlight — Miami DL Gregory Rousseau

Ht: 6'7
Wt: 253
Hometown: Coconut Creek
High School: Champagnat Catholic

Rousseau tied the Miami record for most sacks in a season last year & can rush the passer from anywhere.

He's arguably the best pass-rusher returning to CFB. pic.twitter.com/JhnmyTl8w7

— SixthYearSports (@SixthYearSports) May 21, 2020
In particular, in a game against Central Michigan, Rousseau lined up over center and deftly eluded the center and guard and then, in just a few steps, made a strip/sack of the opposing quarterback.
There is no doubt that Rousseau is strong and hard to handle (I stopped counting the number of one-handed tackles he made).
He is 6'5" (some reports have him listed at 6'7") and a conservative 250-260.
What shocks opposing offenses is how quickly he gets to the ball.
One blocker usually won't cut it.
Even two blockers find Rousseau difficult to manage.
With his size, and especially his length, even if he looks like he's out of a play, Rousseau will still be a force.
Many a highlight show him out of frame and then, suddenly, there is a flash and the ball is knocked loose.
That flash is Rousseau.

Rousseau has good lateral quickness, he does not slow-moving left to right and vice versa.
He has a good bull rush to power through interior linemen.
Coming off the edge, Rousseau is in the backfield in seconds.
When defending the run, he rarely allows linemen to get into his chest.
I really like how he extends his arms against opponents and continues to look upfield for the ball.
Okay, now for the not-so-good elements of Rousseau's game.
In nearly every highlight, he has a tendency to bolt upright as soon as the play begins.
That leaves him vulnerable to linemen who can get under his pads and move him around.
Even with his size, Rousseau can also get pushed around by stronger offensive linemen.
NFL teams may get scared off by the fact that, essentially, 2019 is Rousseau's only full year of college experience.
In 2018, he played in two games before a season-ending ankle fracture sidelined him.
Despite his limited exposure, a few scouts have compared him to the Vikings' Danielle Hunter.
Hunter is similar in size, was drafted in the third round of the 2015 Draft, and has since been voted to two Pro Bowls.
If Rousseau somehow ends up at the Browns 26th pick, they would be foolish not to strongly consider selecting him.

2. Kwity Paye, senior, University of Michigan
It didn't take a lot of film to see that Paye was a dominant college D-lineman.
He has good size, 6'4", 275 and is versatile.
Like Rousseau, Paye played in various positions during his time in Ann Arbor.
He was lined up as an end and as a tackle.
Paye's quickness is stunning.
He keeps his eyes on the backfield at all times and uses his peripheral vision to avoid blockers and make a play.
For his size, he has good, fluid hips that allow him to move laterally.
Paye can also dip, bend, and rip through interior linemen or tackles.
His hand technique is great and has that 'pop' that scouts love at first contact.
Even better, Paye will use his hands to quickly throw an opponent to the side and get into the backfield.
Another Paye intangible, he played for four years with the Wolverines.
After limited action in 2017, he continued to play more and improve each successive year.
In 2018, Paye had 28 total tackles and two sacks.
Last year he made 50 total tackles and brought down opposing quarterbacks 6.5 times.
In 2020, Michigan only played six games due to Coronavirus limitations.
Even with the abbreviated season, Paye tallied 16 total tackles and two sacks.

Many coaches and scouts believe he would have easily eclipsed his tackle and sack total if he had a full season.
Scouts also rave about Paye's 'motor.'
No matter what side of the field the play goes to, Paye will be there.
That motor pays off in the rare moments he gets fooled by a play.
Paye can course correct on the fly and still affect a play even if he looks beat.
Against the run, Paye can hold his own as long as he stays low and gets leverage.
Kwity Paye had himself a game for @UMichFootball against @GopherFootball this past weekend.

Below are some examples of Paye attacking the passer with great hand use and nice bend to corner. He also shows nice lateral movement in the twist game.

Thoughts?pic.twitter.com/NIms7ajhMl

— NFL Draft Prospects Podcast (@nflprospectspod) October 26, 2020
About the only downside of Paye's play is his occasional inability to 'corner' when coming around a tackle.
Instead of setting an edge and getting a hard line on the quarterback, Paye can tend to loop around the tackle.
This, of course, means it takes him longer to get into the backfield.
Also, although he can bend and rip, he can still play too tall.
This is common in defensive ends and will have to be corrected in the pros.
If Paye doesn't get selected in the first round of the draft, I highly doubt he lasts past the second round.

3. Joseph Ossai, junior, University of Texas
Ossai may not be as versatile as Rousseau or Paye, but he has plenty of everything else.
For starters, he has three years of college playing experience with Texas.
In 2018, Ossai posted 20 total tackles, a sack, and a forced fumble.
Last season, he burst onto the scene with 90 total tackles, five sacks, one forced fumble, two picks, and 13.5 tackles for a loss.
This year, Ossai played in nine games and tallied 54 total tackles, five sacks, three forced fumbles, a fumble recovery, and 15.5 tackles for a loss.
Watching film of him from the past two seasons, Ossai was used primarily as an edge rusher with his hand in the dirt.
However, he was also asked to play as an outside linebacker who was responsible for covering slot receivers.
Listed at 6'4", 253 pounds, Ossai has just the right length and build to play both positions.
More importantly, he also has the speed to stay with some slot receivers.
What I really like about Ossai is he doesn't seem to take a play off.
Wherever he lines up, he is always looking for the ball.
Ossai keeps his eyes in the backfield even if he is temporarily locked up with a lineman.
When contacting the ball carrier, Ossai will try to strip the ball along with making the tackle.
Ossai's motor will keep him in a play even if it looks like he's been taken out.
In one game clip against Oklahoma, Ossai was completely blocked out of a run play.
However, he kept charging downfield, passed defensive backs, caught up with the running back, then tackled and stripped the back.
The fumble was recovered by Texas.
In other words, even if opposing linemen think Ossai is stymied, he will still find a way to make a play.

Ossai's strength and reach are a plus as well.
More than a few clips show him getting a hand or arm on a ball carrier and bringing him down.
This happens at the same time Ossai is fighting through the chaos around him.
Speaking of blockers, Ossai has a good rip move that goes along with his plus hip movement.
He can simply shift his weight to stay away from blockers.
If he does encounter resistance, he uses his speed, dips, and rips through the block.
His initial hand pop and punch leave most linemen dazed, which gives him enough time to get into the backfield.
Scouts note that Ossai can wait a bit too long to shed his blocker.
This has caused him to be taken out of plays to the point where he can't make an impact.
Also, despite the fact that Ossai can elude most blockers, if an experienced lineman can counter Ossai's initial punch, Ossai doesn't really have his own counter move.
There have been occasions as well where Ossai will take himself out of a play due to overaggressiveness.
Even with the minuses, Ossai looks to be a first or early second-round selection.
In the pros, he may play most of the time as an edge rusher in a standing position.
This will allow him to periodically disguise a coverage where he is asked to drop back and cover a tight end or slot receiver.

4. Jaelan Phillips, rising junior, University of Miami
There is no doubt when watching tape of Phillips that he has NFL level talent.
Where the doubt does come up is when one reads about his injury history.
Phillips was a five-star recruit coming out of high school in California.
ESPN had him ranked number three overall in the 2017 recruiting cycle.
Phillips chose UCLA and had modest success due to injuries.
In 2017, Phillips had 21 total tackles, 3.5 sacks, and two passes defended.
That same year, he sprained his right ankle.
Then, he made it back only to sprain his other ankle and suffer a concussion.
More injury woes followed him in 2018.
A wrist injury and a second concussion from an off-field incident limited Phillips to 20 total tackles and one sack in '18.
Those mounting injuries and the effects of the concussions led Phillips to briefly retire from college football.
However, a change of scenery with a transfer to Miami sparked a comeback.
Phillips sat out the 2019 season due to the NCAA's transfer portal rule.
This allowed him to continue to get healthy and rekindle his love of the game.
When Phillips took the field in 2020 for the Hurricanes, he looked like a man possessed.

It was perfect timing for the Miami program as Phillips' arrival coincided with Rousseau's decision to sit out the '20 season.
Watching him on film, it looks like Phillips is unleashing years of pent up energy.
He is a never-ending whirling dervish who seeks out plays on every snap.
In his lone season playing for the 'Canes, Phillips amassed 45 total tackles, eight sacks, one interception, and three passes defended.
He was named a first-team All-American by the American Football Coaches Association and was a semifinalist for the Bednarik Award (college defensive player of the year).
When each play begins, Phillips' first few steps are extremely quick.
If an inexperienced or slow lineman is tasked in blocking Phillips, the lineman has no chance.
Phillips' hands pack a wallop and will send opposing tackles and tight ends back a step or two.
He is quick laterally and will use a dip and rip or (more prominently) a swim move to get around his man.
Anyone who doesn't know about #Miami DE Jaelan Phillips(@JJPhillips15) yet, you're welcome. This dude has everything in the tool box. He can rush off the edge, rush from the inside, and is stout in run defense. His ceiling is limitless. #Eagles #2021NFLDraft pic.twitter.com/FACIqT6wdB

— AJ Torres (@ajtorres1230) February 2, 2021
His size, 6'5", 260 pounds, is perfect for his position.
With his length, Phillips can affect a play even when the ball moves away from him.
His long arms will allow him to grab the ball carrier and his strength will see that carrier go down with one hand.
Phillips can also change direction quickly.
This is a positive when the play goes away from him, or he gets blocked inside.
Even if he is blocked out of a play, Phillips can quickly recover and motor downfield for the stop.
Against the run, Phillips controls the point of attack and will get separation from his man.
He does well at looking into the backfield to find the ball, even with chaos swirling around him.
When he does make contact, Phillips wraps up tight and doesn't let go.
Besides his injury history, scouts notice a few minor flaws in Phillips' game that can be corrected in the pros.
For instance, he is like most defensive ends in that he will stand quickly after the snap.
This allows his pad level to get too high and can lead to blockers controlling the point of attack.
Even though he has good hands, Phillips could do with one or two more counter moves in his repertoire.
With Miami, Phillips was used as a stand up and hand-in-the dirt defensive end.
In the NFL, he may also see snaps at outside linebacker.
Because of his injury history at UCLA, teams may shy away from Phillips.
However, the team that does select him will be in for a treat.
Look for him to be a second round, possibly even a first-round selection.

5. Joe Tryon, rising junior, University of Washington
Tryon enters draft season as a talent to keep an eye on.
He really only has one solid season of game experience, but watching him on film, he looks like a savvy veteran.
After redshirting in 2017, Tryon played a limited role for the Huskies in 2018.
That season he made 20 total tackles, one sack, and one pass defended.
In 2019, Tryon became a force.
With his role increased, he made 41 total tackles, eight sacks, and one pass defended.
Tryon opted out of the 2020 season.
At Washington, Tryon mostly played the edge position with his hand in the dirt as well as from a two-point stance.
However, he could also be found occasionally lined up between the opposing guard and tackle and at outside linebacker.
His size, 6'4", 251 pounds, allowed him to put a lick on a ball carrier, speed rush for sacks, and cover slot receivers in space.
Despite his limited playing time, Tryon has a great skill set.
He gets off the ball quickly and is in the backfield in seconds.
He does not stay tied up with blockers for long.
He has quick hands and sheds blockers with ease.
Tryon has quick feet and fluid hips which allow him to change directions on the fly.
Should he get turned inside, Tryon will deftly maneuver to get back into the play.
Another thing to like about Tryon, he has a budding repertoire of moves that include a swim, bull rush, spin move, and rip.
He will set up his man and swiftly cut to the inside or outside.
Tryon does a great job at keeping his eyes in the backfield and finding creative ways to get to the ball.
With his speed and internal drive, he will give chase to the ball carrier and not stop until he has his man.

Tryon is strong and has a good base.
He wraps up well and tackles with authority.
When defending in space, he watches the quarterback's eyes and disrupts plays to the flat.
Even if he is lined up as an outside linebacker, he can diagnose and close on a run play fast enough that he will make a tackle for loss.
About the only downside for Tryon is his limited college experience.
He had at least two more years of eligibility where he could have refined his game more.
Also, he'll need to continue working on his counter moves to break free of blockers quicker.
Tryon will have to practice getting lower so the more experienced NFL linemen don't get under his pads and knock him out of a play.
It will be interesting to see where Tryon is placed in the NFL.
He could be a fairly good OLB or, if he gains more weight, a very slippery edge rusher.
Look for him to be selected before the second round is over.

Dark Horse/Small School Prospect: Jordan Smith, junior, University of Alabama-Birmingham
Smith took a very circuitous route from high school to NFL draft prospect.
A three-star recruit in high school, Smith committed to South Carolina.
However, the coaching staff that recruited Smith was fired during his senior year of high school.
Smith then de-committed and announced he would become a member of the Florida Gators.
Smith redshirted his freshman year of 2016 and looked to get some playing time in 2017.
However, Smith and nine other Gators were suspended for the '17 season when they were found guilty of an alleged credit card fraud scheme.
The result of his conviction effectively ended Smith's time in Gainesville.
In an effort to redeem himself, Smith next found himself on the Kansas prairie where he played JUCO football at Butler Community College.
He played well enough at Butler in 2018 that he received offers from UAB, Marshall, and UNLV.
Smith committed to UAB and entered the next chapter of his college career.
During the 2019 season, Smith played lights out and collected 52 total tackles, 10 sacks, four forced fumbles, and one pass defended.
This past year, he racked up 42 total tackles, 4.5 sacks, one pick, and one pass defended.
The drop in sacks was partially attributed to him playing some outside linebacker in the Blazers 2020 defensive scheme.
When watching him on film, Smith is easy to find.
He is 6'7" and 255 pounds.
Even with his size, he moves scary fast and can keep up with slot receivers, tight ends, or running backs in the flat.

Smith has a quick first move and he can actually dip pretty well to sneak around the edge.
With his size advantage, Smith can swim over the top of blockers and find himself in the ball carrier's face.
In coverage, he does a fairly good job watching the quarterback's eyes and making a play.
In one clip, Smith was playing in the slot and the play wasn't anywhere near him.
However, there was a sudden flash from off screen and the quarterback went down.
Smith made the sack after initially backpedaling then collecting himself and quickly moving upfield for the play.
Of course, there will be doubters because Smith played at a smaller school and played against sub-par competition.
However, he did show up against bigger schools.
In particular, one can find some solid plays from him against Tennessee in 2019.
Furthermore, he was invited to the Senior Bowl and embarrassed Alabama tackle Alex Leatherwood (a potential first-round pick) during a one-on-one drill.
Nice work by UAB DE Jordan Smith utilizing his hands. Quick burst off of the line too. Can't wait to see what he does the rest of the week. #SeniorBowl pic.twitter.com/BaWuGqZ9AR

— Vinnie Calderone (@CenzoNFL) January 27, 2021
To make a difference at the next level, Smith will have to improve on a few things.
Namely, he will need to bulk up to play D-line in the NFL.
There are some scouts who project him as an OLB in the pros, but I don't see it.
If he can gain "good" weight and keep his speed, he will be an underrated steal.
Smith will also need to work on more pass rush moves and counter moves in the pros.
He can no longer rely on just his talent.
Some teams may be scared off by his past.
However, about three years have elapsed since the Florida incident.
For all intents and purposes, Smith has been on the straight and narrow ever since.
Look for him to find a new home on Day 3 of the draft.