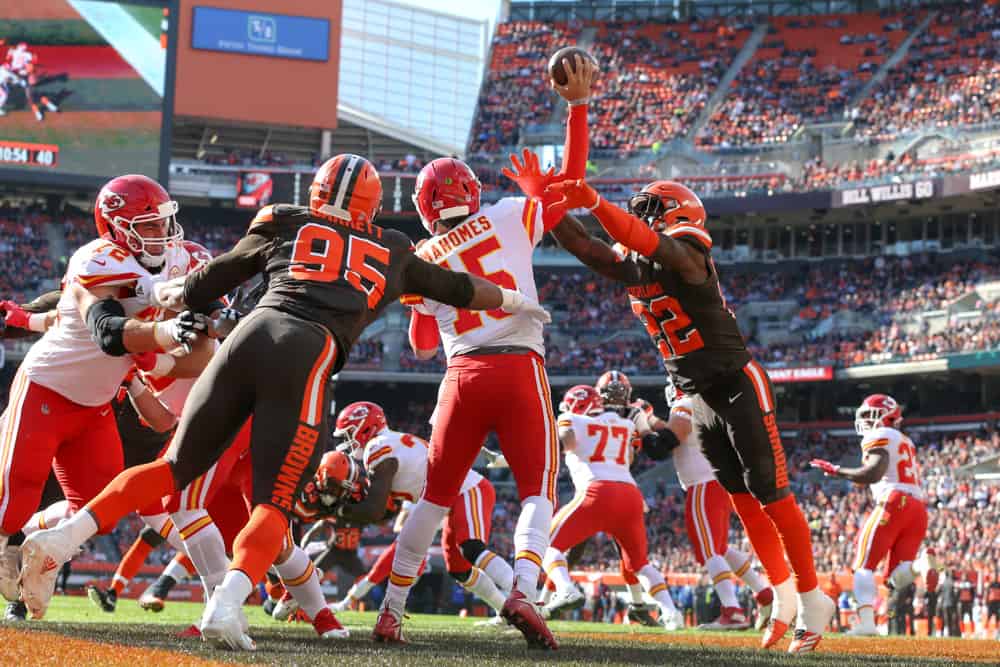 Even though the formal NFL schedule release is not scheduled until 8 pm EDT on Wednesday, teasers are being released during the day.
The first teaser pertaining to the Cleveland Browns schedule is the Week 1 opponent.
It is a challenging one, none other than the defending AFC Champion Kansas City Chiefs.
The game will air on CBS with kickoff scheduled for 4:25 EDT on September 12.
Early and late Week 1 CBS matchups: pic.twitter.com/TkSN99JNPj

— Adam Schefter (@AdamSchefter) May 12, 2021
Oddsmakers are already at work despite the game not happening for 4 months.
Kansas City already listed as a
5.5 point favorite over the #Browns in the season opener on September 12th at 4:25pm at KC.
The @Browns will have a chance to avenge last season's playoff loss right out of the gate in the week 1 opener. pic.twitter.com/9n2TBFSdk2

— Kenny "The Roadman" Roda🎙🎧📻🏈⚾️🏀🏒⚽️ (@TheKennyRoda) May 12, 2021
Improved Browns Roster Has New Players
It didn't take long for Browns fans to express concern about integrating all of the new players on the defense in advance of playing the Chiefs.
To make it even more challenging, the Chiefs are hosting the game at Arrowhead Stadium, likely with more fans than the Browns had to deal with in the divisional playoff game in January.
A raucous, roaring crowd awaits the Browns as they step into the exact spot where their impressive 2020 season ended.
While there are new players, many are veterans with accomplished careers on other NFL powerhouse defenses (John Johnson III and Troy Hill were with the Los Angeles Rams in 2020) so it is not like they are all rookies.
Coach Stefanski and Joe Woods have been already working with the free agents and draftees so there is time to prepare.
Earning a win in Week 1 will certainly give this new and improved Browns roster more credibility to contend in postseason play.
Other AFC North Opponents Week 1 Schedules
The Pittsburgh Steelers will travel to Buffalo to play the Bills in Week 1; that is not an easy matchup either.
The Las Vegas Raiders will host the Baltimore Ravens in Week 1's Monday Night Football game.
Ironically, the Cincinnati Bengals are the only AFC North opponent hosting a Week 1 home game against the Minnesota Vikings.
Stay tuned for more schedule teasers to be revealed during the course of the day.
NFL Network is hosting the formal schedule reveal at 8 pm.