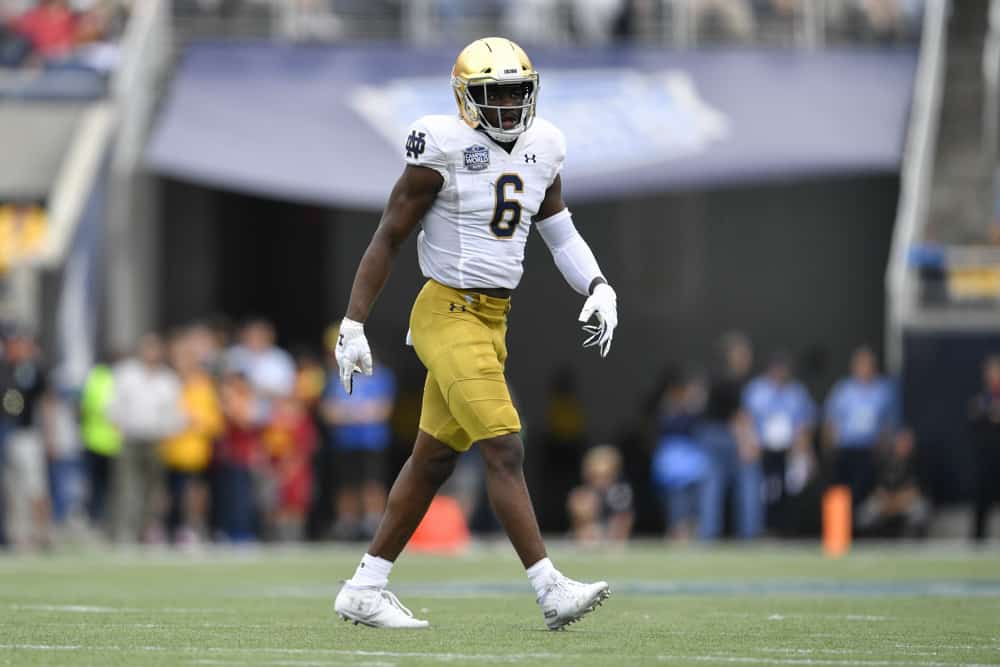 NFL Network analytics expert Cynthia Frelund is a fan of the Cleveland Browns' offseason strategy.
Frelund said the Browns' second-round selection of Notre Dame linebacker Jeremiah Owusu-Koramoah was "probably the steal of the draft" during her Tuesday appearance on 92.3 The Fan's "Bull and Fox" show.
"He doesn't fit on every single team, so some people are less creative than obviously the Browns were," Frelund said. "I feel like some of good teams wouldn't say that, but some of the bad teams would probably be like, 'Eh, maybe he's a little too much of an in-between [type of player]. I'm not entirely sure.'

"But ultimately, his ability to be useful and molded and help in that front without having to be one like specific thing…because, by the way, it's becoming less and less percentage basis of snaps where people are in like a true base defense. So his ability to kind of fit in the scheme and be useful, sure you have to be…a little bit more kind of being able to anticipate where he'd be useful maybe a little differently than some other players, but I don't know. I love the upside there."

The 6-foot, 1-inch linebacker weighs 215 pounds, and fell to the Browns in the second round with the 52nd overall pick of the 2021 NFL Draft.
A reported heart issue and his smaller stature compared to other linebackers prompted other NFL general managers to pass on Owusu-Koramoah.
Last week, Owusu-Koramoah said there are no concerns with his heart during an appearance on "The Jim Rome Show."
SportsBettingDime.com lists Owusu-Koramoah at +1,400 to win Defensive Rookie of the Year, which is the seventh-best odds among NFL rookies.
Owusu-Koramoah wasn't the only Browns pick that Frelund liked.
"I'm big on the strategy of, if you have the luxury to double down on like the areas that you focused on free agency with your draft picks, that's a luxury most teams don't have, but the Browns did a really nice job of that," Frelund said.
Specifically, Frelund mentioned the free-agent signing of safety John Johnson III pairing with rookie cornerback Greg Newsome II.
Frelund also mentioned how defensive end Takk McKinley pairs with Owusu-Koramoah.
Plus, the Browns also signed defensive end Jadeveon Clowney, cornerback Troy Hill, linebacker Anthony Walker and defensive tackle Malik Jackson among other offseason acquisitions.
Frelund mentioned how she's been impressed with how general manager Andrew Berry has built the Browns roster, focusing on the improvements the team has made on the offensive and defensive lines in the past two offseasons.
"If they're not good, it's not on the people who built the roster," Frelund said.
Frelund said she thinks the Browns and the Baltimore Ravens will make the playoffs this season, which is also what oddsmakers believe on the eve of the 2021 NFL schedule release.
"The Ravens are still very good as well," Frelund said. "I definitely think that the Browns are playing in January. I'm not jinxing anything. There's some wood that I just knocked on."