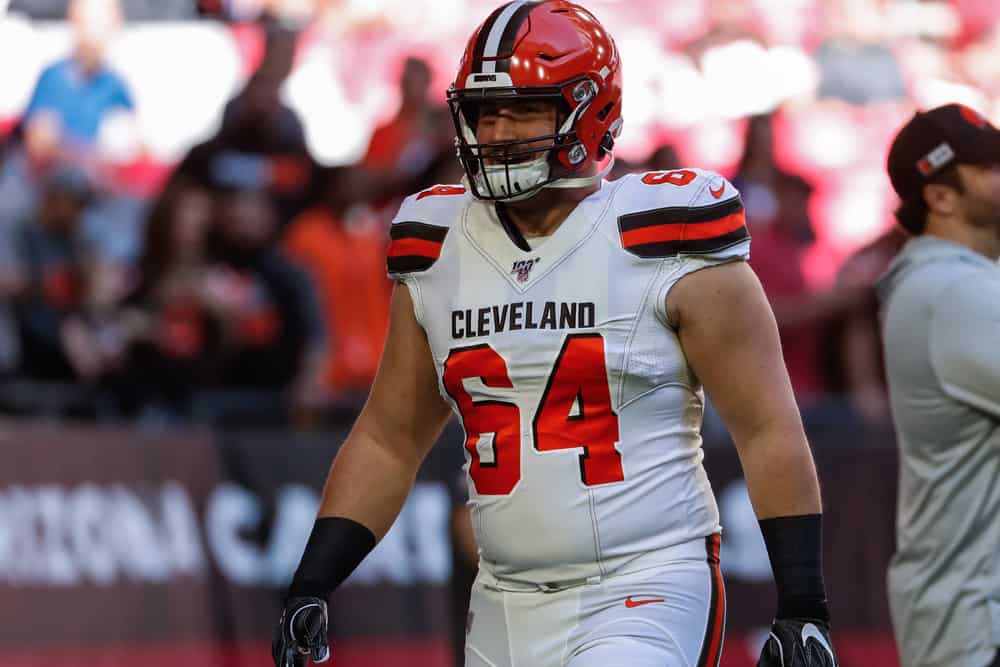 The fire-sale continues for the Cleveland Browns.
On Tuesday, the team announced the release of veteran Center and NFL Players Association President JC Tretter.
Center JC Tretter, the president of the NFLPA, is getting released by the Cleveland Browns, per source.

— Adam Schefter (@AdamSchefter) March 15, 2022
With the club committed to clearing up cap space, it's not the most shocking news.
However, it is tough for fans to see one of the mainstays on the offensive line be shown the door.
Freeing Some Finances
If talent was the only part of the equation, bringing back Tretter would be a no-brainer.
Unfortunately, money does play a more important role in this business. Tretter's release frees up $8.25 million in cap room for the organization.
On the heels of the departures of Jarvis Landry and M.J. Stewart, saving money is the name of the game right now in Cleveland.
What that leads to is yet to be determined.
A splashy free agency signing, or a couple of less-splashy moves, could certainly be in the near future.
Deshaun Watson is meeting with the team on Tuesday, and some have theorized these moves are to prepare for Watson's huge contract.
Between the release of Landry and Tretter, the Browns have freed up over $20 million in cap space with those two moves alone.
A decision on tight end Austin Hooper will likely be made soon as well.
This could add to the space cleared up by Cleveland this month.
While saving cap space is nice, it can come at its own cost too.
#Browns sacrificing leadership and quality people for salary cap space right now.

— Daryl Ruiter (@RuiterWrongFAN) March 15, 2022
Tretter's Impact
It's no secret that Tretter has been an integral part of turning the franchise around.
He's one of the best pass-blockers in the league and has made serious improvements on his run-blocking ability.
The Browns are releasing Center JC Tretter, per @AdamSchefter

Tretter has recorded a Top-3 pass-blocking grade among centers in 4 straight seasons pic.twitter.com/1dP0tX32Ad

— PFF (@PFF) March 15, 2022
He defined consistency in his role and delivered some physical Sunday afternoon performances.
Of course, the locker room impact can't be left out when discussing Tretter.
Andrew Berry on Tretter: "JC has been a mainstay and iron man . … His leadership — both within the locker room and the field — will be missed. We wish JC well as he continues his career." #Browns

— Jake Trotter (@Jake_Trotter) March 15, 2022
Again, clearing up cap space can come at the cost of veteran leadership.
Cleveland's offensive line should be just fine heading into 2022.
However, this is a loss for that unit.
Tretter Thanks Cleveland
It seems Tretter knows Cleveland fans love him.
After his release on Tuesday, he took to social media to thank the die-hard fans of northeast Ohio.
Thank you, Cleveland pic.twitter.com/iKX5y87AOU

— JC Tretter (@JCTretter) March 15, 2022
The middle part of his Tweet sticks out to me regarding his relationship with Joel Bitonio.
Offensive linemen share a special bond with each other.
They have to or else the unit gets out of funk and the quarterback suffers.
It comes back to the cost of clearing cap.
Bonds and leadership are lost.
Some of both will depart along with Tretter.
Up Next
As it stands, Nick Harris is the starting center heading into next season.
The 2020 fifth-round pick is the only center left on the depth chart for now.
He started just one game last season, against Green Bay, but performed well.
Browns will be fine with Nick Harris at center. His athletic ability fits perfectly with what they want to do. Played well against Green Bay in his only start last year. pic.twitter.com/GVZ21DzebZ

— Pete Prisco (@PriscoCBS) March 15, 2022
If the Browns decide to roll with Harris as the starter next season, fans can feel confident in that.
It won't be the instant dominance that we saw from Tretter.
But, Harris is capable of developing into a solid NFL center, and his progression is crucial to the success of Cleveland's offensive line.