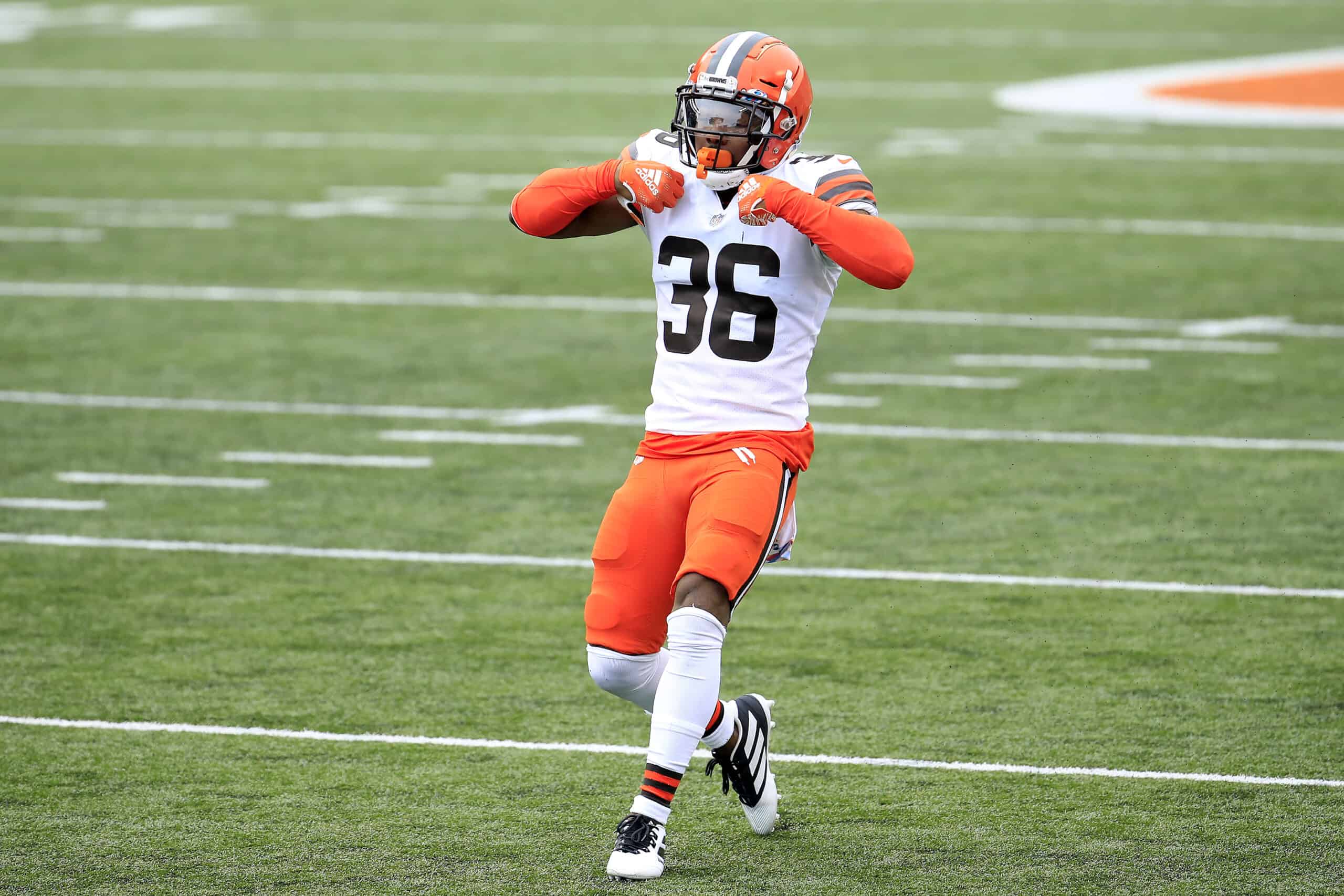 Another Browns free agent is off the board, and this one isn't coming back to Cleveland.
On Tuesday, safety M.J. Stewart signed with the Houston Texans.
MJ Stewart to #Texans

— Brad Stainbrook (@StainbrookNFL) March 15, 2022
It's not a crushing loss for the Browns by any means.
It does, however, take away from their depth at safety.
More on that later.
This happens on the same day the team announces the release of veteran center J.C. Tretter.
Considering previous moves made this offseason, it seems the organization is intent on clearing up some cap space.
Could this be hinting towards a larger free-agency signing?
Only time will tell there.
Missing M.J.
M.J. Stewart came into the league in the 2018 draft.
Tampa Bay scooped him up in the second round that year.
However, his career with the Buccaneers never took off.
Cleveland claimed Stewart off waivers in August of 2020 and carved a role with the Browns defense.
He logged both his first career sack and interception during the 2020 campaign.
In addition, he led the team with 10 tackles and picked off Ben Roethlisberger during the Wild Card game that postseason.
Stewart started in just two of his 13 games played this past season.
He did not tally a sack nor an interception but did finish the year with 47 total tackles.
However, he did excel in his role as the third safety on the team.
His versatility also impressed by showing he can play a little bit of nickel corner when asked.
MJ Stewart with a HUGE interception! #Browns pic.twitter.com/O4LE0vYl6E

— uSTADIUM (@uSTADIUM) January 3, 2021
As far as physical defenders went for the Browns in 2021, Stewart is at the top of that list.
It's what defensive coordinators love so much about guys in that role.
The overall talent may not be there, but the instinct and physicality of these types of players will always be welcomed on a defense.
Keep Clearing that Cap Space
Along with the aforementioned release of Tretter, Tuesday has been a cap-space-saving day for Andrew Berry and the front office.
While the official numbers on Stewart's new deal have not been released, some value him at just over $2 million per year.
The #Texans signed a FA I wanted, am I dreaming? Per @MarkBermanFox26 they signed former Browns DB MJ Stewart.

I wrote about Stewart 2 weeks ago and see value as a potential starter at strong safety who could also fill in at nickel if T Thomas gets hurt. pic.twitter.com/HZD2fD6PhD

— Jordan Pun (@Texans_Thoughts) March 15, 2022
So why all these moves to free things up financially?
Could there be a splash free agency signing on the horizon?
Some speculate that this could all be to make a move at Deshaun Watson who is meeting with the team on Tuesday.
Watson is on the books for $35 million this season.
After the 20th of this month, his 2023 salary and roster bonus get locked in as well, valued at just over $37 million.
What's Left at Safety
The cupboard is not bare following the departure of Stewart.
However, it's not full either.
Ronnie Harrison's future is still uncertain, although plenty think he will sign elsewhere.
John Johnson III and Grant Delpit will be back.
After that, things drop off quite a bit. It's a position that will need addressed either later in free agency or via the draft.
As for a final thought on MJ Stewart, one of my best friends has been a huge proponent of his since 2020.
He told me constantly last season that Stewart was the most underrated defender in Cleveland and that he just needed another shot after flaming out in Tampa.
Stewart's efforts will be missed by plenty of fans in Cleveland. Best of luck to him moving forward down in Houston.