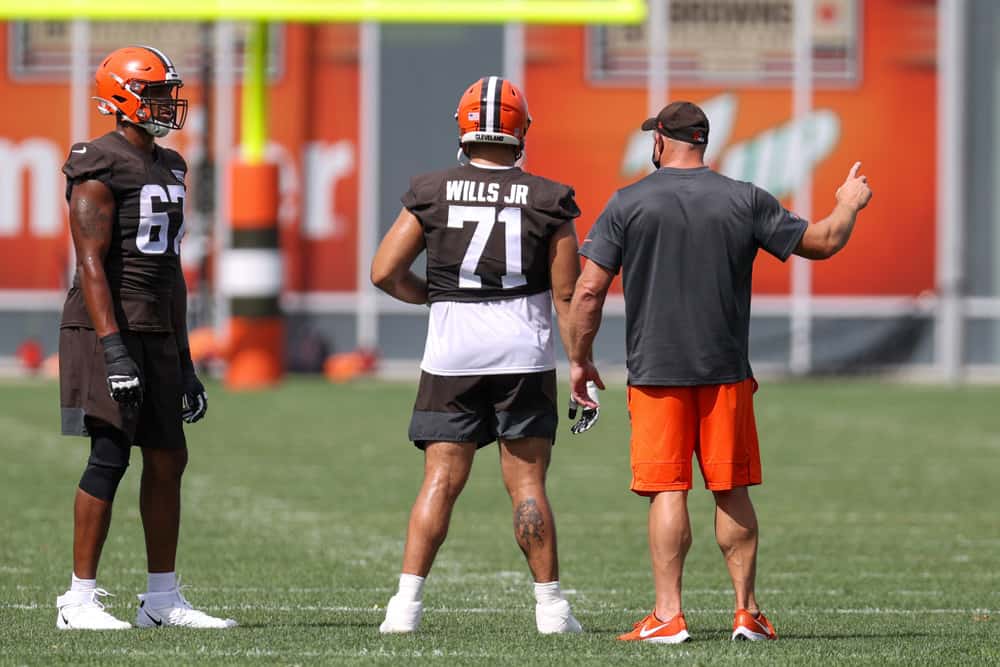 The Cleveland Browns have finally hit their Week 9 bye week.
Sadly, the team is heading into their bye on a loss to the Las Vegas Raiders on Sunday.
The good news is, the Browns are 5-3 on the season and are in the playoff picture.
There are many reasons why the team is where they are right now, but the performances from their rookies has made a significant impact.
The Cleveland front office did a great job of bringing in impact players that were able to help the team right away.
It's time to see exactly how well those players are performing heading into the bye week.
First Round: Jedrick Wills
Grade: B-
The Alabama product left tackle Jedrick Wills was projected as one of the best offensive tackles in his draft class.
There was no doubting that the sky is the limit for Wills in the NFL.
Highest graded OL against power five defenses in 2019:

1. Penei Sewell, Oregon – 94.5
2. Andrew Thomas, Georgia – 92.3
3. Jedrick Wills Jr, Alabama – 90.2pic.twitter.com/02AUc54J6c

— PFF College (@PFF_College) June 4, 2020
It hasn't been a perfect start to his NFL career, but Wills has proven to be trustworthy.
To be fair, he is transitioning into a position that he has not played before.
Wills was named the starter from Week 1 and without any preseason games.
He has given very little time to learn his new position and adjust to the offensive schemes.
Wills has held his own and it's tough to ask much more from a player in his situation.
@JWills73 Jedrick Wills 2nd amongst 1st Round tackles with 5% QB pressures. #browns #D4L 🐶 pic.twitter.com/CDnXKKX76V

— BrownsDawgPound #D4L #BROWNS (@DawgsGoWoof) October 29, 2020
There have been some mistakes along the way, but fixable issues.
The Browns should be happy with what they've seen from Wills this season.
Second Round: Grant Delpit
Grade: N/A
It's obviously going to be impossible to grade a player that hasn't been on the field.
LSU safety Grant Delpit suffered a season-ending Achilles injury during training camp.
This is quite a serious injury, so it's unclear what kind of physical condition he'll be in once he does return.
Browns fans are going to have to wait until next season before seeing what Delpit can do.
Third Round: Jordan Elliott
Grade: C
The Browns have not exactly been blown away by the performance of Jordan Elliott this season.
He has contributed, but the Browns might've expected a little more out of him.
To be fair, Elliott has mainly been a rotational player, but has been given opportunities to make an impact.
#Browns DT Jordan Elliott is expected to get his first NFL start in place of Larry Ogunjobi. pic.twitter.com/1bpL7HSOAG

— Fred Greetham (@FredGreetham) October 9, 2020
Through eight games, Elliott has eight tackles on the year, which doesn't sound too impressive.
Although, four of those tackles did come in their Week 8 matchup against the Raiders.
Elliott has not been given a huge sample size, but it's unclear if he'll ever become a starter in Cleveland.
At worst, he can be a reliable rotational player, which is never a bad thing to have on a team.
Cleveland needs to see more from Elliott before they can really decide what to do with him.
Third Round: Jacob Phillips
Grade: N/A
Another case of a player not getting enough playing time to make a fair grade.
Unlike Delpit, Phillips has played this season, but has been sidelined by injuries as well.
Heading into the bye week, Phillips has only played in three games for Cleveland.
Phillips hasn't suited up for Cleveland since Week 5 and it's unclear when he's going to play again.
The LSU product has plenty of potential, but Browns fans might have to wait a little longer before getting to see it.
Fourth Round: Harrison Bryant
Grade: B
Cleveland very well might have a steal in tight end Harrison Bryant.
He somehow fell into the fourth round and into the lap of the Browns.
This team already has Austin Hooper and David Njoku, but has found ways to make Bryant useful in this offense.
Highest-graded rookies from Wk 7

Offense: Harrison Bryant, Browns TE
Defense: Davon Hamilton, Jaguars DT pic.twitter.com/WYQRstD0Tc

— PFF College (@PFF_College) October 26, 2020
Through eight games, Bryant has 15 receptions, 151 yards, and three touchdowns.
He recently had a two-touchdown performance versus the Cincinnati Bengals in Week 7.
Bryant might not be a huge part of the offense right now, but has played well when his number has been called.
The Browns very well could have a starting tight end of the future in Bryant, assuming he continues to develop his game.
Fifth Round: Nick Harris
Grade: N/A
Not having a mid-season grade is becoming a trend for the Browns rookies.
Although, center Nick Harris has been healthy unlike Delpit and Phillips.
The Browns liked what they saw from Harris during training camp.
However, they haven't really been able to get him on the field much during the regular season.
He has mainly been used on special teams, but it's tough to give Harris an honest grade right now.
The Browns offensive line has been relatively healthy, so Harris hasn't been needed.
Maybe Harris can develop into a reliable backup at some point.
Sixth Round: Donovan Peoples-Jones
Grade: C
Lastly, wide receiver Donovan Peoples-Jones rounds out the final selection of the Browns 2020 draft.
The young speedy receiver was not given much of a chance until Week 7.
Peoples-Jones hauled in all three of his targets for 56 yards and one touchdown in the win over the Bengals.
THE ROOKIE DONOVAN PEOPLES-JONES GAME WINNER🔥

— PFF College (@PFF_College) October 25, 2020
He has been mainly used in the kick returning game instead of on offense.
Peoples-Jones is doing well returning the kicks, but nothing special.
Honestly, he's a sixth-round pick, so the expectations aren't high for him.
There is hope that he can develop into a reliable option in the passing game.
He certainly has the speed to play the receiver spot in the NFL.
Although, there is still plenty of work to do before he's ready to take the next step.