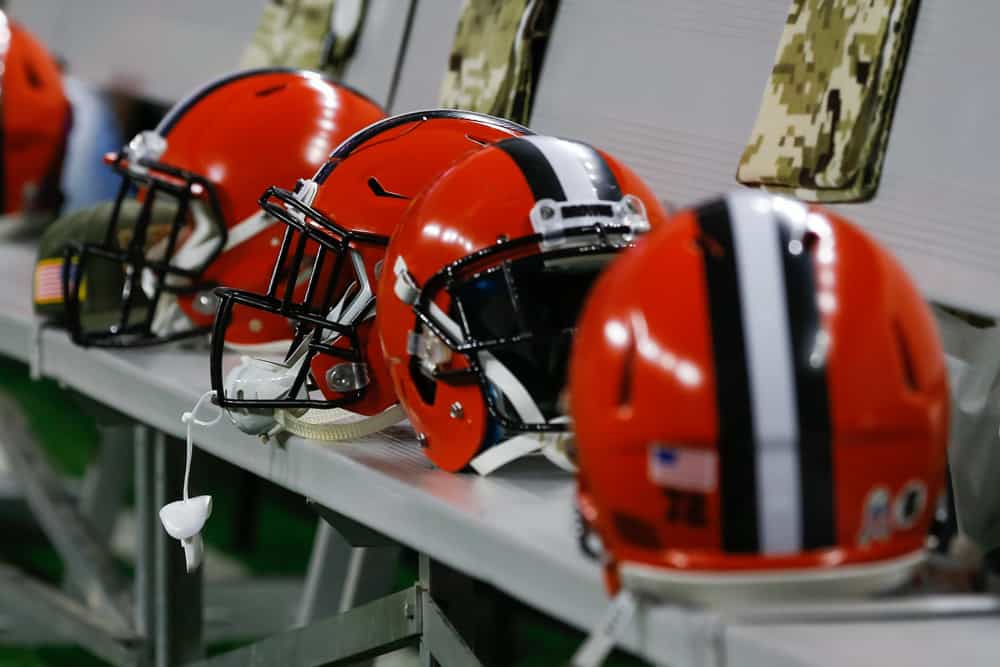 Andrew Berry had his list at the ready and went right back to work after the NFL Draft wrapped up.
The Cleveland Browns had data on 54 "priority" undrafted free agents to fill their roster before training camp.
That is on top of any of the 115 players on their draft board who might have slipped off.
Okay let the UDFA season begin!!!!!

Time for Andrew Berry to find those gems!#Browns

— DynastyCLE (@DynastyCLE) May 1, 2021
Berry aggressively went after Florida State defensive lineman Marvin Wilson, offering a guaranteed contract.
Other players spilled the beans via social media before Cleveland could announce their choices.
And at least one, Charlotte defensive end Romeo McKnight turned down multiple offers to sign with the Browns.
Here is the latest list of the Cleveland Browns' UDFA signings:
DT Marvin Wilson Jr, Florida State
Marvin Wilson Jr struggled through his senior year and finished each collegiate season on the injured list.
But his 2018-19 accomplishments earned him a guaranteed 6th-round draft level contract from the Browns.
The #Browns are signing former Florida State DT Marvin Wilson to a huge rookie free-agent deal that includes a $30,000 signing bonus plus $162,000 in guaranteed base salary, per source. Cleveland won a swift bidding war for Wilson, one of the top players to go undrafted.

— Tom Pelissero (@TomPelissero) May 1, 2021
Wilson is a strong pass rusher, but can also stuff things up for his teammates in the run game.
PFF gave him overall scores of 90.1 and 90.7 before his off-kilter 2020 season.
He was in high demand, with Berry out-bidding several teams to land the interior lineman.
CB Emmanuel Rugamba, Miami (Oh)
Emmanuel Rugamba makes the jump from a Rwandan refugee camp to an NFL cornerback.
He comes in at 5'11" and 198 pounds and says his biggest attribute is knowledge of the game and adaptability.
#BREAKING: Emmanuel Rugamba has become the first Rwandan to make it to the National Football League @NFL after being drafted by the Cleveland Browns. pic.twitter.com/qQdWRpyU5y

— The New Times (Rwanda) (@NewTimesRwanda) May 2, 2021
After starting his career at Iowa, Rugamba transferred to Miami of Ohio.
He was a third-team All-MAC selection and the player of the game in the 2019 MAC Championship.
Miami only played 3 games last year, with Rugamba amassing 11 tackles and a 62-yard pick-6 versus Akron.
DE Romeo McKnight, Charlotte
Romeo McKnight was a state champion high school wrestler and football player when Iowa recruited him.
But after a redshirt season and a year lost to injury, he transferred to Illinois State, where he regained his form.
The #Browns are signing Illinois State DE Romeo McKnight, per source. #NFLDraft

McKnight had a TON of other offers. He likes the landing spot in Cleveland. @TheDraftNetwork

— Justin M (@JustinM_NFL) May 1, 2021
In two seasons with Illinois, he racked up 15 sacks and 25.5 tackles for a loss.
With the Illinois State season threatened by Covid, McKnight transferred to Charlotte.
McKnight managed 5 TFL and 1.5 sacks in 6 games, winning an honorable mention Conference USA nod.
RB Tre Harbison III, Charlotte 
Tre Harbison transferred to Charlotte before the 2020 season only to see multiple game cancellations in 2020.
But Browns scouts saw enough to make Harbison the second Charlotte player signed by Cleveland.
Former NIU RB Tre Harbison, who played at Charlotte this season as a grad transfer, has signed as a UDFA with the Cleveland Browns, per @caplannfl.

— Hustle Belt (@HustleBelt) May 2, 2021
Harbison arrived in Charlotte coming off back-to-back 1,000-yard seasons at Northern Illinois.
He continued to show off his rushing, pass-catching, and pass-blocking ability before declaring for the draft.
Charlotte coaches added special teams play to Harbison's repertoire, which could help him make the Browns roster.
CB Kiondre Thomas, Kansas State 
Kiondre Thomas played two seasons at cornerback for the Minnesota Gophers before transferring to Kansas State as a graduate.
Thomas became a starter for K-State midway through the campaign, with 4 passes defended, but no interceptions.
Minnesota CB transfer Kiondre Thomas. Look for #3 in purple on Saturday! pic.twitter.com/PJbPlP0oeh

— 🏈KSU_90 (@90_ksu) September 9, 2020
He brings good size for a corner at 6′ and 187 pounds, with solid coverage skills and run defense.
Thomas has only one career interception, but he held opponents to the third-lowest yards-per-route run in 2019.
And he was an interception machine in high school, an indication his interception total is not due to bad hands.