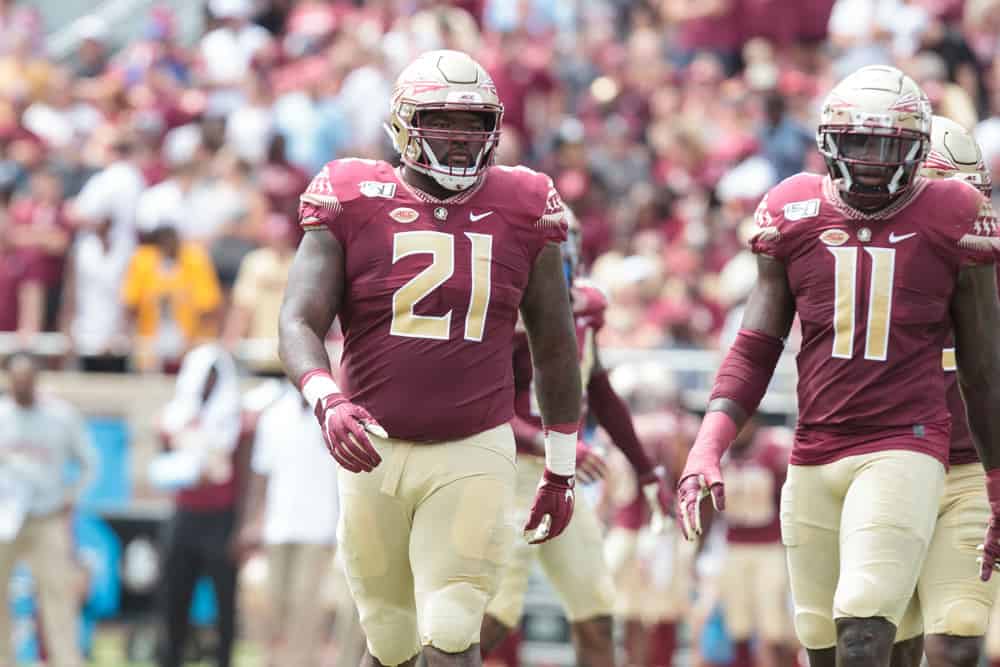 Before the NFL Draft, Andrew Berry said the Cleveland Browns had a list of 115 draftable players.
He also compiled a list of 54 priority undrafted free agents to sign after the draft.
We might never know which list Marvin Wilson was on.
But the Browns made quick work of adding him to their roster after the last draft pick was announced.
The #Browns are signing former Florida State DT Marvin Wilson to a huge rookie free-agent deal that includes a $30,000 signing bonus plus $162,000 in guaranteed base salary, per source. Cleveland won a swift bidding war for Wilson, one of the top players to go undrafted.

— Tom Pelissero (@TomPelissero) May 1, 2021
Cleveland signed the Florida State defensive tackle for what amounts to a 6th-round draft pick contract.
That includes a $30,000 signing bonus and a guaranteed $162,000 salary for 2021.
Ohio State's Tommy Togiai was considered a great value pick in the fifth round.
But the Browns still needed some depth in the interior line, with only 4 tackles on their roster.
Wilson ranked as one of the speedier tackles in the NFL Draft.
One player in this draft that I have so many questions about is DT Marvin Wilson Florida State. If for some reason he should go undrafted shew I would have to bring him in for a workout. https://t.co/NQJeyn8oE8

— ChadP71 6elieve (@chadp71) May 1, 2021
But in most other athleticism metrics he ranked about average.
There is, however, something that might assure him a roster spot beside his guaranteed salary.
Wilson managed to block 3 kicks in just 6 games this season for the Seminoles.
Why Did Wilson Fall Off The Draft Board? 
College Football News is among the draft analysts that projected Wilson as a mid-round pick.
In fact, they ranked him the 7th-best overall defensive tackle, 8 spots ahead of Togiai.
Other analysts had Wilson seeded closer to 20th overall and thought he would be a good late-round bet.
So which Marvin Wilson did the Cleveland Browns sign?
Browns sign Florida State DT Marvin Wilson, per @TomPelissero

Season grades
🔸 '18: 90.1
🔸 '19: 90.7
🔸 '20: 67.7 pic.twitter.com/t1Z3V3vJ00

— PFF Draft (@PFF_College) May 1, 2021
Berry hopes for the 2018-2019 Wilson who earned a 90+ PFF rating each year.
Weight gain and an injury vexed Wilson in 2020, and he wasn't athletic enough to fight through it.
His PFF score dropped into the 60s, despite his unusual kick-blocking show.
But 2020 wasn't the only year he fought an injury.
Another knock against Wilson is that he never finished a college football season.
So Why Did Cleveland Sign Him So Aggressively?
Andrew Berry and Browns must be satisfied with Wilson's physical and physique.
If the former Seminole shows up in condition to play and stays healthy, he could be a star.
He is an aggressive interior rusher, racking up 8.5 sacks and 12.5 tackles for a loss in 2 seasons.
Don't think there's any doubt FSU's Marvin Wilson is DT 1 entering 2020.

Scary part may be that I see a few easy ways he can really improve. pic.twitter.com/Yvci0IZEJo

— Cole Cubelic (@colecubelic) June 3, 2020
But even though he can get behind the line, he was even better at stacking things up for the edge rushers.
Even though he tips the scale at just over 300 pounds, he could use a little mass or more athleticism.
Without either, he could prove less effective at the NFL level.
But that is something often considered when taking in young players.
And the current Cleveland Browns staff seems to do well grooming new pieces into their schemes.