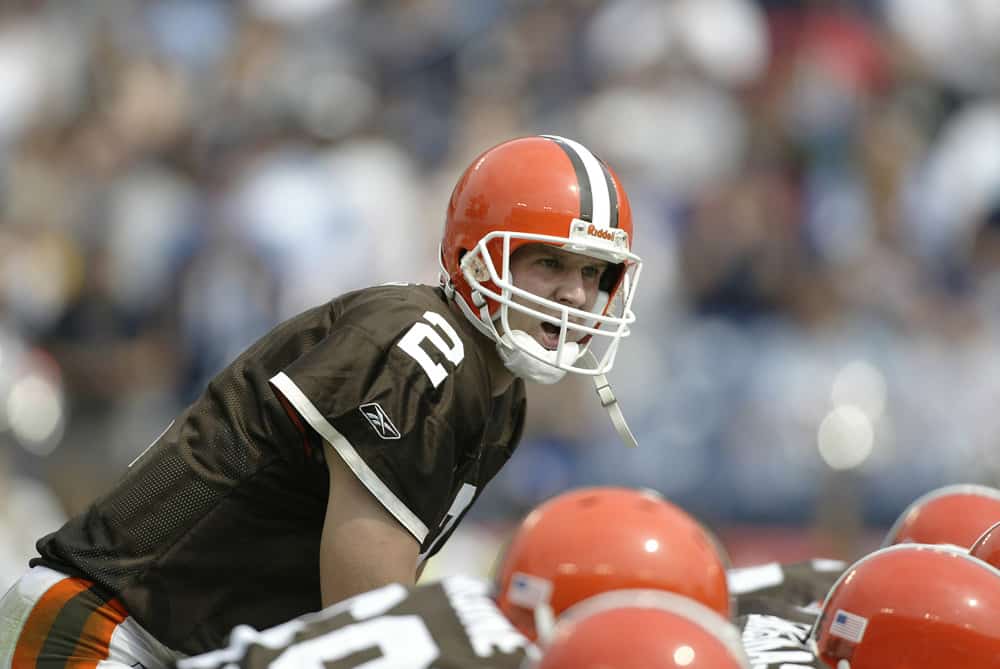 The Browns' Starting Quarterbacks Since 1999
The Cleveland Brown's have been through a lot of quarterbacks since their return to the league in 1999.
Throughout the years, the Brown's struggled to get any consistent play from the position.
The lack of a consistent quarterback play has been the Browns' biggest issue since their 1999 comeback.
Since that time, they have had 28 starting quarterbacks.
Many of these quarterbacks were early-round selections.
Let's take a look at some of the quarterbacks that have all played for the Browns since their return.
The Lowest-Ranked Players
Going through all 28 starting quarterbacks and their stats would be nearly impossible, so this list compiles those who only briefly played or who did very poorly for the team.
The record of the players on this list is a cumulative 11-71:
Spergon Wynn: 0-1 in 2000
Bruce Gradkowski: 0-1 in 2008
Ken Dorsey: 0-3 between 2006-2008
Kevin Hogan: 0-1 in 2016-2017
Luke McCown: 0-4 in 2004
Austin Davis: 0-2 in 2015
Johnny Manziel: 2-6 between 2014-2015
Cody Kessler: 0-8 between 2016-2017
Doug Pederson: 1-7 in 2000
Connor Shaw: 0-1 between 2014-2015
Thad Lewis: 0-1 between 2011-2012
DeShone Kizer: 0-15 in 2017
Seneca Wallace: 1-6 between 2010-2011
Robert Griffin III: 1-4 in 2015
Ty Detmer: 0-2 in 1999
Jake Delhomme: 2-2 in 2010
Trent Dilfer: 4-7 in 2005
Jeff Garcia
Jeff Garcia's 2004 season (his only with the Browns) had many highs and lows.
For example, he was the first QB to win a season opener since 1999.
However, he then posted a QB rating of 0.0 in a blowout the next game against Dallas.
His stats aren't bad, though: 10 touchdowns versus nine interceptions and 1,731 total yards and a 76.7 QB rating.
His record, 3-7, isn't so hot.
Colt McCoy
Colt McCoy could have been a better quarterback if a nasty hit during a game didn't cause a serious concussion that affected his playing skills.
With a QB rating of 74.8 and 21 touchdowns versus 20 interceptions, McCoy ended his career 6-15 with the Browns.
Brady Quinn
Brady Quinn was another first-round quarterback selection of the Browns.
Quinn played for the Browns between 2007 and 2009 and hit 296 passes of 550.
He also earned 3,043 yards and 12 touchdowns versus 17 interceptions.
However, he was only able to win three games and lost nine: not stunning statistics.
Though, Quinn did have four touchdowns and no interceptions in a game, the first Browns quarterback in 22 years to do so.
They went on to lose the game.
Brandon Weeden
Weeden was picked in the first round for the Browns.
For any other team, Brandon Weeden would rank fairly low. With 23 touchdowns to 26 interceptions, Weeden picked up six wins and lost 19 games during his time for the Browns.
And yet he is ranked fairly high here, with a decent completion rating (55.9 percent) and a QB rating of 71.8.
Charlie Frye
Since 1999, the Browns have cried wolf with each new quarterback.
In 2005, they hadn't quite burned out their fans when Charlie Frye was declared the quarterback of the future.
With just six wins and 13 losses, he was gone after 2007.
However, he threw for nearly 3,500 yards and had a 62.5 percent completion rating for a QB rating of 71.2.
Jason Campbell
Jason Campbell only played one season for the Browns (2013) and won just one of his eight games.
However, he threw 180 completions on 317 passes to get 11 touchdowns and eight interceptions and 2,015 yards.
Not startling numbers but good ones on this list.
Josh McCown
Josh McCown's 1-7 2015 season for the Browns may not seem worthy of praise.
However, McCown threw for 186-for-292 for a completion rate of 63.7 percent, 2,109 yards, and 12 touchdowns to just four interceptions.
His 93.3 QB rating is easily the best on this list.
Brian Hoyer
Brian Hoyer seemed to be the way forward for the Browns after he won more games than he lost, threw 17 touchdowns to 16 interceptions, and completed 56 percent of his passes.
However, a bad knee injury in 2013 took him out of play.
And yet, he's still one of the best Browns quarterbacks of the post-1999 period.
Derek Anderson
Derek Anderson's 2007 season is still the best post-1999 season for a Browns' quarterback.
During this campaign, he threw 29 touchdowns and won 10 games but threw four interceptions in the game that the team needed to win to go to the playoffs.
He nearly has a winning record, too, at 16-18.
Tim Couch
The first pick of the Browns when they returned to the league in 1999. The first quarterback of the post-1999 Browns, Couch earned a record of 22-37, a QB rating of 75.1, and went 1,025-for-1,714 to earn a 59.8 completion rating and 11,131 yards.
Some still consider him a draft bust, though more forgiving fans blame a poor offensive line for his lack of wins.
Kelly Holcomb
Kelly Holcomb had been in the league since 1995 by the time he joined the Browns in 2001.
During his time here, he went 323-for-507 passes to earn a 63.7 percent completion rating.
He earned 3,438 yards, 26 touchdowns, 21 interceptions, and a passer rating of 83.3.
With a record of 4-8, he might not seem like much, but he is statistically the best Browns quarterback of the post-1999 era.