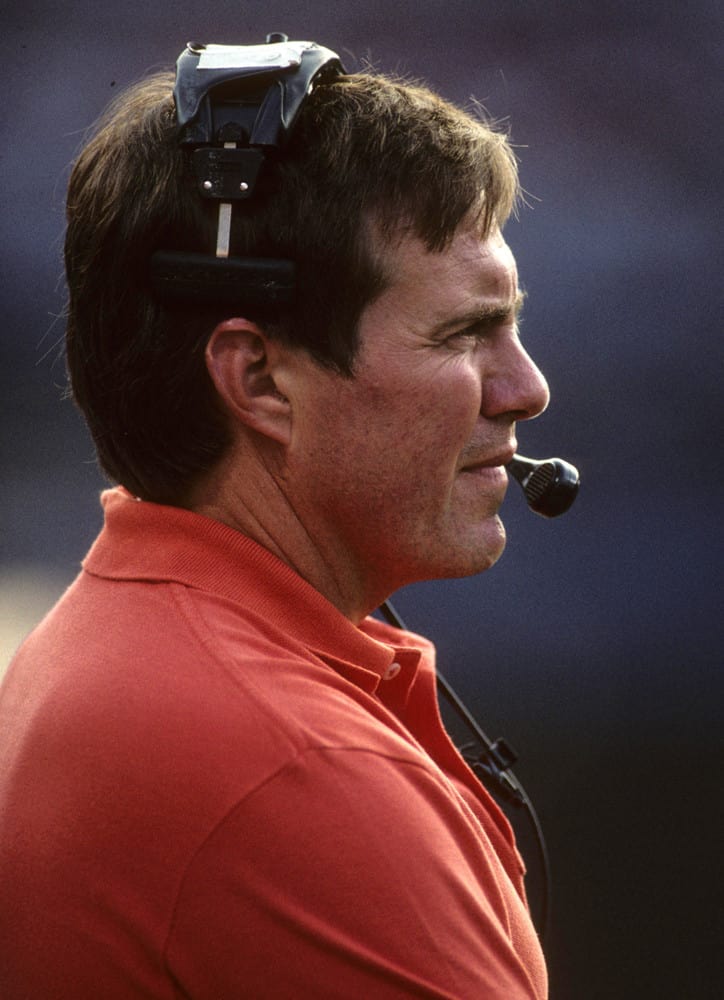 Bill Belichick's History in Cleveland
Today, many consider Bill Belichick among the all-time great coaches in the history of the NFL.
His sustained success as the head coach of the New England Patriots has been unmatched for nearly two decades.
Many argue he is the greatest head coach in the history of the sport.
However many do not know, his head coaching career started – and nearly ended – with the Cleveland Browns.
As their last coach before the relocation, he learned many valuable lessons that helped him succeed later in life.
Let's take a look at the early career of Belichick and how he became the successful head coach that he is today.
Belichick's Early Preparation for a Head Coaching Position
Like all sports greats, Bill Belichick did not become a legendary figure overnight.
Raised in Annapolis, Maryland, he was born into a football family.
His father was the coach of the United States Naval Academy – Bill later said that his dad was one of his most important football teachers.
During this time, Belichick and his father watched game footage together, which is how he learned to break down plays.
This helped him become a master at crafting unique and innovative play concepts.
Belichick played football and lacrosse in high school, preferring the latter sport.
During his time at Wesleyan University, he played on the football, squash, and lacrosse team.
In football, he played as a tight end and center and was also the captain of the lacrosse team as a senior.
Earning a bachelor's degree in economics in 1975, he tried to find his way to football as a coach.
And in 1975, he found a job as an assistant to Baltimore Colt's head coach, Ted Marchibroda.
This job paid just $25 per week but was the in that he needed.
After one year here, he joined the Detroit Lions as an assistant special teams coach and then took over for coaching tight ends and wide receivers the next year.
Then, he joined the Denver Broncos in 1978 to assist with the special teams and defense.
After this year, Belichick joined the New York Giants as a defensive assistant, special teams, and linebackers coach before becoming defensive coordinator in 1985.
Under coach Bill Parcells, the Giants and Belichick won a Super Bowl ring – his first – in 1986 and 1990.
After 12 years with the team, Belichick was called in to help reform the struggling Cleveland Browns as a head coach.
Belichick's Record in Cleveland
When Bill Belichick joined the Browns in 1991, they had just gone 3-13 and were considered something of a laughing stock in the league at the time.
The idea was that the two-time Super Bowl champ could bring some defensive strength back to the team and right their tumble offensively as well.
His introduction helped the team improve to 6-10 the next year, but they were hardly ready for the big time.
After posting two straight 7-9 seasons, Belichick and the Browns finally pulled it together for the 1994 season to go 11-5 and to get to the playoffs for the first time in years.
However, this success came at a price, as Belichick had already developed the type of intensity and lack of emotional attachment that made him a legend in New England.
While examining his team's losses and hs players, Belichick decided that popular starting quarterback Bernie Kosar was a liability and waived him from the team.
Kosar was and remains a popular fixture in Cleveland – a local boy who loved playing for the team.
However, a series of injuries had made him, in Belichick's eyes, a compromised player.
That said, the two often clashed, which led to difficulties as well.
However, the team immediately improved, in spite of losing Kosar and even won their first playoff game in years.
The Browns then went 5-11 the next year during a period when Belichick made another move fans didn't like – signing Andre Rison.
This talented – but troubled and volatile – wide receiver caused issues on the team that helped lead to their loses.
And his signing for $17 million put the Browns in the red financially – some have even claimed that it was the straw that broke Art Modell's back when deciding on relocating the team.
After Modell made his announcement about relocating to Baltimore, he promised Belichick that he would remain as head coach.
However, Bill was instead fired in 1996 after posting a 36-44 overall record and winning just one of two playoff games.
The next four years were hectic – after joining the Patriots in 1996 as an assistant head coach for a year, he was twice named the New York Jets coach without coaching a game for the team.
In 1999, he was the coach for one day before immediately resigning to instead coach for the Patriots.
And the rest is, as they say, history.