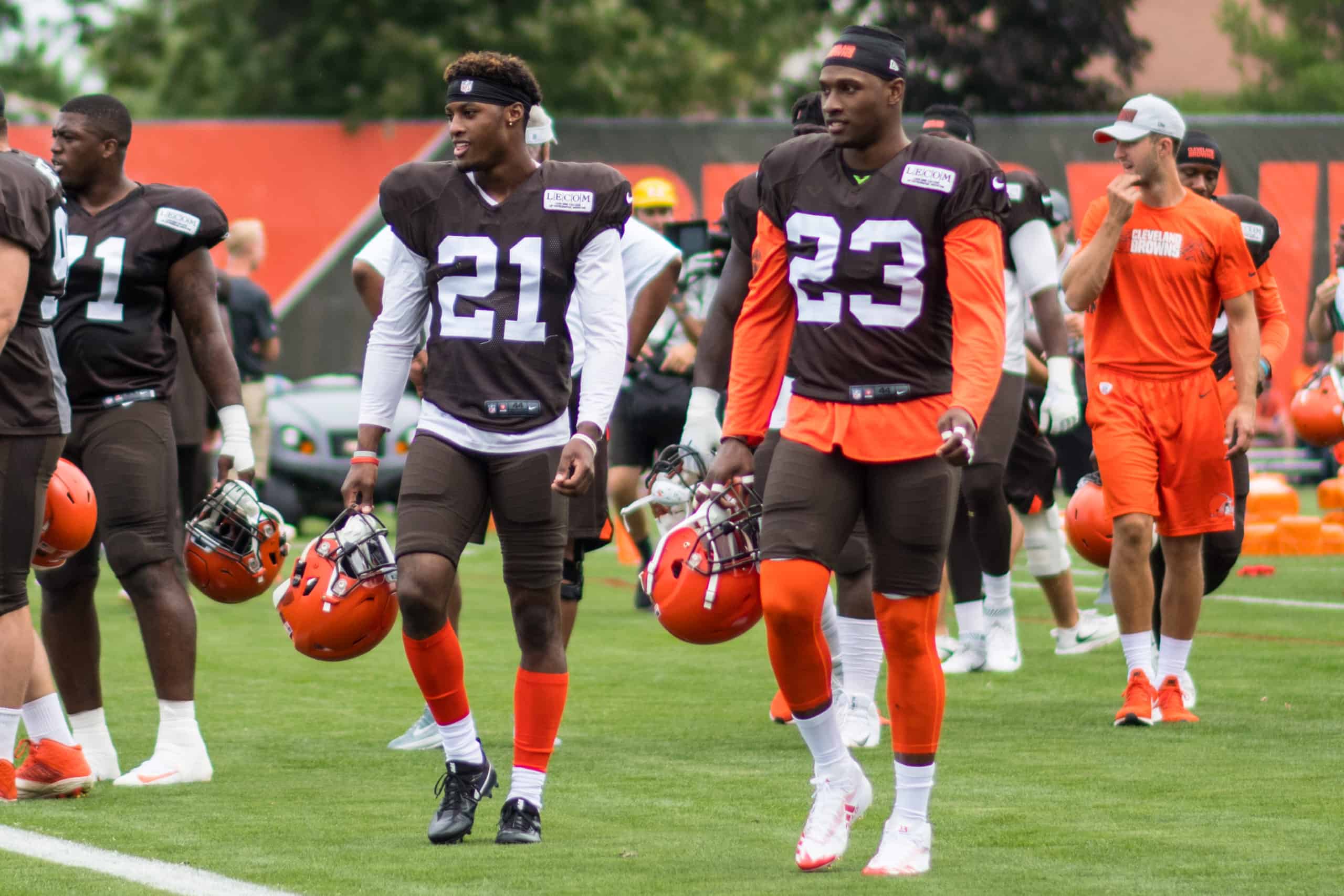 The Cleveland Browns kept their playoff hopes alive with a 21-7 victory over the Pittsburgh Steelers on Thursday night. It was the first time the Browns put together two consecutive wins this season.
Cleveland showed promising signs but still have a few things to work on.
Here are a few studs and duds from Thursday night's game.
Studs
JOE SCHOBERT
Joe Schobert garnered an eye-popping performance that makes him a frontrunner for Defensive Player of the Week.
The Browns' linebacker showed up everywhere to assist a short-handed defensive unit. His 10 tackles included 2 for a loss and 1 sack. A pair of quarterback knockdowns wrapped up a great defensive day.
Schobert also contributed in the passing game, defending four passes and bringing down two interceptions.
Cleveland's Defense
The rest of the Browns' defense bounced back from a couple of early-game failures, consistently stifling any momentum the Steelers could muster.
Cleveland doubled their interception total on the season, securing four on Thursday night. Mason Rudolph took 11 hits and 4 sacks. The Browns tallied 7 tackles for a loss and 10 passes defended.
Baker Mayfield
Baker Mayfield threw for two touchdowns and ran for another. Thursday was Mayfield's second game in a row with multiple touchdown passes after not accomplishing that feat in the first half of the season.
More impressively, Mayfield sent the Steelers' ball-hawking defense home without a turnover. This was the third game in a row Mayfield did not throw an interception.
Nick Chubb
Nick Chubb pounded his way for 92 yards on 27 carries, becoming the league's first 1,000 rusher.
He is also the first Browns player with 1,000 yards in the first ten games of a season since Jim Brown did it for his seventh time in 1965.
Duds
Damarious Randall
Damarious Randall's late helmet-to-helmet hit on a defenseless receiver earned him an ejection early in the second half. Momentum shifted after that play and an angry Pittsburgh offense scored their only touchdown.
With Morgan Burnett already lost to injury, Randall's ejection forced third-string rookie Sheldrick Redwine into action.
The Offensive Line
The Browns' offensive line allowed the Steelers come up with 10 tackles for a loss and hold Nick Chubb to 3.4 yards per carry, well below his 5.0 average coming into the night.
Pittsburgh also harassed Baker Mayfield all night. The quarterback's mobility is what limited Pittsburgh to one sack and three quarterback knockdowns.
Odell Beckham Jr.
Odell Beckham Jr. and Mayfield teased Cleveland fans with two receptions on the opening drive, including a 42-yard catch in stride that fell just short of OBJ's second touchdown of the year.
By the end of the game, Beckham caught just 2-of-8 targets for 15 yards. It's hard to tell why Mayfield and Beckham are struggling, but Mayfield completed 65% of his passes to his other receiving options.