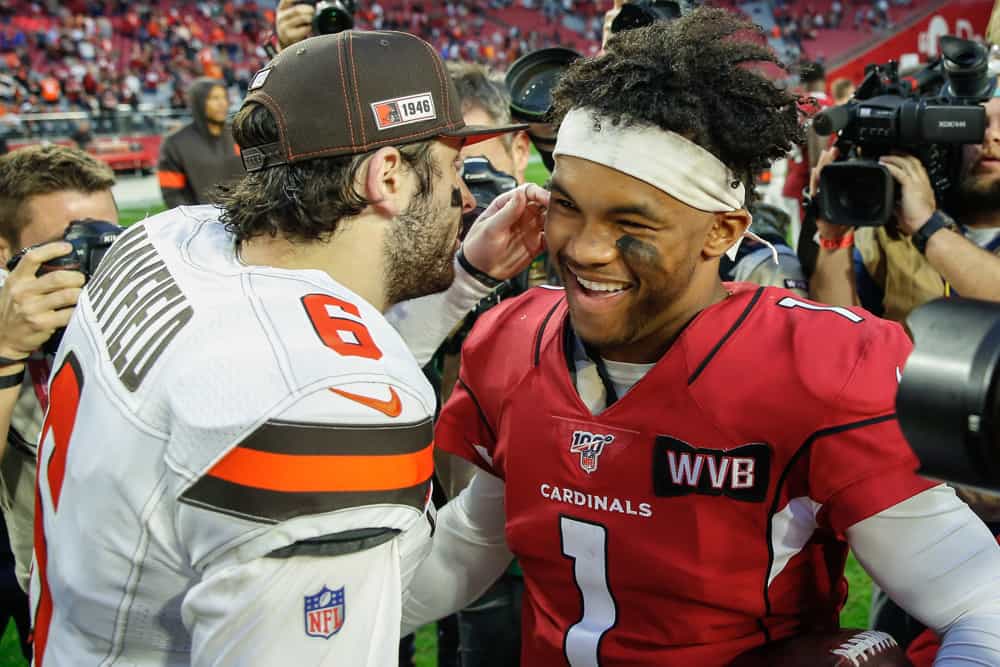 Not many positive things happened for the Browns during their disheartening loss to the 4-9-1 Arizona Cardinals Sunday.
In fact, there wasn't much happening for the Browns at all.
But, after watching the watching film three times, I found enough candidates to fill the "studs" section.
So here goes:
Week 15 Studs:
Stud: Nick Chubb- 148 Total Yards, Touchdown
One week after forgetting the rushing game for an entire half, the Browns put Nick Chubb to work early and often.
Down by two touchdowns early, the Browns needed a spark.
Chubb provided it, capping off an impressive drive by running over a lineman and squirting between two other defenders before outrunning the safeties to the end zone.
.@NickChubb21 cannot be stopped 🚂#CLEvsAZ pic.twitter.com/Gxbn4h4Y90

— Cleveland Browns (@Browns) December 15, 2019
The defense had their only highlight, an interception returned deep into Arizona territory, on the ensuing drive.
Chubb averaged 7.5 yards per carry, but his night was cut short when the game situation called to abandon the run.
Stud: Kareem Hunt- 8 Catches, 76 Total Yards
Defenses can't relax when Chubb sits down for a series thanks to Kareem Hunt.
Even though the Browns continue to telegraph their roles, Hunt can still run effectively.
Hunt excels in his pass-catching role, too.
The former rushing champion also has football smarts, running to yard markers and making sure his pass routes are deep enough for first downs.
Hunt converted several key third downs, running himself open even when everyone watching knew where the pass was likely to go.
Stud: Ricky Seals-Jones- 2 Touchdowns
Baker Mayfield continues to struggle, leading many to wonder if the diminutive passer can see his receivers like Freddie Kitchens says he can.
He can't miss the 6'5", 243-pound Ricky Seals-Jones.
With David Njoku a surprise, last-minute scratch (coach's decision), Seals-Jones and the 6'7" Demetrius Harris took the bulk of the tight end snaps.
Seals-Jones snuck off the line and emerged wide open in the end zone twice, catching both of Mayfield's touchdown passes.
His third-quarter fumble led to a Cardinals score and almost knocked Seals-Jones from the studs list.
However, he gets a mulligan because a better camera review angle could have reversed the fumble call to an incomplete pass.
Duds from the Desert Game
Dud: Cleveland Defense- All of Them
Kenyan Drake exploded out of the gate with a 16-yard rush on the first play from scrimmage.
It was a sign of things to come.
Arizona ran for 226 of their 445 total yards- almost 100 total yards more than their season average.
Watching the game rewind, I was struck by how every contact resulted in a Browns' player (or players) getting knocked backward.
The Cardinals had 26 first downs and only 8 third downs.
Other than rookie Mack Wilson's first career interception, there was nary a highlight to be found from the Cleveland defense.
Missed tackles were too numerous to count.
The entire Browns defense looked a step or two slower than the Cardinals offense all game.
Dud: Freddie Kitchens- Offensive Play Caller
By now we all know the young Browns team thrives or implodes on emotion.
Nick Chubb provided a needed spark with his tough touchdown run.
The offensive play-caller can provide sparks with a trick play or something unusual.
Unfortunately, Cleveland has no imagination when it comes to play-calling.
Wilson's interception gave Cleveland the ball at the Arizona 28 with a chance to erase the early 14-0 deficit.
Kitchens went with Hunt up the middle, Chubb up the middle, then a shuffle pass to Landry behind the line of scrimmage that got blown up.
The ensuing field goal did not ignite the team to play better from there on out.
Cleveland pulled within 4 again with a touchdown and forced punt out of the half.
Kitchens sent Chubb off-tackle before short passes to Hunt and Landry completed another 3-and-out.
Sometimes, the head coach intervenes and tells the offensive coordinator to do something out of character.
Of course, that can't happen if the head coach is the offensive play-caller.
Dud: Jarvis Landry- Leading?  
Jarvis Landry wants to be one of the veteran leaders of this team.
He handled questions about his friend Odell Beckham Jr well during the week.
On Sunday, Landry was caught on film arguing with a coach on the sideline for the second time this season.
So… Jarvis Landry gave Freddie Kitchens a piece of his mind after that drive 😐 pic.twitter.com/y4VeWX8Z02

— 92.3 The Fan (@923TheFan) December 15, 2019
This time, it was Kitchens he was yelling at, complaining he (Jarvis) needed the ball more.
Landry might be credited with some creativity by some for throwing the ball back to Mayfield on a disastrous shuffle pass.
The play could just as easily have been no gain or a short loss if Landry didn't turn and run backward.
It was lucky his quarterback caught the lateral and didn't get hurt running with it afterward.
Dud: Baker Mayfield- No Deep Throws
It is hard to say if Baker Mayfield or Freddie Kitchens is more to blame for the complete lack of a deep passing game.
Cleveland has two Pro Bowl wide receivers, plus last season's hero, Rashard Higgins, on their roster.
Arizona's defense ranks dead last against the pass and is especially susceptible to the deep ball.
Mayfield overthrew Beckham twice in the end zone, once resulting in a Patrick Peterson interception.
He averaged just 5.7 yards per pass attempt overall.
Mayfield seemed the most animated after the game while he exchanged jerseys with his friend Kyle Murray, the Cardinals quarterback.
Overall, it was a dismal performance, especially considering the Browns had their playoff hopes boosted in the early games.
Next up is the 12-2 Ravens who last lost back in Week 4 to the Browns.
Cleveland will need to line up a few more studs if they are to repeat that performance.