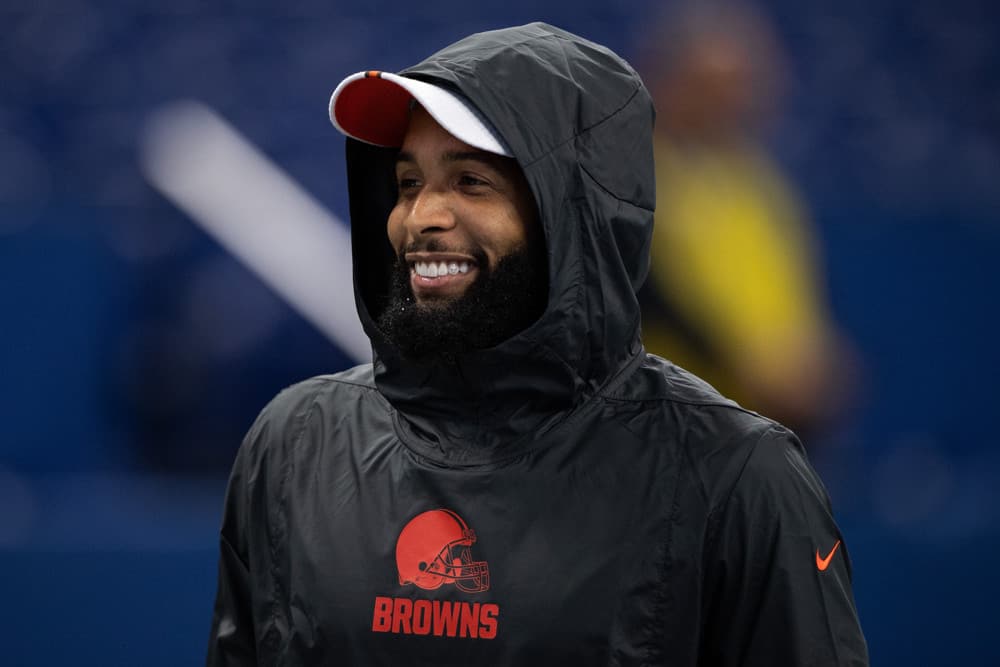 Will the orange be "oranger" this time around for the new Browns uniforms?
It certainly was back in 2015.
Unfortunately, none of us know the immediate answer to that question.
One person does, however.
That man's name is Odell Beckham Jr.
Multiple reports have been made that the star receiver was involved in a photo shoot for the new Browns uniforms.
The new kits will be the first apparel change for the Browns since 2015 when… yeah, the orange was "oranger".
Off the bat, this tells us two things.
One, of course, is that the new Browns uniforms are indeed legitimate.
The second, and much better piece of news, is that this means the Browns have future plans for OBJ.
Even if that future is literally just 2020, it's still better than watching him disappear this offseason.
.@RapSheet on @nflnetwork says OBJ has worked on the new uniforms reveal. Says the #Browns are clearly planning on Odell being with the team in 2020 👇👇👇👇 pic.twitter.com/YhmIM2yYuA

— Jonathan Peterlin (@JPeterlin) March 3, 2020
As far as the uniforms are concerned, the change should be a welcomed one.
Fans had a very "meh" reaction to the changes back in 2015.
Some of the combos just don't look great, and the color rush uniforms tend to be the favorites.
But the team doesn't wear the color rushes every week, so a change will be nice.
Recently suspended Browns beat reporter Tony Grossi confirmed back in January that the new uniforms would bring about a more traditional look and feel to them.
Prior to draft. They will look like traditional Browns uni's, been told. https://t.co/gJxiaF9Exe

— Tony Grossi (@TonyGrossi) January 4, 2020
If there's one thing Cleveland loves, it's tradition.
New head coach Kevin Stefanski also stated he was a fan in a Reddit AMA (ask me anything) last month.
When asked if he was a fan of the new uniform concepts, he responded with "yes, they are straight fire".
Football coaches don't always seem like the kinds of guys to be too impressed with uniform designs.
Stefanski is a younger generation and may be more fashion-friendly than some of the more old-school coaches in the league.
If Stefanski approves, I approve as well.
Fans will have to wait until April, when the uniforms are released before the draft, to reach a final verdict.
As for the on-field side of things, the rumors of Odell being moved this offseason have been quite worrisome for Browns fans.
Andrew Berry hasn't said anything publicly about taking trade offers or even considering moving Beckham.
But there's always reasons to worry when trade rumors start to surround one of the best players on your team.
Odell clearly was not thrilled with how things went throughout the 2019 campaign.
Arguments with Freddie Kitchens, reports of him telling players and coaches he wanted out, etc.
It just was not an ideal season for Odell.
Back in December, however, OBJ silenced some of the rumors of him wanting to leave in a press conference.
He stated "I am not going anywhere. I will be here" while dismissing some of the aforementioned rumors.
While many still had their doubts, it was enough for others to believe that he would not be going anywhere this offseason.
The report of him doing a photoshoot with the new uniforms all but confirms this.
Why would a player do a photoshoot for a team's uniforms if he knew he was going elsewhere anyways?
Keeping OBJ is certainly a good thing, hopefully the new uniforms echo that same sentiment.