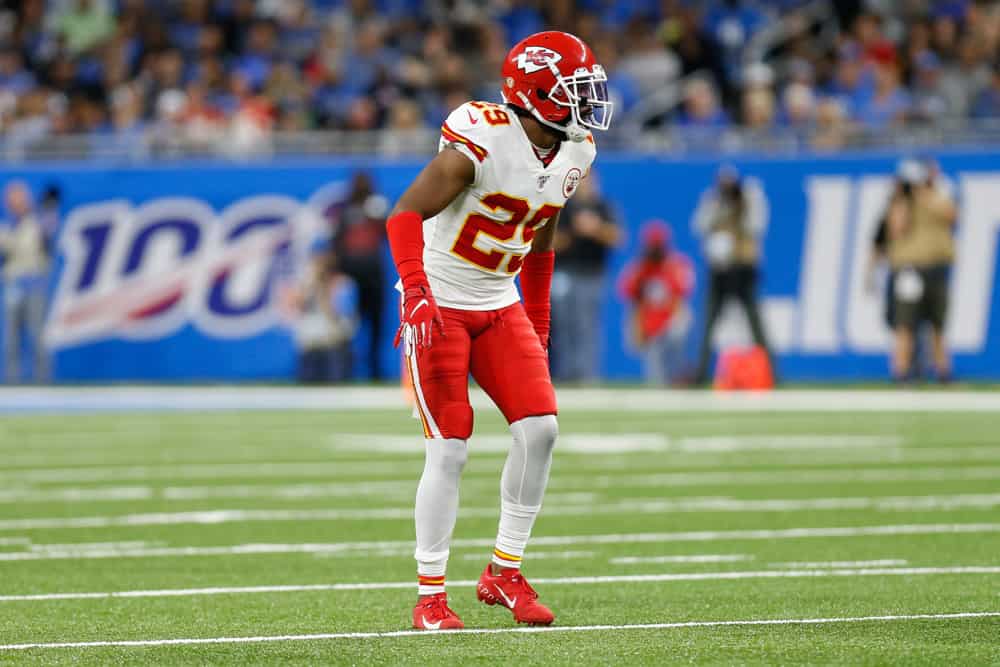 When looking at free agency, the Cleveland Browns have an opportunity to find a complementary cornerback or a difference-maker.
This offseason features a deep class of free-agent cornerbacks that the Browns could pursue.
Take a look for yourself.
Top FA Corners..
1- Byron Jones
2- James Bradberry
3- Chris Harris
4- Logan Ryan
5- Trae Waynes
6- Kendall Fuller
7- Mack Alexander
8- Bradley Roby
9- Eli Apple
10- Ron Darby
11- Brian Poole
12- Anthony Brown
13- Jalen Mills
14- Darqueze Dennard
15- LeShaun Sims
16- Daryl Worley

— Chad Forbes (@NFLDraftBites) January 2, 2020

The Browns have a projected $51.7 million in cap room according to Spotrac.com and OverTheCap.com.
This puts the Browns with the 15th-most cap space this offseason.
The NFL salary is projected to be between 196.8 million and $201.2 million.
Some of these corners will not be on the Browns radar due to high salaries, personalities, etc.
However, let's dive into the top-15 cornerback options and who is the most likely to get lured by new general manager Andrew Berry.
15. Jason Verrett (San Francisco 49ers)
Yes, we understand that Verrett has played in three games in the past three years but hear us out.
Verrett made the Pro Bowl in 2015 as a member of the Denver Broncos with 12 passes defended and 47 combined tackles.
However, in the last three seasons, Verrett has spent more time on the IR with a knee injury, a torn Achilles tendon, and an ankle injury.
The 49ers knew that Verrett had a torn Achillies going into the 2019 season but still gave him a one-year deal worth $3.6 million.
New defensive coordinator Joe Woods is the former defensive backs coach of the 49ers.
It would not be shocking to see the Browns give Verrett a one-year deal worth the minimum to try and strike gold in the offseason.
14. Kevin Johnson (Buffalo Bills)
Kevin Johnson is appealing but only to a point.
He is likely an inexpensive option because of the market price for his play in 2019.
According to PFF, Johnson was on the field for 402 snaps and did not allow a touchdown; however, he finished with zero interceptions on 40 targets.
Denzel Ward and Greedy Williams combined for just two interceptions in 2019, both coming from Ward.
Is bringing in a cornerback that can't record turnovers the best way to spend your money?
13. Chris Harris Jr. (Denver Broncos)
Chris Harris Jr. moved from a slot cornerback to the outside last season.
As a result, his stats, and potentially his reputation, took a hit.
Quarterbacks finished with a 109.4 passer rating when throwing in his direction according to PFF, which was the worst of his career.
This goes with the fact that receivers caught 47 of 68 passes that were thrown at him.
However, from a career standpoint, Harris Jr. has solid numbers.
Free Agent Profile: Chris Harris Jr. (CB)

Age: 30 H: 5′-10″ W: 199 Spd: 4.48
Exp: 9 Years – Undrafted FA 2011

Career Stats:
139 Games, 518 Tackles (Combined), 4.5 Sacks,
20 Int., 6 FF, Pass Def: 90

A strong veteran presence, who may have lost a step, but could be attainable pic.twitter.com/zkastwkqeQ

— Offseason Champions (@HTTRChamps) January 22, 2020
If the Browns wanted to give Harris Jr. a chance to revive his career, this would be the opportunity.
For a guy that nearly made $12 million last year, it just does not seem like he would be a great fit when looking at all options.
Still, we have to respect his numbers.
12. Jimmy Smith (Baltimore Ravens)
Jimmy Smith appears to be out the door after the Ravens resigned Marcus Peters, while 2017 first-round pick Marlon Humphrey appears ready to play.
Not to mention, the Ravens have a team option for Brandon Carr.
Smith is another 31-year old cornerback that could bring a veteran presence.
Free Agent Profile: Jimmy Smith (CB) Outside

Age: 31 H: 6′-2″ W: 210 Spd: 4.46
Exp: 9 Years – 1st Round (27) Pick 2011

Career Stats:
107 Games, 329 Tackles (Combined),
2 Sacks, 14 Int., 2 FF, 70 PDef

Big, Long, Veteran. Elite Coverage Skills. Has had a lot of injury issues pic.twitter.com/EHLpk8K3aj

— Offseason Champions (@HTTRChamps) January 24, 2020
Smith won a Super Bowl in 2012 in his second year with the Ravens.
He covered 49ers receiver Michael Crabtree on the final play to prevent a go-ahead touchdown.
Since signing a four-year, $41.1 million contract extension in 2015, Smith failed to live up to expectations in 2016 and 2017 due to injuries.
Then, in 2018, he was suspended for violating the league's substance-abuse policy.
He finished with nine passes defended in 2018 and six last season but it's clear he's lost a step.
All Smith could provide the Browns is a veteran that could push the younger generation.
11. Anthony Brown (Dallas Cowboys)
Anthony Brown could provide the Browns depth behind Ward and Williams.
Before Brown suffered a torn triceps on Week 11, he played in nine games, including four starts.
He recorded 17 tackles and five passes defended.
Brown was a durable option for the Cowboys.
From 2016 to 2018, he recorded tackles of 55, 56, and 44, as well as pass deflections of 8, 11, and 8.
That's a solid backup or starter for the Browns defense.
10. Logan Ryan (Tennessee Titans)
Logan Ryan has a perfect profile and is a two-time Super Bowl champion for his time with the New England Patriots.
He was an instrumental part of the Titans defense that featured a career season.
In 2019, Ryan finished with the most tackles (113), assisted tackles (40), sacks (4.5), passes defended (18), and forced fumbles (4).
Free Agent Profile: Logan Ryan (CB) Slot

Age: 28 H: 5′-11″ W: 195 Spd: 4.56
Exp: 7 Years – 3rd Round (83) Pick 2013

Career Stats:
109 Games, 494 Tackles (Combined),
11 Sacks, 17 Int., 8 FF, 78 PDef

Proven veteran leader (on/off field), statistically coming off his best season pic.twitter.com/UhHR3ZW7xl

— Offseason Champions (@HTTRChamps) January 24, 2020
You might be asking, why is he so far down on this list?
With numbers like that, he is going to be out of the Browns price range.
For a 28-year old coming off a season, he should have been in the top-3 of Forbes' rankings.
If signed by the Browns, he would be a difference-making cornerback but the facts are simple.
The Browns are not going to throw down that much money on him.
9. Ronald Darby (Philadelphia Eagles)
Since Ronald Darby comes from the Eagles, it's only natural that we have a player on this list from that franchise.
That's not to say that Darby would not be a good fit either.
Free Agent Profile: Ronald Darby (CB)

Age: 26 H: 5′-11″ W: 193 Spd: 4.38
Exp: 5 Years – 2nd Round (50) Pick 2015

Career Stats:
57 Games, 251Tackles (Combined),
0 Sacks, 8 Int., 0 FF, Pass Def: 65

Talented corner with a good upside, has injury issues over last two seasons pic.twitter.com/RMKpqEFWGU

— Offseason Champions (@HTTRChamps) January 23, 2020
Darby was a member of the PFWA All-Rookie team in 2015 as a member of the Buffalo Bills.
After three seasons with the Philadelphia Eagles, which included a Super Bowl ring, he enters the free agency market.
Darby has upside and a connection to the GM, which makes him a potential target for the Browns.
8. Bradley Roby (Houston Texans)
When Bradley Roby was a free agent last offseason, the Browns were one of the top destinations on his list.
Report: Cleveland Browns could be a finalist for free agent CB Bradley Robyhttps://t.co/HDRFfX5POm pic.twitter.com/5KFOZj6e2C

— WKYC 3News (@wkyc) March 11, 2019
Instead, he elected to sign a one-year deal with the Texans.
It's easy to understand why the Browns wanted Roby because heading into the season, he was one of the best defenders at the position.
Top Players in Passes Defended Since 2016

Darius Slay – 56
Robert Alford – 50
Casey Hayward – 50
Jalen Ramsey – 44
Kyle Fuller – 43
AJ Bouye – 42
Janoris Jenkins – 42
Malcolm Butler – 41
Stephon Gilmore – 41
Brent Grimes – 41
Josh Norman – 37
Marcus Peters – 37
Bradley Roby – 37

— NFL Stats (@NFL_Stats) June 19, 2019
Roby's play dipped a tad in 2019, so the Browns may not be fully invested like they were a year ago.
Roby went from 50 tackles in 2018 to 38 tackles in 2019 and 12 passes defended to eight.
He also played in five fewer games, so there are question marks about his durability and consistency.
7. Tramaine Brock (Tennessee Titans)
Tramaine Brock was a diamond in the rough last season for the Titans.
Tennessee picked Brock up off waivers in early December off the Arizona Cardinals.
He started the final five regular-season games, as well as the playoffs that included a run to the AFC Championship Game.
With a grade of 79.3, Tramaine Brock Sr. was the highest-graded defensive player for the #Titans in their big playoff win over the Patriots.

— PFF TEN Titans (@PFF_Titans) January 8, 2020
According to PFF, his grade jumped from 66.3 in 10 games with the Cardinals to a 78.5 with the Titans.
Brock made just over $260,000 last season and should get a pay bump as expected but it should not be substantial as he is 32-years of age.
Coming to the Browns means playing as a backup and providing the younger guys a rest.
Brock played great football down the stretch last season but he is not going to be an impact player for the Browns on defense.
He has one interception in the last four seasons, and 12 passes defended.
A low-cost deal for a backup cornerback sounds appealing if Brock agrees to serve his role with the team.
6. Byron Jones (Dallas Cowboys)
We are going to need to disagree with Chad Forbes when it comes to the Browns' overall needs.
It gets more likely each day that the Cowboys are not going to retain Byron Jones.
The Cowboys have a mess of free agents, which includes quarterback Dak Prescott, Amari Cooper, and Maliek Collins.
Early rumors have Jones being linked to the Houston Texans, Washington Redskins, and Oakland Raiders.
That being said, it looks like Jones is projected to become one of the highest-paid cornerbacks in the league.
Cowboys CB Byron Jones Projected to Ink Record-Setting Contract https://t.co/Cy9XG1kAFs

— RAMSEY_UNKNOWN SR (@RAMSEYUNKNOWN) February 6, 2020
However, the Browns should not unload $15 million for Jones and here is why.
According to PFF, Jones ranked 22nd among corners through Week 17 with an incompletion rate of 15.1%.
He was also ranked 22nd among corners in allowing 11.0 yards per reception.
Throw in the fact that Jones has just two interceptions over the course of the last five seasons.
Giving $15 million to someone on defense means that they are an impact player.
If the Browns are smart, they will not get roped into this potential dead money situation.
Still, he is going to be a highly coveted free agent that has put up solid numbers over the course of his career.
Someone is going to overpay for him and it just shouldn't be the Browns.
5. Mike Hilton (Pittsburgh Steelers)
The Steelers appear to be ready to let Mike Hilton walk with upcoming contracts for defensive tackle Javon Hargrave and linebacker Bud Dupree on the horizon.
Joe Haden on defense: "We have a lot of young ballers. I don't know if we'll be able to keep all of these guys. Bud starts balling. We have Mike Hilton coming up [as a restricted free agent]. … Minkah will be up." #Steelers

— Steelers Depot 🏆👑 (@Steelersdepot) January 23, 2020
Through Week 17, PFF ranked Hilton as the 18th best cornerback in the league.
Hilton ranked 17th among NFL corners in allowing just 19 first-down receptions in 58 targets.
With the Steelers, Hilton was used as a sub-package defender, which makes him perfect as a third-corner option if the team is sold on Ward and Williams leading the way.
Hilton will be 26 years old next season, which means his best years are yet to come.
4. Kendall Fuller (Kansas City Chiefs)
Kendall Fuller is a name that has floated around on social media as someone that fans would like to see in Cleveland.
Some have even printed out a scenario for Berry to bring in the Super Bowl champion.
Take a look at Kendall Fuller in FA

If CLE cuts Carrie should be a nice replacement

Even if CLE doesn't, played very well at safety after they moved Honey Badger into the slot because Fuller broke his thumb

GOOD player, very versatile

Shouldnt be too pricey

— David Whitman (@davidtwhitman) February 5, 2020
It makes sense why his stock is so high because Fuller took over a starting position for the Chiefs down the stretch of the playoffs.
In 2019, he started just four games, but his final two starts were in the AFC Championship Game and the Super Bowl.
In the Super Bowl, he made this play to seal the first championship in 50 years for the Chiefs.
Kendall went up and snatched it 2️⃣9️⃣ pic.twitter.com/qgMTzrCapI

— Kansas City Chiefs (@Chiefs) February 7, 2020
Chiefs DB Kendall Fuller was nearly perfect on 6 targets in coverage as the nearest defender (1 reception allowed).

Garoppolo finished with a 0.0 passer rating when targeting Fuller in coverage.#SBLIV | #ChiefsKingdom pic.twitter.com/bZABkP0cou

— Next Gen Stats (@NextGenStats) February 3, 2020
In 2018, PFF gave Fuller a grade of 70.4, which ranked 40th among all cornerbacks in the league.
That same season he finished with 82 tackles and 12 passes defended.
He showed glimpses as a foundational piece of a proven secondary.
Having a 24-year old Fuller, 22-year old Ward, and 21-year old Williams sounds pretty athletic if you ask anyone.
3. Darqueze Dennard (Cincinnati Bengals)
In terms of best value, Darqueze Dennard should be at the top of the list.
Dennard signed a one-year deal with the Bengals last year and gave up just 18 receptions for 174 yards, and one touchdown on 33 targets according to PFF.
He started in five of nine games last season after being activated from the PUP list on October 19th.
Free Agent Profile: Darqueze Dennard (CB)

Age: 28 H: 5′-11″ W: 200 Spd: 4.51
Exp: 6 Years – 1st Round (24) Pick 2014

Career Stats:
77 Games, 274 Tackles (Combined),
3 Sacks, 3 Int., 0 FF, 22 PDef

One of the Best Slot CB in '18, injuries issues '18 & 19′, might be best value pic.twitter.com/FEUdu7gJGr

— Offseason Champions (@HTTRChamps) January 23, 2020
The Browns should pursue Dennard for many of the reasons PFF says the Washington Redskins should.
According to PFF, Dennard put up a career-high 15th best coverage grade in 290 snaps in 2019.
Along with that, he allowed just four catches of 10-plus yards.
Having someone challenge Williams for playing time would not be a bad thing for the Browns defense.
It just makes the overall secondary better.
2. Tramon Williams (Green Bay Packers)
At 38-years old, Charles Woodson finished with the most tackles of his career with Woods as his coach with the Oakland Raiders.
Tramon Williams has that similar feel.
At 37-years old, Williams posted a PFF rating of 75.1, which ranked higher than the likes of Baltimore's Jimmy Smith and Denver's Chris Harris Jr.
At one point, PFF ranked Williams as the sixth-best corner in the league.
According to PFF, Williams allowed the 13th-fewest first down receptions (20) and a forced incompletion rate of 14%, which ranked 27th in the league.
This is a proven veteran that knows how to play the position and the Browns need someone to tutor the kids.
Ward and Williams led Cleveland to a 21st ranked coverage grade of 61.0 in 2019.
Bringing in someone that can provide the guidance to make Ward and Williams better but also someone that can play the position too makes all the sense in the world.
1. Brian Poole (New York Jets)
According to PFF's ranking, Brian Poole was the highest-graded slot cornerback in the top-25 rankings.
PFF said that Poole, "excels at the nickel corner position" by using "great vision" during his zone coverage reads.
His stats are impressive and he could be the difference-maker that the Browns could afford.
In 2019, he limited opposing quarterbacks to the third-fewest passing yards (244), second-fewest first down receptions (11), and tied for the best yards per slot coverage snap (0.57 yards).
The 72.1 passer rating he allowed was ranked eighth in the league.
Make no question that the Jets likely want him back but it will probably cost more than the $3.5 million he made last season.
Either way, this is the cornerback the Browns want if they want to make a plunge in free agency.
Jets may need to 'open their wallet' to pay Poole (via @JustinTFried) https://t.co/l5jSxiEOQp

— Tony Brice 🏳️‍🌈 ✡ 🇨🇦 🇺🇸 🗽 🇬🇧 (@AmericanCFLFan) February 7, 2020