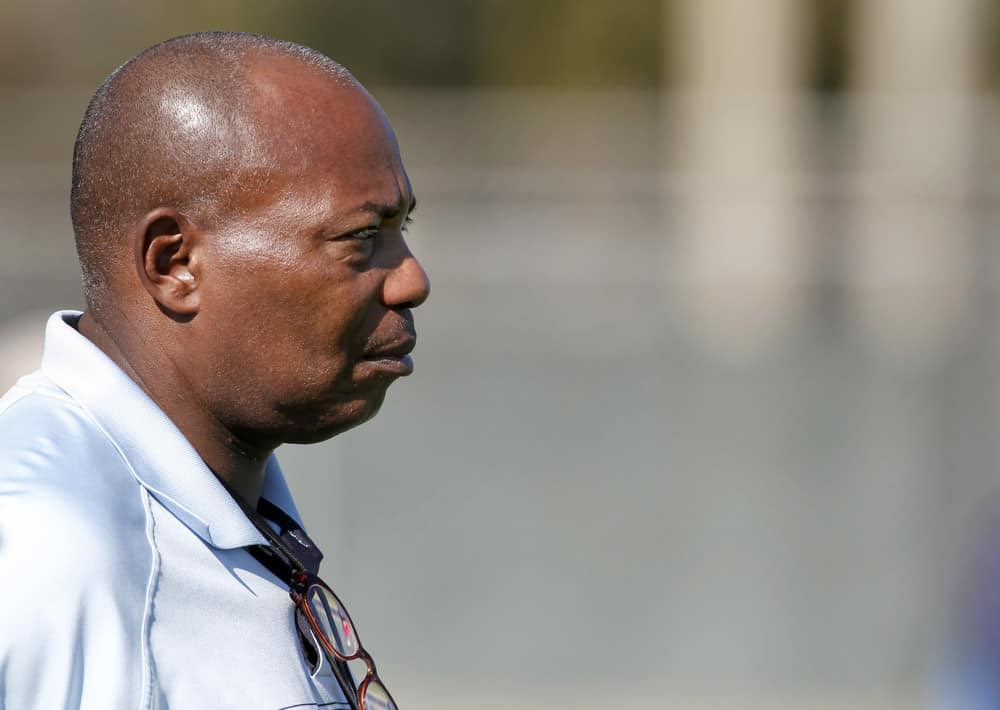 An Ozzie Newsome Profile
Many people only relate to hearing Ozzie Newsome's name as the great general manager for the Baltimore Ravens.
Newsome has been known in history as one of the great all-time general managers in the NFL.
He recently retired from the Baltimore Ravens front office after the 2018 NFL season.
But Newsome's playing history with the Cleveland Browns was among the best of all time.
While the name "Jim Brown" is synonymous with the Cleveland Browns, the name "Ozzie Newsome" is less acclaimed by average fans.
However, this receiver is the finest the team has ever employed and is rightfully part of the NFL Hall of Fame for his success.
Let's take a look at the football career of Ozzie Newsome of the Cleveland Browns and where he ranks among the all-time greats.
The Career of Ozzie Newsome
Ozzie Newsome was born in 1956 and played at the University of Alabama for four years.
After he earned the nickname "The Wizard of Oz" and made the College Football All-American Team in 1977 – going 42-6 with the Crimson Tide – Newsome was heavily scouted.
However, a stacked draft in 1978 meant it took until the pick 23 before the Browns chose him.
And their chose was well-made, as Newsome made an immediate impact on his team.
He picked up almost 600 yards on less than 40 catches in his first year and was named the Offensive Player of the Year by the organization.
It was the first time in 25 years that a rookie had won this award for the Browns.
Newsome then posted two 1,000-yard-plus seasons throughout his career and is currently the reception leader for the franchise and fifth overall all-time in the NFL.
As a result of his on-field successes, Newsome was honored with Pro Bowl selections in 1981, 1984, and 1985.
In 1980, he and quarterback Brian Sipe nearly led the team to their first Super Bowl but came up short on the infamous "Red Right 88" interception in the division playoff game against the Raiders.
And while his career never reached this heady peak again, he stayed dominant for several years.
For example, Newsome set a franchise record in 1984 when he had 191 receiving yards in one game.
This record stood until 2013 when Josh Gordon recorded 237 and 261 yards in back-to-back games in one of the most exceptional individual performances in Browns' history.
After retiring in 1991, Newsome had been with the Browns his whole career and went on to remain with the team in a front office executive position.
His Post-Football Career
Newsome's stayed in an executive position with the Browns until the organization moved to Baltimore and started the Ravens expansion team.
Newsome followed the team and, in 2002, was named the general manager.
Amazingly, this made him the first African-American in this position.
And when the Ravens beat the Giants in 2001 in the Super Bowl, he received his first championship ring. In 2013, his Ravens won another Super Bowl in a tight win over the 49ers.
After 2018, he stepped down from the position with a long and successful career behind him.
He also won the Eagle Award from the United States Sports Academy in 2003.
Ozzie Newsome's Stats
Ozzie Newsome started his career in 1978 at the age of 22 and made a heavy impact on the Browns' game.
In 16 games, he picked up 589 yards on 38 catches with a season-long reception of 47 yards.
He picked up two receiving touchdowns.
Newsome also had a surprising impact on the rushing game, running 13 times for 96 yards and two touchdowns, with a career-long run of 33 yards.
After this season, Newsome's rushing presence dropped drastically.
However, his receiving yards increased heavily in 1979, as he picked up 781 yards on 55 catches with a career-high catch of 77 yards.
He had a career-high nine touchdowns this year, as well as one rush for just six yards.
And while his total yard decreased in 1980, he leaped up to a career-high 1,002 yards on 69 receptions the following year, perhaps his best season of all time.
Newsome scored six touchdowns this year with a season-best 62-yard reception.
Newsome had two standout years after this season: 1983 saw him gain 970 yards an six touchdowns on 89 receptions while he picked up 1,001 yards and five touchdowns on 89 receptions the following year.
While he dropped to 711 yards on 62 catches in 1985, he still scored five times that year.
However, his yardage and usage rates continued to decline after the season, and he never earned more than 500 yards until his retirement after the 1990 season.
Newsome played with the Browns his whole career and earned 7,980 yards on 662 receptions to average 12.1 yards per catch, easily Hall of Fame numbers for the receiver.
His later importance as a football executive cannot overshadow his significance on the field, as Newsome kept the Browns competitive in fallow periods.
Newsome no doubt is among the greatest players to ever put on a helmet not only for the Browns but among all NFL players in history.