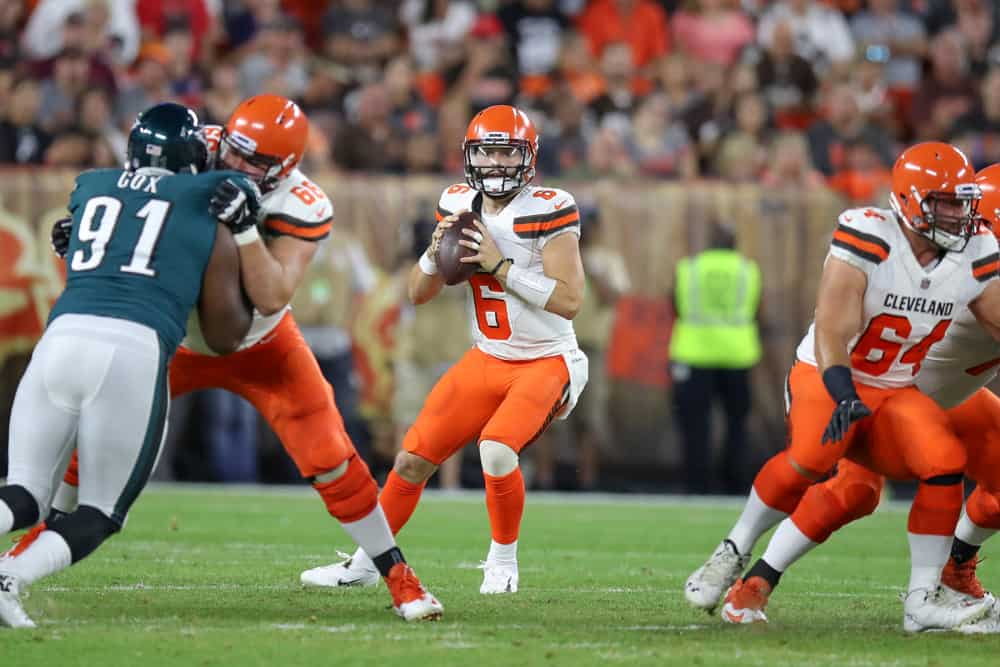 The Cleveland Browns (6-3) are hosting the Philadelphia Eagles (3-5-1), who are coming off a loss to the New York Giants.
The Browns are looking to improve their record to 7-3.
The last time they were 7-3 was in 1989.
Meanwhile, the Browns will face Eagles quarterback Carson Wentz.
The Browns traded out of the second spot in the draft in 2016, allowing the Eagles to draft Wentz.
Which team will prevail?
Let's take a look at our writer's bold predictions for this Sunday's matchup
Writer: Rocco Nuosci

It's been a strange season for the Cleveland Browns and the NFL.
At 6-3, there isn't too much to complain about as a Browns fan.
With COVID-19 lurking in the background and impacting more teams each week, however, this second half could get pretty weird.
We will place DE Myles Garrett on the reserve/COVID-19 list. pic.twitter.com/BCyHgg6nXs

— Cleveland Browns (@Browns) November 20, 2020
For now though, Cleveland must focus on Carson Wentz and the Philadelphia Eagles.
Getting After Wentz
The Eagles offensive line, particularly in pass protection, has been nothing shy of awful this season.
The Eagles offensive line allow their quarterback to get sacked nearly four times a game and are the worst in the league in that department.
Carson Wentz stripped sacked.

Took 8 sacks on the daypic.twitter.com/Nwh1hZvWoA

— Dov Kleiman (@NFL_DovKleiman) September 13, 2020
For the Browns defensive front, that means pinning their ears back and finding ways to get Wentz on the turf.
With or without Myles Garrett on Sunday, they need to get after him.
Philadelphia relies heavily on Miles Sanders, so taking out the passing game will help the Browns defense contain him.
Protecting Baker
As bad as the Eagles are at protecting Wentz, they are equally as good as getting after opposing quarterbacks.
Brandon Graham has been especially good for them this season, providing one of few bright spots on that team this season.
Brandon Graham pulls off the game-ending strip-sack on Daniel Jones 😤pic.twitter.com/I28rrTVkjt

— PFF (@PFF) October 23, 2020
Fletcher Cox, the savy Eagle veteran, is also a force to be reckoned with on that defensive front.
If the offensive line struggles to contain those two, it could be a long afternoon for Baker Mayfield in the pocket.
My Prediction: Browns 24, Eagles 13 
Writer: Wendi Oliveros

I say pretty much the same thing every week because truthfully the Browns keys to victory do not change with the opponent.
They are most successful when they do the following things:
1. Run the Ball
Hello Nick Chubb and Wyatt Teller!
We missed you.
Keep doing what you did last week for the next 7 games.
2. Defense – Don't Give Up Big Plays
The Eagles are more dangerous than their record indicates.
Particularly since they are getting healthier than they've been since the preseason.
Offensive weapons like Miles Sanders and Travis Fulgham need to be managed.
The defense can't give up big plays.
They have to play inspired despite not having Myles Garrett on the field on Sunday.
3. Manage The Non-football Factors
Lately, those seem to be weather and COVID-19.
The weather forecast does not seem to be quite as bad as last week.
By not as bad, I mean there will be less wind and a warmer temperature.
But there will still be rain so the Browns cannot commit turnovers with the wet ball.
As for COVID-19, the Browns suffered a big blow with the loss of Myles Garett who tested positive on Friday.
Every team is dealing with COVID-19 so the Browns just need to find a way to win even though the task is a lot tougher without Garrett.
The Browns are in a must-win situation every week now.
And they will get the win against the Eagles in a tight game to go 7-3.
My Prediction: Browns 24, Eagles 21 
Writer: Mark Bergin

The Browns' Week 11 matchup against the Eagles could come down to which team better adapts to players missing Sunday's game because of COVID-19.
Cleveland will be without defensive end Myles Garrett on Sunday after the Browns placed him on their COVID-19/reserve list.
Headed into Week 11, Garrett leads the NFL with 9.5 sacks and four forced fumbles.
On Wednesday, the Browns placed right tackle Jack Conklin, long snapper Charley Hughlett and kicker Cody Parkey on their COVID-19 list.
All three players are being placed on the list because of their close proximity to a non-staff member that tested positive.
It's unclear whether the three players will play Sunday against the Eagles.
However, Hughlett is now listed on the Browns' active roster on the team website.
First-year head coach Kevin Stefanksi said Kendall Lamm would start at right tackle if Conklin is unable to play.
The Browns already have two other players on their COVID-19 list: swing offensive tackle Chris Hubbard and fullback Andy Janovich.
On Thursday, Eagles wide receiver J.J. Arcega-Whiteside tested positive for COVID-19.
The Eagles put four other players on their COVID-19 list: running back Corey Clement, defensive end Vinny Curry and practice squad receiver Deontay Burnett.
Other than Garrett, it depends on which other Browns players, if any, miss Sunday's game.
As of Friday morning, oddsmakers haven't adjusted the line between the Browns and Eagles much.
The Browns are a 3-point favorite after opening as a 3.5-point favorite.
It wouldn't be a surprise if oddsmakers take the game off the board to adjust the spread.
A lot depends on which players are allowed to play Sunday, but there's a reason the Browns are favored.
It's amazing the Eagles lead the NFC East with a 3-5-1 record.
The Browns should take care of business Sunday.
My Prediction: Browns 24, Eagles 21 
Writer: Jake Luppino

This week, the Cleveland Browns take on the struggling Philadelphia Eagles.
The Browns are looking to improve their record to 7-3 and inch closer to the Wild Card race.
While the Eagles are currently in 1st place in the NFC East looking to get their 4th win of the season.
Philadelphia has been sloppy as of late and I expect them to clean it up in this game.
But, I am still rolling with the Browns.
Nick Chubb Will Have A Big Day
Last week against the Giants, we saw Wayne Gallman Jr. rush for 53 yards and score 2 touchdowns.
In total, the Giants rushed for over 150 yards.
They attacked the weakness of this Philadelphia team and I see Cleveland drawing up a similar game plan.
With one of the best backs in Nick Chubb, expect Cleveland to pound the rock against the 26th rush defense in the NFL.
He will allow Baker to settle in and be effective in the play action game.
Last week against Houston, Chubb returned to the field after missing over a month with a knee injury.
He rushed for over 120 yards and had 1 touchdown.
This team is a run first team that will ride the coat tail of Chubb against the Eagles.
Chubb currently leads the NFL in yards per carry.
This Cleveland offensive line also deserves a lot of credit as they have done a great job in creating the holes for Chubb.
I think this Eagles defense struggles once again as Nick Chubb will rush for over 100 yards and score 2 touchdowns.
My Prediction: Browns 24, Eagles 17 
Writer: Ben Donahue
The Browns find themselves at 6-3 after Sunday's blustery win against the Texans.
Here's hoping mother nature sits out the next few games as the Browns offense could use a shot in the arm.
The 3-5-1 Philadelphia Eagles come to town this Sunday and by now the entire world knows that the NFC East is awful.
A testament to this fact is the Eagles and Giants lead the division with three wins each.
This week's game will follow the same formula as last week, minus the poor weather (we hope).
Nick Chubb and Kareem Hunt will continue to pace the Browns and keep Philadelphia honest.
Cleveland's rush offense for the year is impressive, sporting 5.1 yards per carry (3rd in the league) and 159.0 yards per game (4th overall).
Chubb returned this past week with a vengeance after missing several games due to injury.
He accounted for 126 yards on 19 carries for 6.6 yards per carry and one score.
It could have been two scores, but Chubb purposely ran out-of-bounds at the one near the end of the game to keep from scoring.
Nick Chubb ripped off a 59-yard run and stopped at the 1-yard line 😲

(via @thecheckdown)pic.twitter.com/IK5Pbpyyi1

— SportsCenter (@SportsCenter) November 15, 2020
Hunt also broke the 100-yard barrier on Sunday with 104 yards.
The Eagles rush defense is ranked 26th in the league, giving up 4.4 yards per carry and 133.0 yards per game.
Yes please!
Baker Mayfield simply needs to hand off to his backfield pals a few dozen times each and the duo should carry the day.
Speaking of rushing attacks, the Eagles are fairly decent in that category with running back Miles Sanders.
Miles Sanders has come alive in the 2nd half of the season for the Eagles. Sanders has over 1,100 yards now on the season and has broken 23 tackles. The Penn State alum is opening up the play action game, and Wentz and Reagor are feasting. #BRE #MBLSeason50 pic.twitter.com/ebfLXf9UFk

— MBL Bleacher Report (@MBL_BR) November 18, 2020
Sanders has averaged 6.0 yards per carry, 86.5 yards per game, and has scored three times.
Unfortunately for Sanders, the Browns rush defense has only given up 4.0 yards per carry and 104.9 yards per game this year.
That's good for 7th and 8th rankings, respectively, in the NFL.
Where Philadelphia can attack Cleveland with some confidence is through the air.
The Browns pass defense is dismal, giving up 252.2 yards per game and holding a 96.6 overall rating (20th in the league).
The Eagles leading receiver is Travis Fulgham (who?).
He has 30 catches for 443 yards and four touchdowns.
Obviously, the Browns need to get after quarterback Carson Wentz and disrupt his timing.
Myles Garrett and his league-leading 9.5 sacks can help in that regard.
Wentz has been laid low no less than 35 times this year.  (I think I hear Garrett and his line mates licking their chops).
Even worse for Philadelphia, their offense has turned the ball over 17 times this season which is ranked 29th.
Right now, there is rain forecasted in Cleveland this Sunday.
Since Mayfield continues to struggle this year (only two games throwing for over 220 yards), the weather portends another game focusing on the run.
The Eagles pass rush is actually pretty strong as they have 31 sacks (tied for third in the league) and 74 quarterback hits.
Probably a good idea to feed Chubb and Hunt and limit Mayfield's mistakes.
My Prediction: Browns 27, Eagles 17 
Writer: Pat Opperman

Well, Covid dealt a blow to the Browns' chances against Philadelphia this week.
Myles Garrett could miss two games after testing positive with symptoms.
But sometimes, a blow like that is just what some players need to understand what they can do.
The rest of Cleveland's defense will have to step it up, no longer relying on Garrett's pressure or distraction.
And if the Browns win games without their best player, it can only lift their spirits and hopes going forward.
That is exactly what I expect to happen Sunday.
Philadelphia brings one of the league's elite rushers to Cleveland in Miles Sanders.
Boston Scott offers little relief to defenses when he enters the game, too.
The Eagles' game plan is probably similar to Kevin Stefanski: Run, run, and run some more.
Not just because each team has a pair of excellent rushers.
But also because each defense wants to force the other to pass in hopes of forcing turnovers.
Joe Woods went with a third safety for a bunch of plays last week.
Sheldrick Redwine patrolled deep and let Andrew Sendejo play closer to the line.
That might be one way to shore up the front line without Garrett.
But whatever the plan, we'll soon be writing about the player or two that really stepped up to secure the win.
My Prediction: Browns 31, Eagles 24