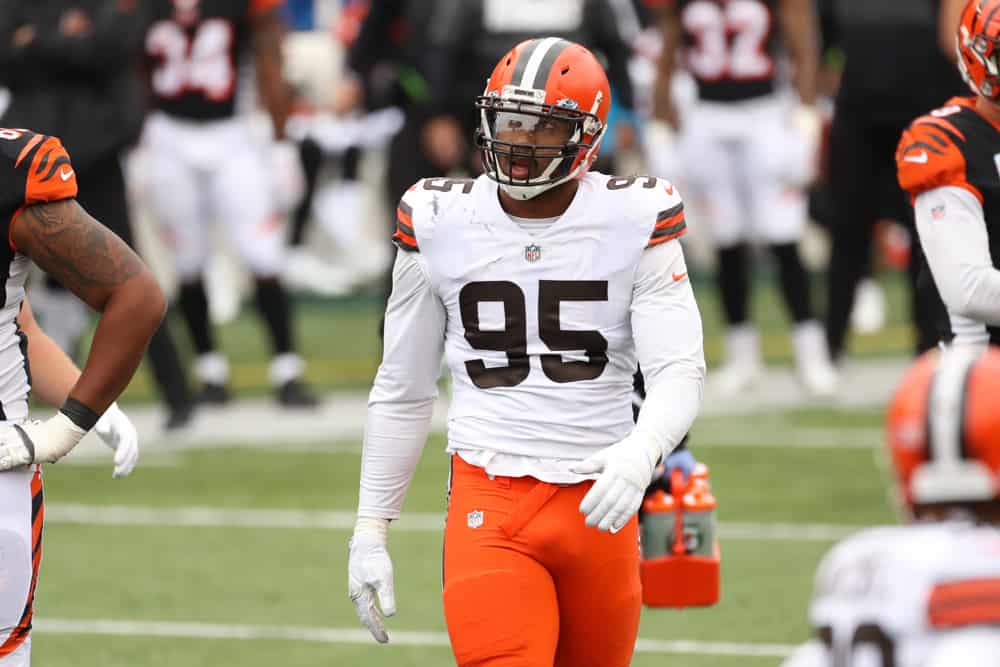 The Cleveland Browns announced Friday they have placed defensive end Myles Garrett on their COVID-19/reserve list.
It means Garrett will not play Sunday's game against the Philadelphia Eagles.
"This morning the Cleveland Browns were informed that a player has tested positive for COVID-19," the Browns wrote in a statement. "Contact tracing has been conducted and the individual has self-isolated.

"He has not been in the facility all week and zero high-risk contact have been identified. Our facility remains open and our practice time for today remains as scheduled. As part of the NFL-NFLPA intensive protocols, all meetings this morning will take place remotely. The team will continue to consult with the league and medical experts on any appropriate next steps as the health and safety of our players, coach, staff and the entire community remains our highest priority."
We will place DE Myles Garrett on the reserve/COVID-19 list. pic.twitter.com/BCyHgg6nXs

— Cleveland Browns (@Browns) November 20, 2020
Garrett, 24, has stayed home this week and not practiced because he's been sick.
The Browns opened as a 3.5-point favorite over the Eagles on Sunday.
As of Friday morning, the Browns are listed as a 3-point favorite, but it wouldn't be a surprise if oddsmakers take the game off the board to adjust the spread.
Headed into Week 11, Garrett leads the NFL with 9.5 sacks and four forced fumbles.
On Wednesday, the Browns placed three players on their COVID-19 list: right tackle Jack Conklin, long snapper Charley Hughlett and kicker Cody Parkey.
The team put Conklin, Hughlett and Parkey on the list because of their close proximity to a non-staff member that tested positive.
It's unclear whether the three players will play Sunday against the Eagles.
However, Hughlett is now listed on the Browns' active roster on the team website.
First-year head coach Kevin Stefanksi said Kendall Lamm would start at right tackle if Conklin is unable to play.
Fullback Andy Janovich and offensive tackle Chris Hubbard also remain on the team's COVID-19 list.