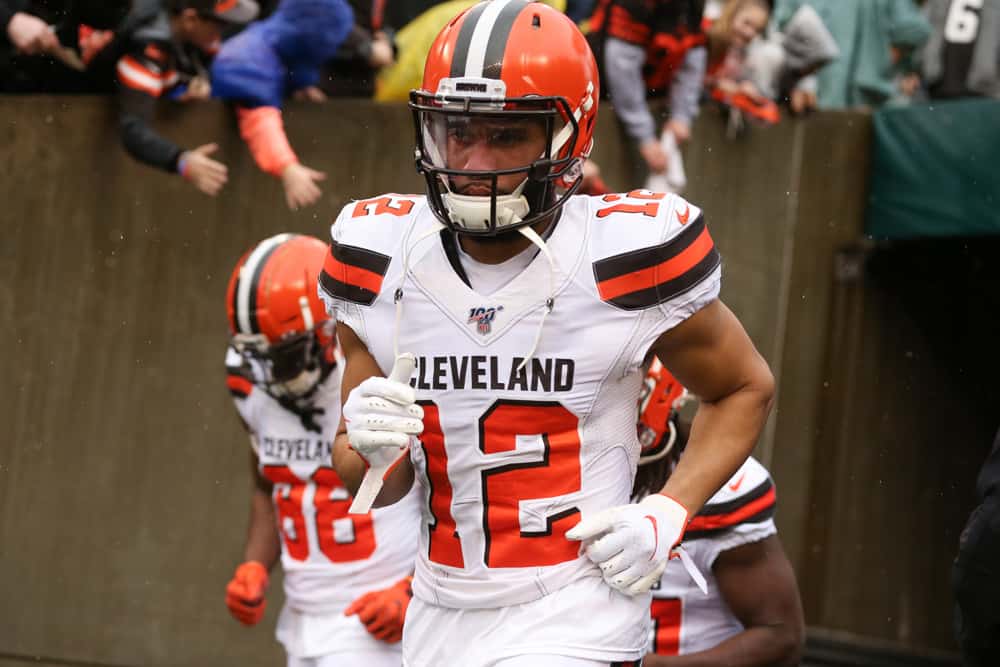 KhaDarel Hodge signed the Cleveland Browns´ exclusive rights free agent tender this week.
The third-year wide receiver out of Prairie View A&M joins a crowded receivers room.
Hodge´s solid contributions to the Browns special teams might give him an edge on cut day.
Browns Re-Sign ERFA WR Khadarel Hodge https://t.co/1wjz7Kcdcp pic.twitter.com/xKJ8GMENAA

— NFLTradeRumors.co (@nfltrade_rumors) April 16, 2020
He and defensive back Tavierre Thomas proved to be excellent gunners in 2019.
Hodge started his career as an undrafted free agent with the Los Angeles Rams in 2018.
Cleveland signed him off waivers just before opening day the following season.
The team extended an ERFA tender last month.
There is no truth to the rumor that Hodge waited to see what the Browns´ new uniforms looked like before signing.
Can KhaDarel Hodge Contribute to the Offense?
KhaDarel Hodge only saw 10 targets from Baker Mayfield in 2019.
But they were spread out over the final 9 games.
Hodge had 4 receptions on the season and he dropped one pass.
He caught a 41-yarder from Mayfield in the first game after Antonio Calloway was cut.
Baker is SLINGIN' it 🎯🎯🎯

41 yards to KhaDarel Hodge#PITvsCLE | #TNF

(via @NFL)

— PFF (@PFF) November 15, 2019
Hodge is not the fastest receiver on the Browns.
But he has an extra boost when a defender is close, along with a wide catch range.
At Prairie View, Hodge racked up eight 100-yard receiving games.
He also had 21 touchdowns, something that has eluded Hodge in his first two NFL seasons.
In his senior year, Hodge was named an FCS All-American.
Head coach Kevin Stefanski has the same arsenal of skill players Freddie Kitchens enjoyed.
But if Stefanski decides to throw to wide receivers not named Landry or Beckham more often, Hodge and Damien Ratley could each find themselves a bigger part of the offense.
KhaDarel Hodge Will Contribute to Special Teams
Not too many Browns coaches survived the Dorsey/Kitchens era in Cleveland.
But special teams coordinator Mike Priefer did, and with good reason.
Priefer inherited a disastrous special teams group in 2018.
He did a great job turning a young group of players into a top-half unit.
And that was despite mediocre return numbers.
Hodge was a big part of that.
Browns love KhaDarel Hodge on special teams, and he's getting more involved on offense. Biggest play of his Cleveland career goes for 59 yards.

— Andrew Gribble (@Andrew_Gribble) November 15, 2019
He was on the field for 260 special team snaps.
His 13 tackles might not sound like a lot.
But the gunner role is about much more than tackles.
Hodge was a key player in a group that learned to stay in their lanes and avoid over-pursuing.
They all but eliminated momentum-shifting kick and punt returns in 2019.
It would not be surprising to learn Prieffer insisted on re-signing Hodge.