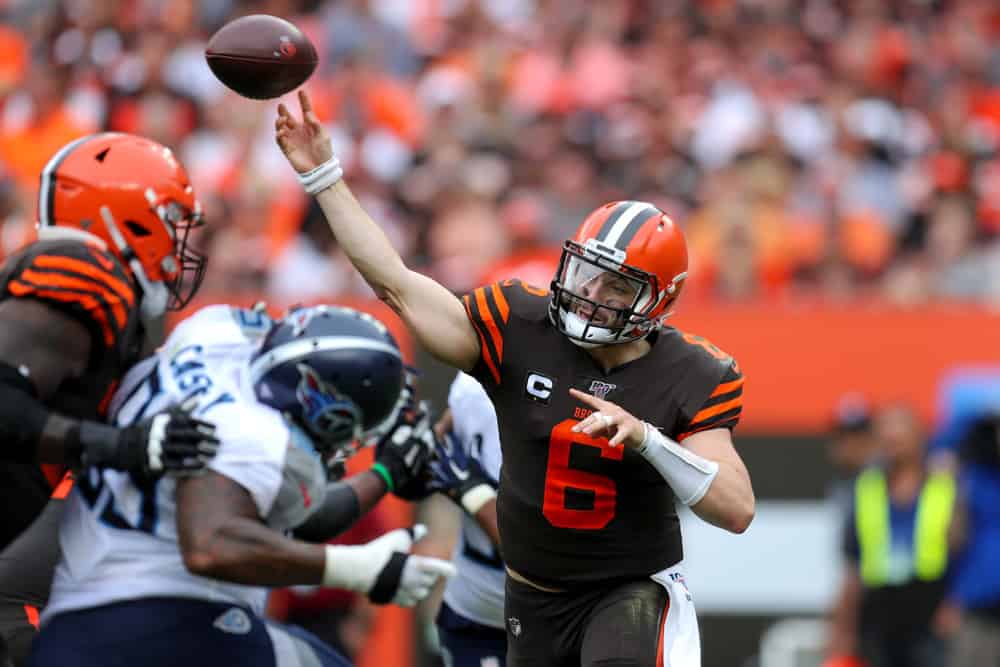 The Cleveland Browns are about to get a measuring stick on just how good they are this season.
So are the Tennesee Titans.
Both of these teams have their biggest test yet
Browns quarterback Baker Mayfield perhaps said it best:
"These are the things that we have been trying to build up to, and we are here now," Browns quarterback Baker Mayfield said. "We are in the middle of it, so let's seize the moment."
Which team will prevail?
Let's take a look at our writer's bold predictions for this Sunday's matchup.
Writer:  Rocco Nuosci

For the Cleveland Browns, last year's matchup with the Tennessee Titans was a rude awakening.
It was a glimpse into what a disaster 2019 would become.
Things are different now, as the Browns sit at 8-3 here in 2020.
Browns fans are hoping the end result of this year's go-round with the Titans ends up different too.
Stopping Derrick Henry
The Browns defense must be sick of hearing about Derrick Henry.
He only ran for 84 yards, which is a good day for a typical back.
But the 75-yard catch and run late in the 3rd quarter that put the game away is what Henry's game is all about.
Big, game-breaking plays that put the Titans in position to win.
#Browns defensive coordinator Joe Woods on #Titans' Derrick Henry: Their identity as a team is to run the football, and our focus is going to be on eliminating the big runs

— Nate Ulrich (@ByNateUlrich) December 3, 2020
He did it to the Browns last year, and he's done it this year too.
Derrick Henry + 75 yards of green grass! 😃@KingHenry_2 | #TENvsCLE pic.twitter.com/kBl3I7RyAq

— Tennessee Titans (@Titans) September 8, 2019
DERRICK HENRY CALLED GAME!!

The Titans win it in overtime to stay undefeated 😱pic.twitter.com/8Flo0rXywi

— Titans Nation (@TitansNationCP) October 18, 2020
TITANS WIN TITANS WIN
TITANS WIN TITANS WIN

Derrick Henry and the #Titans takedown the Ravens in OT!!!!pic.twitter.com/IsGrCpE36a

— 929ESPN (@929espn) November 22, 2020
He must be priority number one for the Browns defense on Sunday.
Trusting Chubb and Hunt
There's been chatter this week of this being a game that Baker Mayfield might have to go out and win.
I hope that's not the case.
I'm not as down on him as some, but Nick Chubb and Kareem Hunt are the bread and butter of this offense.
Asked about the Chubb-Henry matchup, Mayfield reminds reporter he forgot Kareem Hunt.#Browns

— Tom Withers (@twithersAP) December 2, 2020
The Browns are 7-0 when either Nick Chubb or Kareem Hunt scores a TD 🔥 pic.twitter.com/hkCcPGwaTE

— Sports Nation Ohio (@SN_Ohio) November 29, 2020
This is no knock against Mayfield.
However, the Browns' running back duo have driven opposing defenses miserable each week they've been together.
As long as they are both healthy, they need to be the focal point of the Browns offense.
Will it be enough against a talented Titans squad?
Unfortunately this week, I don't think it is.
My Prediction: Titans 27, Browns 20
Writer: Pat Opperman

A moment of truth is upon the Cleveland Browns.
Kevin Stefanski already directed quality wins over the pre-crash-and-burn Cowboys and the Colts this season.
But many pundits and detractors still insist the Browns are the worst 8-3 team in the league.
Detractors point to the Browns' negative point differential and claim their 8-3 record should be closer to the .500 record many predicted in the preseason.
Thus… they are due to lose to better teams like the Titans.
But I prefer to listen to a higher authority.
Baker Mayfield says he will play better and none of the Browns are satisfied with 8 wins.
And there you go.
Okay… if you've read my articles, you know I am not the biggest Baker-booster in the Greater Cleveland area.
But I do believe Kevin Stefanski will get the most out of his quarterback this week.
He won't unleash a brutal air attack with Nick Chubb and Kareem Hunt primed to take advantage of a vulnerable rush defense.
But he will roll Baker out early, often, and deep enough to soften up the Titans defense.
And with a couple of deep connections and big yards-after-catch plays scattered between Chubb and Hunt runs, the offense will roll.
I do not have as much confidence in the battered Browns defense, even with Myles Garrett back.
But they will do enough to help Cleveland pull off a raucous and fun upset victory.
My Prediction: Browns 38, Titans 31
Writer: Jake Luppino

This weekend, in what some are considering the game of the week, the 8-3 Cleveland Browns will face off against the 8-3 Tennessee Titans.
The Titans currently hold a one game lead in the AFC South over the Colts.
Cleveland is 3 games behind the undefeated Pittsburgh Steelers.
A win for the Browns in this one will inch them one step closer to the top of their division and a playoff birth.
This Titans team is arguably the toughest matchup since the Steelers in Week 6.
Which means that all eyes will be focused on Baker Mayfield and the underlying question that has been circling this team all year and will once again be the focal point of discussion: can Baker Mayfield lead this team to victory with his arm?
Another story line is the battle of running backs as this game will feature Nick Chubb and Derrick Henry.
But, my determination of this game is based off an x-factor that everyone is letting slip through the cracks.
X-Factor: WR A.J. Brown
Obviously, the running backs will be a major factor in this one as they both serve as the motors for their respective offenses.
But, A.J. Brown is a legit vertical threat who can have a big game against a weak Cleveland secondary.
Tennessee likes to establish the run and work in the play action game, resulting in big time plays by A.J. Brown.
Highest-graded 2nd year WRs:
1. Terry McLaurin – 84.3
2. A.J. Brown – 83.8
3. D.K. Metcalf – 83.7
4. Jakobi Meyers – 81.8
5. Deebo Samuel – 79.3 pic.twitter.com/6y2t6LN8ob

— PFF (@PFF) December 3, 2020
Brown also has the capability of turning a short yardage catch into a touchdown.
He is an explosive, strong, physical wide out that must be contained in this game.
If not, Cleveland will struggle defensively and as a result, will lose this game.
My Prediction: Titans 24, Browns 17

Writer: Mark Bergin

It's no secret Sunday's game between the Browns (8-3) and Titans (8-3) will likely become a showdown between running backs Nick Chubb and Derrick Henry.
Remember, Henry won last year's rushing title despite Chubb entering the final week of the season with the lead.
Henry has surpassed 100 rushing yards in four of his past five games.
Stopping or at least slowing down Henry is critical for the Browns.
The Titans are 5-2 this season when Henry eclipses 100 rushing yards.
Maybe running back Kareem Hunt can serve as the difference on Sunday when spelling Chubb.
The Browns are 8-0 this season when Chubb or Hunt score.
However, the Browns rank 22nd in Football Outsiders' DVOA.
Entering Week 13, NFL teams that rank ahead of the Browns in DVOA include the Atlanta Falcons, Carolina Panthers, Chicago Bears, Houston Texans, San Francisco 49ers and Washington Football Team.
The Browns are the worst 8-3 in DVOA history by a large margin.
We keep talking about how the Browns are bad for an 8-3 team. Here's the list, they're the worst 8-3 team in DVOA history and by a fairly big margin. The good news? All the teams on this list made the playoffs. One of them, 2003 Panthers, made the Super Bowl. pic.twitter.com/jARuacfkK3

— Aaron Schatz 🏈 (@FO_ASchatz) November 30, 2020
There's a reason the Titans are considered 5.5-point favorites over the Browns entering Sunday's game.
I think the Titans cover considering "King Henry" is heating up at the right time and their experience dating back to last season's appearance in the AFC championship game.
My Prediction: Titans 27, Browns 20
Writer: Wendi Oliveros

This is the matchup that Cleveland Browns fans have been waiting for.
The 8-3 Browns are taking on the 8-3 Titans.
The Titans are seeded third in current playoff rankings while the Browns are seeded 5th.
This is a game among playoff-caliber teams who are evenly matched.
This Titans game is the most important Browns game since 1999 and I don't feel like that is an exaggeration #Browns

— Browns Country (@TheFanDomeShow) December 1, 2020
Here are the keys to the game.
1. Running Game
#Browns-Titans will feature the top 3 rushers since 2018 in average yards per rush AFTER contact:
1. Kareem Hunt (2.46)
2. Derrick Henry (2.37)
3. Nick Chubb (2.37)@ESPNStatsInfo

— Jake Trotter (@Jake_Trotter) December 1, 2020
Whomever runs the ball more successfully wins the game.
It's that simple.
Derrick Henry is the NFL rushing leader for good reason because he is big and quick and nearly impossible to tackle.
The Browns have Nick Chubb and Kareem Hunt who have been magnificent this year.
Controlling the line of scrimmage is what this game will may come down to.
2. Battle of the QBs
Yes, the running game will set the stage, but that doesn't mean that Tannehill and Mayfield will not be put in situations where they need to complete passes on third or fourth down to sustain drives.
So which one will manage the game better?
Mayfield's critics say he can't win the big games.
If his play helps pull out a win for the Browns, he may start to change minds.
Cody Parkey kicks a game winner near the end of regulation.
My Prediction: Browns 27, Titans 24
Writer: Ben Donahue
After last Sunday's narrow victory over Jacksonville, the Browns are sitting at 8-3.
They are only two games from matching their highest win total of the past 20 years (10 wins in 2007).  Next up, the Titans and mighty Derrick Henry.
I'm a tad concerned about this game.
So far, the Browns have beat the teams they should.
However, they only won by two points over the Jags.
That doesn't exactly inspire confidence.
Cleveland has had a difficult time competing against superior opponents this year.
The Titans have a similar 8-3 record, but they have played much stiffer competition than the Browns.
Tennessee boasts a talented offense, but a substandard defense.
Offensively, the Titans are ranked eighth in the league with 385.7 yards per game including 227.5 ypg through the air and 158.2 ypg on the ground.
Ryan Tannehill has been solid for Tennessee since coming over from Miami before last season.
So far this year, he has 2,608 yards passing, 23 touchdowns, only four picks, and a quarterback rating of 76.7.
He has very good receivers to throw to in A.J. Brown (40 receptions, 638 yards, eight scores) and Corey Davis (42 catches, 619 yards, and three TDs).
Then, there is Henry.  The fifth year back from Alabama is having a monster year.
So far, he has bashed and gashed his way to 1,257 yards, 12 touchdowns, and a 4.9 yards per carry average.
Henry has failed to rush for more than 100 yards in only four games this year.
In their Week 7 games against Houston, he rushed for 212 yards.  In short, he is a beast.
The Cleveland defense gives up 108.2 rushing yards per game.
They also surrender 246.7 yards per game through the air.
The Browns' Myles Garrett is expected to return this week from Covid protocols which will help.
However, I really don't see the Cleveland defense stopping both the Titans through the air and on the ground.
Tennessee simply has too many weapons.
To keep pace, the Browns will need to pound the rock themselves and slow down the Tennessee offense.
Since the start of 2019, it's hard to find two better pure runners than Derrick Henry and Nick Chubb. pic.twitter.com/Nyj4DIdI37

— Field Yates (@FieldYates) December 3, 2020
Cleveland has to minimize their mistakes and not lose the turnover battle.
Baker Mayfield and company should attack the weak Titans defense and not let up.
This is a "prove it" game for Cleveland and I don't think they will prove they belong in the NFL's elite company.
Too much Derrick Henry and a middling defense will do in the Browns.
My Prediction: Titans 31, Browns 20