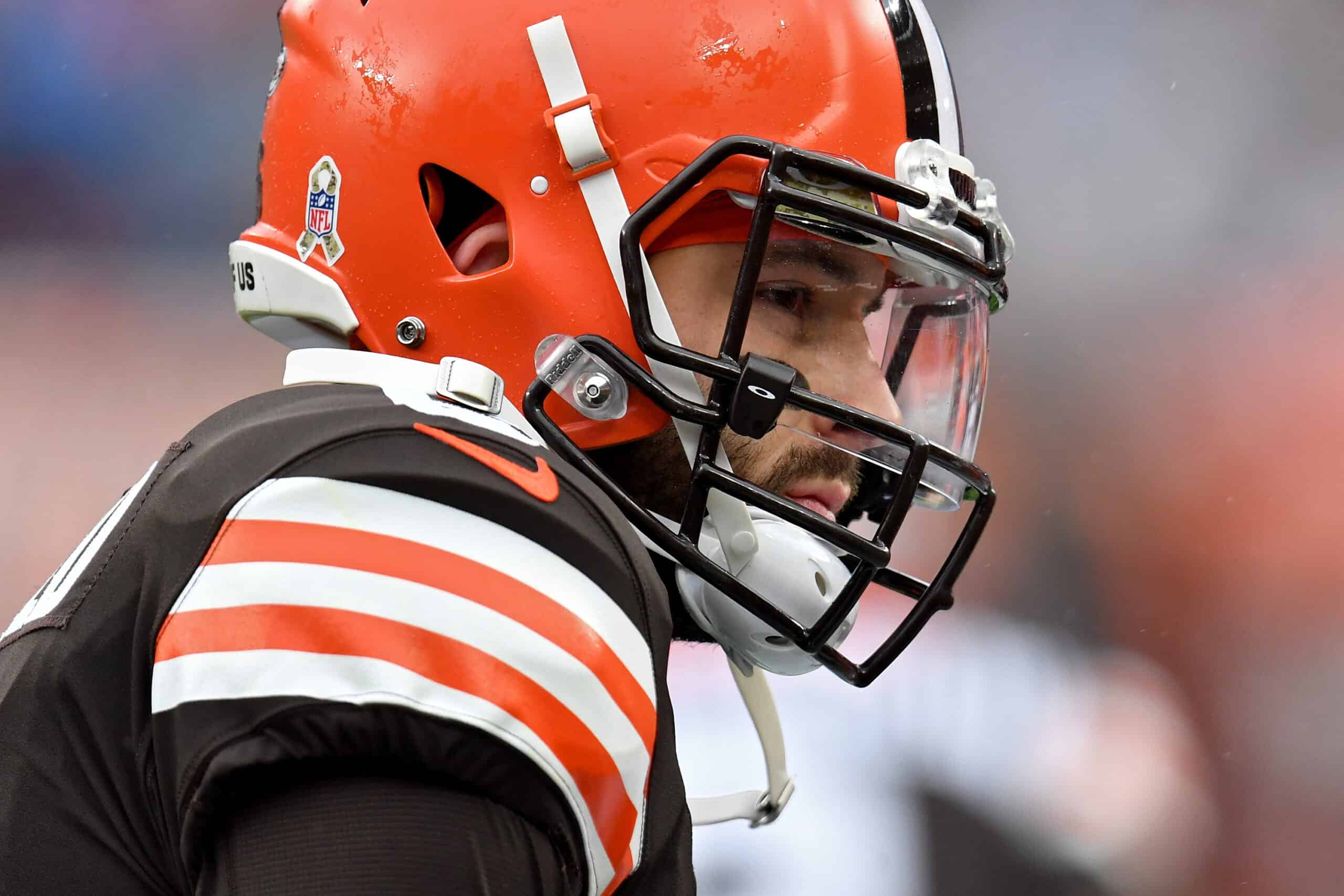 Colin Cowherd has never been shy about sharing his opinions on Cleveland Browns quarterback Baker Mayfield.
After his bad outing against the Pittsburgh Steelers on Monday night, Cowherd offered his thoughts on what should happen with Mayfield.
#Browns Baker Mayfield's 2021 season has officially ended:

– 3,010 yards passing
– 17 TD
– 13 INT
– 35.3 QBR (career low by far)
– 83.1 passer rating pic.twitter.com/89HBqAXU5S

— MoreForYouCleveland (@MoreForYou_CLE) January 4, 2022
Cowherd addresses the Browns fans by saying:
"He was never as good as you thought…It's time for a divorce."
He is not alone; many openly wondered if that was Mayfield's final game as a Cleveland Brown.
Do you think Baker Mayfield as played has last game as a Cleveland Brown? #Browns #BrownsTwitter #BrownsvsSteelers

— Chris Duke (@cdukefly) January 5, 2022
Cowherd has a host of reasons why he believes the Browns and Baker Mayfield need to break up.
"Baker is tough, but none of us have ever questioned tough. We've questioned his talent and judgment."@ColinCowherd on why Baker Mayfield is holding back the Browns: pic.twitter.com/06ZtqfxFlM

— Herd w/Colin Cowherd (@TheHerd) January 4, 2022
Here are just a few.
1. Baker Is Holding Back The Browns Roster
Cowherd mentions the extremely talented Browns roster.
He is not wrong when he says the Browns have a great offensive line.
The running backs, defensive end, tight ends, cornerbacks, and coach of the year are also what make this roster arguably one of the best the Browns have ever had.
Yet they still did not succeed.
Cowherd believes Mayfield is holding them back.
2. The Browns Need To Have Higher Standards
With that roster, the Browns need to hold their quarterback to a higher standard.
Cowherd points out examples where established quarterbacks who have been to the playoffs or Super Bowl were ditched by their teams.
Jared Goff took the Rams to the Super Bowl.
Kansas City transitioned away from Alex Smith.
Jimmy G has been in a Super Bowl, and it looks like he won't be with the 49ers that much longer.
All three of these quarterbacks were statistically better than Mayfield is, and their teams made a change.
3. Locker Room Is Not All In On Mayfield
OBJ's dad called out Baker publicly with the video.
There was not a lot of loud support coming from the players for Mayfield during that whole incident.
Cowherd also describes what he terms as toxicity surrounding Baker citing when he called out the medical staff and coaching staff at different times this season.
Conclusion
Injury is part of it, Cowherd acknowledges that.
He follows up with the fact that Aaron Rodgers, Tom Brady, and Patrick Mahomes can play at a high level even when injured.
Cowherd says a healthy Baker is better than how he has played in the past five weeks though he would not build a team around him.
Baker is tough; his toughness is not a quality people question about him.
Cowherd sums it up by saying:
"What we have questioned is talent and judgment.  In both instances, not very good, and it's time for a divorce."
It is important to note that many Browns fans love Baker Mayfield the person.
Most folks are not hating on Mayfield, They are analyzing his game. Even Baker's biggest fans are being honest about things. It's not hate! Most of us love the guy, and want him to succeed! He does a lot for the community and we respect that! https://t.co/SzImi3zBQ3

— Tweet Storm (@BrownsStoics216) January 5, 2022
They might not particularly love how he has played this year but still want him to succeed.
If a divorce happens, as Cowherd believes it should, hopefully, this amicable spirit can be maintained as both parties move forward.