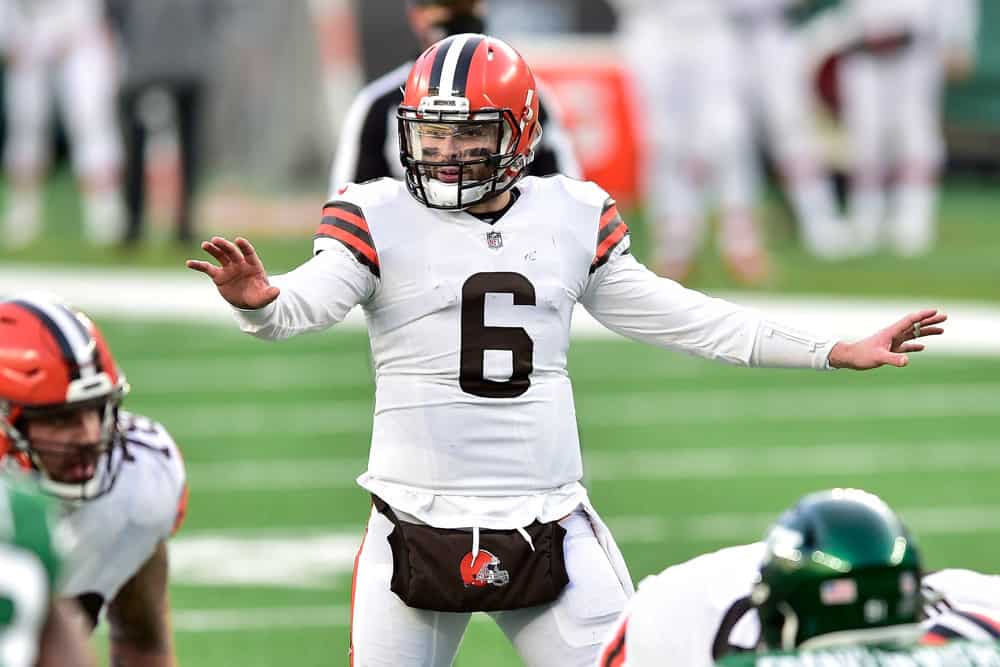 Colin Cowherd has not talked about Cleveland Browns QB Baker Mayfield for nearly a month so it was bound to happen sooner rather than later.
On yesterday's show, The Herd With Colin Cowherd, he played a game where he picked which quarterbacks will be better over the next five years and evaluated each of them against, you know who, Mayfield.
This turned out mainly as you would expect because Cowherd has never been a big fan of Mayfield.
NFL QBs Better Than Mayfield
He removed Drew Brees from consideration because he won't be in the league in five years but inexplicably left the other two in his age group, Ben Roethlisberger and Tom Brady, in the evaluation.
The list of who he thinks is better than Baker over the course of the next five years includes:
Lamar Jackson – He picked Jackson because of his speed and mobility.
Justin Herbert – Cowherd claims no GM would pick Baker over Herbert's ability.
Joe Burrow – He believes Burrow is going to be great and calls him "special".
Carson Wentz – Cowherd says his MVP run in 2017 and reunion with Frank Reich makes him better than Baker.
Matthew Stafford – He says Stafford has more talent than Mayfield.
Tom Brady – Cowherd believes the GOAT has more great years left in him, maybe not five though.
Jimmy Garrapolo
The first six on the list have somewhat logical reasoning though taking Brady the GOAT over the next five years when he is in his late 40s over Baker in his late 20s is a little perplexing.
However, the bottom seven are a little questionable.
Jimmy G's propensity for injuries did elicit some concern from Cowherd, but he still grades him as better than Baker.
NFL QBs Not Better Than Mayfield
The list is pretty short.
Ben Roethlisberger
Mitch Trubisky
In comparison to Big Ben, Cowherd says Baker works harder.
He questions Tua's future in the NFL and has mixed feelings about the other two quarterbacks on the list.
Summary
This game is just another way to pile on Mayfield.
During the game, Cowherd opined that Baker does not have the total support of the locker room and is not nearly as good of an athlete as he thinks he is.
He also said Baker does not have much history in big games and alluded to other quarterbacks' maturity over Baker.
What This Means For Baker
This means absolutely nothing.
It is noise that Baker needs to avoid in the offseason.
He needs to continue to work hard so he has a chance to surpass last year's great performance with the second season in Stefanski's offense.
Through the final 9 weeks of the regular season Baker Mayfield threw ONE interception.

The least in the NFL. pic.twitter.com/XiHBhzwjlv

— Nick Karns (@karnsies817) February 18, 2021
There is no doubt that Baker and the Browns are on the rise, something that Cowherd will not acknowledge until he absolutely has to.
Singling out Baker in this game is just another way of Cowherd trying to get under Baker's skin.
Part of Mayfield's growth and maturity is to shut this down and not let it get to him.