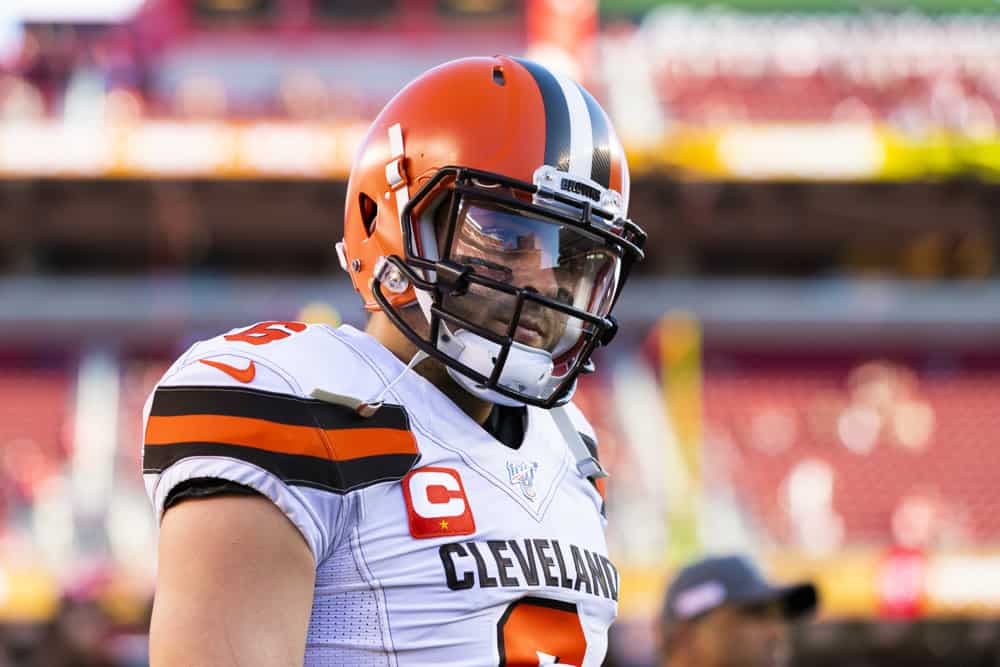 Colin Cowherd, Fox Sports host of "The Herd With Colin Cowherd" is jumping on the Baker Mayfield bandwagon in 2020.
On his hit show today, he proclaimed that Mayfield will lead the Cleveland Browns to the playoffs this season.
Cowherd has been a strong critic of Mayfield in previous seasons so what has changed his mind?
1. Supporting Cast
Cowherd compares Mayfield to his backup Case Keenum but with a better arm.
Keenum has yet to duplicate his dream season of 2017 with the Minnesota Vikings where the stars aligned perfectly.
The 2017 Vikings finished 13-3 in the 2017 regular season.
Aside from the significance of the Minnesota Miracle in the New Orleans Saints playoff game, there are other components that contributed to Keenum's success.
    1.  Time to throw  
The Viking offensive line gave him time to go through his progressions.
He finished 9th among 41 QBs in 2017 in the category of most time to throw.
    2.   Excellent Receivers
Adam Thielen and Stefan Diggs caught good, bad, and average passes from Keenum in 2017.
Essentially, they were quick and had great hands which were both tremendous assets to Keenum.
Highest avg. separation on targets of 10+ air yards (40 tgt min.) #NextGenStats

Keenan Allen 2.77
Tyreek Hill 2.55
Stefon Diggs 2.54
Adam Thielen 2.52
Rishard Matthews 2.5
NFL avg. 2.12

— Matt Harmon (@MattHarmon_BYB) January 2, 2018
There has been much written and said since the NFL Draft about Cleveland being greatly improved this season.
It is easy to draw comparisons between Minnesota's offense in 2018 to the 2020 Cleveland Browns offense.
2. Key Additions
The Browns were very busy in the offseason.
Cowherd views these changes as positive because he believes Mayfield needs all the pieces in place to succeed.
He does not view Mayfield as a QB that can carry a subpar team on his back straight to the playoffs a la Aaron Rogers.
The coaching staff has changed with Kevin Stefanski replacing Freddie Kitchens as Head Coach.
In addition, the following players will have a key role in 2020's success:
The 2020 1st Round Draft Pick's principal job will be to give Mayfield time.
Moving from right to left tackle is expected to be only a minor challenge with Joe Thomas mentoring him.
A healthy Kareem Hunt will join Nick Chubb in the Cleveland backfield.
While he was on the 2019 roster, suspension and injury severely limited his playing time.
It is not out of the realm of possibility for Hunt to rush for 179 yards in one game; whereas his total 2019 rushing production was 179 yards.
Coach Stefanski could design plays using both Chubb and Hunt that will certainly give opposing defenses fits.
Stefanski likes multiple tight ends, and Austin Hooper was a big free-agent acquisition in the offseason.
Hooper is coming off the best season of this career in 2019 with the Atlanta Falcons.
He had 75 receptions for 787 yards and 6 TDs.
The 4th round draft pick is slated to be the 3rd TE on the depth chart behind Hooper and David Njoku.
Hooper, Njoku, and Bryant are all excellent pass catchers so it is very likely all will play key roles in the offense.
3. Divisional Dynamics
The Browns will certainly battle the Ravens and Steelers for a playoff berth.
Since the release of the NFL schedule earlier this month, the predictions have been rampant.
A popular prediction is that 3 playoff teams will come from the AFC North, and one will be the Cleveland Browns.
Let's hope Colin Cowherd, who in past years has been a critic of Mayfield, is correct with his theory that 2020 is Cleveland's Crowning.