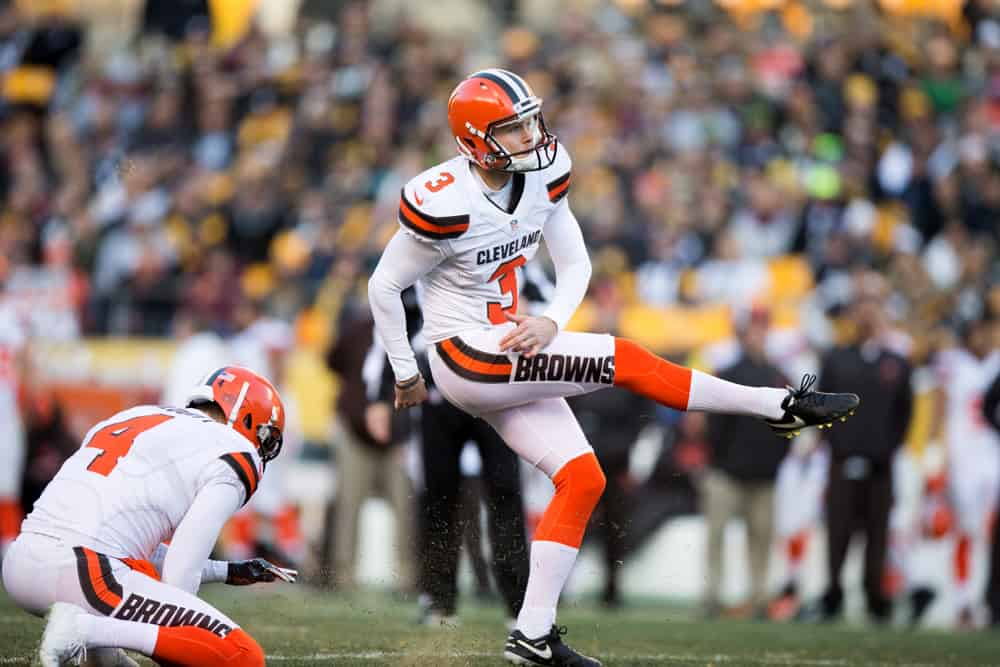 It has not been an easy task to find a reliable kicker in Cleveland.
Last season, the Cleveland Browns gave Cody Parkey another chance and he did fairly well.
He performed well enough that the organization gave him a one-year deal this offseason.
However, that didn't stop the Browns from bringing in competition for Parkey.
The Browns recently claimed kicker Chase McLaughlin off waivers from the New York Jets.
#Browns claim kicker Chase McLaughlin off waivers from the Jets.

— Browns Clutch (@brownsclutch) May 10, 2021
The 25-year-old will likely give Parkey a run for his money during training camp.
McLaughlin vs Parkey
The signing of McLaughlin shouldn't come as a shock to anyone.
Cleveland recently cut kicker Matt McCrane who spent the entire 2020 season on the Browns practice squad.
He was mainly there as motivation for Parkey, but Cleveland felt that they should add another experienced kicker to the mix.
McLaughlin didn't receive much of a chance in 2020 and has bounced around quite a bit since going undrafted in 2019.
In fact, McLaughlin has played for five different teams during his fairly young NFL career.
He has performed about league average, so it's uncertain why teams continue to cut the young kicker.
From 47 yards!

CHASE. MCLAUGHLIN. #GoNiners pic.twitter.com/f3YuNyjqa2

— San Francisco 49ers (@49ers) November 12, 2019
During his two years in the league, McLaughlin has made 22-of-28 attempted field goals and 31-of-32 extra point attempts.
He has only played in 15 regular season games, but has done enough to warrant a fair shot at the starting job in Cleveland.
Last season, Parkey went 19-for-22 in field goal attempts and 43-of-47 on extra point attempts.
Those are not bad numbers and it's worth noting that he also knocked down all 11 of his kicking attempts during the postseason last year.
Everyone is surely aware of Parkey's past postseason struggles, but maybe he's finally turned a corner.
Cody Parkey hits the crossbar for the 6th time this season ending the Bears postseason run at a SB.#BearDown#DaBears#CHIvsPHI#PHIvsCHIhttps://t.co/wHUftgn6gW

— radiohaven.com 🎧🎤♿️ #Crypto $radiohaven (@realradiohaven) January 7, 2019
Nonetheless, Cleveland was smart to bring in McLaughlin as competition for Parkey.
Who knows, Parkey might've had a fluke season and it's always smart to have a backup plan.
McLaughlin is well deserving of a fair chance on an NFL roster, but will have to win the job in training camp.
Both players should be given a fair opportunity during training camp and the player with the better leg should move forward as the Browns kicker.