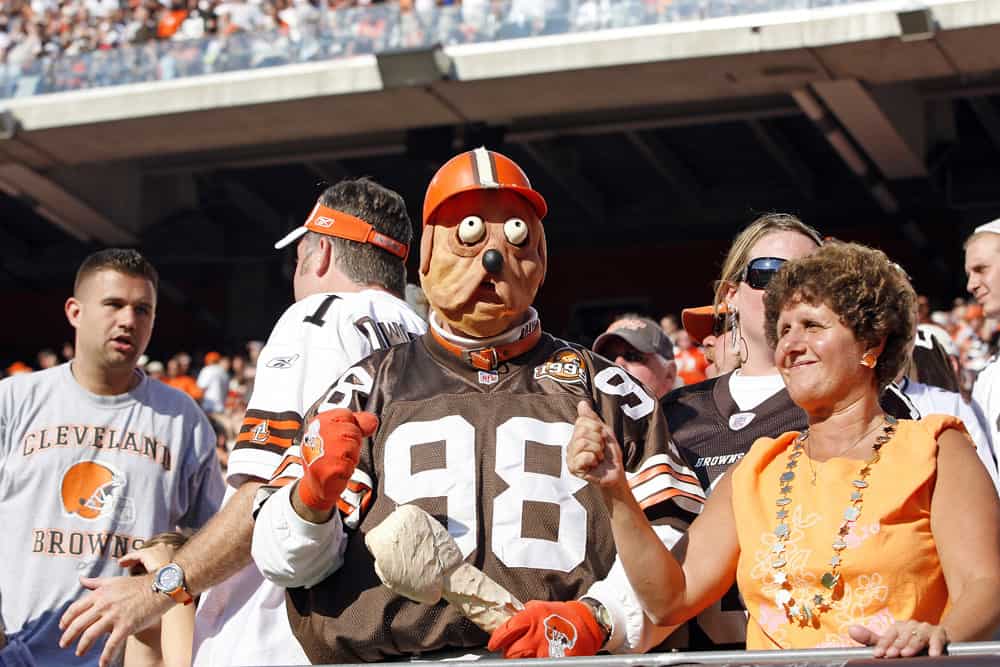 Who remembers when a .500 won-loss record was an exciting prediction for the Cleveland Browns?
Thoughts of sneaking into a Wild Card game used to make us feel warm and fuzzy.
Now it seems Browns fans will be disappointed with anything less than a division title and an AFC Championship.
Based on the strength of schedule, the Cleveland Browns are favored to win the Super Bowl pic.twitter.com/iSLbOQ1ETb

— CleWest (@erjmanlasvegas) May 13, 2021
Yet most professional oddsmakers project the Browns to win fewer games this season than a year ago.
That is at least partly because they feel the Browns over-achieved in 2020.
Cleveland managed to win 11 games, plus the Wild Card, despite a negative point differential.
It was a very unusual fete.
Ok, I went back and researched it. Since the NFL expanded to a 16-game schedule in 1978, only two teams that went 11-5 (or better) have finished with a negative point differential: The 2012 @Colts and the 2020 @Browns. #NFL https://t.co/1cwdtSPxwa

— Tom Garrett (@TheAxisOfEgo) January 3, 2021
While we expect much more in 2021, a similar point comparison projects to only 8-9 wins in a 17-game year.
But let's put that ugly thought behind us and think bigger.
After all, Kevin Stefanski promises more offensive points and we are sure the defense will give up far fewer, too.
If the Browns are going to win the division and take the AFC Championship, they have to win a lot of games.
And the path to glory will be easier if they win enough to earn home-field advantage.
Why The Cleveland Browns Need To Win Home Field Advantage 
Some astute betting analysts might argue there is no home-field advantage in Cleveland.
Indeed, the Browns rank dead last in winning margin at home over the past decade.
Cleveland is a shade under negative-3 points, reversing the home-field betting advantage right off the top.
But that doesn't mean playoff games in Cleveland would not benefit the Browns.
Stefanski: "We're really excited to have nine home games in front of our fans in front of what I hope is a packed building."

📰 » Full 2021 schedule: https://t.co/fteVDuxoEM
📺 » Tune in NOW to Browns Live » https://t.co/xVfhP5WSJl
📺 » Tune in to NFL Network at 8 p.m. pic.twitter.com/IeZ4E4GIN9

— Cleveland Browns (@Browns) May 12, 2021
Most of the Browns potential playoff opponents own the largest home differential, led by Baltimore and Pittsburgh.
Jimmy Boyd of Boyd's Bets contrived a "True Homefield Advantage" stat that compares home and away scores.
That is, he addresses teams like the Steelers who sport similar winning margins at home and on the road.
His system pulls the Browns up to the 29th worst advantage and also drops Pittsburgh to just about average.
Thank you to the best fans in the league for making Sunday's playoff game the most-watched primetime show since last year's Super Bowl! 👏

📰 » https://t.co/5JIuFOHNAK pic.twitter.com/RHn7m0fAwl

— Cleveland Browns (@Browns) January 12, 2021
But his results also put Buffalo and Kansas City right behind Baltimore as the biggest benefactors in the conference.
Fortunately, everything changed in 2020, including the Browns' really true home-field advantage.
Using Boyd's system, comparative margins of victory gave Cleveland a 3.57 "true advantage" in 2020.
And that puts the Browns even with the Bills' second-best historical score.
So What Is It About FirstEnergy Stadium?  
What is it that actually gives teams a home advantage?
Kansas City and Seattle own the noisiest stadiums in the NFL, but they barely make the top ten in home-field advantage.
Jimmy Jones tried to distract opponents with a big scoreboard, but Dallas sports a below-average home advantage.
Most folks will argue a familiar environment helps, but on the field, every dimension and aspect is the same.
Meanwhile, at First Energy Stadium. pic.twitter.com/RG7X74opyT

— Aerial Agents CLE (@AerialAgentsCLE) January 19, 2020
So after all the billions of dollars spent on stadiums, it comes down to the folks who pay to watch.
Although he focused on soccer games, Mitch McCollum of Stadium Journey explains how fans make a difference.
In 83 Bundesliga games played in empty stadiums in 2020, home teams were called for significantly more penalties compared to when their fans were there to cheer them on.
McCollum seemed certain that was a referee bias and not a downgrade in the players' performance.
The Dawg Pound… Cleveland @Browns FirstEnergy Stadium! 🏟

Out of 16, how many wins do you predict the Browns to have this season? pic.twitter.com/TgfRUMiUQS

— NFL UK (@NFLUK) March 31, 2019
But the same players were more likely to take a shot or try to fake a defender than pass the ball away in front of a home crowd.
Maybe an NFL rusher goes through a defender instead of stepping out of bounds, or a cornerback jumps just a little higher defending a pass?
These are fan-induced differences that might not be easily recognizable, but players and refs are human after all.
And what human wouldn't put out some extra effort for the Dawg Pound?