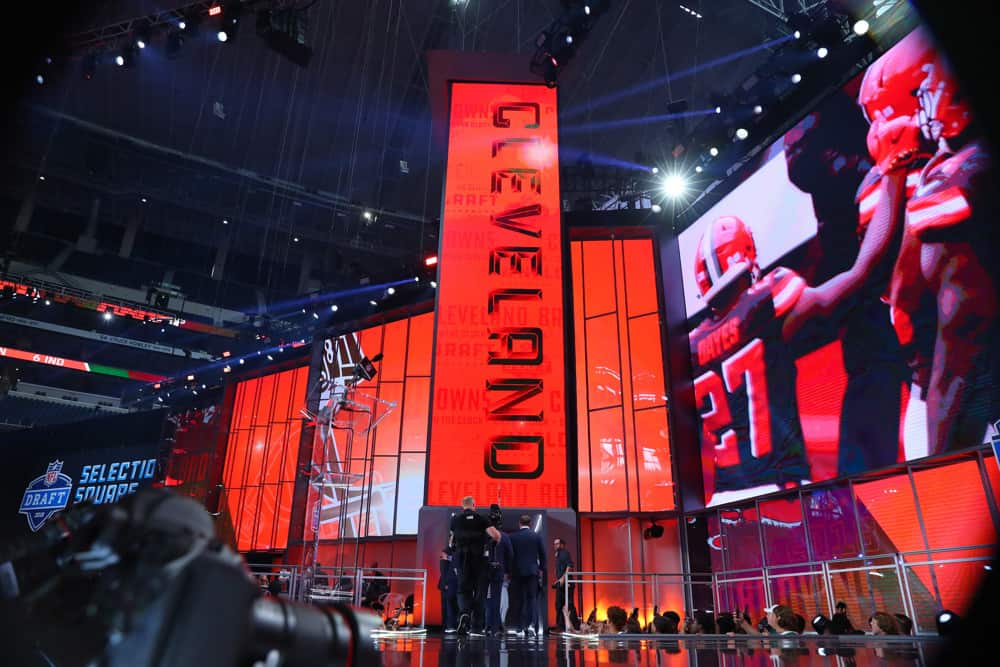 The Cleveland Browns head into the 2020 NFL Draft with an unprecedented amount of depth at the tight end position.
With that being said, does new Head Coach Kevin Stefanski want to add more?
Based on Stefanski's play-calling and schemes as Minnesota's offensive coordinator, the answer would most likely be yes.
Potential TE Draft Picks
Let's take a look at the top TE candidates to be drafted in the 2nd through 4th rounds where the Browns have the following picks:
Round 2 – #9 pick (41st Overall)
Round 3 – #10 pick (74th Overall)
Round 3 – #33 pick (97th Overall)
Round 4 – #9 pick (115th Overall)
Projected 2nd Round TE Draft Picks
Kmet is a dual-sport athlete at Notre Dame.
He was a relief pitcher for the baseball team also.
At 6′ 6″ and 220 pounds, his 2019 season was his best.
Cole Kmet deserves to be a 1st round pick. pic.twitter.com/G5GCo1Y3Vy

— (•_•)(•_•) (@comedy_motion) April 21, 2020

He caught 6 TDs for 515 yards.
His blocking abilities make him more marketable at the position, and it is possible he could go earlier than expected.
At 6′ 6″ and 253 pounds, Trautman finished his senior season at Dayton with a roar.
He had 70 receptions, and 14 were TDs.
On the eve of the @NFLDraft we give you a look at Adam Trautman's career numbers at Dayton 🏈#GOTGRIT pic.twitter.com/1utLqUTVE0

— Dayton Football (@DaytonFootball) April 22, 2020

With 916 yards, he amassed an impressive 13.1 yards per reception.
Projected 3rd and 4th Round TE Draft Picks
The Bryant "Brothers"
Not to be confused with the Bryan brothers of professional tennis fame, the Bryant pair are not biological brothers.
They merely share a last name and notable TE skills as identified by NFL scouts and coaches.
Netting 1,004 yards over 65 receptions, Harrison Bryant scored 7 TDs in his senior season at FAU.
His ball skills and athletic ability are similar to a WR.
Harrison Bryant is the best TE in this class & not even in the top 3 of many experts despite winning the Mackey award. Fluid mover, diverse route tree for TE, essentially a receiver. Lined up attached, in slot, and split wide. Great hands, catches well in traffic. pic.twitter.com/z5S7vQWh8i

— Cat-olina Winemixer (@catolinawinemxr) April 17, 2020

Scouting reports project him be a durable, quality second TE.
Hunter Bryant enters the draft as a junior.
Injuries prevented him from playing a complete season before 2019.
He tore his ACL/MCL and missed the end of the 2017 season.
A torn meniscus delayed his play in the 2018 season.
In 2019, he caught 3 TDs for 825 yards.
Hunter Bryant. TE Washington. Is the classic "Move" TE prospect. He is in the Jordan Reed/ Evan Engram mould stylistically. Below you get just one example of his Receiver-like route running skills as he shakes the DB and seperate quickly downfield on this slot fade. pic.twitter.com/kyvn4m042q

— James Russell (@jamesru1) April 22, 2020

Bryant is speedy and agile.
Great Talent but a Red Flag Alert
O'Grady is 24 years old.
He was suspended 3 times at Arkansas and left the program in 2019.
However, in the right situation, he has star potential.
O'Grady's bread-and-butter are contested catches where he is dominant.
Do not sleep on Arkansas TE Cheyenne O'Grady 👀 pic.twitter.com/uta1NwYR43

— Nick Farabaugh (@FarabaughFB) February 6, 2020

The flip side of the contested catch argument is that he creates too many contested catches himself which could be read as he makes it more difficult than it needs to be to catch the ball.
Current Tight Ends
The Browns would probably like to report to camp with 6 or 7 tight ends.
Former Atlanta Falcons TE Austin Hooper is the most recent addition.
He signed a 4 year, $42 million dollar contract in late March and is eager to begin working with Baker Mayfield and company.
At 25 years of age, he is the oldest TE on the roster.
2017 1st round draft pick, David Njoku, is back with the team after an injury-shortened 2019 season where he suffered a broken wrist and concussion in Week 2.
Steven Carlson and Pharaoh Brown are back for their 2nd and 3rd seasons respectively.
Watch the NFL Draft from April 23 through April 25 where the speculation ends and reality begins.
The Browns could very well add to this cadre of tight ends.