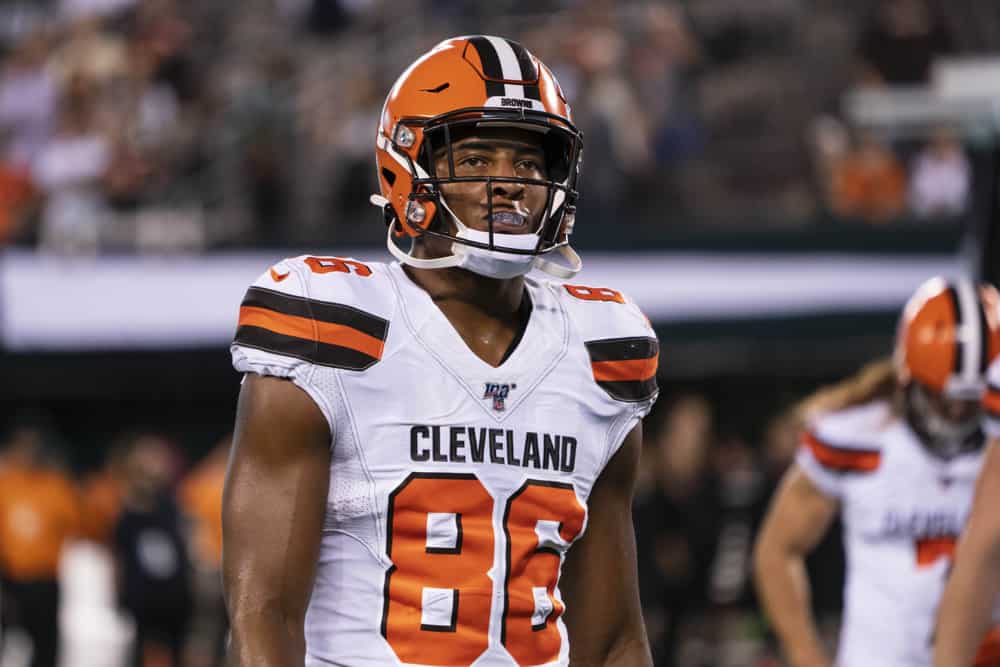 It wasn't a particularly surprising move but expected news can still be good.
In this case, it was.
The Cleveland Browns are bringing back tight end Pharaoh Brown via an exclusive-rights free agent offer.
These offers can be done with players who have two or less years of experience in the league.
The players cannot negotiate with any other teams in the league unless the original team that signed them releases their rights.
The Charles F. Brush High School alum and Cleveland native spent all of last season with the Browns.
#Browns officially re-signed TE Pharaoh Brown.

— Dov Kleiman (@NFL_DovKleiman) April 20, 2020
Multiple Tight End System
So, why exactly is this good news?
Well, Brown provides Cleveland with some needed depth at tight end.
He wasn't exactly an integral part of the offense in 2019 after catching just two passes for 27 yards.
He doesn't need to be anything more than that same role in 2020, however.
After signing Austin Hooper, there's no question who the top guy on the depth chart is.
But Kevin Stefanski has an adoration for multiple tight end sets and schemes.
The more you use of one position, the better the depth you should have there.
Brown is somebody cheap and someone you know has already been in the same role he will serve this season.
Hidden Value
This snippet from a Cleveland.com article last October entails the purpose of Brown on Cleveland's roster.
"PFF grades Brown as a 67.7 overall run blocker, and he is equally reliable in pass protection. Eventually, teams will start to recognize Brown is a blocking tight end, if they haven't already. That is when coach Freddie Kitchens can sneak in some play-action pass chances for Brown."
Well, the play-action chances never really came along.
We'll blame that one on Freddie.
Still, there is a value to what Brown provides.
Again, he knows his role and isn't going to do anything out of the box to hurt the team.
Additionally, a tight end that can block will be of upmost importance to the Browns in 2020.
With a rushing attack featuring Nick Chubb and Kareem Hunt, a tight end that can lead the way makes it all the more lethal.
Plus, who knows what might take place in the NFL Draft.
David Njoku has been at the center of a number of trade discussions.
If Njoku is dealt at some point during the draft, Brown becomes that much more valuable for Cleveland.
Position Outlook
With Brown now officially set to return next season, the current depth chart is set.
Of course, the draft, whether by selection or by trade, may change this.
Hooper will be at the top followed by Njoku.
Brown will likely take the third spot in the rotation with Stephen Carlson filling in the fourth and final slot.
For now, Hooper and Njoku are poised to see the majority of snaps offensively.
Njoku has not been immune to injuries though, so the depth that Brown and Carlson provide will be important.