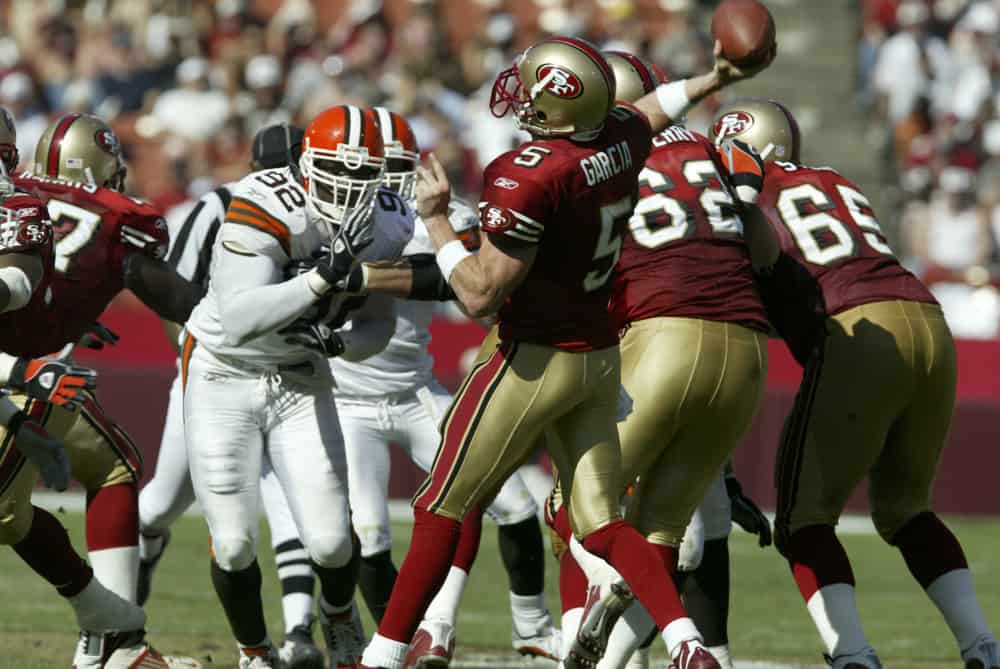 In their first year back in the league, the 1999 Cleveland Browns allowed the most yards and third-most points en route to a 2-14 record.
With the No. 1 pick in the 2000 NFL Draft secured, the Browns looked 230 miles East on I-80 toward State College.
Penn State's defense featured defensive end Courtney Brown and linebackers Lavar Arrington and Brandon Short.
Mock drafts said teams couldn't go wrong selecting either Brown or Arrington with Brown as the consensus No. 1 pick.
With defensive woes as their biggest issue, the Browns decided they couldn't pass on Brown and made him the No. 1 pick in the 2000 NFL Draft.
Let's have a little flashback to NFL Draft Picks this week.

Penn State 2000 #1 Pick Courtney Brown to Cleveland. He made almost 29 million dollars playing 7 years and 61 games total. pic.twitter.com/4YuRaf8UD6

— Lumbergh Sports (@SecondcityA) April 18, 2020
Brown appeared to be the right choice during his rookie season as he recorded 69 tackles, 16 tackles for loss, and 4.5 sacks.
A rash of knee and ankle injuries in his second season was the first sign that Brown's career might be headed in the wrong direction.
After six seasons in the NFL, Brown received the bust label and headed off to a quiet post-NFL life.
"The Quiet Storm"
Courtney Lanair Brown was born in Charleston, South Carolina, and grew up as a quiet kid.
He became an All-American linebacker in high school and spent time on offense as a tight end.
Off the football field, Brown impressed on the basketball court, too.
In his senior year at Macedonia High School, Brown earned Gatorade Player of the Year accolades.
Not only was Brown dominant in athletics, but his academics were equally as impressive.
He never missed a day of school from Kindergarten through 12th grade and maintained a 4.0-grade point average.
His academic prowess carried over to his career at Penn State where he received a Bachelor of Arts degree in integrative arts in 2000.
On the football field, his smarts and 6'4", 271-pound frame, helped him excel against offensive linemen across the Big Ten.
13 years ago today #PennState greats Courtney Brown & LaVar Arrington were selected #1 & #2 overall. #WeAre #NFLDraft pic.twitter.com/gXCLdgf4KM

— WeAreLegends (@WeArePSULegends) April 15, 2013
While his eccentric teammate, Lavar Arrington, drew all of the attention for his talk and play, Brown didn't have much to say to the media.
His quiet, studious focus earned him the nickname, "The Quiet Storm" from his Penn State defensive line coach, Larry Johnson Sr.
"That's just him," Joe Hamilton, a former Georgia Tech quarterback and a fourth cousin of Brown said to ESPN in 2000. "He doesn't open up to guys that he really doesn't know sometimes. But he's one of the best guys you'll ever encounter."
The Nittany Lions consistently ranked high in defensive categories during Brown's four years at the program.
Brown really hit the map during his senior season in 1999 when he was nominated for a plethora of awards.
Along with winning Big Ten Defensive Player of the Year, Brown was nominated for the Bronko Nagurski Trophy, Chuck Bednarik Award, and Lombardi Award all for excelling on defense.
A consensus first-team All-American, Brown finished his career with an NCAA record-breaking 33 sacks and 70 tackles for loss.
A Promising Rookie Season
Brown arrived in Cleveland with a ton of excitement on a team that headed into its second season as a reborn franchise.
After a slow start in the first two weeks of the season, Brown exploded against the Pittsburgh Steelers in a 23-20 Week 3 victory.
The rookie defensive end sacked Steelers QB Kent Graham three times and put his name on the map in the NFL.
He followed up his impressive Week 3 performance with consistent numbers throughout the remainder of the season.
After an eight tackle performance against Tennessee to end the season, Brown finished with 69 tackles and 4.5 sacks.
20 years ago today the @Browns selected Courtney Brown with the 1st pick in the NFL Draft. Don't want the player back, but I will take the uniforms! pic.twitter.com/I4s8YJZIRp

— The Don CON (@CLukeThaTruth) April 15, 2020
Trouble Staying on the Field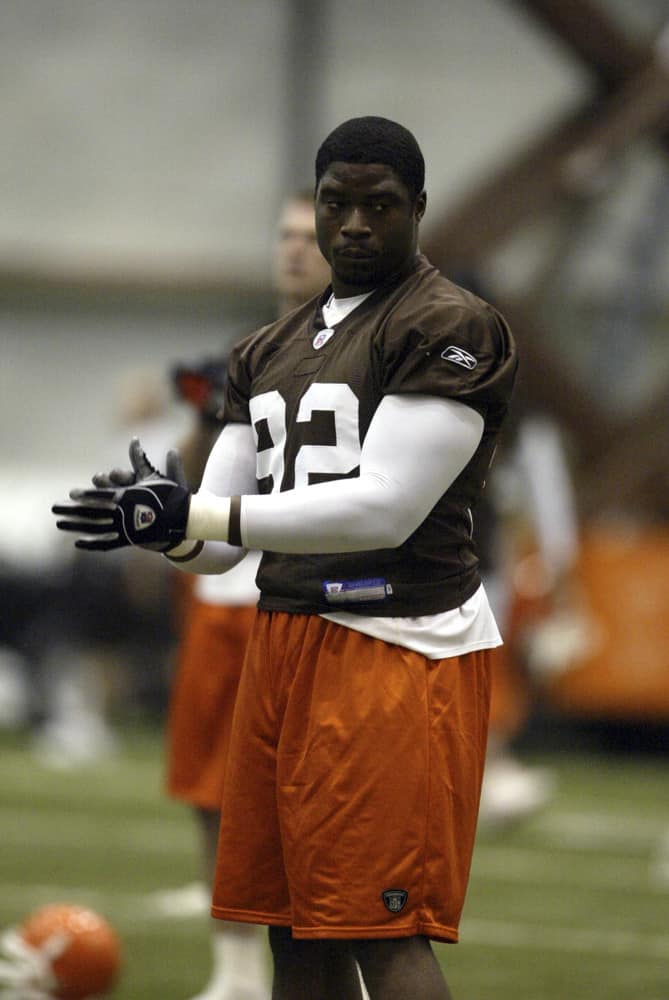 The promise of his rookie season quickly faded in 2001.
Brown only appeared in five games in his sophomore campaign.
Knee and ankle issues caused him to miss time at the beginning and end of the year.
He missed the first seven games of the season, then went on injured reserve in Week 12 against the Tennessee Titans.
More injury issues crept up on Brown in 2002, causing him to miss the final three games of the season with knee cartilage damage.
A slight resurgence in 2003 saw Brown tally six sacks and 38 tackles until a torn biceps injury caused him to miss three more games.
In 2004, a left foot injury kept him out of all but two games.
Brown headed for the chopping block in Cleveland with 47 starts over five seasons.
Cleveland decided his 172 tackles and 17 sacks weren't enough to pay a $2.5 million roster bonus to see if he'd get healthy.
The Browns cut him the day before the bonus was due, ending his Cleveland Browns career.
Brown signed with the Denver Broncos in 2005 and appeared in 13 games with 24 tackles and two sacks.
He impressed the Broncos enough to sign a contract extension through 2009.
The knee injury that cost him several stretches in Cleveland showed up before Brown could take the field again.
After failing a physical leading up to the 2007 season, Brown was cut by the Broncos and saw his short and injury-riddled NFL career end.
When Brown ends up being mentioned, it's usually as a comparison to the guy who was taken 198 picks after him – the seven-time Super Bowl-winning QB Tom Brady.
Tom Brady was pick No. 199 in the 2000 NFL draft. The No. 1 pick (Courtney Brown) last played in 2005. #SCFacts pic.twitter.com/wTMzsOBAbt

— SportsCenter (@SportsCenter) February 15, 2018
Staying Quiet in Retirement
Many stories of highly-rated, top NFL draft picks who bust out of the league usually involves a tragedy.
Brown didn't have the off-the-field issues that befell Ryan Leaf or Todd Marinovich.
He didn't fail because he wasn't focused or got caught up in the money and fame.
A cavalcade of injuries derailed the career of a well-respected and highly-regarded person who looked forward to living his life after his football career ended at 27 years old.
Not unexpected, Brown has stayed quiet in his post-NFL life.
When Brown was coming out of Penn State, he refused to allow the university to release the names of his professors, divulge his courses, and wouldn't allow Sports Illustrated to interview him in his campus apartment.
Brown's quiet demeanor has been perplexing journalists since his days at Penn State.
"You're frustrated by Courtney, aren't you?" Arrington said to a reporter in a 2000 Sports Illustrated article. "You can't figure him out. That's the way he likes it. He doesn't want people to get a handle on him."
It's no surprise that information on Brown is few and far between when scouring the internet.
If there's one thing he's been consistent about, it's his lack of desire to seek attention.
His strong religious beliefs appear to have led him to the Dominican Republic, where he does missionary work.
He keeps an eye on his alma-mater Nittany Lions' football program and attended the 2019 Homecoming contest against Purdue, but kept a low profile in a bucket hat and plaid button-up shirt.
Homecoming 2019 was spent enjoying visits from former Penn State letterman Courtney Brown (2000 & NFL 1st overall pick), Anthony King 2000 & my father John Kulka 1969. #WeAre #pennstate #pennstatefootball pic.twitter.com/PwFSxYnjWd

— Todd Kulka (@AcademicsTKPSF) October 11, 2019
At 42-years-old, Brown appears to have slipped from the media spotlight completely.
No active social media profiles are tied to the former No. 1 overall pick.
He hasn't tried to cash in on an analyst position with ESPN or FOX Sports.
You don't flip through the channels and see him in some discount beer ads or car insurance commercials.
A Second Chance for the Browns
The NFL was only a chapter in Courtney Brown's life.
Once he retired, he didn't have a desire to stick around and keep chasing the spotlight.
He never really wanted the spotlight in the first place.
Brown earned nearly $30 million in his NFL career and when it didn't work out, he packed up and moved on with his life.
The comparisons to Bruce Smith or other all-time great NFL players turned out to be false and he's been rated the biggest bust in Browns' history by many in the media.
It feels a bit harsh to rate the gentle giant from South Carolina as the biggest bust when staying healthy appears to be his only crime.
His 17 career sacks for Cleveland were far less than expected for a No. 1 overall pick.
In 2017, the Browns found themselves in a similar situation with the top pick and a highly rated defensive end on the board.
The references to Brown were too easy and plenty of people took the bait of comparing Myles Garrett to Brown.
Warren Sapp: 'Lazy' Myles Garrett is worse than former Browns draft bust Courtney Brown https://t.co/65rmLYeiQm pic.twitter.com/ziDjA5P1QX

— The Comeback (@thecomeback) April 23, 2017
Nearly 17 years after selecting Brown, Cleveland chose another otherworldly defensive end with the first overall pick, Myles Garrett.
Garrett's impressive first four seasons in the league have likely made it a bit easier for Browns' fans to forgive the franchise and Courtney Brown.