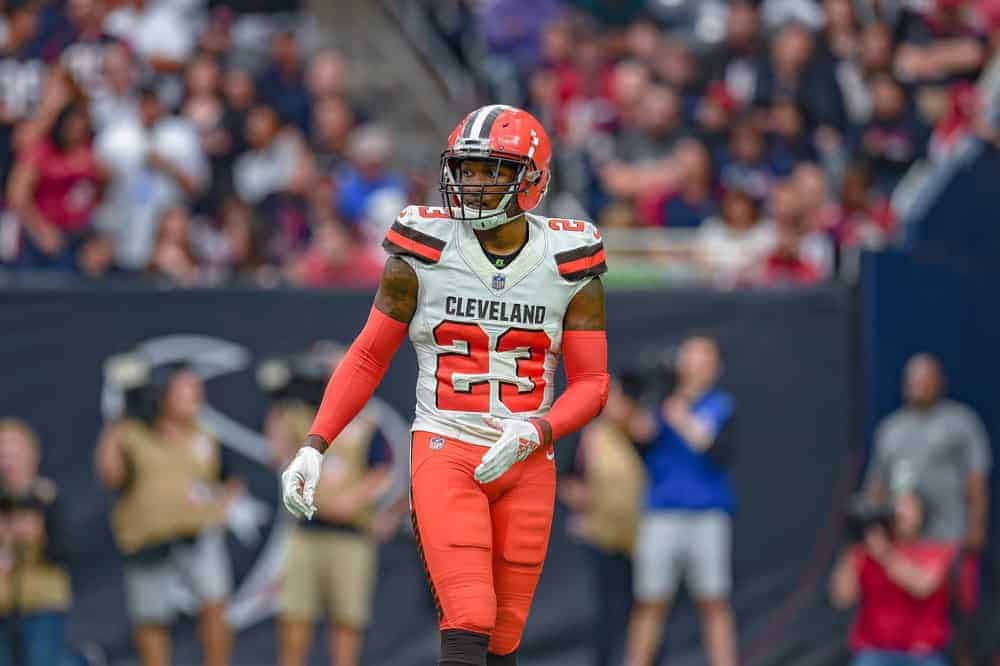 Damarious Randall told reporters on Wednesday that he received death threats on social media after being ejected from the Browns 21-7 victory over the Steelers.
Randall was ejected for his helmet-to-helmet hit on wide receiver Diontae Johnson, but said that the hit was not intentional.
Randall said it was the first time he has been ejected from a game having played for over 5 years in 60 games.
Browns DB Damarious Randall was ejected for this helmet-to-helmet hit #PITvsCLE pic.twitter.com/iNibAYHQPm

— Kevin Boilard (@247KevinBoilard) November 15, 2019
Johnson was down on the field for few moments after the hit.  Randall mentioned he was a bit shaken up by the moment.
Randall Said:
"I clearly hit him helmet-to-helmet, but I was just saying some prayers about it and that actually bothered me a little bit that he was laying there like that, because it just shows how dangerous this game is and how dangerous this game can be. Really, I just never intend to hurt anyone,'' Randall told Cleveland.com.
Even though Randall says he never had any intent to hurt anyone, he says fans have laid into him online.
"How is it, from the standpoint, after the hit … I get so many death threats, so many people calling me names, people saying, 'Oh, I hope you get hurt, I'm going to kill you, this and that,'" Randall told cleveland.com. "And it's OK for fans to do it to us but then when we say something back, it's a problem, we get in trouble. I just never understood that."
Randall was also asked if the negativity stemmed from the Mason Rudolph and Myles Garrett incident.
"It shouldn't matter,'' Randall said. "At the end of the day, the NFL is a brotherhood; nobody goes out there to hurt anybody. We're all in it, this is an entertainment-based business. At the end of the day, we are entertainers. The last thing I need to be doing is watching my back for fans and stuff talking crazy. I know most of them aren't even about that life, because I done really been in that life. … I know most of them ain't even close to that life."
Randall also mentioned he talked to Johnson after the game and apologized.
"I talked to him after the game and definitely apologized to him, but that is definitely not what I intended to do," Randall said
Randall also said that the ejection will not change the style of football he plays.
Johnson fully participated in Steeler's practice on Wednesday.