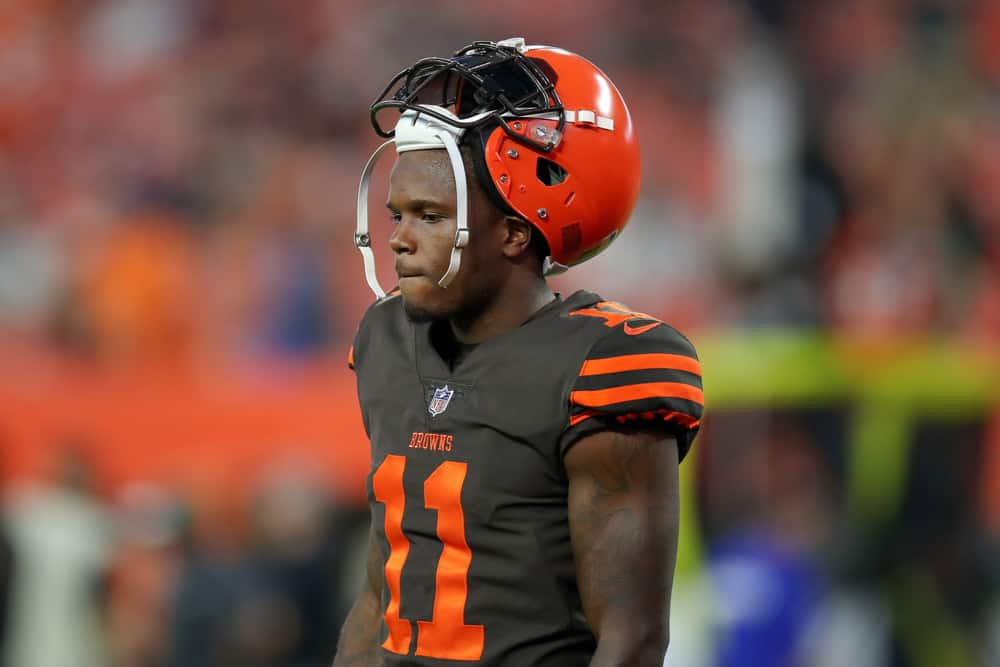 Go to rounds one through three.
Round 4 – Pick 105
Antonio Callaway – WR – Florida
Antonio Callaway possesses first-round talent and seven-round habits. The Cleveland Browns took a chance on him in the fourth round despite multiple obvious red flags. After multiple incidents and suspensions, however, the Browns cut their losses and released Callaway.
Throughout his short career in Cleveland, Callaway caught 51 passes for 675 yards and 5 touchdowns. Most of those numbers came during his rookie season.
His talent level is not under dispute, but his ability to have a professional career is in doubt as long as he continues to mess up off the field.
This was the best play of Antonio Callaway's #Browns career. He plucked it out of the air in crunch time pic.twitter.com/XpiSHHP9mu

— James Rapien (@JamesRapien) November 14, 2019
Round 5 – Pick 150
Genard Avery – LB – Memphis
Genard Avery looked like a late-round gem when he was drafted with the 150th overall pick. "Dorsey did it again," insisted Cleveland fans. Avery's production and performance during his rookie season impressed the coaching staff. Opposite of Myles Garrett, he looked dangerous rushing the passer off the edge.
As it goes in Cleveland, the regime changed. The Browns hired a new defensive coordinator. The coaching staff requested that Avery gain weight. He did, but it slowed him down, and he was unable to achieve the "get off" that he flashed in 2018.
With new defensive coordinator Steve Wilks more interested in finding a player that fit his scheme than building players to fit his scheme, the Browns shipped Avery to the Philadelphia Eagles for a fourth-round pick.
One way to look at this trade is that the Browns used their 2018 draft pick to move up a round in 2021, but some analysts insist they gave up the chance to groom a special player. Only time will tell.
Quick look at Genard Avery's best work from his rookie season.

Avery accumulated 34 tackles, 23 stops, 29 QB pressures, 8 QB hits, 5 sacks, 2 PBUs, and a FF. His 77.2 tackle grade was best on the #Browns defense according to @PFF.

Quite the debut for the 5th Rd LB. pic.twitter.com/fFAIKWF537

— Jake Burns (@jake_burns18) April 15, 2019
Round 6 – Pick 175
Damion Ratley – WR – Texas A&M
Damion Ratley has not played a huge role for the Browns over the past season-and-a-half, catching 21 passes for 247 receiving yards and still waiting for that first NFL touchdown.
However, that could change soon. Ratley is on the field for 28% of the Browns' offensive snaps this season, up from just 16% in 2018. One would think that this will only increase with the release of Antonio Callaway last week.
This might be Ratley's time to shine.
Damion Ratley with the zen-like focus to make the catch 🔥🔥 @DamionRatley pic.twitter.com/YO1VEA2oVy

— The Checkdown (@thecheckdown) September 23, 2019
Round 6 – Pick 188
Simeon Thomas – DB – Louisiana Lafayette
Simeon Thomas signed his contract in May of 2018, but was waived by the team before the season started. He earned a $147,000 signing bonus. Not bad for a few months of work.
After spending parts of the 2018 season with the Seattle Seahawks, he is now in Washington playing for the Redskins.
#Browns DB Simeon Thomas on differences between college ball and first walk-through in #NFL #3Browns @wkyc pic.twitter.com/Jg8J8rYVVe

— Matt Florjancic (@MattFlorjancic) May 4, 2018
The 2018 Browns' draft class includes obvious hits and misses. The good news for Browns' fans is that more of their new players look like difference makers than scrubs.
Hopefully, in a few years, Cleveland looks back and says the 2018 draft class was where most of their foundational players from the Super Bowl winning team came from. Just imagine that parade.