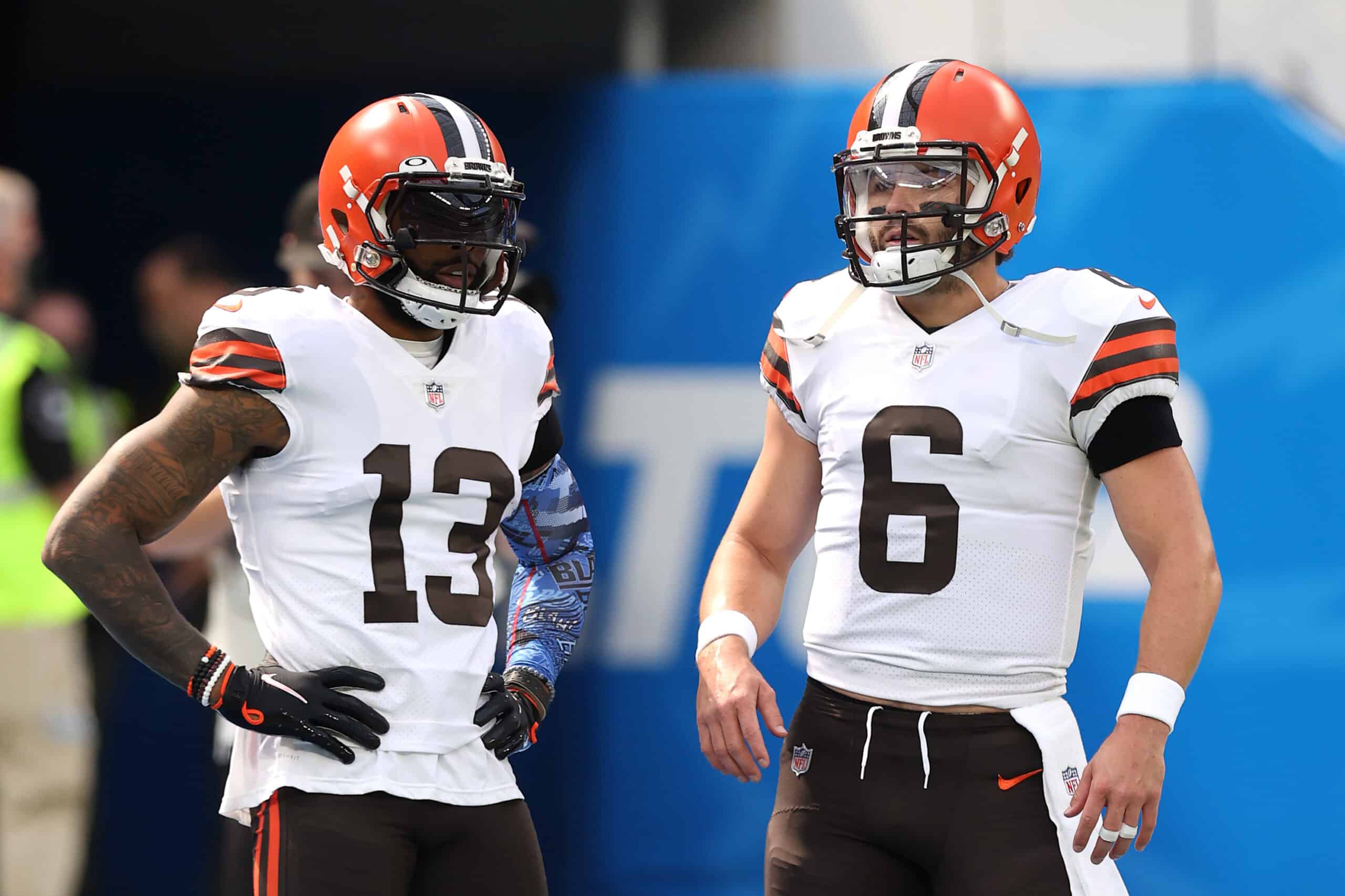 During Monday's edition of the Rich Eisen Show, Eisen was joined by NFL and College Football Analyst Dan Orlovsky.
The conversation started with an overview of Cleveland's disappointing loss to Arizona and how it might be the most concerning defeat across the NFL.
More concerned with #BoltUp or #Browns after both suffered stunning Week 6 losses?

ESPN's @danorlovsky7 re-watched this team's game and it's even worse than he thought:#NFL #MBVans@mbvansusa pic.twitter.com/peZliPAk2t

— Rich Eisen Show (@RichEisenShow) October 18, 2021
"The de facto with Baker Mayfield, if you just watch the tape, and you know the type of player he is, and the technician he is, that shows there's a real thing right now.", Orlovsky said on Eisen's show. He mechanically is so not representative of who he is."
The criticisms did not stop there though as the guys dove into the issues between Mayfield and Odell Beckham Jr.
Not on the Same Page
The apparent lack of chemistry between OBJ and his quarterback have been discussed at nauseam.
What is yet to be discovered, however, is an answer.
It's not clear why these two haven't been truly in sync since Beckham Jr.'s arrival in northeast Ohio.
Perhaps Baker overthinks things when targeting Odell.
Maybe the two really haven't worked on being in unison as much as fans hoped they would.
Regardless, it's beyond concerning at this point.
It's led to missed throws, bad drops, and poor play overall.
This miss against the Minnesota Vikings stands out more than any other miss between these two.
@obj shouldn't be subjected to this type of poor QB play 🤦🏾‍♂️🤦🏾‍♂️🤦🏾‍♂️

Every game…Baker Mayfield throws terrible passes like this to OBJ, & then the media looks at the boxscore and tries to blame Odell Beckham Jr like he isn't still a Top 5 WR in the NFL smh

Wtf at this throw 🤮 pic.twitter.com/nZbxATh8Px

— Wayne_Cabana (@Wayne_Cabana) October 3, 2021
Of course, Cleveland hangs on to win, but that play would have been under even more fire had the Browns lost.
"First quarter, five minutes and twelve seconds, he's got a throw to Odell on third and five in the red zone, just doesn't throw it to him.", Orlovsky went on to say about his review of the tape on Baker's performance. "Very next play, they go for it, Odell's on another shallow cross… You throw the shallow cross. Odell is wide open. And he just doesn't look at him. Whatever is going on with Odell Beckham and him and that type of chemistry or connection that's not there, it's a very real thing."
Here is the fourth-down play that Orlovsky refers to.
Film with Fontana is coming up but I had to send this out.

4th down play in the 1st. Baker never got to Odell in his progression, who was wide open

I think the pressure got there so fast, he didn't get to his #2

Cards blitzed, Teller didn't pick up twist. #Browns pic.twitter.com/c6PU90AY5V

— Matt Fontana (@MattFontana83) October 18, 2021
So, What's the Issue?
Orlovsky goes on to say that he believes when Odell checks into the game, Baker goes into an OBJ-first mentality.
He says a quarterback's mentality should be play first, then players.
In Baker's world, according to Dan Orlovsky, that script is flipped.
It somewhat contradicts the example he brought up earlier where he points out Baker missing a wide open Odell.
Browns fans know that it's been the worst of both worlds at times.
If Baker throws it to an open Odell, it's often times either been a poor throw or drop.
If he doesn't throw it, fans are angry at their quarterback for missing an open receiver.
Optimism around these two figuring things out is starting to fade.
Winning tends to hide problems on a team.
When the losses pile up, those issues are exposed and spotlighted.
Right now, there's a clear issue between Baker Mayfield and Odell Beckham Jr.